Throughout my career in woodworking, I often get approached by others who are very interested in getting started for themselves. One question that comes up by most is, Is woodworking hard?
Woodwork is not hard although it does require some patience to develop the necessary skill sets. Learning the basics is actually quite simple, but as you get into more complicated woodworking, it will take more skill and higher-priced equipment.
You can master almost anything you need from either online tutorials, videos, or an in-person shop class.
All anyone needs are some basic tools and a clear idea of what type of project you want to complete. Once you have that equipment, then you will need to either make a workspace for yourself or find a local shop which rents out woodworking tools and space.
There is no need to have a lot of money or space to begin woodworking. This article is going to cover what you will need to get started with woodworking as a hobby. It will include examples of necessary skills that you will need, where you can find resources, and also a list of useful tools that you should have access to if possible.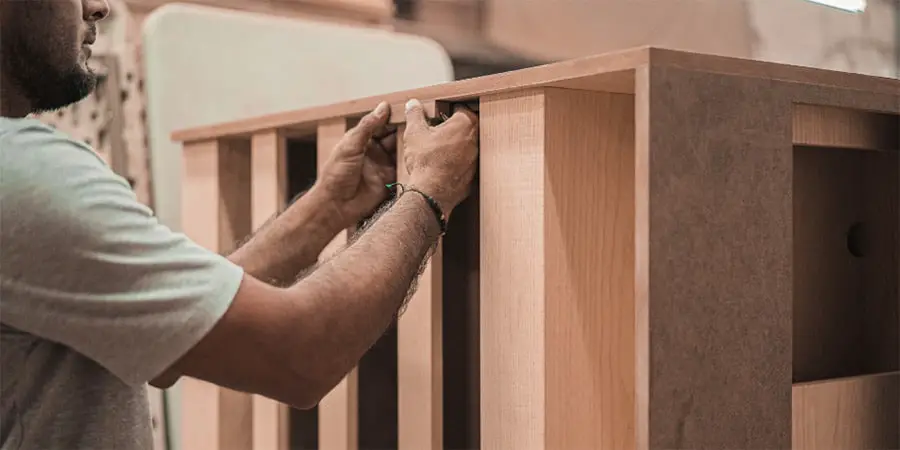 First Steps to Woodworking
The first thing you are going to need to know is some basic safety protocols for working with tools of the trade. This includes correct safety gear (e.g., masks, gloves, and eye protection) and understanding proper handling techniques for the devices that you will be using. You will want to read all manufacturer warnings and guidelines before using any equipment.
Once you understand how to handle the tools safely, then you will need to make sure you have access to a reasonable size work area. Whether you choose to rent out space at a workshop, a storage unit, or convert a garage, room of your house, or outdoor shed into a proper workspace. You will need to make sure it is someplace children and pets will not be able to reach your dangerous tools.
After finding a place to work in peace and getting yourself appropriately outfitted, then you will need to start deciding what materials you will use and what specific woodworking equipment you will need (e.g., hammer, wood saw, Dremel, measuring tape, etc.). This will be determined primarily by what project you intend to start on.
You will need to have at least a basic understanding of the following by watching tutorials or reading guides that go step-by-step through the design you intend to make. This article is not a guide to learning these aspects of woodworking, so you will need to look for other articles explicitly designed to walk you through these crucial steps.
Knowing how to choose the right wood for the project
Understanding how to use cutting tools and make safe and accurate cuts
Knowing the basics of how to affix pieces together using nails, screws, or some other method
Understanding how to drill correctly (e.g., depth, clean-up, materials, etc.)
Basics of sanding and how to use different tools for polishing up your work
Finishing can include staining, painting, or adding other protective or aesthetically significant layers to your completed piece, and you will need to know how to determine which type will work best for the materials and use of the object you have made
What You Need to Get Started
Now that you are conscious of the various tools you need to get started, we will go into more detail about each one. These are recommendations only, and you are free to pick and choose which will work best for you, your project, and your lifestyle. For woodworkers who are just getting started with woodworking, there are a few things to keep in mind, including the following.
Safety and Protective Gear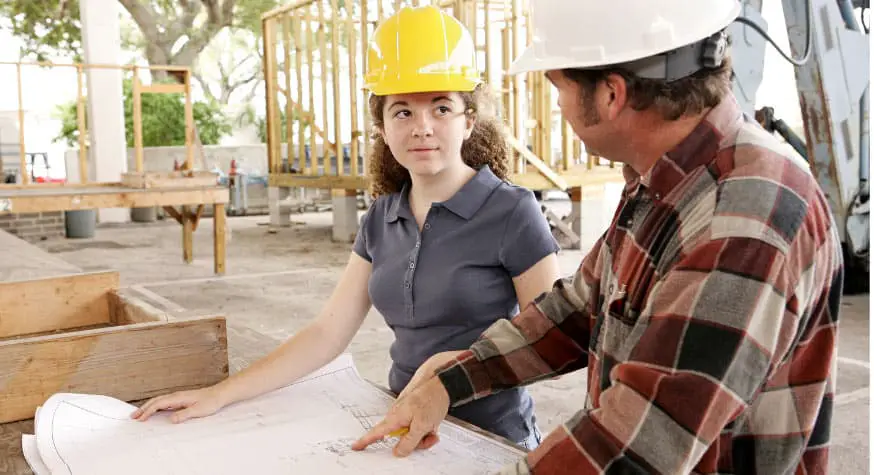 This will include gear to keep you safe as well as coverings for anything in the area that you do not want to be affected by toxic fumes, sawdust, or other debris. Any large equipment should be covered between uses to keep it clean. Depending on what machines you have in the same area, you must also practice safe use of electric extension cords.
Personal protective wear includes hats, glasses or goggles, thick gloves designed for use with blades, closed-toe shoes or boots, and long sleeves. There are some of these explicitly designed for people who work with heavy equipment, so if you end up using a table saw, then you will want to make sure you have the proper gear.
Equipment and Materials
You get to choose what kind of material to work. Not all wood is made equal, so once you know what your project is going to be then, you will want to see what type of wood experts suggest for that piece. There are multiple online resources for finding this information.
Here are a few sites that have materials, guides, and tools that you can rent or buy.
Space to Work
We will go over this a little bit more in a section below, but it is good to remember that if you do not personally have a space that you can dedicate to woodworking, then you will need to find a rental space. The reason you want a space specifically for your tools and projects is so that they do not accidentally injure children, pets, or other people in your home.
There are quite a few potentially hazardous things that are used around the shop, and having them out in the open or stored unsafely can lead to problems down the road.
Instead, it is best to make sure that you have a safe, secure place to keep all of your woodworking things. If you do not have a way to convert your garage, shed or other space, then you can look for shops that rent or lease space.
You will be most likely working with toxic substances if you intend to put finishing touches on any of your work, so it is vital to have proper ventilation within your working space. Even if you are working entirely outdoors, you will still want to use a mask, goggles, and gloves since many of the chemicals used can easily damage your bare skin, eyes, throat, and lungs.
Renting Vs. Buying Woodworking Equipment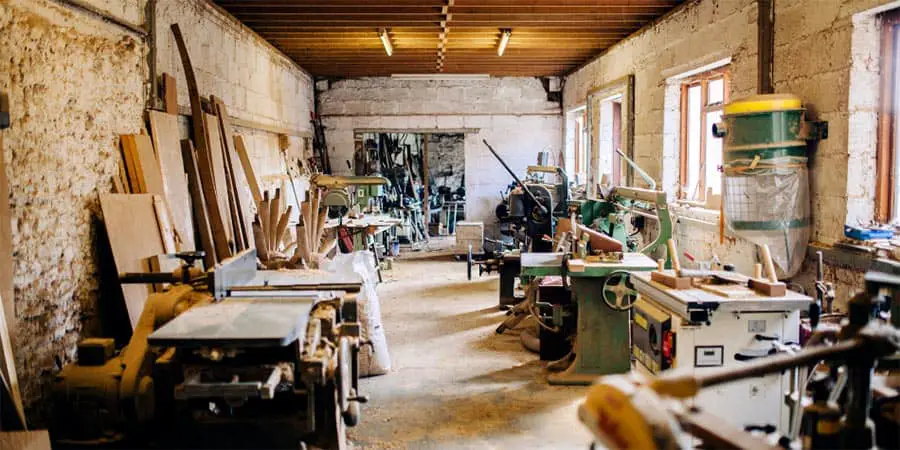 You can get away with buying affordable equipment for your shop, or you can rent it if you only intend to do projects infrequently. It also helps to buy larger tools second-hand to get them at a lower price if there is one that you know that there is one that you will repeatedly be using. Otherwise, renting larger things like bandsaws is easier and helps conserve storage space.
Be sure to check this article on sourcing tools at the right price!
Renting
You can easily rent tools from retailers in your community like Home Depot and Lowes or online shops. For example, you can rent a table saw from Home Depot for $55 a day or $220 for a full week. If you have a brief project, you can get it at $39 for several hours. This is the kind of pricing you can expect from similarly sized items if you end up renting.
Pros
Cheaper for short-term woodworking goals
Takes up less storage space
There will be no need to be concerned about the cost of maintenance and upkeep
You can upgrade easily by renting the next best model rather than having to spend hundreds on a whole new device
Cons
For important last-minute uses, you may not be able to get ahold of a rental device quickly enough
Owning Your Own
If you invest in your own shop machines, then it can make it much easier to move seamlessly between various projects as you will not have to pause and wait for a rental to arrive. You can also get some devices at a low cost if you get an older or used version that still functions well. As long as you keep them maintained, they will usually stand up pretty well to the test of time.
Pros
You will have access whenever you need it
You can get more familiar with the tool since you will be using it more
You can alter or personalize it in any way you want to work better for you
Cons
The initial cost will be more
You will need to buy a whole new one if you want to upgrade
Owning Only What You Need and Renting the Rest
You don't need fancy tools when getting started!
The absolute essential tools for woodworking will allow you to measure, cut, and assemble your piece. You do not need to have a fancy table saw or special measuring tools. A tape measure and handsaw will work just fine though there might be more effort involved. If you find yourself needing a larger device for a single-use need, then renting it would be the cheapest option.
Most people have an interest in doing smaller woodworking projects, to begin with, and most of the things you need for that are already around your house or, if they are not, are very easy to buy.
Several examples of things that might come in handy for smaller work designs include the following.
Mullet
Hammer
Files
Screw or nail gun
Sanders
Drill
Worktable
Planes
Power and hand saws
Projects For Beginners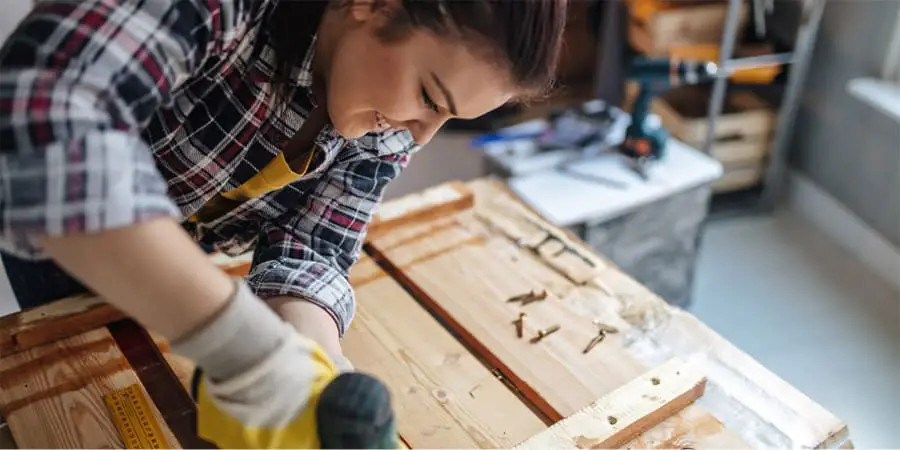 Most projects can be done by beginners as long as they go over at least a basic tutorial and have blueprints or a clear design idea before starting. You want to make sure that your first few ventures are ones that have easy to follow instructions.
There are a lot of online guides and printable patterns that you can use for pretty much anything you could want to make. Is woodworking hard to figure out? Definitely not with instructors on hand.
If you need some inspiration in trying to figure out where to start, that is alright. You can spend as long as you want, looking at the various options out there until you see something that jumps out at you as enjoyable. We have created a list of some of the most popular projects for beginners so that you can get an idea of what is going to be most comfortable to start with.
Furniture
Furniture like tables, simple chairs, and shelving units are trendy for first projects. Because they will be indoors instead of put in the weather, it is less critical to get the material correct the first time around, and any mistakes in measurement can almost always be fixed easily with little visual evidence. These are safe things to try your hand at first.
There are a plethora of beginner furniture ideas that take very little in terms of material or tools. For example, a wooden porch bench only requires a pattern, some 2×4's, screws, a handsaw, and some wood glue. You might already have half of that in your garage right now. Many other designs require just as little to get started.
Classes and Workshops
You can look at community resources or online workshops tutorials to find places that offer classes in woodworking taught by professionals with years of experience.
These can be a great place to start before you even buy your own machines and materials since they usually will furnish these as part of the package. It is a great way to get introduced to the hobby.
Usually, community wood shops have lessons on learning things like using table saws, learning how to measure out your patterns accurately, and information on which woods and screws are best in certain circumstances. You will work together with an expert to create something unique, which is a great way to gain confidence.
Creative Woodworking
There is a reason that small boxes like birdhouses and jewelry boxes are usually one of the first things taught in beginner woodworking classes. They are easy and require little skill or materials while still being able to create a chance to gain experience with measuring, cutting, affixing, and choosing the right kind of wood and finish.
You can make pretty much anything with wood, so the creative opportunities are limitless. You can make a phone case, box for art supplies, or even a decorative bowl if you choose to try woodturning. These are fun, and you can always expand your woodworking knowledge by attempting new and exciting things.
Additional Resources
There are many places for learning how to begin with this subject. Social media sites like Reddit, Facebook, Instagram, and Youtube have massive online communities. Don't forget to check out these great books!
You can talk with people who have similar interests, learn tips and tricks, and share resources with each other. You can ask them, things like 'is woodworking hard to turn into a business?' and they can answer honestly from experience.
Online Tutorials
Places online like Woodworking Masterclass have excellent online classes you can sign up for using their free or premium memberships. There are hundreds of instructional videos and step-by-step information for all kinds of easy projects.
You can also use sites like Thumbtack to find local individuals in your city who are willing to teach the basics.
Forums and Sites Where You Can Find Fellow Creators
Forums are a genuinely phenomenal way to get instant feedback, advice from people who have been doing it for years, and a place to showcase your creations. Some forums are dedicated specifically to certain kinds of skills, while others are general and can include everything from shop talk to purely social threads.
Finding workarounds for unexpected situations and learning the ins and outs of every tool and method of working with wood becomes much easier when you have access to thousands of people with hundreds of combined hours of experience.
Here are a few forums for fans of woodworking.
Where to Buy Materials
You can always buy tools and materials like nails, screws, and wood from Home Depot, Lowes, and even some Walmarts have a number of affordable selections. Where you end up getting them will likely depend on how big your budget is, how high of quality you want to produce, and whether you are doing single designs or hoping to start a business churning out mass products.
For smaller things, you can use the aforementioned retailers, and for the latter, there are places online where you can rent or buy industrial-sized machines.
Whenever possible, it is encouraged that you buy locally to support wood suppliers in your area. This will save you money and help out the economy in your community. Mills and shops are a great source.
Local Open Space Rentals
Many cities have at least one woodworking shop where you can rent equipment, use community space, take classes, and sometimes even join a mentorship program to learn from a veteran woodworker. You can check with your local community newsletter, Yellowpages, or by asking at any store that sells supplies for woodshops.
These workshops and mentorships are not free, with an average cost of between $70 and $150 per day, depending on what materials are included and how long they last. It can sometimes be more affordable to join a local wood shopping group or club and find someone willing to show you the ropes for free.