The best advice I can give when starting your workshop is to start off with second-hand tools to cut down on costs. Woodworking tools can get expensive, but there is no reason to buy them brand new when you can get used ones in good or like-new condition. Both hand and power tools can be purchased locally in person or online.
I know what you are thinking though, how to buy used woodworking tools?
Firstly you need to determine what sort of tools you need to get started and then try to source those tools locally or online. For any hobby woodworker, it is a good idea to start with some second-hand tools and some new tools.
Starting or expanding a woodworking shop can be an expensive undertaking, so any chance to save is going to help. There is a rich market for used woodworking tools, and most of them are able to last through several owners without their production quality being affected if they are used and maintained correctly.
This ultimate guide will go over how to determine which tools are best bought new, how to find quality secondhand tools, and what information you will need from the seller.
Which Tools You Need For a Woodworking Shop
You may be looking to buy some used tools to enhance your shop, or maybe you are brand new to woodworking and are creating your shop from scratch. The focus on which tools you will need is going to come down to what kind of woodworking you intend to do and your budget.
There are a few hand and electric tools that can be found in almost every shop regardless of skill level, and they include the following.
Saws (e.g., band, radial, table, hand, etc.)
Drill press
Power drill
Planers (e.g., thickness, hand, etc.)
Lathe
Router
Sander
Measuring devices
Clamps
Rotary tool
Quality workbench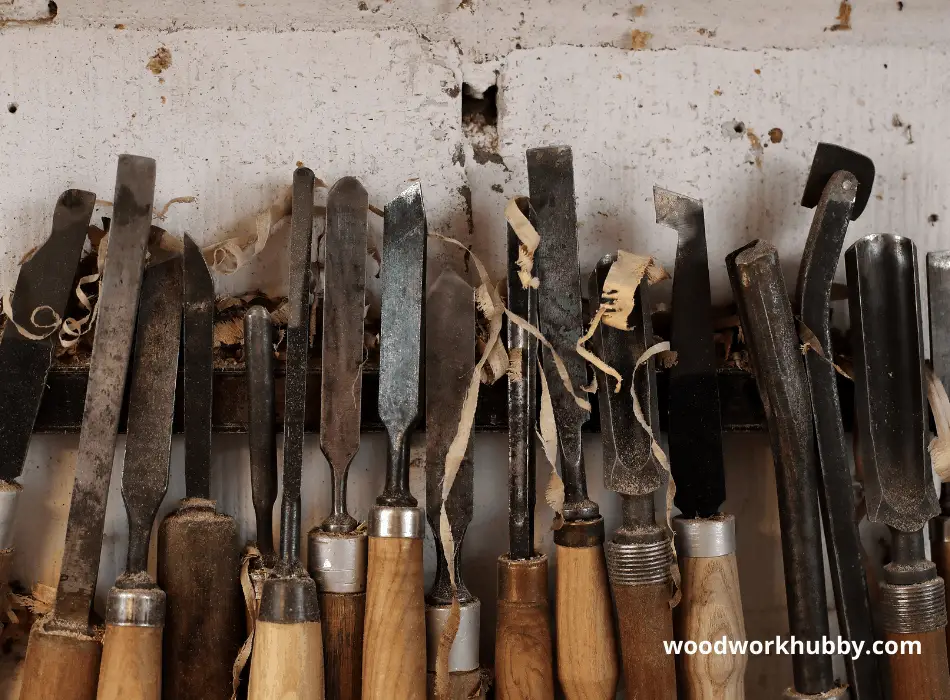 For more advanced woodworkers, there are other tools like jointers that might be useful to have on hand. See some of the tools that I use.
What Type Of Woodworking Will You Be Doing?
To determine which tools you need to do more research on, it can be beneficial to make a list of projects you work on the most or intend to start in the near future.
The Most common types of woodwork include:
Cabinetmaking
Woodturning
Pyrography (Woodburning)
Construction
Then bullet point what tools you will need to accomplish them. If you are not certain, there are plenty of sites online that can give a full breakdown of what tools are required for different projects.
Once you know what you will need, you can decide which ones are worth buying new (e.g., affordable things like hammers and measuring tape, etc.) and which would be best bought in used or like-new condition.
Smaller hand and power tools can still be bought secondhand, but they can usually be found new at relatively affordable prices and tend to wear out quicker.
Larger machines will be made to withstand more use, and you can get good like-new ones to round out your shop.
How Much Space Do You Have Available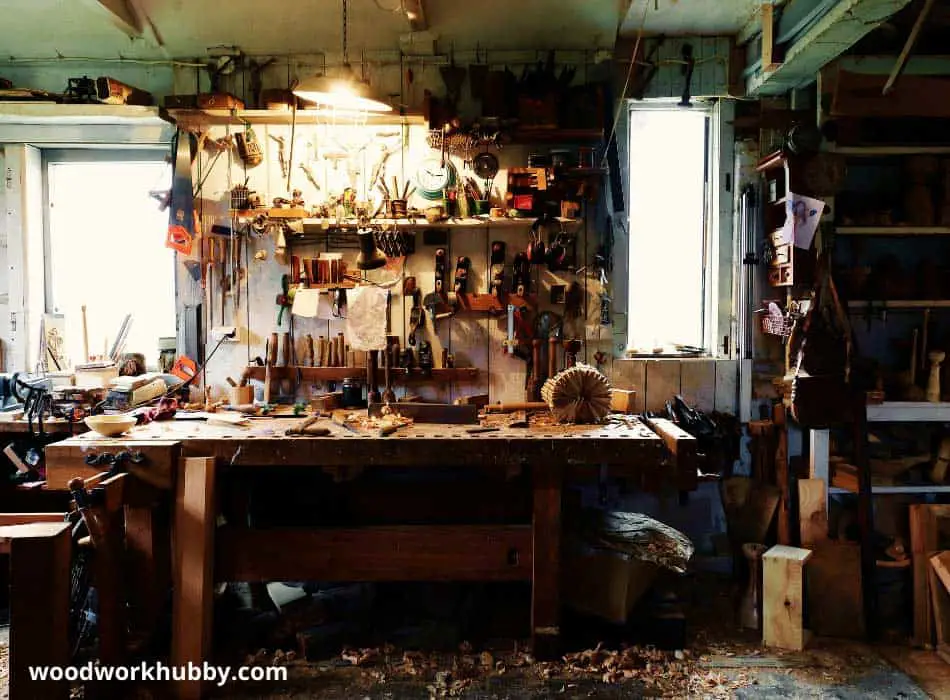 One thing you want to keep an eye on when you are looking at purchasing items – especially if you are buying them online and not in person – is the space requirements necessary to fit them in your shop.
Most of them will also require some amount of increased workaround space, so before spending hours finding the best sellers for a machine, check the dimensions and, if necessary, find smaller alternatives.
A good tip here is to draw out your workshop to scale, then make paper cutouts of various machines you want that are also to scale, and see how they will fit best inside your workshop drawing.
Where to Find Affordable, Quality Used Tools
When looking for the right product to complete your shop, the more places you look, the more likely you will find exactly the tool you need at a price that fits snugly into your budget.
If you are already a part of your local woodworking community, you will want to start by reaching out to woodworkers you know to see if they have some items for sale.
For anyone new to woodworking, the easiest place to start is online using your preferred search engine. You can see both local and online shops that offer quality used woodworking devices.
Auction sites like eBay and Yahoo Auctions are a few places you can look if you already know the brand and model that you want.
The good news is that the woodworking community is vast, so there are plenty of online forums and community sites where you can reach out if you have trouble locating a specific secondhand tool that you want for your shop.
Look For Local Listings
Local stores will show up under a general search, but you can also go to sites like Craiglist, which will have listings of used machines or hand tools in your city.
Whenever possible, it is best to shop local because you will have an opportunity to test out the product before buying and get a better idea of what kind of shape it is in and how well it works.
Many woodworking stores and local shops will have used items for sale or know of individuals who are looking to sell some shop machines. If you are new to the community, this is also an excellent way to network and find out more about the resources for woodworkers in your area.
Here is a list of retailers that often have used woodworking items for sale online and in person.
Menards
Home Depot
Lowe's
Local woodworking shops, clubs, and companies
Government surplus sites (https://www.govdeals.com/)
Local auctions
Auction sites and other online places that will feature various used machines include the following.
eBay
Yahoo Auction
Facebook Market Place
Facebook Groups
Craigslist
If you end up locating an excellent deal online and the seller is within driving distance, it can be well worth the time and effort to pick it up in person rather than paying exorbitant shipping costs that are usually accompanying larger machines.
The price of driving there (even if you just rent a bigger vehicle) is usually the most cost-effective. This also gives you the opportunity to see the tool in person and cuts down on the time it will take before you can install it in your shop and begin your project.
What Features To Look For When Shopping
Finding the right product is a little harder than simply typing something like "band saw" into Google. The brand, model, and age of the tool are all important factors that will assist you in deciding whether it fits your criteria or not.
When you are researching what tools you will want to have on hand to complete your projects, be sure to look up the best model and brands so that you have some specifics to use for narrowing down the catalogs of used items you might come across.
A few features to look for when searching for quality used tools include those listed below.
How many owners have previously used it
The tool's age
The brand, series, and model
An extensive list of specs (make sure they match the official specs for that model)
Any listed damage or problems
Educate Yourself On The Tools Before Looking At Them
We previously mentioned writing down a list of necessary tools and ensuring you know which brands and models fit your needs best. However, you will also want to do a little research on how long specific tools typically last and when they start wearing out.
This allows you to make a more accurate determination (based on the age of a machine) whether it will be worth buying it. You do not want to pay good money and then need to replace it again within a few months or a year.
While researching, make a list of questions so that you can find out how well the tool has performed in the past and what kind of shape it is currently in. Having this information is going to make interacting with the seller easier and speed up the process since you will know what is relevant and which aspects of the tool to check.
Ask To See The Tools In Advance
There are usually images included with most online auctions, ads, and listings. However, you will still want to try and see the tools in advance, either in person or through other means (e.g., video call where the seller can show off the tools and give a demonstration).
I have found in the past that most sellers don't take enough photos or the right photos for buyers to make a decision. Things like defects are often left out!
While it might feel a bit awkward to insist on seeing the item, this is the only way to know for certain what kind of shape it is in. Pictures can be modified or taken in such a way that damage might not be visible, but a live tour of the machine is more likely to reveal any outward signs that it might have problems.
Do not hesitate to ask questions about the history of the machine. For example, you will want to know how old it is, how long this owner has had it, and if they bought it used or new. Also, look at the quality of the material used to construct the item.
Before doing any shopping for used tools, you should have a firm grasp of which are the best brands for the items you need.
Make sure the physical item matches the brand and model that were listed on the product ad. It is possible that through ignorance or error, the seller listed incorrect information, so always double-check.
How To Tell If A Used Tool Is In Good Shape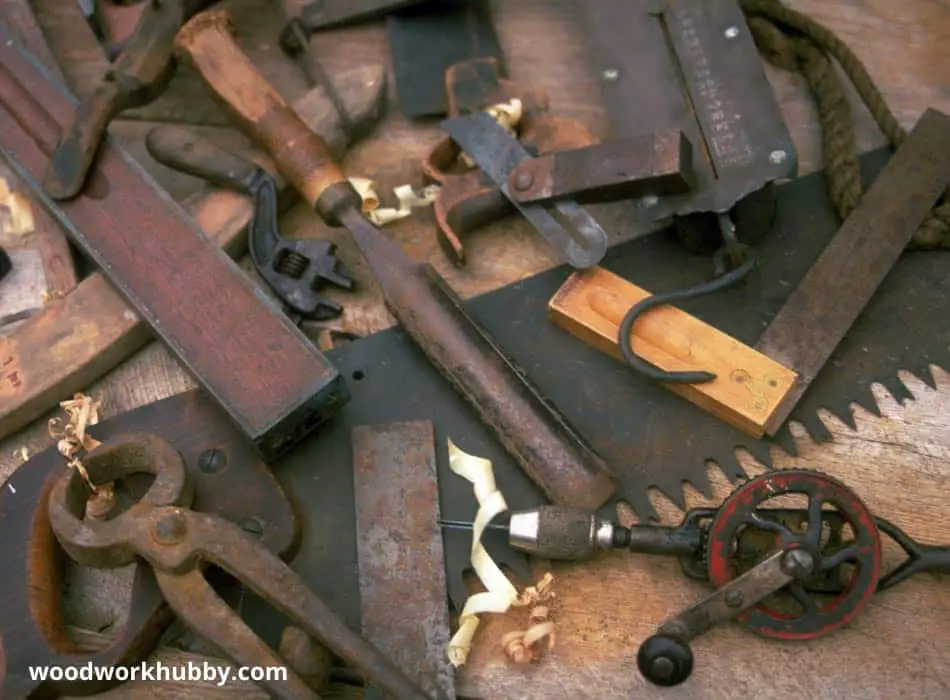 The majority of sellers have valid reasons for selling (e.g., upgrading models, downsizing their shop, moving, etc.), and they are genuine in the way they present the state of their items.
However, there is a tiny percentage of individuals who purposefully attempt to mislead buyers so they can make money off tools that are too broken or damaged to be worth selling. This is one reason why it is essential to check as much as possible before entering into an agreement.
Not being allowed to inspect or try out the tool before buying is a red flag, and that seller should be avoided. However, if they let you look at the item, you will need to know what to look for to determine if it is in working shape.
Hand tools are much more straightforward to assess. If they have good heft, secure fittings, and no sign of rot or damage, then they are most likely in working order. It is still a good idea to test them out even if they appear fine when being handled.
Powered tools and machines are harder to assess because there are so many parts, settings, and possible uses. Listen to the sound of the motor and watch the parts as they are being used. If things are working slowly or sound off, then you might want to look elsewhere.
For more information on what a healthy tool should sound like, you can look up the model on sites like YouTube or the manufacture's website.
Determine Why They Are Being Sold
If the description of the item does not automatically include why it is being sold, then this should be included in the list of questions you present to the seller.
It is possible that one aspect of the machine is not functional, and everything else is in working order. If this one thing is not going to make a difference for your project or is easy to fix, it might still be worth purchasing.
A seller should always have a good reason for selling and be willing to provide you with this information. Unwillingness to do this is a sign that they might be hiding something.
If they listed the reason on their ad description, you will still want to ask to make sure since there are sometimes word limits to product posts.
Ask To Try It Out
Yet another reason why local buys are ideal is the ability to request to try out the machine prior to purchasing. If the seller is unwilling to do this, the chances are they are trying to hide something about how well it functions.
You should be aware of what a function model will look, sound, and act like before arriving to test out the used tool. This will make the inspection process quicker and easier.
You Are Under No Obligation To Buy Them
One thing most people do not consider when they are looking up how to buy used woodworking tools is the actual interactions that will need to take place with the seller.
It is a good idea to have a few quick excuses prepared for leaving a site if you feel like they are trying to take advantage of you or if you have found that in-person, the product is not what you need. Having a prearranged script will make it less awkward.
You are under zero obligation to complete a purchase even when the seller takes time out of their day to show you the item and let you test run it.
There should be no strings attached to this kind of preview, so if the seller tries to guilt-trip you into buying, remember that you are free to walk away at any point before agreements are made.
How To Determine The Value Of A Used Tool
Once you have found a tool that you are happy with, it is time to determine the value. Is it overpriced? You will have discovered the hand or power tool's average price while doing your research, and looking through various sites will have illuminated the average pricing for used versions.
Using that information, you should be able to come to a reasonable agreement with how much you should need to pay. Most sellers who overprice are willing to haggle, especially when you show an understanding of what the typical pricing structure is for that device.
What Questions To Ask When Looking At the Tools In Person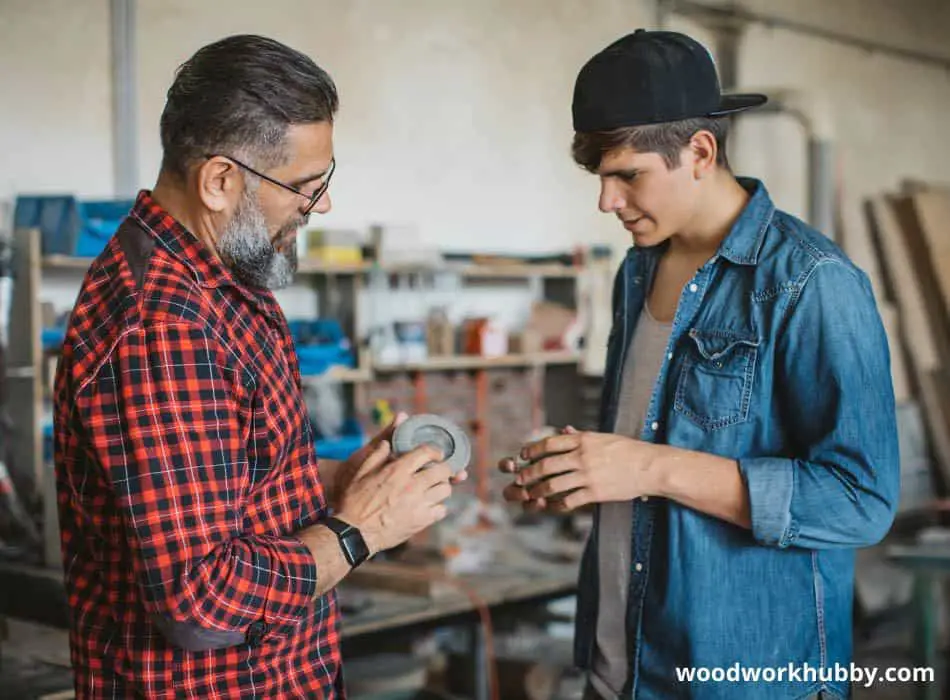 You will have a better idea of what questions to ask once you see the machine. The more things you ask for clarification on, the better understanding you will have of that tool and any limitations it might possess.
You will want to ask variations of the following questions. Some of these may require a follow up depending on the answers provided.
When was it first purchased?
What kind of servicing or maintenance has been done on it?
How often has it been used?
What kinds of work was it used for?
Is it being replaced with a new tool, and if so, why?
What are the pros and cons of that specific machine?
Why are you selling?
How to Get Information When They are Not Local
Video calls, email, and phone calls are the most common forms of communication when you are negotiating with an online seller. The format will mostly be determined by what site you find it on (e.g., auction site, reseller retail shops, Craigslist, etc.) and how willing the seller is to show you the tool in action.
If they have a listed video of the machine in action, it is still permissible to ask for a video inspection so you can hear how the motor and features (e.g., saw blades, etc.) sound and look.
It is possible they do not have the technology available to accommodate this request, in which case it might be worth it to take a road trip if they are within reasonable driving distance.
Before taking the step of driving out to a distant location, do your due diligence to make sure the seller is reliable. You do not want to waste your time and money if a few quick searches on their profile or former product pages show a lack of professionalism, unhappy customer reviews, or other red flags.
Look at How Well the Tool Is Maintained
If you notice a thick layer of dirt, grime, dust, or other debris on the tool, then chances are pretty good that the seller did not do much to keep it well maintained.
This can affect how well it works and how long it is going to last after you buy it. A tool that is taken care of can last much longer and is less likely to have debris gumming up any internal mechanisms.
That being said, you want to be able to recognize when something is potentially affected by the grime covering it and when it is simply dirty. You can find some great tools at amazing prices, and a quick buff and shine will have them in like-new condition.
If the seller insists that they have had it serviced in the past, then it is more likely that the dirt is superficial, but you do not want to automatically assume that is the case. Try it out first.
Which Hand Tools Are Worth Buying Used and Which Are Not
Hand tools like saws and chisels are affordable enough that there is no need to spend your time and energy trying to find used ones.
That is not to say you should pass up an excellent deal on hand tools if you see it at your local shop, but there is no need to go out of your way to do so when they are not costly to purchase brand new.
It is better to spend your research and online shopping looking for deals on larger machines. They are more likely to have a bigger cost reduction, and most of them are made to last for decades, so buying them secondhand will not have the same level of wear and tear that hand tools usually show.
The deciding factor is going to be whatever budget you have set. If you need to buy everything used and then slowly replace your hand tools with new ones as you can afford, there is nothing wrong with that. You will want to do what works best for your woodworking needs and available budget.
For smaller tools, we have listed the ones best bought new and ones you can get in good shape second
Pocket holes in chipboard work fine provided you use multiple pocket holes, coarse screws, and wood glue is recommended for joints to last a long time!
Items that you can buy used or like-new include:
Hand-held power tools
Drop saws
Thicknessers
Planers
Wood Lathes
Scroll saws
The Best Brands To Buy
There are a lot of top-quality brands in the woodworking world. Some of them are going to have a higher rate of used items on the market. If well maintained, a large machine can last for decades and be sold second-hand one or more times without losing any of its power or precision.
Choosing from a popular brand can make it more likely that used tools will be made of durable, quality materials.
Below is a list of tool brands that have excellent woodworking machines and hand tools.
Rockwell Tools
Porter-Cable
Powermatic
Makita
Craftsman
Milwaukee Tools
Dewalt
Ryobi Tools
Ridgid
Skil Tools
Black and Decker
Bosch
Craftsman
Kobalt
HBM Machines
Metabo
You can also look to see if your area has any tool manufacturers who only sell locally. This can be a way to find affordable, used hand tools.
Conclusion – How to buy used working tools.
You now have a greater understanding of how to buy used woodworking tools, which will make it easier for you to expand or build your personal shop. Below is a brief summarization of the most pertinent aspects of the buying process.
Research what tools you will need to be able to complete whatever projects you know for certain that you will be working on. Make sure you are familiar with all of the specs by checking the manufacturer's website. Have this information on hand when you go to inspect the machine.
Make sure you know how to differentiate visually between a tool that has been well maintained and one that has not. This is important because it is the greatest indicator of overall lifespan. A tool that has been looked after and services will last longer and work better. This might seem like common sense, but many new woodworkers do not know the difference, and it can end up costing them money.
The best way to guarantee you are looking at a healthy machine is by familiarizing yourself with the brand and model you will be inspecting prior to arrival. Youtube and other sites have excellent resources for this type of research.
Communicate with the seller and be sure to ask a lot of questions about the tool. Ask to try it out, and if there are multiple settings or uses, try to ensure that you get a chance to preview as many as possible. You should have a list of questions to ask during the inspection.
Once you have decided to purchase the item, you need to make sure that the asking price fits the item's actual value. Your research should have given you a solid price range for new, secondhand, and like-new tools. You can use this to try and negotiate the price if you feel that it is too high.
You are now ready to check woodworking shops and look around for the best deals that will get you the woodworking tools your workshop needs. With the information you have learned from this article, you can search for tools with confidence.
I hope this article has helped you get started in expanding your workshop!