Because woodworking tools are expensive, you want to make sure the tools you purchase will suit your needs best. But with so many different brands available, such as Grizzly and Jet, choosing the right company can be difficult.
Jet makes better, more expensive woodworking tools while Grizzly produces comparable, cheaper machines. Additionally, Jet is superior to Grizzly in terms of shipping and customer service. But generally, Grizzly and Jet both make great woodworking products.
To determine which company manufactures the best overall products, I am going to compare some of their products. I will also consider the personal opinions of customers who have bought and used these tools. Let's get started.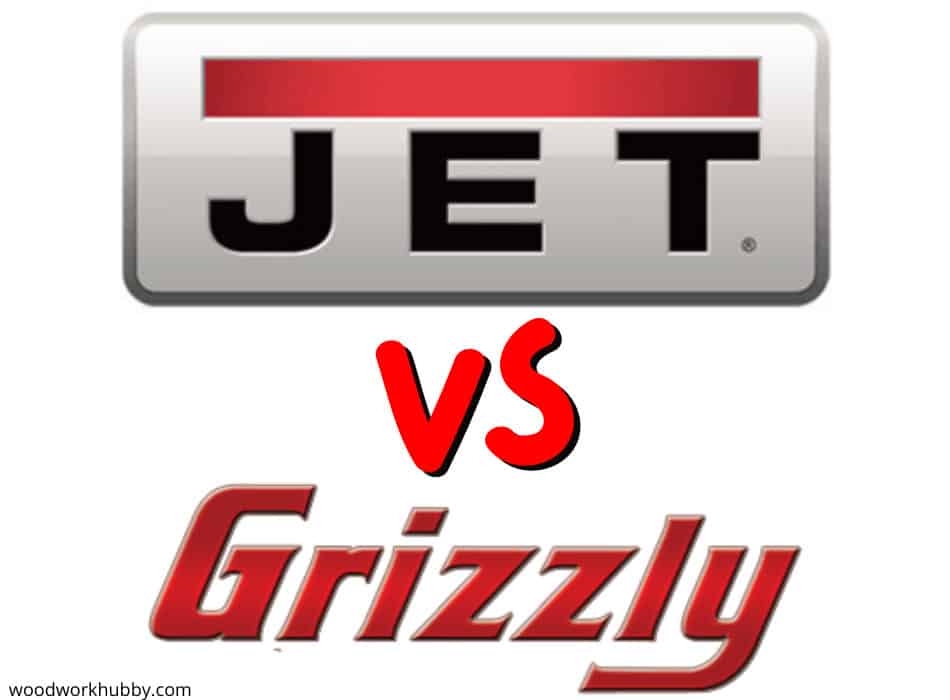 Jet vs. Grizzly: Table Saws
In terms of table saws, the Grizzly G1023RL and the Jet Deluxe Xacta are the most comparable models sold by the two companies. First, let us discuss the specs of both the Grizzly and the Jet saws individually. After, I will compare these numbers and features to determine which woodworking tool is the best.
Jet Deluxe Xacta Table Saw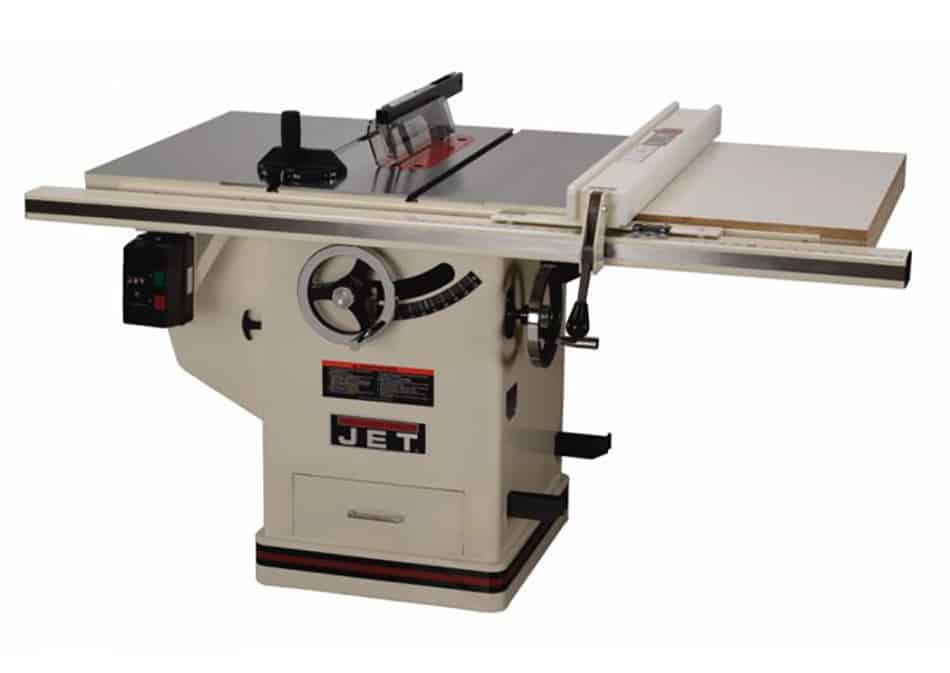 This table saw features a ten-inch blade and a durable cast iron worksurface. This machine has the superior operation and cutting compared to older models because of its upgraded Poly-V belt drive.
The Jet Deluxe Xacta features both left and right cast iron extension wings to provide you with all the room you need for woodworking. I bought one of these machines here.
The RIP capacity of the Jet Deluxe Xacta is 30 inches. This capacity allows you to execute rip cuts on large pieces of wood without needing to upgrade to a larger saw. The blade on a Jet Deluxe Xacta is fully shrouded to collect most of the dust produced while you are running the saw. This dust collection system makes for better operation and easier clean-up.
Purchase of the Jet Deluxe Xacta includes the Jet Red Assurance 5-year warranty. If your saw breaks or is having issues, you can take it to an authorized service center and have the repairs covered by the warranty.
Grizzly G1023RL Table Saw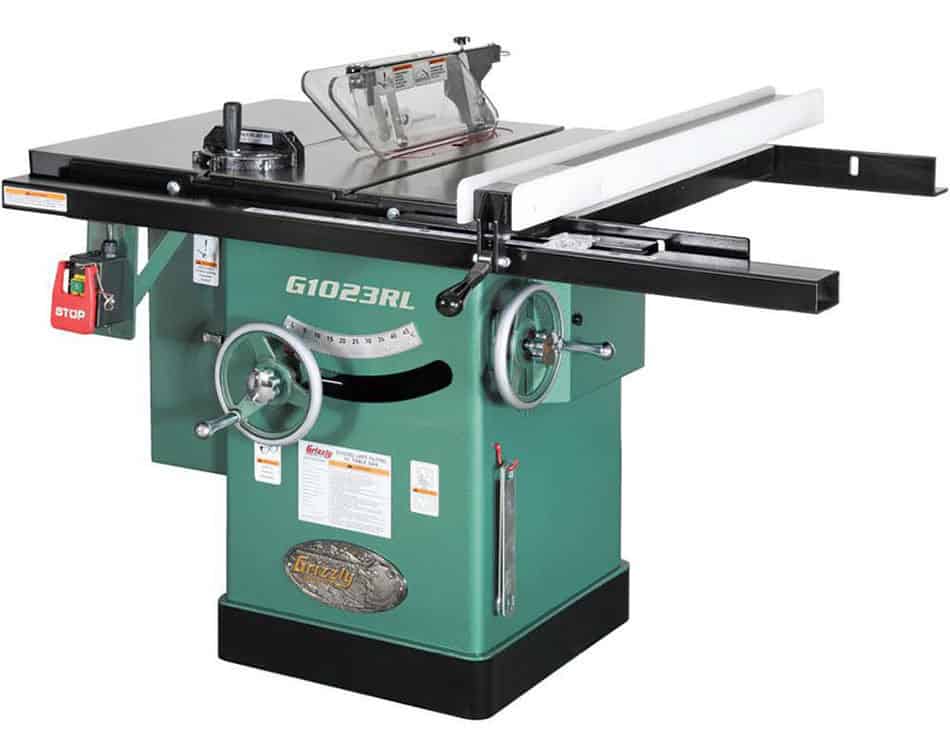 The Grizzly G1023RL also features a three-horsepower motor and a ten-inch blade. Like the Jet table saw, the Grizzly G1023RL has received a series of upgrades compared to the older saw models.
The Grizzly G1023RL upgrades include a new riving knife system, serpentine-belt power transfer. This upgraded system allows the machine to run not only smoother but quieter too! The Grizzly table saw also features dust collection underneath the blade to make for easy clean-up.
The table on the Grizzly table saw is made of cast iron as well. While the Jet and Grizzly saws seem similar, there are differences between the two saws. The maximum RIP capacity of the Grizzly G1023RL is 32 inches, two inches larger than the Jet table saw.
Grizzly table saw purchases include a one-year warranty. This warranty covers part replacement and factory defects.
Jet Deluxe Xacta vs. Grizzly G1023RL – Which Is Best?
Now let me discuss how the two machines compare to one another.
Both the Jet Deluxe Xacta and the Grizzly G1023RL use three horsepower motors and ten-inch blades. Additionally, the tow table saws feature cast iron tabletops for durable usage. The main differences between the two table saws are the RIP capacity and the warranty. The Grizzly G1023RL has a RIP capacity that is two inches larger than the Jet table saw, making it slightly better.
Although the Jet saw has a smaller RIP capacity, Jet table saws include a better warranty than a Grizzly saw. If you are looking for a saw with optimal protection, then Jet is the way to go.
The last factor that needs to be considered is the price of the two saws. The Jet Deluxe Xacta costs about $2,913; meanwhile, the Grizzly G1023RL costs only $1,945 (this does not include the $150 freight fee). Keep in mind that the price will vary depending on where you purchase the saw.
If you are looking for a more capable saw for a better price, then the Grizzly G1023RL is the right choice for you. However, if you are willing to pay a bit more for better coverage of your saw, then the Jet Deluxe Xacta is the best choice.
Some consumers explained that the two different companies have drastically different shipping timeframes. According to one customer, Jet can deliver their saw within three weeks; meanwhile, it would take a month or two for a Grizzly saw to arrive.
If you need a saw sooner than later, you may consider paying the higher price to get one faster; however, if you are not in a rush to get a saw, you could save several hundred dollars by purchasing the Grizzly.
Jet vs. Grizzly: Wood Lathes
A lathe is a necessary tool for any woodworker. This tool can do more than just practical work. A lathe can turn a piece of wood into a piece of art.
So, who should you purchase this necessary woodworking tool from, Grizzly or Jet? Well, let's compare the performance and quality of their products below.
Grizzly G0842 Wood Lathe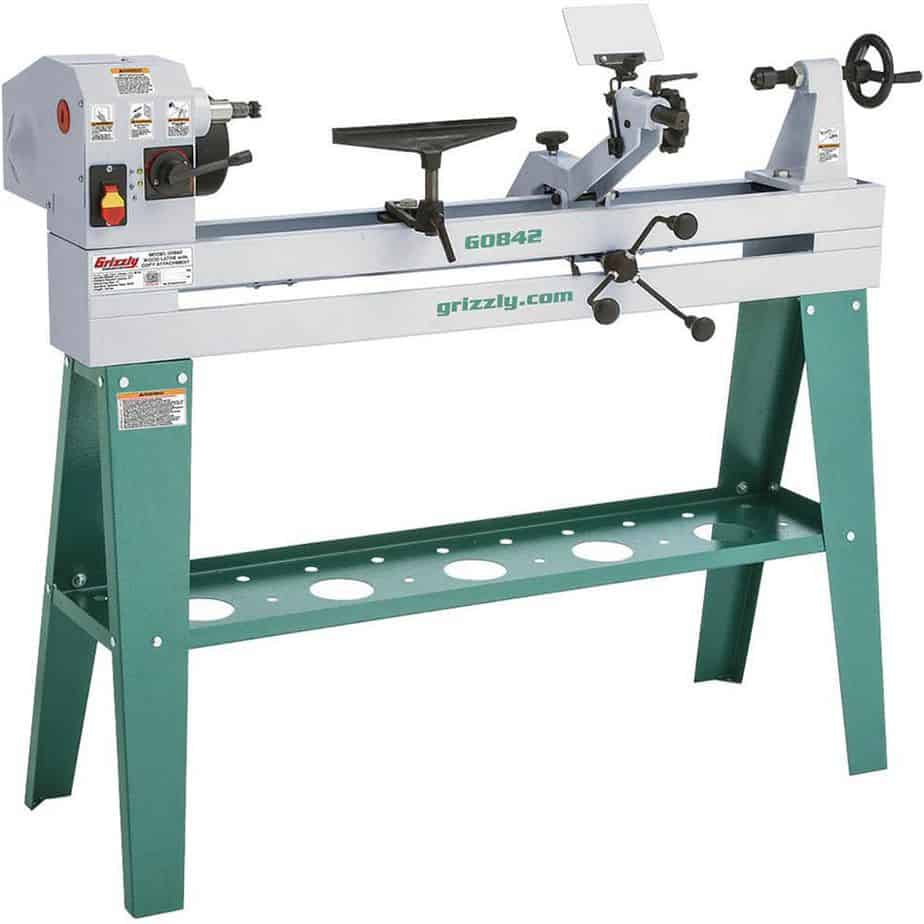 The Grizzly G0842 is a 14 inch by 37-inch wood lathe. This lathe includes both legs and a copy attachment.
The Grizzly lathe allows the user to make products up to 32 inches long. Using the included copy attachment makes for easier replication as well! Removing the copy tool leaves 37 inches between the centers for longer creations to be made.
While this woodworking tool can produce longer products, it is not so big that it takes up too much space. This lathe will fit easily in your shop. The purchase of a Grizzly G0842 includes a spur center, cupped live center, knock-out tool, tool rest, and a six-inch faceplate. Spindle speeds on the Grizzly G0842 vary from 600 to 2400 RPMs.
Customer reviews of this product explain that this is an excellent product that operates quietly. However, a few mentioned that Grizzly shipping was less than exceptional (a common trend with Grizzly products).
Jet JWL-1440VSK Wood Lathe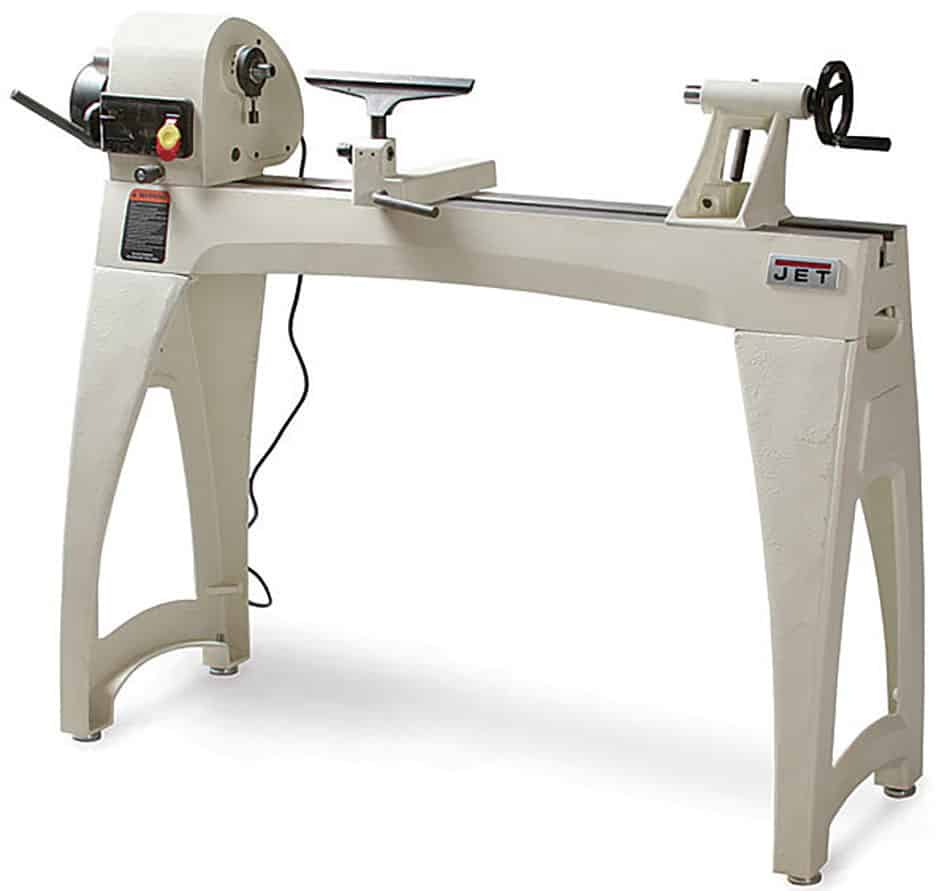 The JWL-1440VSK lathe also includes legs, making it a stand-alone product that will not clutter your workshop counter space. 
This 14 inch by 40-inch lathe features a sliding and pivoting headstock for versatile usage. Something that improves the versatility of this machine, even more, is its varying spindle speeds. The spindle on the Jet lathe can operate from 400 to 3000 RPMs. In other words, this lathe can go both slower and faster than the Grizzly lathe.
This lathe is slightly larger than the Grizzly lathe, meaning it can complete larger projects. However, this does mean that it will take up a bit more space than the Grizzly machine. The Jet JWL-1440VSK is made from cast iron to provide users with a durable machine.
Although the Jet lathe is durable, its purchase still includes the Jet Red Assurance 5-year warranty. The Jet lathe warranty provides you with access to quick service, repairs, and routine maintenance.
Be sure to check out the ideal lathe workbench height here.
Grizzly G0842 vs. Jet JWL-1440VSK – Which Is Best?
Although it may seem like there is a clear winner between the Grizzly and Jet lathes, comparing the two reveals a bit more of a complicated decision. The Jet JWL-1440VSK is larger and has more range in spindle speeds. Combined with the 5-year warranty, the JWL seems like the perfect choice for your workshop.
Before you rule out the Grizzly lathe, be sure to consider the extra attachments included with the machine. These attachments can make replication of woodworking easier. While the spindle is slightly smaller and has a smaller range of speeds than the Jet lathe, it is still a capable lathe.
Are you still not sold on the Grizzly lathe? Well, let's consider the prices then. While the seemingly better Jet JWL-1440VSK costs about $2,000, the "lesser" Grizzly G0842 lathe costs only $695 (plus $150 in shipping). 
If you are looking for a more capable lathe with product protection, Jet takes the win. However, if you are looking for a capable lathe at a lower price, Grizzly is the way to go. Do keep in mind that Grizzly generally takes longer to ship its products than Jet.
Jet vs. Grizzly: Planers/Thicknessers
Another necessary tool for woodworkers is a planer or thicknesser. Planers or Thicknessers are one of the most common tools in a woodwork shop. I decided to review these for this reason.
Let's look at a planer from Grizzly and Jet to discover which machine would be the best addition to your workshop.
Jet JWP-208HH Planer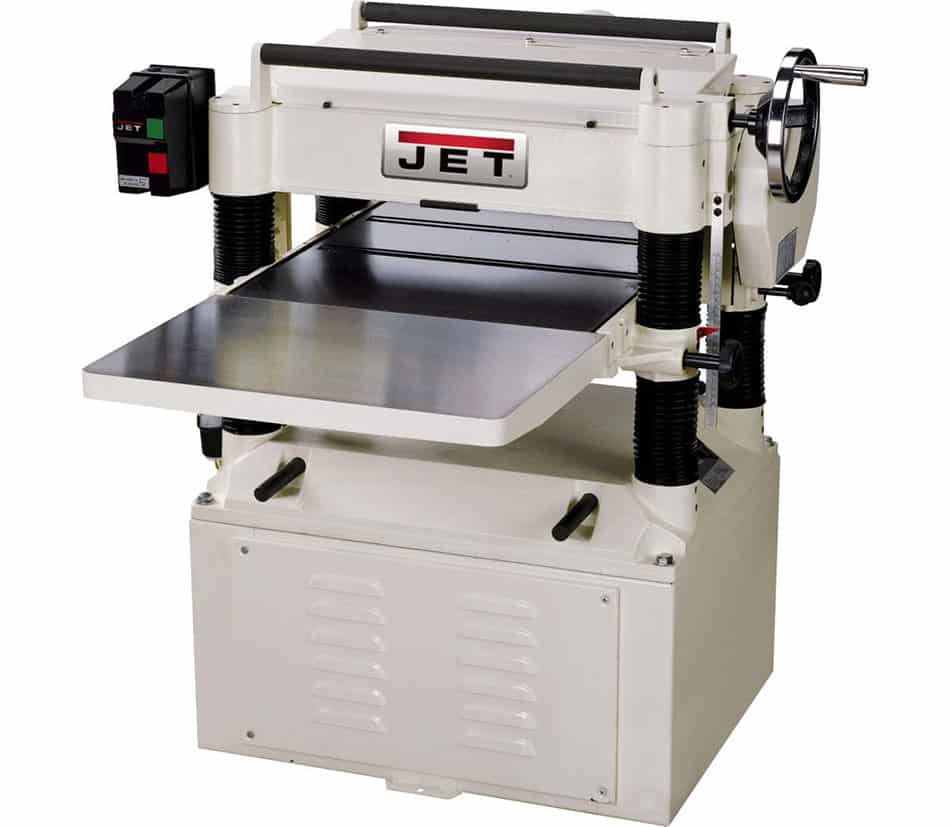 The Jet JWP-208HH, built out of cast iron and steel, features a 20-inch planing width. This durable construction design stabilizes the machine while in operation.
This planer features a five-horsepower motor and a helical head with 92 (yes 92) knives for a smooth and quiet finish.
Adjust the cut height by 1/16th of an inch to get the precise thickness needed for all your projects. The planer also includes both steel infeed and outfeed rollers to reduce the chances of snipe occurring. (Snipe is a deeper cut that leaves a gouge in the wood). 
Like all other Jet products, the Jet Red Assurance five-year warranty covers the JWP-208HH. If the machine breaks or has any form of a factory defect, you can contact a local authorized service center. Here they will help repair the damage or correct the factory defects. 
The Jet JWP-208HH sells for about $4,145–depending on where you purchase it.
Grizzly G1033X Planer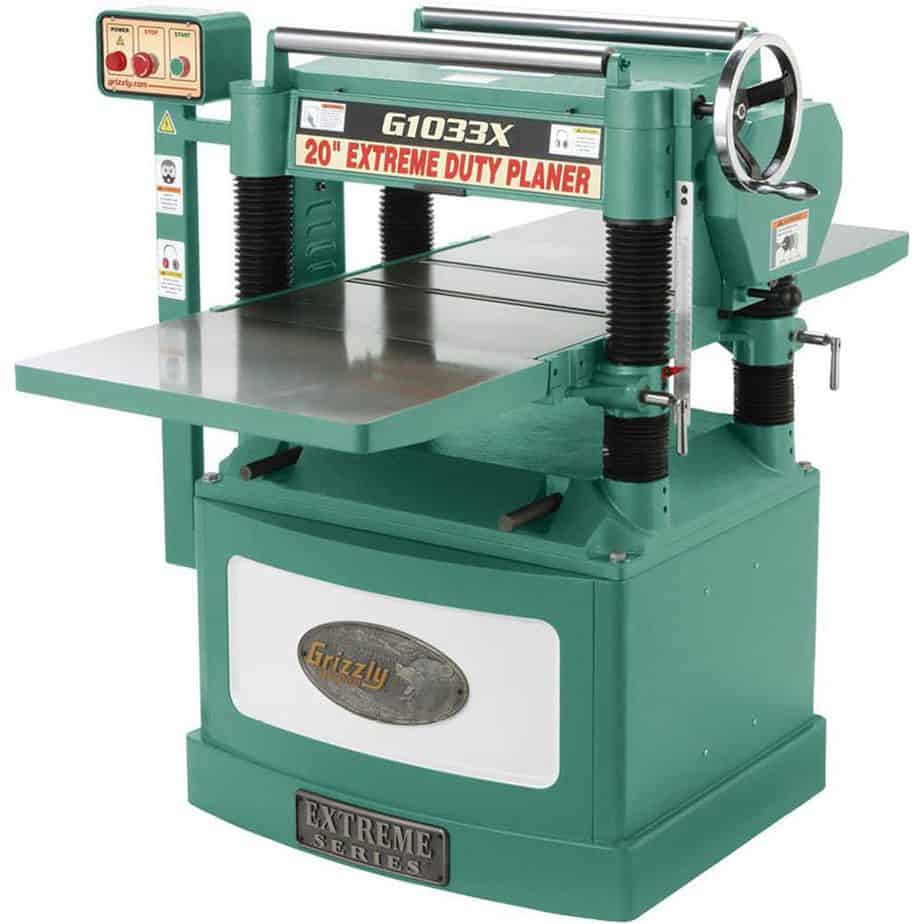 The Grizzly G1033X is an upgrade from the G1033Z planer. This upgraded planer features a helical cutter head for smoother cuts.
Like the Jet planer, the Grizzly G1033X features 92 blades. However, the blades on the Grizzly planer can be rotated up to three times to reveal sharper edges. This will reduce the frequency that you need to purchase new blades.
The nearly five-foot-long, cast iron table features several rollers to keep the machine running smoothly and reducing chances of snipe. Unlike the Grizzly lathe, the G1033X is covered by a one-year warranty. This warranty covers replacement parts and any factory defects.
You can add the Grizzly G1033X planer to your woodworking workshop for about $3,450 and an additional $250 shipping fee.
Jet JWP-208HH vs. Grizzly G1033X – Which Is Best?
For once, the Grizzly and Jet woodworking products are not drastically different in price. As well as not varying in price, the two planers do not vary much in feature either. Additionally, both feature helical heads to create smoother finishes on boards.
The main difference between the two products once again comes down to the warranty. Not only is the Jet warranty more comprehensive than the Grizzly warranty, but it lasts for a longer period as well. 
If you are willing to spend the extra $400 to $500 for the knowledge that your machine is protected, then Jet is the right choice. However, if you are not interested in the extra protection and just want a more affordable, yet capable, planer then Grizzly is an excellent choice.
What Others Say About Jet and Grizzly
Here is a short snippet from hundreds of people that commented on Facebook about Jet and Grizzly Tools. As you can see, most people enjoy using both, but the qualities of Jet certainly shine through. I hope this helps a little in your decision-making process.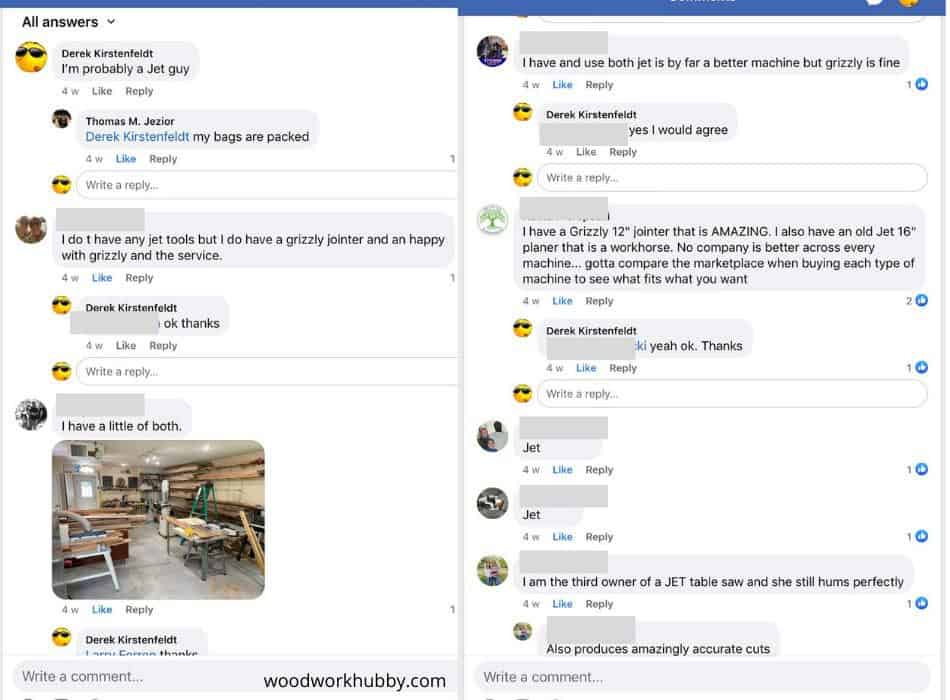 Jet vs. Grizzly: Overall
So, I have looked at a few of the products sold by each company and discussed which is better; however, which company is better overall? While this is largely a matter of opinion, some other factors should be considered. 
Many user reviews for Grizzly claimed that shipping took much longer than expected and some even reported that the delivery was left outside without any assistance. In addition to low-quality shipping, Grizzly does not cover all of its products with a warranty. The products that are covered by warranty only have a year of coverage. 
Although Grizzly may have some drawbacks, the company does generally sell products that are comparable in function but cheaper than those sold by Jet. In other words, Grizzly sells quality, functional machines for a more affordable price than other companies. 
If you are on a budget and do not mind waiting a bit longer for your machine to arrive, Grizzly is a good choice.
While Grizzly is more affordable, Jet woodworking tools, in general, are of better quality and function. However, the products reflect their higher quality with a much higher price. This higher price tag allows one access to an excellent machine and full warranty coverage up to five years after purchase. 
Although Jet is more expensive, the higher price tag is warranted because of the company's superior customer support and machine design. If you want a machine that will last longer, and will outperform the other machines in your shop, you should choose Jet instead of Grizzly.