Woodworking is a wonderful hobby but can often mean we stand for hours on a hard concrete floor. This is not the most common question I'm asked but I'm sure many wonder, what shoes do woodworkers wear?
Woodworkers usually wear crocks, flip flops, or sneakers in their workshops. These provide the most comfort and ease of use at home. Woodworkers on commercial job sites always wear steel toe safety boots which are mandatory.
Like most woodworkers, this hobby is done at home usually in a garage or back shed and these are the shoes most commonly used in those areas. Footwear is an extremely important consideration as many users have complained about back pain from standing for long hours.
Are Flip Flops Good For Woodworking?
Flip flops are the most common shoes being worn in the back shed probably because they provide the most comfort. Flip-flops are not the safest shoe though.
As any woodworker knows, our workshops are full of many sharp and dangerous tools, not to mention heavy pieces of wood. If any of these tools or wood gets dropped, a nasty injury can occur to your feet.
I often wear flip-flops myself when I'm doing basic tasks like sanding or just tidying up. There are times when I opt for a better choice in footwear mostly due to the safety factor.
If you live in a colder climate then this may not be a great option for you. Continue reading to see the other shoes that may best fit your needs.
What Should Be Considered When Looking For Shoes?
When choosing the appropriate shoes, you will need to consider three things:
Comfort
Safety
Ease of use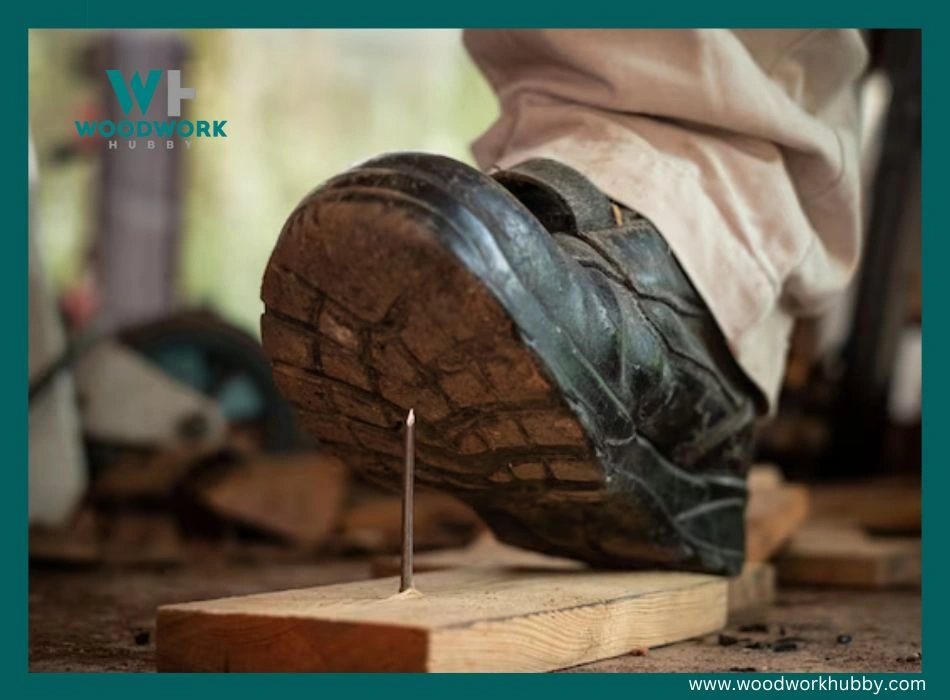 Comfort – Because woodworkers typically stand for long hours, comfort is important to everyone. You need to feel comfortable standing on concrete and preferably something where your feet will not get too hot or cold. Consider the climate you live in also. You may need different types of shoes for different times of the year.
Safety – This would be a big factor for some users but others tend not to be concerned. I tend to wear thongs when I'm doing things like sanding or finishing as these don't carry great risks to your feet. If you were using machinery such as a wood lathe or using chisels at your bench, I recommend looking at something better like crocs or especially sneakers. See my number one recommendation below. Please don't take safety lightly! Always wear good safety shoes when you using sharp tools.
Ease Of Use – Shoes need to be easy to take on and off. Most woodworkers work from home so they may want to be coming in and out of the house often. Pull-on shoes or shoes with minimal laces are the best choices.
What Shoes Are Best For Woodworking?
Before we talk about the shoes I consider to be the best, let's first take a look and see how the 4 most popular shoes did in my tests. The shoes I tested are flip-flops, crocks, basic sneakers, and steel-toe boots.
I tried all 3 types of shoes on for 2 weeks and gave them a score out of 10 for each category, Comfort, Safety & Ease of use.
Flip Flops
Crocs
Sneakers
Steel Toe
Boots
Comfort
8
6
9
6
Safety
2
6
9
10
Ease of Use
10
10
3
5
Figures based on my experience
Based on this data, I tend to always opt for flip-flops or sneakers depending on what I'm doing in the back shed. If I ever leave home to go to a job site, then I always use steel-toe boots. These are not negotiable outside of your own home.
I Consider These Shoes The Best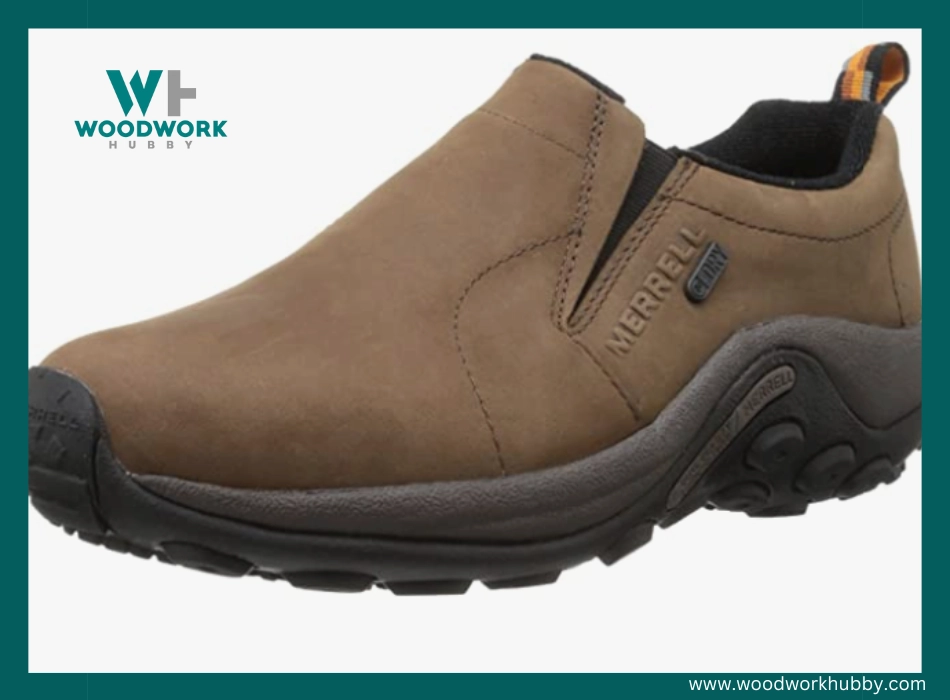 After conducting that little experiment, I went out in search of a good quality shoe like a sneaker that I could wear more of the time in my workshop.
Merrel Jungle Mocs
The Merrel Jungle Mocs seems to be my new favorite as they are easy to pull on, very comfortable, and provide enough safety to toes and feet should a sharp tool be dropped. I scored them a 9. I sometimes get a few shavings or wood chips inside them while working but this is no more than any other type of shoes.
Merrel Jungle Mocs
While these are good shoes, I have decided to list 4 other types of shoes that should not be ignored and you may like to consider. After all, everyone has different feet and may have different needs.
---
Keen Utility Steel Toe Shoes
The next step up from Merrel Jungle Mocs would be these Keen Steel Toe Shoes. They pull on easily just like the Merrel's and they offer extreme comfort and have a steel toe to protect you from wood or tools being dropped on your feet.
Keen Utility Steel Toe Shoes
Merrel Jungle Mocs score 9/10 for Comfort, safety, and Ease of Use
Oil- and slip-resistant, non-marking, rubber outsoles are used for improved traction that meets or exceeds ASTM F1677 MARK II and ASTM F2913 SATRA Non-Slip Testing Standards; Lug sole patterns provide grip even on slick surfaces
Waterproof, breathable membrane liner that lets vapor out without letting water in for keeping your feet dry and comfortable; The Pittsburgh 6" boot does have a mesh liner that integrates with the waterproof membrane
Electrical Hazard (EH)-rated to provide a secondary source of protection from live electrical circuits; A full-length TPU stability shank gives added support
4.5 ⭐⭐⭐⭐⭐
---
Ariat Groundbreaker Steel Toe Boots
If you looking for something that provides a little more protection and is much easier to slip on, then these boots may be a good option. I use these and I like them because I get both safety and ease of use from them. A good choice worth considering.
Ariat Groundbreaker Steel Toe Boots
Ideal for construction, warehouse, factory or farm work.
The Groundbreaker by Ariat are made for the long haul: strong, sturdy, and styled with western detailing.
It has a Waterproof PRO construction, meaning the full-grain leather is waterproof and fully insulated, ensuring your feet stay warm and dry
Available with a reinforced steel toe
4.6 ⭐⭐⭐⭐⭐
---
Crocs in Camo Color
Crocs are still one of the favorites amongst many woodworkers. These ones are a little different with their camo color. You can also get other colors. I like these as they are easy to get on, have great breathability and offer better feet protection than flip flops do.
Crocs in Camo Color
---
Casual Flip Flops
If you looking for a good flip-flop for use in your workshop, I highly recommend trying these ones. They offer a nice thick sole for comfort and plenty of grips. The perfect shoe for woodworkers who are doing small jobs that don't involve any sharp tools.
Casual Flip Flops
Perfect for woodworkers doing small jobs that don't involve any sharp tools.
Nice thick sole for comfort and plenty of grips.
The mid sole is made of TPR material which make sure your toe and feet feel comfortable.
Synthetic rubber out sole provides a good skid and wear resistance in thong sandals.
4.3 ⭐⭐⭐⭐⭐
---
Good Tip For Hard Floors
Most of us have a hard concrete floor and it doesn't matter what shoes you wear, your feet can still get sore after standing for extended periods of time.
I have started using cushioned anti-fatigue mats in my workshop in places where I find I would stand for long periods of time. I use mats in the following places:
These mats are great as they are super comfortable and non-slip. If you suffer from fatigue in your legs or back from standing, then I would suggest you give these a try. I love them and will consider getting more.
Cushioned anti-fatigue mats
Final Thoughts – Which Shoes Are Best For You?
Everyone has different needs when it comes to shoes. Some people have flat feet while others have broad feet. Picking the perfect shoe is not easy. The recommendations I have given above work really well for me and I know they do work for many others.
Before going out and spending the bank, you will first need to consider what will work best for you. Factors like cold weather and flat feet may mean that flip-flops may not be best for you. Also, consider if you get a sore back from standing. This article may help your posture.
I recommend you start with one pair of shoes and give them a go for a while. If you are happy with the results, then they might be right for you. You don't need 3 different types of shoes as I use, but it does give you options depending on what you are doing.
Good luck with finding the right shoes!