Every woodworker will often come to a point where mistakes happen and we look for a quick fix to get us out of trouble. An accidental hole or a chip out of the wooden surface could one of many scenarios where we look to fill it up and carry on. But what if you need to screw through the filler? If that happens, can wood filler hold a screw?
Wood filler can hold a small screw that does not bear weight, but it does not have the structural strength over time to support large screws that carry load and stress.
Most wood fillers on the market will claim that their products dry rock hard and can be drilled to take a screw. While this part is true, wood filler simply does not have enough structural capacity if your screw is holding joints prone to movement or they carry load or stress.
In saying this, I think some wood fillers are perfectly fine if you intend to drive in short screws that do not carry any stress. In this case, you would first need to ensure you are using an epoxy or two part filler to ensure it sets hard enough.
Can You Drill Into Wood Filler?
Wood filler can be drilled successfully with a small pilot hole after it has fully cured. For best results, the wood filler should be a two-part epoxy or multipurpose type to ensure cracking does not occur.
Always start with a small pilot hole let's say 1/8″ and then slowly use bigger drill bits if you need a larger hole. As I mentioned most two-part epoxy or multipurpose wood fillers will handle a hole being drilled in them.
Take a look at this video showing me drilling into wood filler.
How To Fix Stripped Out Screws
I find the most common question I'm asked is "How do I fix a stripped out screw hole". Usually, this occurs on doors inside the home where a door has been taken off then put back on a few times for painting or flooring to go in.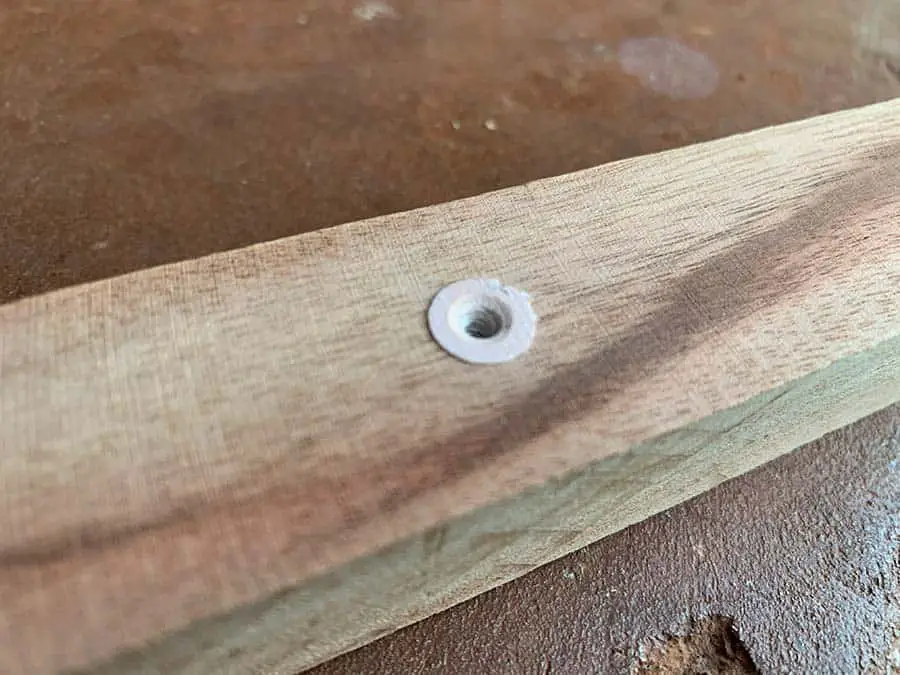 The screw holes for the hinges usually get worn out and when you try to drive the screw back in, it just spins. This is where most people oft for using wood filler to fill the screw hole. So how do you fix screws that won't tighten?
I would definitely not recommend using wood filler for this application. Wood filler does not have enough structural strength or trusted strength to support a whole wooden door.
This may seem like an easy fix but there is actually a much better way and quicker way to fill a screw hole and know that the screw will hold. Wood filler could be used as a short-term fix only.
How To Reuse Screw Holes In Wood
There are 2 ways to fix stripped out screw holes other than using wood filler. I have listed these below along with the steps needed to complete each one.
Match Sticks Or Wood Strips (Beginner Option)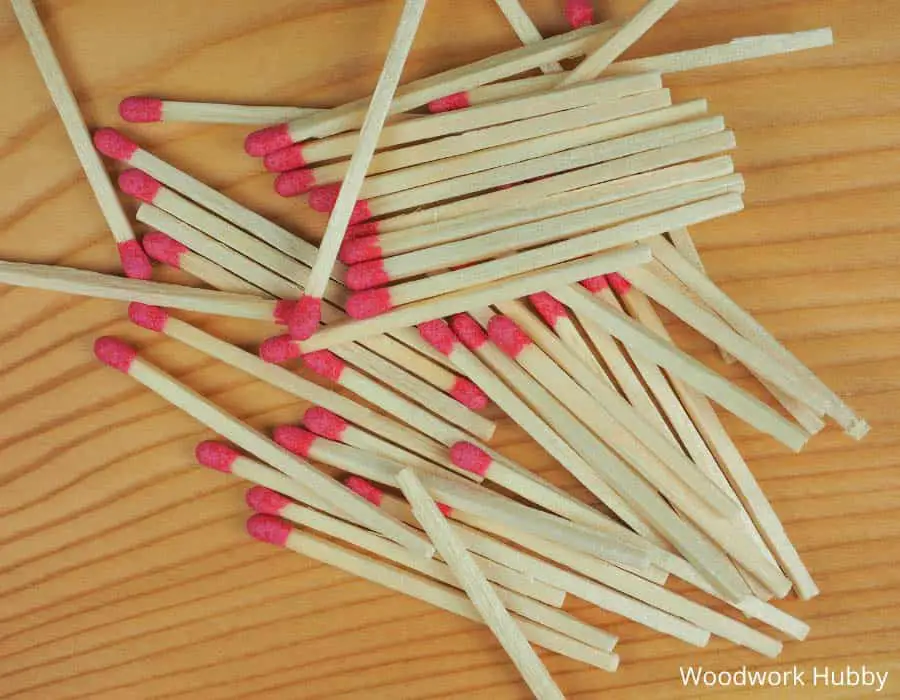 This is not the preferred method but will do the job and it will be stronger than wood filler.
Materials Needed
Match sticks or small slithers of wood
Good quality wood glue
Hammer
Sharp Chisel
First, clean out the old screw hole as best you can to remove any loose wood fibers
Take some match sticks and coat them in wood glue. I recommend one of the Titebond glues
Insert match sticks into the hole and gently tap in with a hammer
Continue to add match sticks until the hole is full
Wait a few hours for the glue to dry
Take your chisel and hammer and cut off the excess match sticks that stick out of the hole
Select the right size drill bit for a pilot hole and pre-drill a hole for the screw
Insert screws back in – Job is done!
Using match sticks does leave a few gaps between the match sticks and is reliant on the wood glue holding everything together. This will work but there is a better option.
Wooden Dowels (Best Option)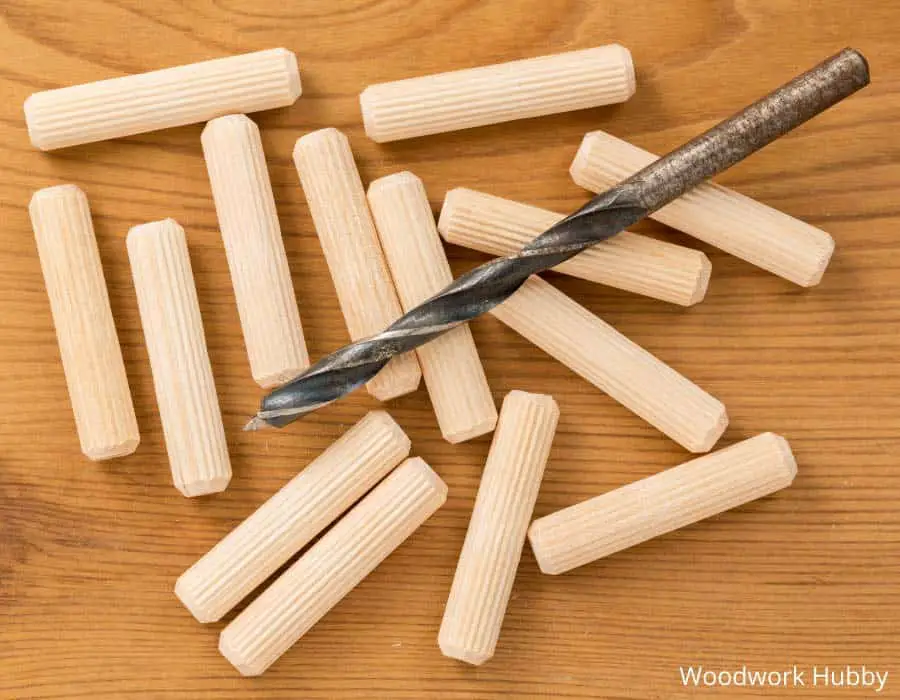 Wood Filler Stripped Screw Hole
The best way to fix stripped-out screw holes, especially in hinges is by inserting a wooden dowel. This may seem harder than using wood filler or match sticks but it actually takes less time and is much stronger.
Materials Needed
Small wooden dowels
Good quality wood glue
Hammer
Sharp Chisel
Screw Into Wood Filler
Wood filler can be screwed provided a pilot hole is drilled first. The pilot hole prevents the screw from forcing the wood filler apart and cracking it.
Screwing Into Wood Filler
Here is the process I would recommend you follow if screwing into wood filler:
Select a drill bit to drill a pilot hole
The pilot hole should be the same size as the shank of the screw but smaller than the threads
Slowly screw in the wood screw but do not over tighten
Wood Filler In A Hole Is Stronger (Tested)
Maybe you need to use some wood filler in a hole or maybe it's on the edge of a piece of furniture. I often wondered how well wood filler would go if I put a screw into it in these scenarios.
I did a real test using a couple of types of wood filler. I then applied the multi-purpose wood filler and a two-part epoxy filler to a 10mm hole in the center of a piece of wood. I also applied them to the edge of a piece of wood to a notch out.
All wood fillers were pre-drilled to take a screw
A screw was driven halfway through the filler in each spot
Weight was then applied to each screw to see if the wood filler would fail
How To Apply Wood Filler To Hold A Screw?
Conclusion – Can Wood Filler Hold A Screw?
From the results, I could clearly see that the wood filler inside of a hole was going to be stronger because the wood supported the filler on all sides.
Wood filler on the edge of the wood experienced slight cracks after weight was applied to it. This made me a little nervous as to how strong the wood filler was.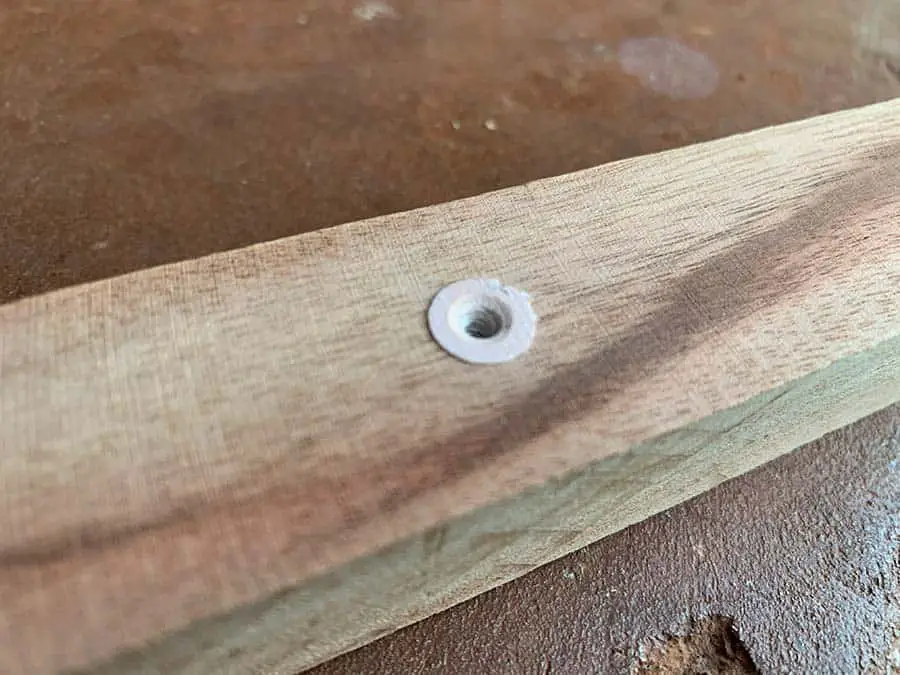 Is Wood Filler A Good Idea To Hold a Screw?
Based on my tests above, I would never recommend using wood filler as a long-term sustainable medium to hold a screw in place.
Like I mentioned earlier, if you were only using a small screw to hold something decorative then it might be ok. If the screw was to hold a joint or was exposed to any stress or movement, then there is a good chance the wood filler could fail.
You must also consider the bond between the wood and the filler and how strong that is. In my tests, after pulling on the screw, the wood filler actually moved out of the wood ever so slightly. Another cause for alarm was that I could not trust it.
FAQ
Can You Screw Into Plaster Filler?
Plaster filler is much more brittle than wood filler and is not sctrong enough to hold a screw.
What Wood Filler Is Drillable?
Most wood fillers are drillable. The 2 that I suggest include:
Items I used In This Article
Here is a full list of the items and products I used throughout this article which I consider necessary to screw into wood filler. This will make it easier for you to get your project started.