When it comes to getting a perfect finish on your project, it is important to prepare it properly by filling nail holes or blemishes before you apply a finish. Knowing which type of filler to use can be a bit confusing if you are new to woodworking or have never had to use it before to fix an imperfection. So what is the difference between wood putty, wood filler, and caulk?
Wood filler is for patching large holes or blemishes, wood putty is used to patch nail or screw holes and caulk is a flexible sealant used to seal gaps in adjoining surfaces.
The three are very different products and need to be applied differently in order to get the correct finish. This article will go over them in detail to ensure you know which filler to use the next time you are facing a scratch, gouge, or smaller issues.
I will ensure that you are educated about these forms of filler material along with pros and cons, top brands for various uses, and professional tips that will make your work look smooth and flawless. You will be able to assuredly identify the right filler for any given issue, whether you are a novice woodworker or have been creating projects for years.
The Difference Between Wood Putty Vs Wood Filler Vs Caulk
You will want to make sure that any filler you choose will look right on your project and fulfill any requirements before making the purchase. Especially when ordering online. Choosing the correct filler is very important depending on the job or finish you wish to achieve.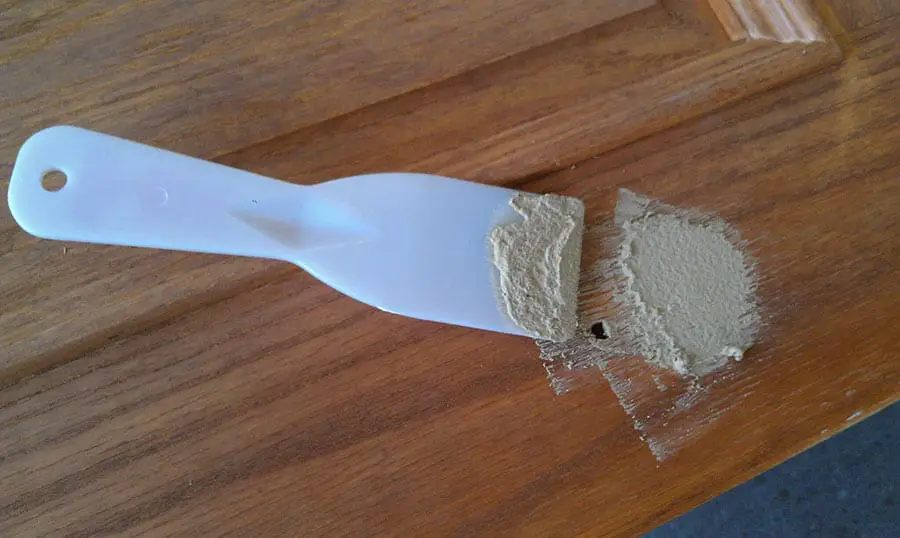 For example, suppose you are trying to hide some wood screws for an outdoor bench. In that case, wood putty will be perfect because it will blend seamlessly into the space while providing enough give so that changes in temperature and humidity will not cause it to crack or separate at the edges.
What is the difference between wood glue and wood filler? Click here to find out. Below are brief breakdowns of what to expect from these two types of wood fillers before we go into further detail in later sections.
Wood Filler
Wood fillers are generally used for any project that will be painted but there are some fillers that can be stained. Wood Filler is used to fill very large gaps or holes in wood and needs to be sanded after it is dry to a flat surface.
Wood Fillers are made from various wood byproducts like sawdust or wood particles. They can be suspended in multiple mediums, from petroleum to water-based options.
Each kind of wood filler has its own advantages and disadvantages. Petroleum-based versions of wood fillers are less likely to crack over time as they create a stronger bond.
Water-based fillers, on the other hand, are more likely to crumble or break if stressed. Another difference is that wood filler is sandable as it is composed of natural wood fibers.
When to Use Wood Filler
You will want to use wood filler if there is more work to be done on your piece. For example, if you still need to stain, sand, or finish the wood, this kind of filler is ideal. As previously mentioned, it is also best used for indoor projects such as furniture, lining, shelving, and other similar wooden pieces.
Discover if wood filler can hold a screw!
Projects Using Wood Filler
The best way to use wood filler is to identify the area that needs to be filled, sand it down and clean it. Then you will want to use a putty knife to place the filler inside the space carefully.
Once it dries completely, you can then sand over the fill and stain it if necessary. It is best to only use wood filler for objects that need very minimal cosmetic fixing up rather than for significant damage.
The filler is not designed to keep an item structurally sound, so cracks that go all the way through a piece or large holes should not be repaired using filler.
Stained Wood And Wood Filler
To make sure that your filler matches the wood that you are going to be applying it to, you can pre-mix in the right shade of stain or other color enhancement so that you get a perfect match when it is used.
You will want to create a small practice batch because usually, it requires darker hues to make the same color due to the way that filler absorbs more of the stain than traditional wood pieces.
You also want to make sure that your stain matches your filler. If you are using a water-based filler, you will want to use a water-based stain, and if you are using a solvent-based stain, you will want to use the petroleum-based filler.
This will ensure that there are no issues as the filler dries. Water-based stain and fillers are best used indoors, where they will not be subjected to various weather conditions that may affect the finished piece's integrity.
Wood Filler Prices
Wood filler is much less cost-effective as it cannot be used again once it dries to a certain point regardless of how airtight the storage container.
Generally, it is sold in larger quantities since it is used on larger imperfections than putty. The price is comparable though some brands are more expensive for wood filler than for wood putty.
The sizes average between 3 ounces and a pint. Price-wise they tend to be between $6 and $30 depending on the size, base, and brand.
Top Brands Of Wood Filler
Here are some options for leading brands of wood filler. This is not a comprehensive buyer's guide and is instead intended as a way to showcase the various fillers that are available for different types of projects.
Stainable Wood Filler
Price: $8.17
Size: 3.25-Ounce
Base: Solvent-free formula
Additional Information: This product is listed on Amazon's Bestseller list as #13 in Wood Filler. Designed for both indoor and outdoor use.
Customer Rating: 4.3 out of 5 from 854 customer ratings
FamoWood
Wood Filler
Price: $15.61
Size: 16-Ounce
Base: Latex
Additional Information: This product is listed on Amazon's Bestseller list as #12 in Wood Filler. It can be stained, sanded, and painted.
Customer Rating: 4.5 out of 5 from 609 customer ratings
Minwax
Stainable Wood Filler
Price: $10.97
Size: 16-Ounce
Additional Information: This product is listed on Amazon's Bestseller list as #3 in Wood Filler. It is designed to be used with either oil-based or water-based stains.
Customer Rating: 4.4 out of 5 from 1,397 customer ratings
Goodfilla
Wood Filler
Price: $8.99
Size: 8-ounce
Base: Water-based
Additional Information: This product is listed on Amazon's Bestseller list as #8 in Wood Filler. It is quick-drying and non-shrinking.
Customer Rating: 4.3 out of 5 from 757 customer ratings
Helpful Tips
The wood filler should not be used as a replacement for wood glue or fasteners because it is not meant to be weight-bearing, and its use is entirely cosmetic. It does provide a very minimal amount of additional support but should not be relied on solely.
Wood Putty
Wood putty is sometimes called "plastic wood" because it is made up of various synthetic materials. Each version is best used for a specific type of application, and there are many more variations to color and look when it comes to putty compared to natural wood filler.
Wood putty should not be subjected to sanding as it does not usually dry hard enough to withstand the sanding process. There are some hybrid putties like DAP's Plastic Wood that dry hard enough for sanding, but they are the exception and not the rule.
When to Use Wood Putty
The ideal use for wood putty is to fill small spaces on finished wood pieces. If they are already stained, this is perfectly fine as most manufacturers have putty options along the same color spectrum as stains so that you can match it. The majority of wood putty is oil-based. They are made of things like polyurethane and epoxy.
Projects Using Wood Putty
Outdoor projects with minimal damage are ideal for wood putty, which has a better time withstanding the elements than the wood filler.
Primarily you will want to use this for siding and trim around your home or fixing up minor detail damage to things like outdoor wooden benches and tables.
The water-based putty can be used for indoor cabinets, trim, molding, and paneling. However, for the most part, indoor jobs can be done perfectly fine using the more natural wood trim, which will be less noticeable in terms of matching color to the original wood.
Stained Wood And Wood Putty
You cannot add a stain to putty to change the coloring because it will affect the material's integrity, but to make up for that manufacturers sell them in the entire stain color range.
Most putty is sold in small amounts because they are ideal for covering little areas so that you will have no problem purchasing a whole range of your favorite stain colors for various projects. Make sure that whatever your building is intended for indoors if you use a water-based stain and a water-based putty such as DAP's Plastic Wood Latex.
Whenever possible, test out your putty and stain combination before actually applying it to the piece that you would like to fix. This is the most accurate way to make sure that you find the closest match in terms of color.
Wood Putty Prices
Wood Putty is more cost-effective than wood filler because it can be revived long after it dries out by thoroughly mixing in a little acetone.
This gives it an almost unlimited shelf-life, and since it requires so little to fix tiny flaws, you can really get some bang for your buck. There are multiple kinds of wood putty, and you will want to make sure you read the ingredients and the proper uses of the putty you are looking to purchase before you buy it to ensure that it will work well for your wood project.
The average size of wood putty containers is between 3 and 4 ounces though you can get bulk sizes of 32 ounces or higher. The price ranges between $4 and $15 depending on the size, color, and brand.
Putty sticks and markers for scratch touch-ups usually come in sets with a whole range of colors and cost approximately $10 to $15. Since you can one-time buy and then keep them indefinitely, this is the more affordable option.
Top Brands Of Wood Putty
Below are some of the top brands for wood putty along with their size, listed price, and intended use. This is not a comprehensive buyer's guide but is meant to show you the wide variety of options available.
Katzco
Furniture Repair Kit Wood Markers
Price: $9.99
Size: Six markers, six wax sticks
Base: Wax
Additional Information: This product is listed on Amazon's Bestseller list as #1 in Wood Scratch Covers & Removers. It comes in the following colors.
Oak
Cherry
Maple
Walnut
Mahogany
Black
Customer Rating: 4.3 out of 5 stars from 7,217 ratings
Minwax
Wood Putty
Price: $3.68
Size: 3.75 Ounces
Additional Information: This product is listed on Amazon's Bestseller list as #5 in Wood Filler. It comes in one color.
Customer Rating: 4.1 out of 5 from 1,114 customer ratings
J-B Weld
KwikWood Wood Repair Putty Stick
Price: $5.78
Size: 3.5 inch
Base: Epoxy
Additional Information: This product is listed on Amazon's Bestseller list as #6 in Wood Filler.
Customer Rating: 4.5 out of 5 from 1,282 customer ratings
DAP
Plastic Wood
Price: $8.26
Size: 8 oz
Base: Latex
Additional Information: This product is listed on Amazon's Bestseller list as #28 in Wood Filler. It is stainable.
Customer Rating: 4.4 out of 5 from 202 customer ratings
Helpful Tips
If you intend to paint the wood with water-based paint, then you will want to wait for it to dry for a minimum of two to three days; otherwise, the paint will not set correctly over the area where the putty was used.
Whenever possible, it is best not to use water-based paint over putty. There are convenient "patching pencils" like the Minwax Blend-Fil Pencil, which is lacquer-based and intended for fixing small furniture scratches and imperfections.
They come in various colors to ensure there will be a match for your finished and stained furniture.
Caulk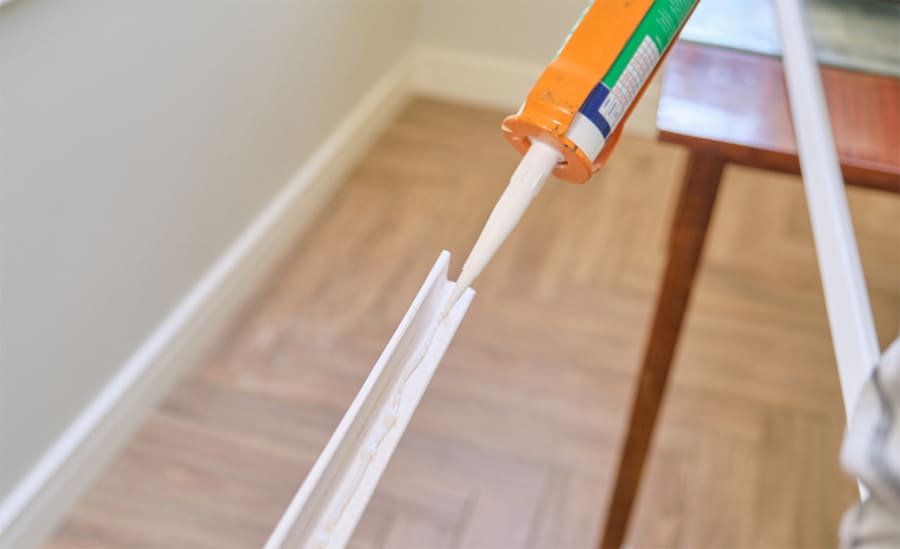 Caulk is mainly used for sealing joints between surfaces and comes in many forms like gap filler and silicone but cannot be sanded.
Acrylic based gap filler should be applied with a wet cloth or finger so that a smooth surface can be achieved. Gap filler Caulk can be painted over.
Silicone type caulk should also be applied with a wet cloth to achieve a smooth surface. Once it is applied, it can not be sanded so it needs to smooth when first applied.
General-purpose Silicone for most types cannot be painted although there are paintable silicones available.
Projects Using Caulk
Caulk really excels in places like along architraves and skirtings to seal up any gaps. Once acrylic caulk is painted, it leaves a seamless finish.
Silicone caulk is perfect for any waterproofing requirements like sealing in sinks or basins or around windows and skylights.
Pros and Cons For Using Wood Putty Vs Wood Filler Vs Caulk
There are some pretty significant advantages and disadvantages of using either wood putty, wood filler, or caulk depending on your desired outcome.
I have narrowed down the most popular mentions from professional woodworkers and compared them below. Some facts have been previously mentioned, but which we have included for the sake of clarity.
Overall these fillers are similar enough to be interchangeable for some projects, but you should always read the manufacturer's guidelines before purchasing or using a filler.
Wood Putty
Pros
It is long-lasting. A little acetone will bring back to life a container of dried wood putty.
Well worth the price as it takes very little putty filler to fix any imperfection.
Putty bonds with the wood, so it is stronger than wood filler.
Cons
It takes much longer to dry
The color may change after drying so that it may not match up as well as wood filler might.
It can damage unfinished wood and is best used on finished wood.
Wood Filler
Pros
It dries very quickly.
There are many more kinds of wood filler than there is wood putty, so you may find a match that works better with certain wood, paint, or stain.
Cons
It does not bond to the wood, so you will need to seal it in some way (e.g., adhesive, paint, etc.).
Most types are not suitable for outdoor use as they can damage the integrity of a wooden piece that is subjected to contractions and expansion due to temperature or humidity.
Caulk
Pros
Easily applied to joints between surfaces like architraves and walls
Very Flexible
Some types are easily paintable
Silicone types are great for sealing out water
Cons
Needs to be applied perfectly as it cannot be sanded
Silicone types are hard to apply neatly
Not suitable for furniture projects
Some wood putties work best for outdoor cosmetic fixes because it never fully dries and can accommodate the expansion and retraction of wood due to weather.
Wood filler is better for indoor projects because it will completely dry with some shrinkage and more easily cover larger glaring visual imperfections.
Using Filler for Time-Sensitive Emergencies
When it comes to applying the filler, putty, or caulk, there is also a difference in drying time.
Wood filler being much faster so if you are looking to get something to help with a time-sensitive emergency then it would be best to get one of the wood fillers with a quick ten minute drying time rather than waiting a day or so which is how long it can take putty to dry.
Putty markers or sticks can sometimes be quicker to dry though you will want to check the instructions before purchasing to be certain.
Caulk usually dries within a couple of hours and silicone is overnight so caulk is not ideal for emergency patches.
Conclusion – Wood Putty vs Wood Filler
There is a significant variety to choose from for both wood fillers, putty, and caulk. Several things to keep in mind are that putty will be both more cost-effective and a stronger choice in terms of its ability to bond with finished wood and longevity under various weather conditions.
The filler is better for indoor, unfinished pieces with larger blemishes though it will usually cost more for a container of top brand filler.
Caulk makes the ideal companion for sealing gaps indoors prior to painting.
Now that you know what to expect from each kind of filler, you are ready to take care of any gouge, scrape, scratch, or hole that might crop up in your woodworking journey.
An excellent way to approach fillers is by where you are in terms of your project (e.g., finished or unfinished wood, stained or unstained, etc.) and what you expect the filler to encounter daily (e.g., outdoor weather, significant wear stress, etc.).
Knowing those things will help you determine which of the options I have listed will be best for you to use.