Woodworking is a creative hobby that often requires the use of a good adhesive, especially in the form of wood glue. When you are joining wood together, the join will only be as good as the adhesive, so choosing a good product is crucial to building projects. I recently had to join some parts of a chair and I wondered which is better Titebond 2 or 3?
Titebond 3 has better gap-filling properties and water resistance than Titebond 2. Titbond 3 also costs more and is only recommended for special projects where a superior bond strength or additional weatherproofing is necessary.
Many woodworkers approach wood glue as one type that fits every job type of strategy, and when they have trouble with their joins, the adhesive gets the blame. However, choosing the right glue for the job will save you from having your project fall apart and not be suitable for its intended purpose.
Titebond 2 Vs. Titebond 3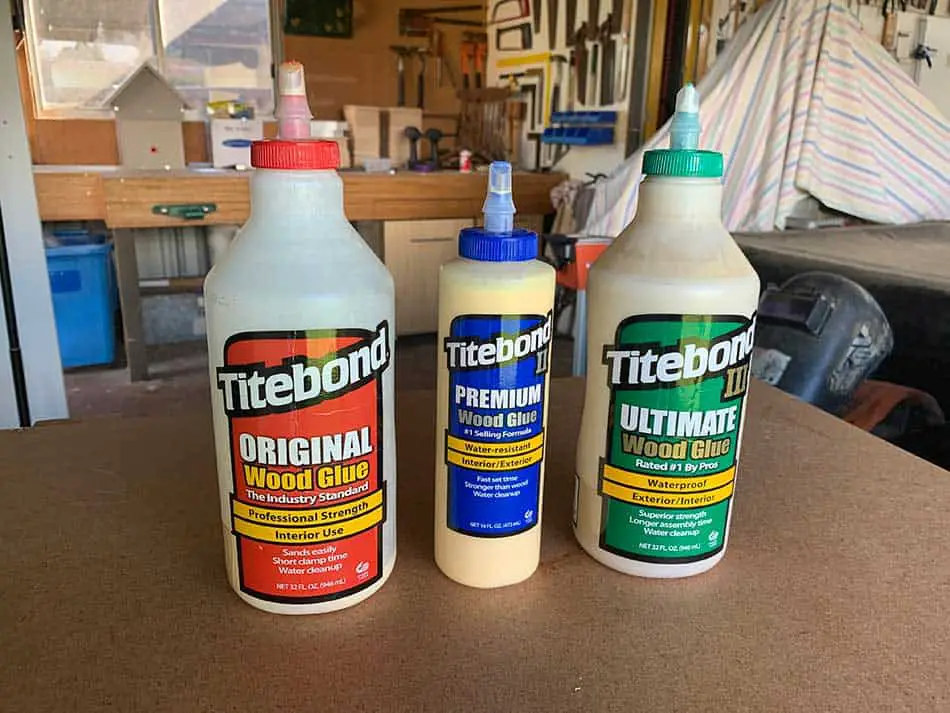 Titebond is a brand that has been around for some time in the adhesive manufacturing world and does not only produce wood glues but a range of adhesive types for various applications. Their woodworking glues have, however, earned a name for themselves in this community as a reliable product that helps woodworkers to achieve a strong, professional finish.
I love both Titebond 3 and Titebond 2 as they have different properties. I purchased mine from Amazon and I highly recommend trying them for yourself.
So when it comes to making the right choice between these two wood adhesives, which one is the better choice for your project?
To answer this sticky question, we need to take a look at these two products two see what differences there are and see what advantages one may have over the other.
Titebond 2 Features
Titebond 2, often designated as Titebond II, is a popular choice among woodworkers as a good all-purpose wood glue. There are a few characteristics of the glue that have given it the accolade as being one of the best go-to wood glues you should have in your shop.
Titebond 2 wood glue features include the following.
Great standability. Once the glue is dry, it responds very well to abrasives and is easy to sand down to the required level.
It is unaffected by surface finishes. This means that the glue will not break down due to the chemical composition of any finishes that you may paint over it.
Easy to clean off excess glue. There is often a squeeze-out when gluing wood together, and the excess is easily wiped away with a damp cloth.
It is water-resistant. Titebond 2 is certified by the ANSI standard to be water-resistant to a type-2 level. This means it is resistant to occasional splashes of water but is not suitable for regular soakings.
FDA approved. Titebond 2 is approved by the FDA for indirect contact with food. This means that it is safe to be used for kitchen projects such as the making of cutting boards that will have food on their surfaces.
Good for indoor and limited outdoor use. Because of its water-resistance capability, Titebond 2 is suitable for outdoor projects such as mailboxes, birdhouses, picnic tables, and indoor projects in rooms that see occasional damp conditions, such as vanities and cupboards in the bathroom.
Quick set time. Titebond 2 has a relatively quick set time of 5 minutes before the pieces need to be joined. This can be an advantage or, in some cases, a disadvantage, depending on the project. It does, however, mean that the joint becomes stronger quicker, which allows you to remove your clamps sooner.
Affordable price. Titebond 2 is a good quality glue that comes at a competitive, affordable price.
Titebond 2 is a great all-around adhesive that you can use for all your indoor project applications as well as outdoor projects that will get limited moisture exposure.
This great video explains the benefits of Titebond 2.
Titebond 3 Features
Titebond 3, or Titebond III as you will see it advertised, is a next-generation wood glue that has the same features as Titebond 2 but with some additional characteristics that set it apart from other wood glue types.
Titebond 3 wood glue features include the following:
Great standability. This glue is easy to sand once dry and is comparable to Titebond 2 in this feature. The glue does not soften due to the heat generated by friction during sanding.
It is unaffected by surface finishes. Titebond 3 is also not affected by surface finishes that you will apply to your finished project. 
Easy to clean off with water. Titebond 3 has the same formula that allows it to be easily cleaned up with water, so a moist rag is all you need to clean up any squeeze-out.
Greater water-resistance. Titebond 3 is certified by the ANSI standard to be water-resistant to a type-1 level. This means it is closer to waterproof than what Titebond 2 is. It is not completely waterproof, but it is more water-resistant than Titebond 2. This makes it a good choice for all outdoor projects.
FDA approved. Like Titebond 2, Titebond 3 is also approved by the FDA for indirect contact with food. This makes it suitable for projects that will come into contact with food in the kitchen as well as outdoors at your barbeque area.
Good for indoor and outdoor use. Because of its superior water-resistance capability, Titebond 3 can be used for all your outdoor projects as well as any indoor project.
Longer sit time. Titebond 3 has a longer sit time of 10minutes. This can prove to be an advantage with larger projects that take more time to assemble once the glue has been applied. 
Superior bond strength. The bond in the joint that you are gluing up with Titebond 3 has been proven to have a superior strength to Titebond 2.
Non-toxic ingredients. Titebond 3 has no solvents in it and is non-toxic, which makes it safe for use by the whole family and safer to use than most other traditional waterproof-type glues.
High price. Titebond 3 is a good quality glue that some additional features over Titebond 2, but whether those features are enough to warrant the additional cost would be for you to decide.
Titebond 3 is a more expensive glue, but if you need its additional bond strength and improved weatherproof features, then it is a good glue to use for these special projects.
Below is a great video on the benefits of Titebond 3.
Is Titebond 3 Better Than Titebond 2?
Titebond 3 is better than Titebond 2 in certain applications where additional bond strength is necessary for the project, and superior weatherproofing is required.
However, the difference in bond strength between the two types of glue is not as significant as you may think. The bond strength of Titebond 2 is 3750 psi, while the bond strength of Titebond 3 is 4000 psi, which is greater but not significantly so.
It is for this reason that Titebond 2 is generally the most sought-after variety for most woodworking projects for the home, whether indoors or outdoors, and the lower price makes it more affordable to use in an all-purpose role.
Let's summarise some of the features of these two types of glue and include Titebond Original in the equation.
| | | | |
| --- | --- | --- | --- |
|   | Titebond 3 | Titebond 2 | Titebond Original |
| Suitable For Outdoors | Yes | Yes | No |
| Sit time before bonding | 10 minutes | 5 Minutes | 5 Minutes |
| Strong initial tack | Yes | Yes | Yes |
| Non-toxic | Yes | Yes | Yes |
| Weatherproof | Weatherproof | Water-resistant | Not water-resistant or weatherproof |
| Strength | 4000 psi | 3750 psi | 3600 psi |
| Price | High | Medium | Low |
See full table of glue specs here
What About Titebond Original?
Titebond Original has many of the same features as Titebond 2. It is a superb product and can be used for any indoor project that is not susceptible to water splash or moisture. It is only slightly lower than Titebond 2 in bond strength.
The bond strength, however, is still stronger than the wood, which makes it a great glue suitable for most indoor projects.
It also has great standability and is unaffected by finishes that you apply to the wood, just like the other wood glue types in the Titebond range.
Did you know if Titebond wood glue dries clear? See my results here.
Conclusion – Is Titebond 3 Better Than Titebond 2?
Titebond wood glue products have become standard items in many woodworking shops, both for hobbyists and professionals. The reputation that the product has garnered is well deserved since the product is of superior quality to most alternatives.
However, my recommendation would be to use Titebond 2 as your go-to glue for the majority of your household woodworking projects. It has all the features of Titebond Original but has a superior outdoor application that is suitable for most outdoor woodwork projects, including outdoor furniture.