I came across this by accident the other day where I wanted to paint a bird's nest box that I had built and I noticed that I forgot to remove the glue squeeze out from inside the box. My first thought was, can you paint over Titebond Glue?
Titebond Glue can be painted over with water-based or oil-based paints. The paint will stick to the glue without the need for a primer. All Titebond 1, 2, or 3 types of glue can be painted over successfully.
I wrote this article because of the lack of information I could find on the web. The only real way to find out how well paint sticks to Titebond was to do some tests. I have listed the results below.
Testing How Well Paint Sticks to Titebond
First I took a piece of scrap plywood and applied a line of both Titebond 2 and 3 to the surface. The glue was applied quite thick in places and pushed into the grain at the ends. I then left it dry for 24 hours.
The surface or the glue was not sanded in any way. I then applied some white water-based paint and oil-based paint across the board and the glue. The paint applied smoothly and did not lift from the glue-like it would when trying to paint silicone.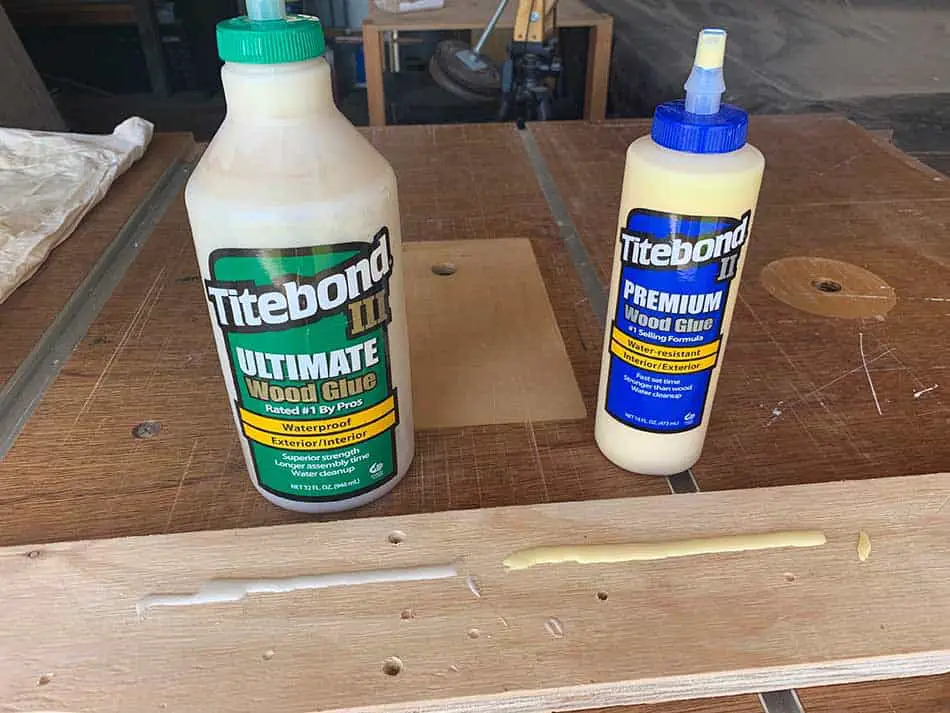 After the first coat was dry, a second coat was applied and let dry. No primer or sealant was used in this test.
The Results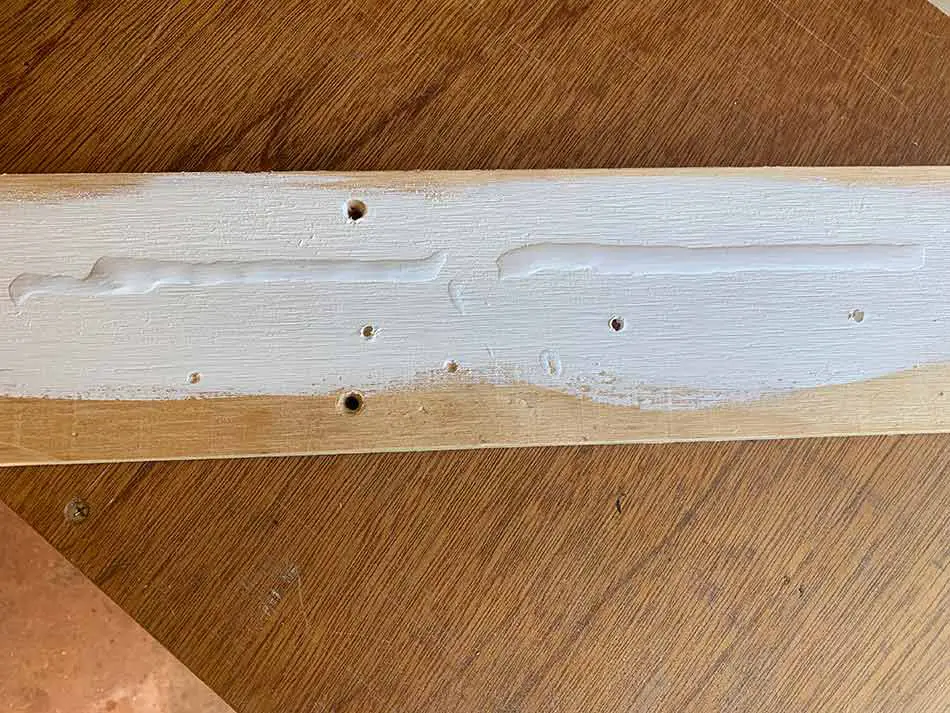 After the 2 coats of paint were left fully dry for 2 days, I inspected the surface and the paint covered the Titebond glue well just as did for the plywood. There were no signs of discoloration on the glues or spots where it did not stick.
I even tried to take the back of a knife and scrape the paint from the glue. The paint did not come off until I scraped really hard which also came off the plywood.
The results are that Titebond glues can successfully be painted over and the glue will stick properly.
So on your next woodworking project, if you have spots that are not really seen and care not to remove excess glue squeeze-out, you can still successfully paint over it.
Can You Paint Over Titebond 3?
Titebond 3 can be painted over with water-based or oil-based paints without the need for a primer. This was performed as a part of the above test.
All 3 Titebond glues were trialed and they took paint without a problem. I do not see any reason why the paint would not stick to any Titebond glues on the market.
Of course, be sure to test in a spot that will not be seen before doing this on your final project.
Can You Paint Over Wood Glue?
Standard PVA wood glues can be painted over with water-based or oil-based paints. No primer is necessary although it is a good habit to get into.
Wood glue dries inert which can be painted over easily like any other surface. If you are looking for a good paint finish, the use of primer is recommended. Primer is not however needed to ensure the paint will stick to the wood glue.
I suggest trying to get into a habit of wiping off excess wood glue before it dries. Even though the paint will stick, a lumpy dry patch of glue does not look the best.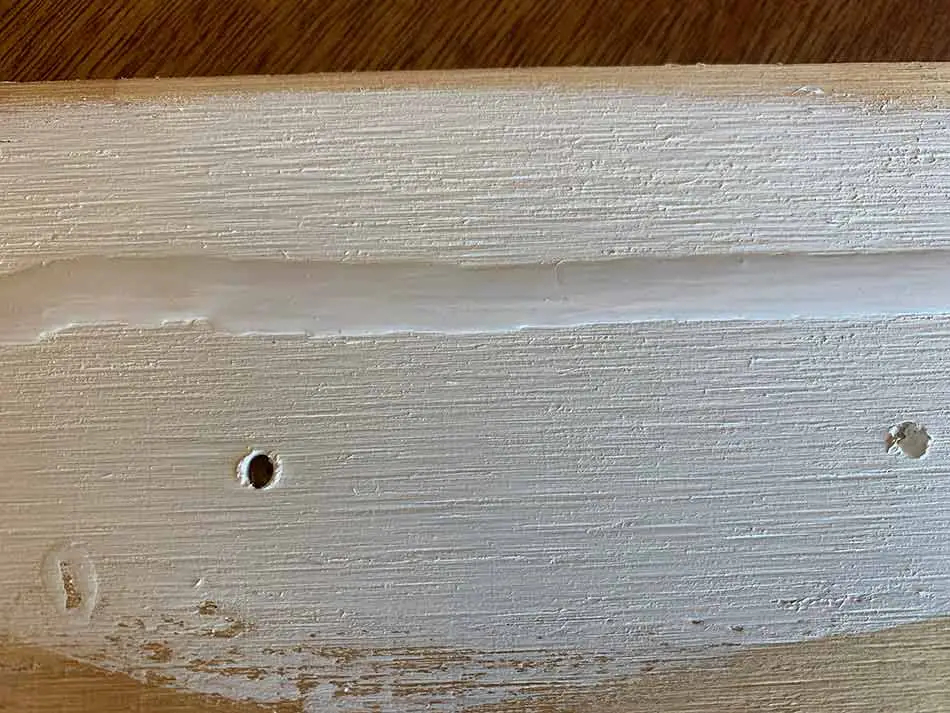 How Long To Let Wood Glue Dry Before Painting?
Wood glue should be left 24 hours to fully cure before painting over it. The glue should be fully dry throughout not just dry to touch. Most wood glues will be touch dry within 4 hours but it is good practice to wait 24 hours.
These dry times are subject to normal weather conditions. This means that the moisture in the air is at a stable level and it should be sunny. High humidity or rainy weather can affect drying times.
Be sure to check out this article that explains why wood glue may not dry.
To help speed up the drying process, I do advise making sure you have good airflow around your project. This may mean you should open doors and windows and sometimes you may want to use a fan.
Can You Paint Over Hot Glue?
Hot Melt glue can be painted over once it is fully dried. No primer is needed provided a good quality paint is used.
Hot glue or hot melt glue does not have a greasy surface once it is dried. It can easily be painted over in my experience. Hot melt glue is very hard to clean off before it dries so painting over the top of it is your best choice. Arts and craft people often use hot glue and they paint over their products easily and the paint always sticks.
Is Gorilla Wood Glue Paintable?
Gorilla wood glue can be painted over with water-based or oil-based paints without the need for a primer. Gorilla wood glue dries inert just like other wood glues and will take paint easily.
Can I Stain Over Wood Glue?
Wood Stain will not stick or color excess wood glue. A pale patch will show where excess glue has been left. Wood glue needs to be thoroughly cleaned off on any stained projects.
Wood glue does not accept stain and this has caught me many times. It is very important to clean off glue squeeze-out. You will know if you have left some behind as there will be a light patch near your joints where the glue is.
Can you glue wood that has been stained? Click here to view my article.
Cleaning Off Excess Glue Squeeze Out
The below steps are what I do to remove excess glue. Doing this will ensure that you can stain your project.
Take a clean cloth
Wet the cloth with clean water
Ring out the cloth to remove the excess water
Wipe away the excess glue with the wet cloth
You should redo this several times with a clean part of the cloth to avoid any glue being pushed into the grain
Conclusion – Can You Paint Over Titebond Glue
In general, you can use most types of wood glue on your projects and normal house paint will stick to it. From my tests, no primer is needed, provided you use a medium to good quality paint.
So if you are like me, any places that are not really seen, wiping off excess glue is not necessary if you wish to paint it.