It has been a while since I made a glue joint, and for some reason, I had assumed that gorilla wood glue didn't have the same curing time as average wood glue. Fortunately, I double-checked before painting over it because despite drying quicker than regular wood glue, it does have the same curing time.
Gorilla glue wood glue dries in 30 minutes, a few hours quicker than most wood glue types. But it still takes 24 hours to fully cure the same as any wood adhesive. You can remove clamps from the glued surface after 30 minutes to 2 hours.
In this article, you will learn everything you need to know about letting gorilla glue wood glue or any wood adhesive set. Included is a table covering the drying and curing times of different gorilla glue products. But before that, let's look at how long general wood glue takes to dry.
How Long Does It Take For Wood Glue To Completely Dry?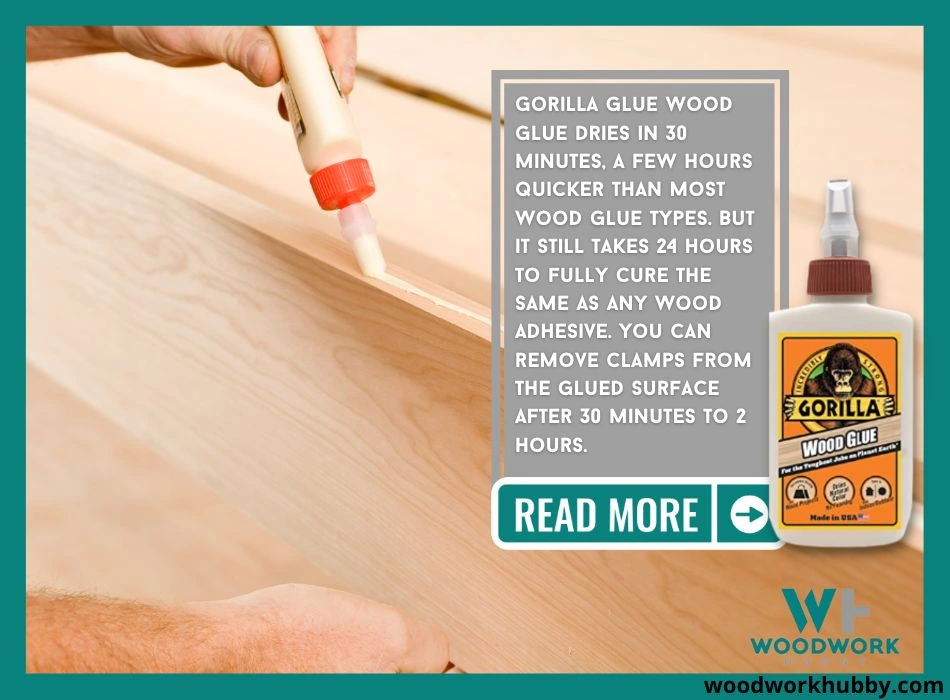 Wood glue takes 20 to 24 hours to completely dry. Prior to this, it might be dry to the touch but is not dry enough to apply tension against the adhesion. After 24 hours, the adhesion peaks, and you can proceed to use or build according to the situation/context.
Let's suppose you use wood glue to attach a tassel to a wood bar. After an hour, the wood glue might be dry enough to let the tassel hang from the bar. But it is not dry enough for you to pull the tassel. If you attempt to pull it, it will come off. It is only after 10 hours that you can consider the possibility of the glue being cured.
Wood glue fully cures when all the unstable moisture content has left the adhesive, producing a solid layer that isn't susceptible to casual pressure. After that, the durability of the glue joint relies entirely on the quality of the good. Wood glue is stronger than paper glue but is many levels beneath hard resin.
Gorilla Wood Glue
Most resin has similar adhesion, but the stickiness of wood glue can vary from brand to brand. One of the brands that have the best reputation for adhesiveness is Gorilla Glue. Its wood glue has 4.6 out of 5 stars from an average of over 16,800 reviews.
Even its specific ratings, its adhesion is given a 4.5-star rating on average. Because gorilla glue sticks very well, some people assume it has fully cured after an hour.
Does Gorilla Glue Need 24 Hours To Dry?
Gorilla Glue cures within 7 hours, but for best results, you should let it sit for 24 hours. The glue is dry enough after one to two hours, but it takes some time to fully cure.
Twenty-four hours is the maximum time you should clamp objects together if they are bonded with gorilla glue. After 24 hours, further clamping has no effect. After 6 hours, the return/result of clamping starts diminishing, but it is still beneficial to let the glue continue its work.
The following table shows how a Gorilla Glue bond must be treated in the first 24 hours.
| Time | Glue Joint Handling |
| --- | --- |
| 30 minutes to 1 hour | Use clamps to hold the joint in place |
| 1 to 6 hours | It is okay to remove the clamps. Avoid shifting or moving the material. |
| 6 to 12 hours | You can lightly handle the materials. Avoid applying tension to the joint. |
| 12 to 24 hours | Avoid placing pressure or tension on the joint |
| After 24 hours | The joint is as strong as the glue can make it |
A table showing how a Gorilla Glue bond must be treated in the first 24 hours.
How Long Does Gorilla Glue Gel Take To Dry?
Gorilla glue can dry after one hour. Fast-curing gorilla glue can dry within 30 minutes. However, drying doesn't equal curing. You must leave the bond alone for a few hours before you can handle it.
Are 12 Hours Enough For Wood Glue?
12 hours is enough for wood glue to dry, but it is not enough to make the glue joint resilient enough for tension and pressure. You can lightly handle wood bonded with wood glue after 12 hours.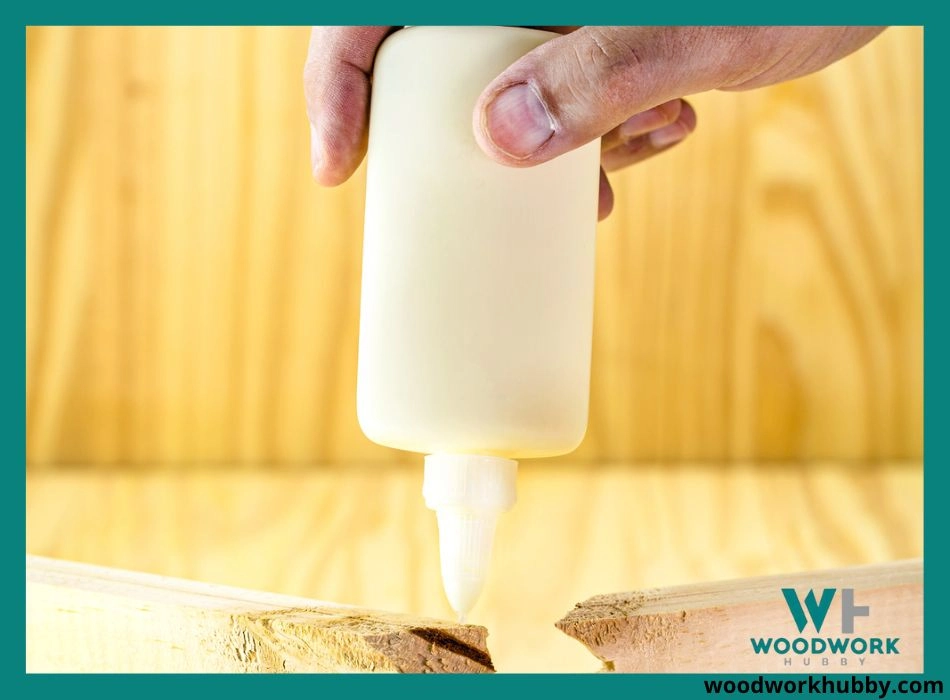 What Helps Gorilla Glue Dry Faster?
A fan or proper ventilation can help gorilla glue dry faster, while high humidity and poor ventilation can extend the drying time. You can even use a heater to encourage glue-setting.
How Long Does Gorilla Glue Take To Activate?
Gorilla glue takes one hour to activate, as it is sticky and pretty solid. However, the glue joint reaches its maximum strength after 6 to 12 hours. That's still quicker than average wood glue, which might take 16 to 18 hours for a similar level of adhesion. To maximize adhesion, leave any type of wood adhesive, including wood glue, in place for 24 hours.
How Long Should You Let Gorilla Glue Set?
You should let gorilla glue set for 24 hours for maximum effect. Letting it set overnight is considered good enough. But for high-tension joints, it is better to keep the clamps on for 24 hours, regardless of how fast-acting a specific type of gorilla glue is.
For reference to gorilla glue types and setting times, look at the table below.
Different gorilla glues and dry times
| Gorilla Glue Type | Drying Time | Curing Time |
| --- | --- | --- |
| Gorilla Glue Original | 1 hour | 24 hours |
| Gorilla Contact Adhesive | 5 minutes | 24 hours |
| Gorilla Grab Adhesive | 30 minutes | 24 hours |
| Gorilla Super Glue | 45 seconds | 24 hours |
| Gorilla Glue Clear | 2 hours | 24 hours |
| Gorilla Wood Glue | 30 minutes | 24 hours |
| Gorilla Super Glue Micro Precise | 15 seconds | 12 to 24 hours |
| Gorilla Super Glue Gel | 45 seconds | 24 hours |
| Gorilla Heavy-Duty Grab Adhesive | 5 minutes | 24 hours |
A table showing different gorilla glues and dry times.
As you can see, different gorilla glue products have different drying times. Even the ones that aren't compatible with wood require 24 hours to fully dry.
How Long Do I Wait Before Painting Over Gorilla Glue?
You should wait 24 hours before painting over gorilla glue so that the moisture content of the glue leaves the surface. This will help the paint adhere to the solid surface instead of a malleable glue layer.
Final Thoughts
Gorilla Glue wood glue is pretty dry 30 minutes after it is applied. However, you shouldn't pull glue joints apart or put tension on them until 24 hours have passed and the glue has cured completely.