In an age of immediate online content, sometimes useful resources get overlooked. Valuable books on beginner woodworking exist for every skill level. These excellent how-to books for woodworking can help you create beautifully crafted projects while teaching you tips and tricks from experts.
Woodworking experts from all over the world have written down their best tips and step-by-step guides for people wanting to start woodworking. These books are a fantastic resource that can keep you from making rookie mistakes and give you an expert's view right out of the gate.
I am going to give you a list of the best books for beginner-level woodworkers that cover how-to instructions on a wide range of useful woodworking subjects.
Why Books Are Essential For Beginners
You may be questioning why you should invest in books when YouTube and social media forums like Reddit seem to have hundreds of videos that go over every possible scenario you could encounter.
Books have something that an online guide cannot easily capture, which is detailed, step-by-step, experienced-based information written out using language that anyone can understand. They are convenient, affordable, and can last a lifetime.
Authors like Robert Weaving, Tom Carpenter, R. Bruce Hoadley, and Miles Adkins have decades of combined experience with multiple aspects of woodworking, giving them an advantage when breaking things down into easy-to-understand chunks of information. You can learn from world-class woodworkers in their own words.
Another great source of knowledge through videos and books is the Woodworkers Guild of America. I did a review here showing if it is worth it. The results are surprising!!
There is no overstating the value that can be gleaned from using how-to books for woodworking when you are first starting out. A primary benefit of having these suggestions and instructions in written form is that you can carry them around with you as you are working and use the text and images as guides to help you make the best pieces possible.
They can also last for a lifetime and give information to the next generation of woodworkers.
Our 10 Book Recommendations For Beginner Woodworkers
These ten how-to books for woodworking come from authors that approach woodworking from various perspectives. These are all ideal for someone just starting out with information that is going to be valuable.
There are various subjects covered, including techniques, tool safety, and information for indoor and outdoor projects. All information is taken directly from the product's seller page to ensure accuracy.
1. The Essential Woodworker by Robert Wearing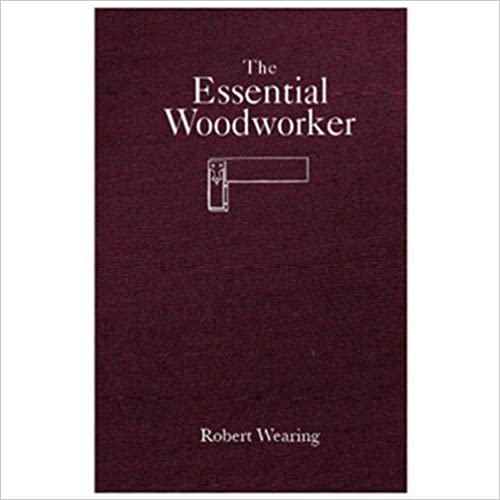 Format(s): Hardcover
Page Count: 159 pages
Main Subjects Covered:
Planing
Sawing
Various skills, tools, and materials
Project basics
This book provides practical instructions for how to design basic furniture, and the information can be translated to any type of project. It goes over the basics, including essential skills, tools, and materials. The book has text with illustrations to help make the explanations more understandable.
Why It Belongs on Your Bookshelf: If you learn best by working through a physical example, this book is perfect for you. Wearing uses four cabinet designs to teach all the basic information you need to know about introductory woodworking.
2. Woodworking Basics: Mastering the Essentials of Craftsmanship Basics by Peter Korn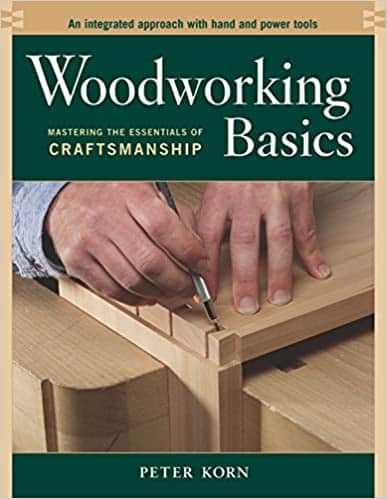 Format(s): Paperback, Kindle
Page Count: 192 pages
Main Subjects Covered:
Wood – properties, types, buying
Joinery – types, wood movement
Introduction to over a dozen woodworking machines
Introduction to over a dozen hand tools
Building small and medium projects
How to mill
Cutting dovetails, mortise, and tenon
Peter Korn creates books about woodworking that are detailed, comprehensive, and allow you to learn the basics easily while creating beautiful wooden objects.
If you only have one woodworking book on your shelf, this would be a great contender. It can serve all skill levels and remain a useful treasure trove of information for decades. Peter Korn is a proponent of working hard to achieve the best quality possible in your work, and he did the same with this book. It covers a huge range of subjects in accessible detail.
Why It Belongs on Your Bookshelf: Detailed, straightforward instructions with step-by-step text and clear illustrations beside them make it easy to understand what your work is supposed to look like and how to achieve it.
3. Woodworking for Beginners: Step-by-Step Guide to Learn the Best Techniques, Tools, Safety Precautions and Tips to Start Your First Projects by Tom Foster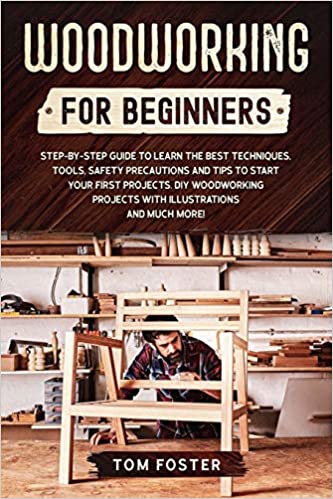 Format(s): Hardcover, Paperback, Kindle
Page Count: 101 pages
Main Subjects Covered:
Hand tools
Power tools
Basic woodworking techniques
Woodworking strategies
Using tools in the shop
Tool maintenance
Safety while woodworking
Sanding and finishing
Three basic projects
This book teaches about safety, proper tool use, and the best techniques for building superior woodworking items. You can learn a huge range of topics from this book.
There is a heavy emphasis on keeping the user safe and the tools they use in tip-top shape, which is great for learning tips that can save you money in the long run by extending your equipment's life.
Why It Belongs on Your Bookshelf: The language is easy to follow and conversational, so if you have trouble with the clinical step-by-step descriptions of some books, this will be a breath of fresh air.
4. Woodworking For Dummies by Jeff Strong
Format(s): Paperback, Kindle
Page Count: 392 pages
Main Subjects Covered:
Introduction to woodworking
Woodworking basics
Tool selection and set up
Adhesive, finishes, and sanding
Joinery
Several basic projects
Things to avoid
Various additional resources
Sometimes we need things simple, straightforward, and written so that anyone can understand them. People are usually at least a little bit familiar with the standard format of a "…For Dummies'Dummies' book. There are tips for every chapter, and the author goes over the entire subject entirely.
Basic Woodworking Book
Because this is a book on woodworking rather than beginner woodworkers, there will be some information that every skill level will find useful. This series always lists alternative resources as well, so you will be sure to find useful websites and other books listed throughout.
Why It Belongs on Your Bookshelf: The "…For Dummies'Dummies' books have a high quality and accessibility standard, which makes them an excellent source. They are inherently designed to cater to someone brand new to a particular subject, so there is no need to have previous knowledge of any lingo or be familiar with any aspect of woodworking before picking up this book.
5. The Complete Book of Woodworking: Step-by-Step Guide to Essential Woodworking Skills, Techniques, Tools, and Tips by Tom Carpenter, Mark Johanson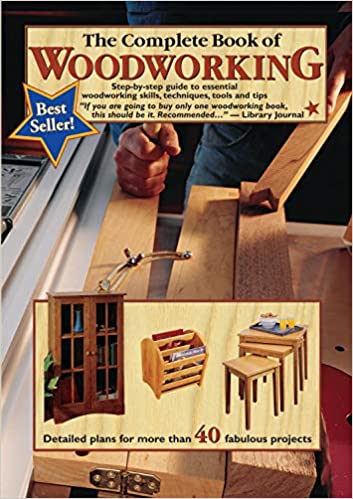 Format(s): Paperback, Kindle
Page Count: 480 pages
Main Subjects Covered:
Setting up your shop
Designing projects
Introduction to wood
Joints and assembly
Squaring, marking, and cutting
Finishes
Indoor projects
Outdoor projects
Woodworking projects (e.g., sawhorse, workbench, etc.)
Tom Carpenter and Mark Johnson provide several dozen popular indoor and outdoor woodworking projects, including tables, boxes, benches, and frames. You can rely on this book to get you established as a woodworker. The step-by-step directions are clear, concise, and accompanied by illustrations. The instructions inside this book are clearly written from personal experience, and it shows in the detailed, comprehensive explanations and topics.
Why It Belongs on Your Bookshelf: Reading this book is like talking to a good friend about a subject they have decades of experience with navigating. The writers break down every aspect of woodworking from the perspective of people who learned the long, hard way so that you do not have to.
6. Understanding Wood: A Craftsman'sCraftsman's Guide to Wood Technology by R. Bruce Hoadley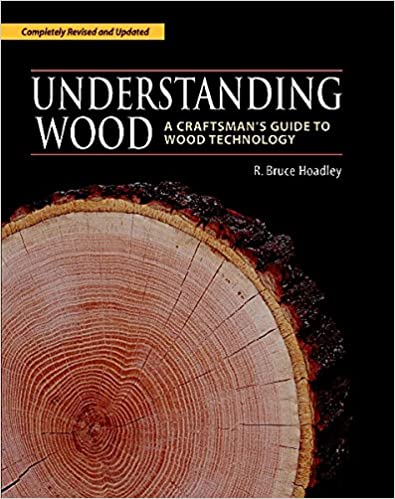 Format(s): Hardcover, Kindle
Page Count: 288 pages
Main Subjects Covered:
Wood science
Materials
Wood machinery
The writing is a bit more complex, as is the subject. Hoadley has a doctorate in wood technology and delves deep into wood and how it will react to various equipment and other factors. This is one of the top-rated niche books on understanding wood and the technology used to manipulate it.
Why It Belongs on Your Bookshelf: The book makes an excellent companion to a starter guide on woodworking, and we highly recommend checking it out if you want to be able to fully understand the wood that you will be using. This book is absolutely not necessary for beginners, but it will help you avoid rookie mistakes.
7. The Complete Manual of Woodworking: A Detailed Guide to Design, Techniques, and Tools for the Beginner and Expert by Albert Jackson, David Day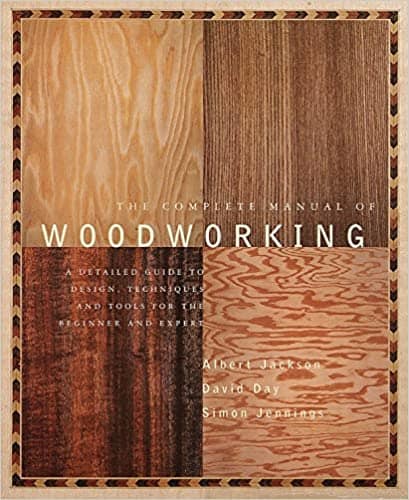 Format(s): Hardcover, Paperback
Page Count: 320 pages
Main Subjects Covered:
Materials
Design process
Hand tools
Power tools
Machine tools
Creating a workshop at home
Joinery
Veneering
Finishing
Supplies and fittings
There is a heavy emphasis on visual guides for this book. This is especially helpful for beginner woodworkers who may have never seen the object or technique in person. The authors cover a lot of essential topics making this an ideal book for anyone new to the hobby. Every woodworker's bookshelf would benefit from having a copy of this book.
Why It Belongs on Your Bookshelf: If you are a visual learner, then this book is for you. There are thousands of helpful diagrams, illustrations, and photographs. For anyone who finds visual aids distracting and would rather everything be in text step-by-step instructions, then this book may not be the best fit.
8. Woodworking 2020 (2 books in 1): The Ultimate Guide for Beginners and Experts to Techniques and Secrets in Creating Amazing DIY Projects Paperback by Miles Adkins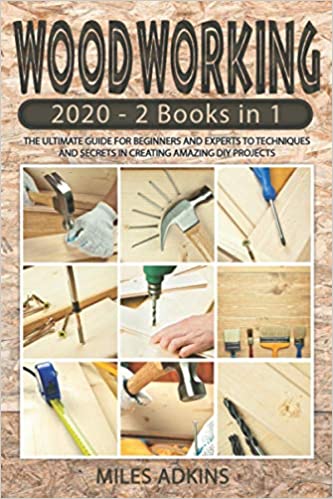 Format(s): Hardcover, Paperback, Kindle
Page Count: 222 pages
Main Subjects Covered:
Safety and maintenance
Tools and materials
Setting up a workshop
Joinery and finishing
Workshop essentials
Tool tips and skills
Indoor projects
Outdoor projects
This is a quintessential how-to beginner's guide to woodworking. It is actually two distinct books combined into one, with the first focusing almost entirely on getting you familiar with the setup and tools you will be using, and the second detailing basic projects you can use to learn specific techniques.
Why It Belongs on Your Bookshelf: There is a healthy balance between learning and doing with these two books. There are step-by-step instructions for making over 60 individual items.
9. The Why & How of Woodworking: A Simple Approach to Making Meaningful Work by Michael Pekovich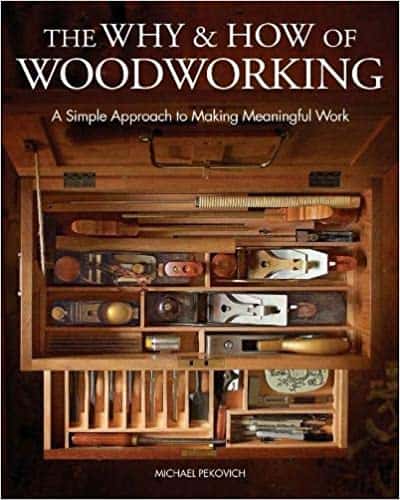 Format(s): Hardcover, Kindle
Page Count: 224 pages
Main Subjects Covered:
Time management
Design
Hand skills
Cabinets
Boxes and chests
Casework
Tables
Finishing
Metric Equivalents
Aesthetically it is a beautiful book, and the writing is both clear and personal. Michael Pekovich shows you how to gain skills and learn techniques with a patient, experienced tone. You will learn from this book everything you need to know to get started while also getting an inside view of what can keep woodworking magical even after decades of creation.
Why It Belongs on Your Bookshelf: Practical examples are used to teach, which makes it ideal for hands-on learners. This book is perfect for learners who want to know how to improve their craft using tips from an expert. Michael Pekovich also gives good advice on how to balance woodworking and personal responsibilities.
10. Woodworking Projects for Beginners: A Step-By-Step Beginner'sBeginner's Guide To Woodworking and Its Techniques. Including Indoor and Outdoor Projects and Safety Tips by Robert Mahogany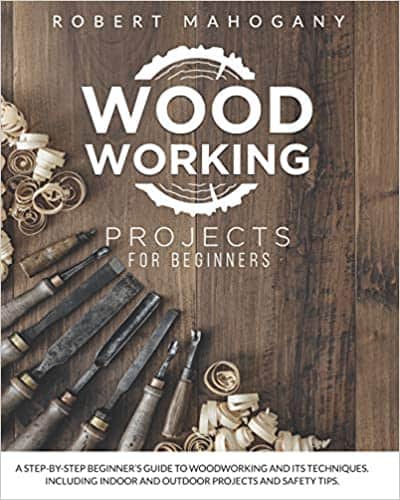 Format(s): Paperback, Kindle
Page Count: 194 pages
Main Subjects Covered:
Introduction to woodworking
Introduction to tools
Creating a workshop
Measuring, marking, and finishing
Safety tips
Planning
Indoor projects
Outdoor projects
Avoiding pitfalls
Materials
Robert Mahogany goes over materials, skills, and the many creative ways woodworking can improve your life. Learn about how to pick the right wood, set up your home workshop, and build a Television stand by following this book's easy step-by-step instructions. There are over 25 unique, practical projects detailed with images and text guides.
Why It Belongs on Your Bookshelf: Learn to enjoy woodworking. From the start, this book focuses on both what you should learn and why woodworking is a long-term, joy-filled hobby. Get necessary skills while learning from a writer who clearly loves woodworking.
Woodworking Project Books
Staying inspired and feeding your love of all things woodworking is not just about the technical skills you can learn. Here are two of my favorite books written by and for people who enjoy the hobby. They have a light-hearted look at what it takes to be a woodworker, and there are also valuable practical lessons as well.
You may know him from his acting or comedy work, but Nick Offerman is also a famous woodworker. This personal look behind the scenes at a workshop will make you laugh and provide valuable insight.
There is information about the history of woodworking and the importance of looking for silver linings. There are also multiple project instructions for various skill levels so that you can build alongside Nick Offerman in this engaging book.
Format(s): Hardcover, Kindle, Audiobook
Page Count: 352 pages
Hammer Head tells the story of a woman who learned by doing. It follows the sometimes humorous, sometimes serious journey of Nina MacLaughlin, and she found herself falling in love with building things with her own hands.
It is a book about finding meaning and passion while creating. Several other female writers are also featured. This is a fantastic book for all skill levels.
Format(s): Hardcover, Paperback, Kindle
Page Count: 240 pages
The Advantage of Buying Multiple Books
You may have noticed that I did not pick ten books to share that all have the exact same techniques, skills, and learning styles. Instead, I provided a wide range so that no matter how you learn or what you are looking for in a beginner's guide, you can find one to fit your needs. It can be useful to get multiple books to get a variety.
Not every author is going to go through all aspects of woodworking. There is simply too much ground to cover.
This means that most books are going to focus on specific areas within woodworking, whether that is beginner furniture making or some other subject. Purchasing multiple books will give you a wider range of comprehension and detailed information on numerous areas.
Each author has unique points of view in how they approach both woodworking and peripheral things like prep, tricks, and tips. Getting multiple points of view will expand your knowledge base and give you a leg up as you start out.
I highly recommend purchasing multiple books to aid you in learning the ins and outs of woodworking.
What to Expect From These Book Guides
As you may have gathered from the product descriptions, these ten books focus on introducing the reader to the world of woodworking and its various aspects.
Most, but not all, of them are meant to provide a window into a workshop that shows what to expect, pitfalls to avoid, and useful tips for increasing productivity. Whichever one you choose will prepare you to design, work, and finish your first woodworking project.
You will learn how to determine the right materials, tricks for cutting corners without sacrificing quality, essential safety practices, and many other beginner skills.
Are Books Worth It?
Some are quite large, and they cost more than a free YouTube tutorial, so you might wonder if books are worth it. The short answer is yes.
Having a physical library of resources at your fingertips is going to benefit you in the short and long term. You can have peace of mind knowing that if you start a project and run into an unexpected problem in the middle, there is a resource you can thumb through to find the exact solution you need at that moment.
Woodworking For Beginners
You will have everything you need to know in one convenient place, and since it is physical, you will be able to write reminders and notes in the margins and put bookmarks or other things to mark areas you may frequently need to read back through.
These are also resources that are not going to go anywhere. Websites can be taken down, videos made private, and online tutorials deleted.
Why These Books and Authors?
Writing how-to books for any subject requires experience, advanced knowledge, and an easy-to-understand approach. These authors demonstrate all of those traits fabulously in their books. You can get a clear idea of what you should be doing and what to avoid.
I also made the conscious decision to choose books that address the different types of learning styles (e.g., visual, hands-on, etc.). These books can help you make the leap from rookie to experienced woodworker using straightforward methods and instructions.
I tried to choose books that come in several formats to make them more accessible and provide more affordable options for anyone not wanting to sink a lot of money into their library before they figure out how often they intend to work with wood.
Providing an excellent array of subjects and writing styles will let you find a book that fits your specific needs.
What Subjects Should A Good "How-To" Book Cover
When deciding which books should end up on your workshop bookshelf, there are a few things that you want to keep in mind.
The following subjects are ones that you are going to need to be familiar with, and if you get a book that does not address it, then you will need to buy another one that does. You cannot fully grow as a woodworker without access to instructions on the following topics.
Setting Up Shop and Buying Tools
The first step to physically starting as a woodworker is creating a shop space and purchasing the tools and materials you will need for your projects.
A good book will go over this, and some gloss over it while others give detailed information on what works best and what to avoid when first starting out.
Materials
You need to understand the materials before you start woodworking. A few of the things you will want to get detailed information about, include the following materials.
Wood
Resin
Adhesives
Molding
Stains and coatings
Restoration materials
Fasteners
For woodworking, it is unsurprising that the majority of material sections in beginner books will focus on what types of woods are available and which you should choose for various projects.
However, it is important for whatever book you purchase to at least touch on the other materials as well since you will use them regularly.
Safety
Working with hand, power, and machine tools comes with some amount of inherent danger. Sharp edges, spinning blades, and thumb-loving hammers are a few of the things that can potentially hurt you.
The Woodworkers Guild of America reports that machine tools have a combined annual accident rate of over 50,000 per year. Table saws alone are responsible for approximately 39,700 injuries annually. Safety is essential.
Books should include safe ways to set up your shop, information on protective gear, and instructions on the safe handling of all commonly used woodworking tools and machines.
Projects
Reading about how to manipulate wood and create beautiful pieces of work is a good thing but cannot take the place of actually working in person with various projects. You will translate the things that you learn in those first few projects into all the ones you do in the future.
It is an invaluable teaching tool, and most introductory woodworking books will have at minimum instructions for a handful of items you can build immediately.
Quite a few of the books in our suggested list have dozens of projects, including indoor, outdoor, and specialized. These are things that you can actually use around your house, like benches, chairs, bookshelves, storage, compost beds, and picture frames.
The great thing about having these included is that they will always be there, so if ten years from now you need a coffee table, all you have to do is dust off your copy of Woodworking Projects For Beginners and get started.
Tips and Tricks
Of course, we all want to know those magical tips and tricks that will save you time and money. Experienced woodworkers have spent decades learning the hard way to avoid doing mistakes and how you can improve the look of your finished piece with the least amount of work.
Books should include at least a few insights that you would not be able to garner on your own.
These tips and tricks may take the form of new creative ways of approaching traditional aspects of woodworking or they might involve peripheral considerations like time management and tool maintenance.
All of these are helpful and can save you time, money, and energy as you improve your skills.
Using Other Formats For Learning About Woodworking
There are certain advantages and disadvantages for every format, depending on what you are trying to learn and where you are in your woodworking journey.
There are plenty of books, online videos, and image tutorials showing step-by-step instructions for weekend hobbyists who want to find easy-to-learn neat tricks that they can show off to friends and family.
I recommend my article on the Woodworkers Guild which shows you plenty of videos and training.
People who want to turn their hobby into a career or alternative source of income may need more robust sources like books, classes, and workshops.
No one format is better than any other, so feel free to mix it up and find inspiration and guides wherever you can to help you grow your knowledge base. Some of the books like Woodworking For Dummies will have additional relevant resources listed, including websites.