If you're new to woodworking, you've probably watched nearly every YouTube tutorial video there is. You've picked up on some things, but you wish you could learn more. A fellow woodworking buddy suggested looking into the Woodworkers Guild of America, a paid professional resource. Is joining this guild worth the money?
The Woodworkers Guild of America is worth it if you are looking to further develop your skills with videos and other professional resources that are not otherwise available on the internet. Premium membership will cost $55 per year or the Gold membership will cost $129 per year.
With all the professional resources and classes at your fingertips as a member, for those who are serious about improving in woodworking, the Woodworkers Guild of America can be worth it. Users have said though that it's difficult to cancel your membership once you join!
If you're still not sure whether you should join the Woodworkers Guild of America or WWGOA, I highly recommend you keep reading. In this article, I'll tell you everything you need to know about this organization, including its history, its services, and more on pricing. By the time you're done reading, you'll know whether the WWGOA is worth the cash!
"I'm an affiliate for this product. However, I could be an affiliate for many different products but I specifically chose Woodworkers Guild of America because it is the product I actually like and recommend. By using my links, you help support this website. Thank you!"
What Is the Woodworkers Guild of America?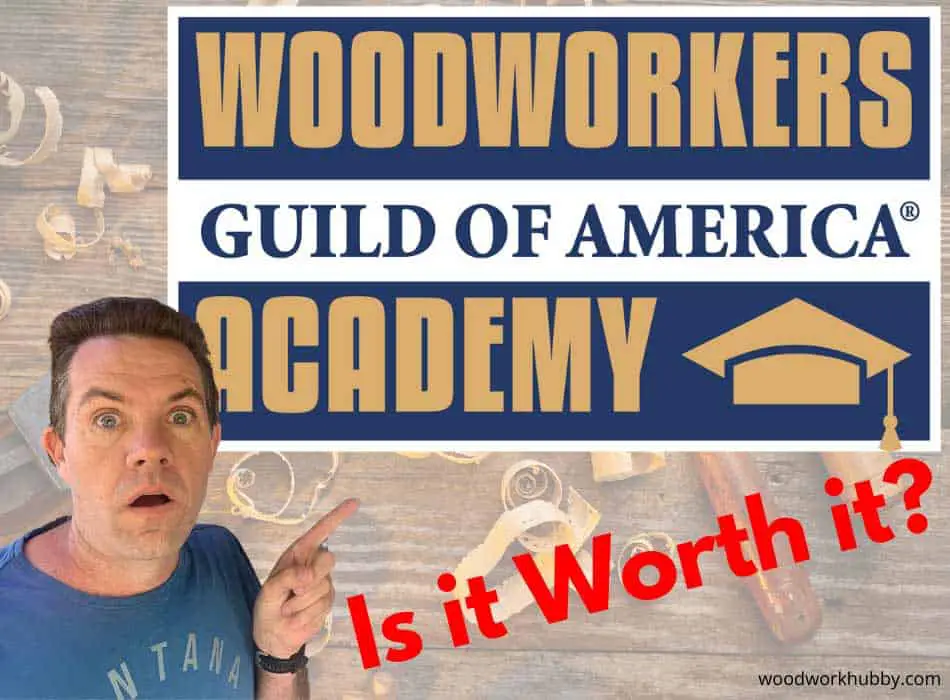 The Woodworkers Guild of America, which I'll refer to here from on out as the WWGOA, is a professional organization for aspiring woodworkers, including hobbyists and those who make a living through woodworking.
The resources available through the WWGOA are extensive! I was impressed.
I'll talk more about this in the next section but do know for now that their content is robust.
Okay, but why should you trust the information from the WWGOA? They work with professional woodworkers, so the people leading the classes or recording the video tutorials aren't random beginners.
That said, I don't love WWGOA's website. If you visit their site using the link above, you'll notice that there's no about section. The Browse section of their website didn't take me anywhere.
Here's what I was able to scrounge together about the WWGOA through my research. They're based in Minnesota.
Their Facebook statement reads as follows: "At WoodWorkers Guild of America (WWGOA), we know that woodworking is more than a hobby for you – it's a lifestyle. We want to be your favorite place for feeding that passion by learning new techniques, getting inspired by new ideas, and connecting with other woodworkers who feel the same way as you."
Is Woodworkers Guild Of America Free?
There are no free membership options with the Woodworkers guild of America. You will need to choose one of the two membership plans to join.
How Much Does It Cost To Be a Member of the Woodworkers Guild of America?
The Premium Membership is $55 per year and the Gold Membership is $129 per year. You are able to pay monthly payments of $6 per month for the Premium membership but there are no monthly payments with the Gold membership.
Occasionally they do offer discounts on their membership but I could not find any particular times that they offer this. It seems to be random so good luck!
I have also put together a list of some great Woodworking resources here that certainly helped me out.
What Resources Can I Use If I Join the Woodworkers Guild of America?
Okay, so for the money you're paying to be a WWGOA member (no, there is no free membership), what bang do you get for your buck? As I said I would, I want to go over the multitude of resources WWGOA offers its members.
Premium Videos
WWGOA partnered with the most talented names in woodworking to record lengthy, detailed videos that discuss woodworking concepts and techniques. You can also watch woodworking projects being completed from start to finish so you can follow along. In all, there are more than 100 hours of content for you to sink your teeth into.
Check out their premium videos section here.
Video Downloads
If you enjoy a video and you'd like to watch it again, rather than log onto the WWGOA website, you can download some of the videos in full. I say some because WWGOA is picky about which videos you can download. At most, you can download eight videos, and at the very least, it's two videos.
No, you can't choose any two or eight videos. They're pre-selected for you. I told you WWGOA is picky!
Here are some of the video downloads for you to enjoy.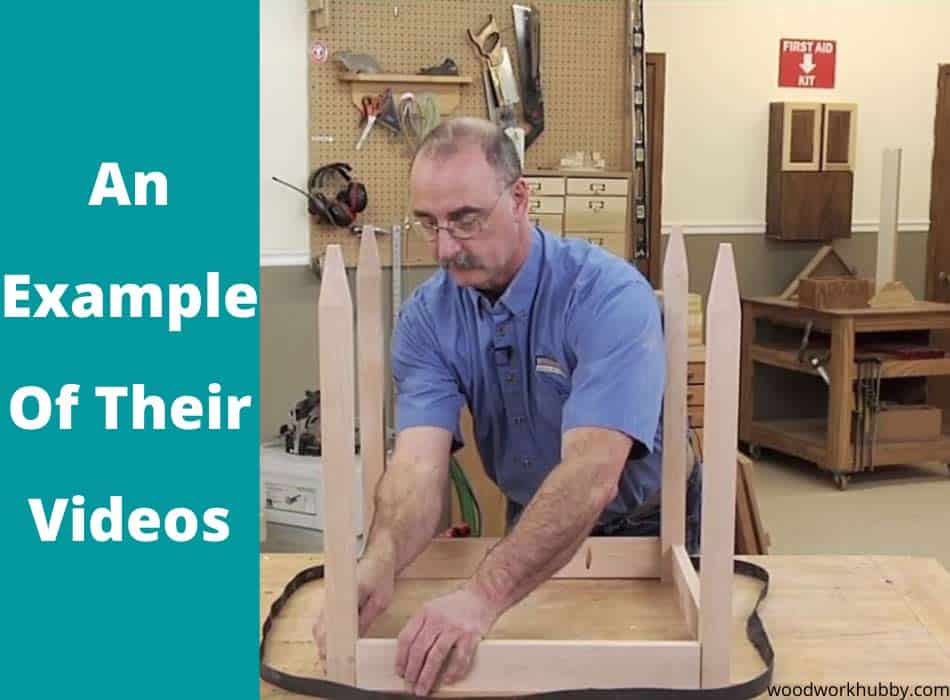 Woodworking Plans
The wealth of woodworking plans is one of the best parts of being with the WWGOA. You can review plans and projects on their website and download some of them for offline use whenever you want. The number of available downloadable plans is two to eight, just like the number of woodworking videos.
Browse their woodworking plans here. I got a lot from these plans.
Newsletter
This is one of the only free features that WWGOA offers. On their website, input your email address and voila, you're signed up for their newsletter. If you think you're going to be able to use the bulk of the newsletter content and resources without paying though, that's not going to happen.
WWGOA Academy Classes
The high-level WWGOA Academy classes will certainly teach you a new thing or two about woodworking. There are only three of these classes, but WWGOA says the classes are valued at $120. As a paid member, you could get to partake in an instructor Q&A session and enjoy bonus materials.
Here are a list of their classes available.
WWGOA Academy Mini-Classes
The difference between the WWGOA Academy classes and the mini-classes is that the former is pre-recorded and the latter is live. Watch woodworking instructors share their knowledge over a Livestream. If you have questions, you can ask them and get a response instantly, just as if you were sitting in a classroom.
Mini classes can be found here.
Ask the Expert
Are you stumped on what to do on your latest woodworking project? No biggie. The Ask the Expert feature lets you connect with a pro who can guide you through your problem so you can finish your project.  
You can join here which gives you access to Ask the Expert.
Woodworking Articles
You also gain access to expert-level articles that WWGOA says are in the hundreds. The advice and plans in these articles will give you plenty of great woodworking ideas so you're busy for a long time to come.
What Do I Get For My Membership?
Here's the content you get per plan.
Premium Membership
Since it's the lesser of the two plans, as a Premium member, you'll be shut out of certain things or get less of them. Allow me to show you what I mean.
Two plan downloads, but only if you pay annually, not month to month
Two video downloads, but again, only if you pay annually
50% off video downloads
Weekly newsletter
All woodworking plans and projects in the library
All premium videos
No Ask the Expert
No WWGOA Academy classes
No WWGOA Academy mini-classes
Gold Membership
If you'd rather pay the extra $50+ to upgrade to Gold membership, then you can take advantage of everything WWGOA has to offer. That includes the following:
Ask the Expert
Four WWGOA Academy mini-classes
Three WWGOA Academy classes
Seven woodworking plans
Eight video downloads with each averaging 75 minutes
20% discount on non-video products in the WWGOA store
20% discount on WWGOA Academy classes
20% discount on plan downloads
60% discount on video downloads
Weekly newsletter
All woodworking projects and plans
All premium videos
According to WWGOA, the value of the WWGOA Academy mini-classes is $15 per lesson. The woodworking plans are valued at $7 per plan, the WWGOA Academy classes are valued at $40 each, and the full-length video downloads are valued at $17 a pop.
The organization of course recommends that you choose the Gold plan. WWGOA says a Gold membership has a value of more than $370 and that you'll get "ongoing savings, and benefits exclusive to GOLD Membership."
How Do I Join the Woodworkers Guild of America?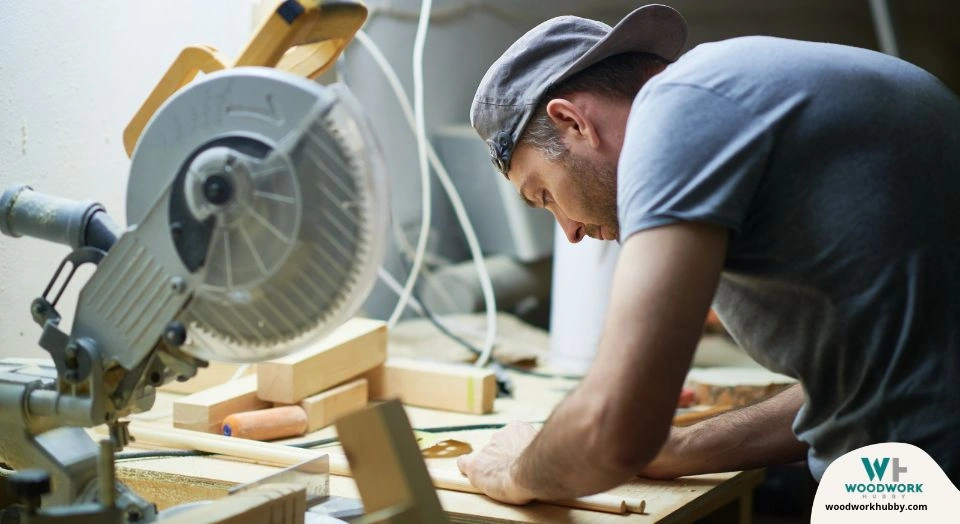 Are you thinking about joining the WWGOA? To get started, all you have to do is visit their website here. On the homepage, the big red "Become a Member" button is above the fold so you can easily access it. You can also click the Shop link at the top of the homepage.
After spending some considerable time on the WWGOA website doing research, I can say with confidence that pretty much any link you click will bring you to the membership page.
To Join the Woodworkers Guild of America
Select between the Premium and Gold plans and then you'll be asked to input your billing details, including your full name, country, home address, state, zip code, phone number, email address, and account password.
This is the time when you should decide if you want to sign up for the WWGOA newsletter. If not, then uncheck the box with the header that reads Communication Preferences.
Finally, put in your payment details. WWGOA accepts Visa, MasterCard, Discover, and American Express but not more modern payment methods like Venmo, PayPal, or Apple Pay.
When you click on the red "Complete Order" button, you're done. Wait for your confirmation email. Then congratulations are in order because you just joined the WWGOA.
How Do I Unsubscribe from the Woodworkers Guild of America?
The WWGOA has an FAQs page on their site that, although very difficult to find, explains the process of unsubscribing rather well. That said, you might not love WWGOA's cancellation policy.
If you're within their 30-day grace period and you're not enjoying their service, then you can contact WWGOA and get your full membership value refunded back to you. This only applies though if you selected an annual Premium membership. Gold members won't have to worry about this, as their memberships are always yearly.
You'd have to send an email to [email protected] or call 1-855-253-0822 to cancel your subscription.
What if you've been a WWGOA member for longer than 30 days but you just aren't feeling it? At that point, WWGOA says they "will refund your membership fee on a pro-rated basis." Yet again, this only applies if you paid for a yearly plan. Monthly Premium members can't get refunded period.
Sure, it's not such a big deal if you're only out $6, but what if you paid for four or five months and then decided the WWGOA simply isn't for you? At five months in, you've paid $30, which is more than half of the annual membership plan, yet you wouldn't be refunded a cent.
What Does Pro-Rated Basis Mean?
If you are 40 days into your Premium membership and you cancel, you will only be refunded approximately $48.97. They will not refund you the full $55 at that point.
This is based on my perceived calculations of what they are saying. This may vary for everyone.
According to some Facebook reviews, canceling is not as easy as the WWGOA website makes it seem. One user mentioned that even though they emailed and called that no one responded. Obviously, if you can't get in touch with WWGOA's customer service, you can't cancel your membership. That means you'd continue to pay even if you don't want to.
How Do I Cancel WWGOA Membership?
You can cancel your membership by emailing [email protected] or by calling 1-855-253-0822.
Provided you are paying the annual membership fee, you can get a full refund if you cancel within the first 30 days. Cancellations after 30 days are refunded on a pro-rated basis. There are no refunds on Monthly Memberships.
Is the Woodworkers Guild of America Worth It?
In my honest opinion, I believe you can definitely gain some value from a yearly Premium Membership of $55 or a Gold Membership of $129. You can choose to cancel after one year and I am confident that you can learn new skills based on the information they share in their memberships.
The Premium and Gold memberships are definitely tiered in such a way to push you more towards the Gold plan so the WWGOA can get more of your money. Yet the value for the money–provided all the resources work, of course–is high. You can gain access to expert-level videos and instruction. You can even watch live streams of woodworking pros at work. Where else do you get that kind of opportunity?
To Join the Woodworkers Guild of America
I've read accounts of Premium members who say that they're constantly inundated with offers to upgrade to Gold membership. On the Lumberjocks forum, one user mentions that the downloaded video files didn't even work for them and that when they tried to contact someone about it, they didn't hear anything. Hmm, that's starting to sound like a common thread. This could be an isolated incident though.
Yet if you're a monthly Premium member, you get the short end of the stick every time. You're continually left out of deals and discounts, not to mention you can't get refunded if you decide to cancel your WWGOA membership. That's a bit troubling.
Final Thoughts – Is Woodworkers Guild Worth It?
The Woodworkers Guild of America or WWGOA is a professional woodworking organization that provides lessons and resources for burgeoning woodworkers. The plans aren't too expensive, yet the divide between the Premium and Gold plans is significant enough that you're probably better off just buying the Gold plan.
The WWGOA certainly has its downsides. Members have reported that video files don't always work, and others have complained that they can't cancel their membership because no one at WWGOA will get back to them.
For all its flaws, if you've tried YouTube tutorials and woodworking magazines and you feel like you need more guidance and instruction, I think you'd get a lot of good out of the WWGOA!