Timber these days is becoming harder and harder to source and I am often left buying narrow stock which I need to glue together to form wider boards. This is how tabletops are made and I know a lot of people often wonder, is wood glue strong enough for a tabletop?
As a general rule, wood glue is strong enough to hold together wood on its edge when gluing a tabletop. No biscuits or mechanical fasteners are needed as wood glue, is in most cases, stronger than the actual wood itself.
Although this is true there are many factors to consider when gluing together a tabletop that will last a lifetime. I will go into some further details in this post to ensure you know exactly how to go about gluing your tabletop.
Can You Just Glue Wood Together?
Wood glue once dried is very strong. I have done many tests over the years and once wood glue has dried, it is stronger than the actual wood itself. If you try to break a glued joint, usually the wood fibers will break apart before the actual glue line will let go.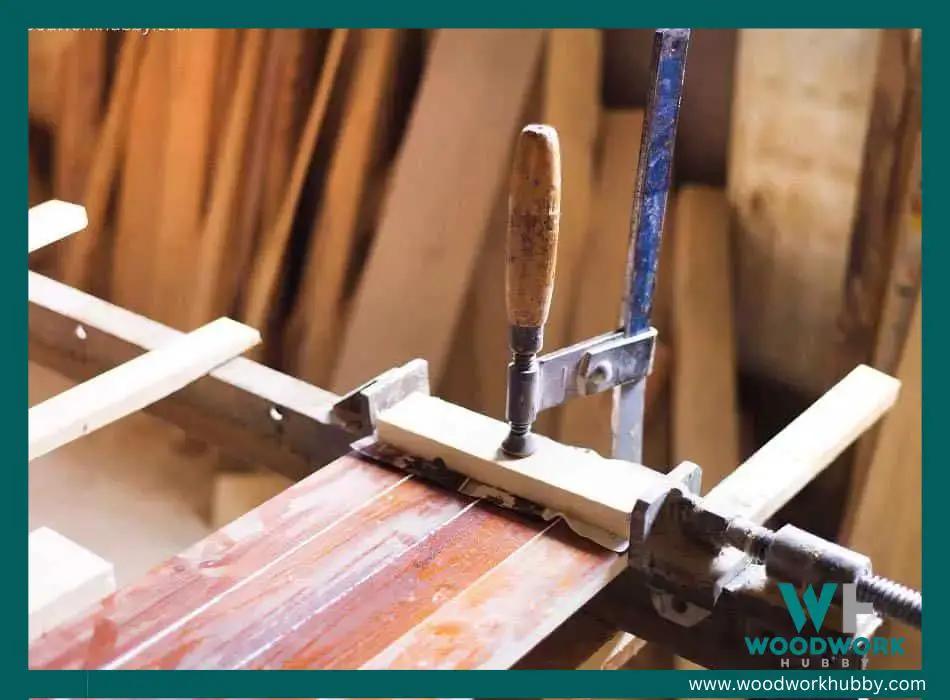 Whether you only use glue will depend on what your project is and how large it is. Although pieces, such as planks in a tabletop, can be glued with just glue, you do have options to use biscuits to help align your joins.
For large panel glue-ups, I use biscuits to aid with alignment!
Do Biscuits Make Joints Stronger?
Biscuits will not strengthen your glue joint if making edge-grain-to-edge grain joins in a tabletop. Biscuits are primarily used to help align the surface of your boards and keep them flush.
Since wood glue is stronger than the actual wood itself, a narrow biscuit provides little to no aid in strengthening edge grain joins. I have tested this many times and found there to be no added strength in my wood joints by adding a biscuit.
If you are joining up large tabletops or longer boards, I would definitely recommend using a biscuit to help keep all the surfaces aligned. See this helpful web page on wooden joint strength.
Biscuits In End Grain Joins
If you are joining an end grain to edge grain, like as done in a mortise and tenon joint, then I would always use a biscuit as wood glue is not great on end grain. Keep in mind biscuits are NO substitute for actual mortise and tenon joints.
For added strength, I would use a domino which is like a loose tenon. These machines are not cheap but are great for doing joins in wood. I would recommend using this one if you are looking to go down this path.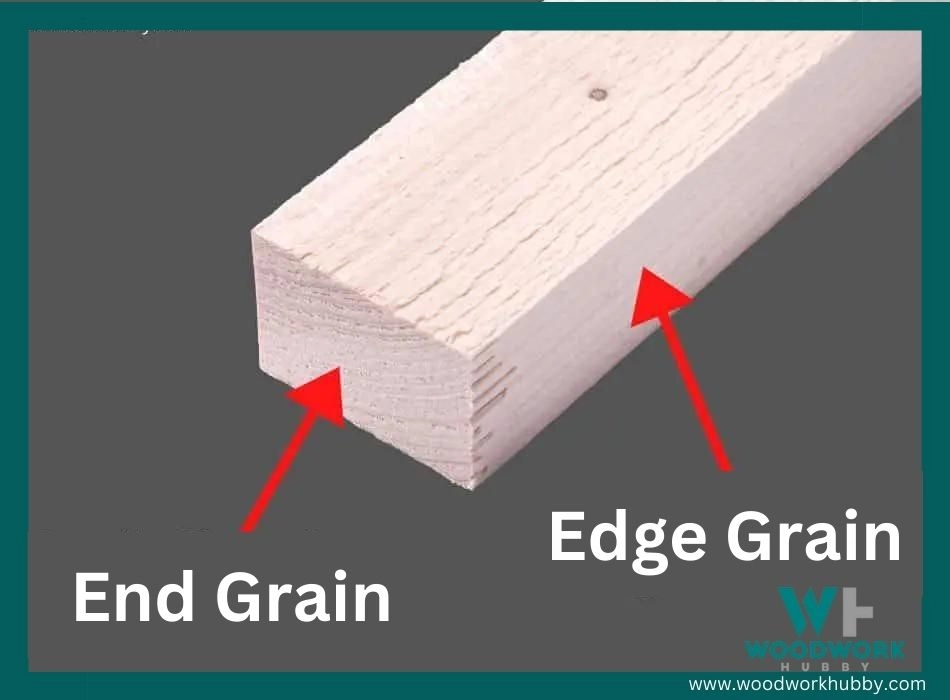 What Type Of Wood Glue To Use?
Before you begin gluing away, it's wise to know what wood glue types there are and what their strengths and benefits are.
Polyvinyl Acetate (PVA)
This is the most common glue that I use in the shop and works best on most woods. I would recommend using Titebond 2 or 3 for its strength.
PVA wood glue is non-toxic, water-soluble, and good for flexible, non-structural bonds, for example, if you needed to glue a drawer back together.
There are varieties designed for interior and exterior use; exterior use glue should be checked for its waterproof capacities, though this isn't as much of a concern for wood furniture unless you are planning on placing tables and chairs in a relatively protected area like a sunroom or gazebo.
One downside of PVA is that it leaves a residue that can affect the finish of the wood, with oak furniture being the most visibly affected. It also does not stain well, which may be a hindrance if you are repairing or assembling a table.
In order to ensure a proper bond, clamps are recommended. Just be sure to wipe off the excess properly and you should be fine.
Polyurethane
Another adhesive that creates flexible bonds, the distinction of polyurethane is that it is more durable and rigid than PVA. Polyurethane can be used with painting and wood floor finishes given its resilient and waterproof nature.
It is most often used when connecting two pieces together end-to-end, for example, with trim or molding. It performs well in humid environments given that it requires moisture to activate, but adequate ventilation is necessary given its volatile vapors.
Cyanoacrylate (CA)
Also known as "superglue", this glue creates an exceptionally rigid bond, though it can be broken with enough force. Given these properties, it is often used to create a temporary bond, such as if you are using glue blocks to reinforce furniture joints while they are drying. It can also be mixed with sawdust to fill in cracks.
CA glue requires that wood be slightly damp when applied for proper bonding, and will bond almost instantly when applied which makes protective equipment like gloves and googles essential to prevent the glue from sticking to you. Given its rapid drying rate, it has one of the shorter shelf-lives of the different wood glues.
Hide glues
Hide glues come in crystal and liquid form and are considered the traditional, and still very reliable, glue choice for repairing furniture. They are especially desired for repairing antique furniture as they don't leave a residue and because their slightly longer drying time gives a little more flexibility in setting different joints and pieces together.
Although it is another flexible glue, the bonds formed are tight and last a long time. Another benefit is that it is a natural product that doesn't produce any volatile vapors.
Epoxy glues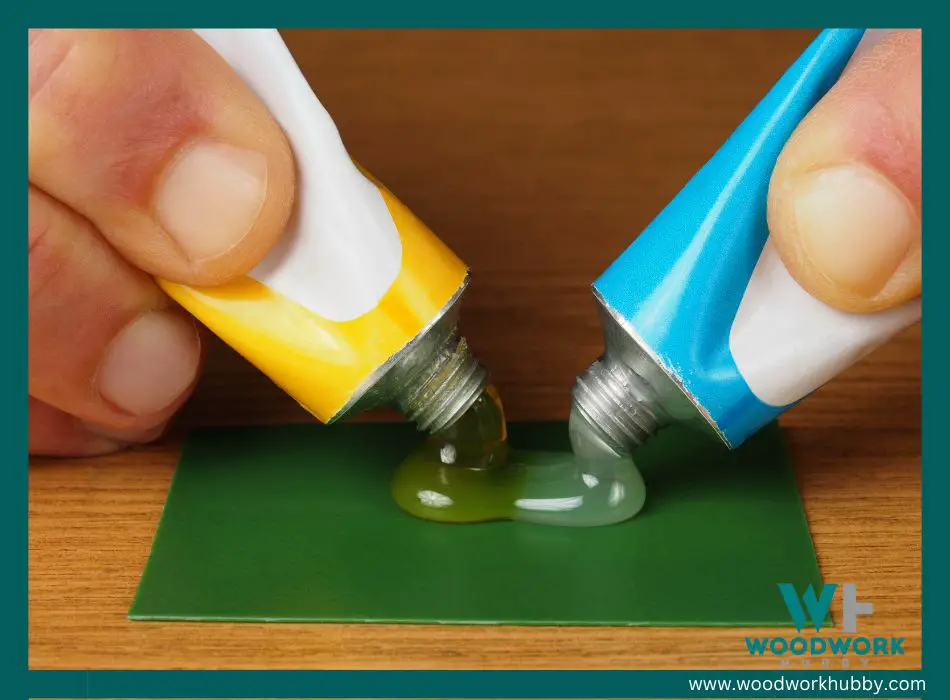 Epoxies work by mixing the two parts, a hardener, and a resin, together to form a putty-like substance. This substance can be applied to dry, sanded, and smooth surfaces to fill in cracks or seal the surfaces together; it's sealing and waterproof capabilities make it ideal for furniture as well as boat building.
It is considered non-toxic, but it's always a good idea to wear gloves and have the window open when using epoxy glue.
Now that we know about the different types of wood glue, we can see how it works with furniture repair.
Will Wood Glue Hold Planks Together?
Wood glue will hold planks together provided adequate glue is used, the joint is even and the right glue is applied.
Preferably, PVA or hide glue will provide the best results as far as stability is concerned. CA is a good option if you are trying to join smaller pieces together, but if your concern is wood planks like tabletops, superglue should be avoided.
Is Wood Glue Strong Enough For Furniture?
Wood glue is more than strong enough for furniture and is almost always used in this application. PVA is the most common wood glue used in furniture as it is the easiest to use and is generally strong enough for all types of joints.
The better question is, what kind of repairs or performance are you seeking from the glue? If you are trying to repair a crack or a chip in the furniture, such as on a desk or tabletop, then using CA or epoxy will help to fill in the crack.
One of the benefits of epoxies is that they come tinted in a variety of colors, which allows you to match the epoxy to the original wood color for a quality match.
Once you've chosen the right color and applied it, you sand it for a normal finish. CA glue may be harder to apply unless it is in a discreet location or you have sawdust that you can mix with it that will match the original finish. There are some tints and dyes that you can apply to CA, but they don't have a good reputation for creating a quality finish.
When gluing or reinserting legs into furniture, there is greater leniency. Generally, you can get away with using only glue as long as you have removed the old glue, sanded the surface, and insert a sufficient amount of glue into the joint so that the leg can be joined securely.
Using clamps or fasteners while the glue is drying will ensure that the bond is sufficiently strong. I recommend Titebond 3 for this application due to its gap-filling properties and strength.
If there is still play or the joint is not entirely secure, then using braces that can be placed on the underside of a seat or tabletop will ensure that legs and any other supporting pieces are secure.
If you are trying to attach or reattach, a leg to the furniture or are trying to bond a railing or broken side piece, then PVA or hide glue may be a better choice given the rigidity to applicability ratio.
That being said, given that hide glue doesn't leave a residue while PVA does, hide glue is the better choice for any visible components of your furniture.
As far as the strength of the bond, whether the component is load-bearing and what the remaining structural integrity of the furniture is will also be a factor. If a screw has come loose and caused a leg to fall out, then applying wood glue will help to restore the integrity of the screw threading into the wood.
How To Glue Up A Table Top
If you are you are repairing a broken table or fabricating a new one, there are some tips and tricks that will help to ensure proper adhesion before you start gluing.
First, make sure that your boards are true, square, and properly aligned for an even plane and preferred grain arrangement. You don't want to have boards out of alignment once you start gluing, as the added time and expense to separate the boards and remove the glue residue will hamper your project and could potentially ruin the wood.
Edges to be joined should be cleaned from dust. This will ensure maximum bonding and will properly adhere once the glue is applied. A wipe with ethanol or grain alcohol can remove any trace sawdust or residue that may have accumulated on the wood.
Select the appropriate glue – PVA or hide glue is the best choice; if you are planning on staining the table, hide glue may not be the best choice, but it can be lacquered and varnished. If the table will be going outdoors, then polyurethane is acceptable.
Apply glue in a zig-zag pattern along the joints. This will create a more even distribution of the glue throughout the joints for maximum adhesion. Use your finger to ensure the glue is distributed evenly across every part of the edge of the board. You should always apply glue to both edges being joined.
Apply clamps such as pipe or sash clamps. Clamps should be spaced every 12 inches or less along the length of the board. Tighten clamps firmly but not over tight and you should have a good amount of glue squeeze out of the joint. Ensure the faces of the boards are flush before leaving your workpiece.
Wipe off excess glue – use a wet cloth to ensure all glue is completely removed.
Leave the joint set for 24 hours – See my article on what can affect your drying time of the glue.
How Long Do Wood Glued Joints Last?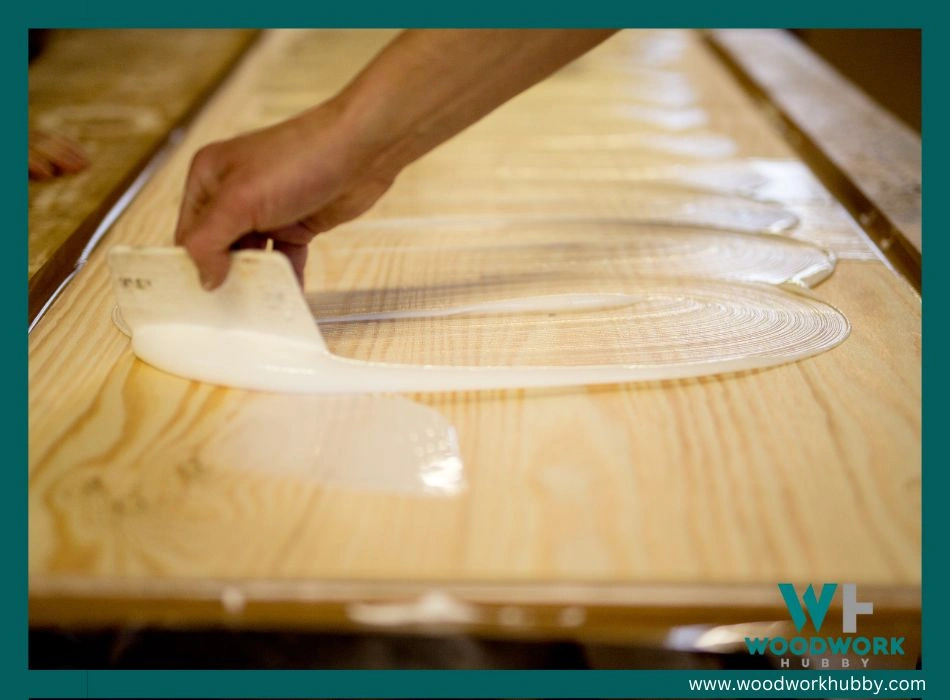 A glue joint and the glue can last at least 75 years provided the joint is well sealed and finished with an appropriate finish. Water is usually the cause of failing glue joints.
That being said, many types of glue, especially PVA, do not hold up if exposed to water unless they are designed to be waterproof. One of the causes of joint failure is excessive exposure to higher-than-normal moisture levels.
Applying a varnish, lacquer, or stain over the glued joints will help to ensure that the joints are properly sealed. If moisture is a continuous concern, using a waterproof PVA, polyurethane or epoxy will help to ensure that moisture does not ruin the joint.
Final Thoughts – Is Wood Glue Strong Enough For a Tabletop?
The answer is: yes. With the right glue, the right preparation, and the right application, wood glue can help you achieve the proper bonding and either bring your tabletop back to life or help you craft the table of your dreams. Now that you have a better understanding of what wood glue can do for you, it's time to start gluing!