Plywood is often thin, which means that it can be reasonably easy to cut, but many people choose to use power tools because of their speed and convenience. However, if you don't have access to the right things or you would rather not use a power tool, here are 5 ways to cut plywood without power tools!
Plywood can be cut by hand by using a variety of different hand saws or a knife that are available to all woodworkers. The use of some masking tape will help stop splintering.
Japanese Saw
Coping Saw
Crosscut saw
Hacksaw
I am going to explore each and how well they work, and then compare the different tools you might want to use.
Not everyone has access to power tools or space or capacity to handle them. They are loud and can be dangerous, and they are also often expensive. If you can't whip out the power tools for your next project, here are some alternatives to consider.
How Do You Cut Plywood By Hand?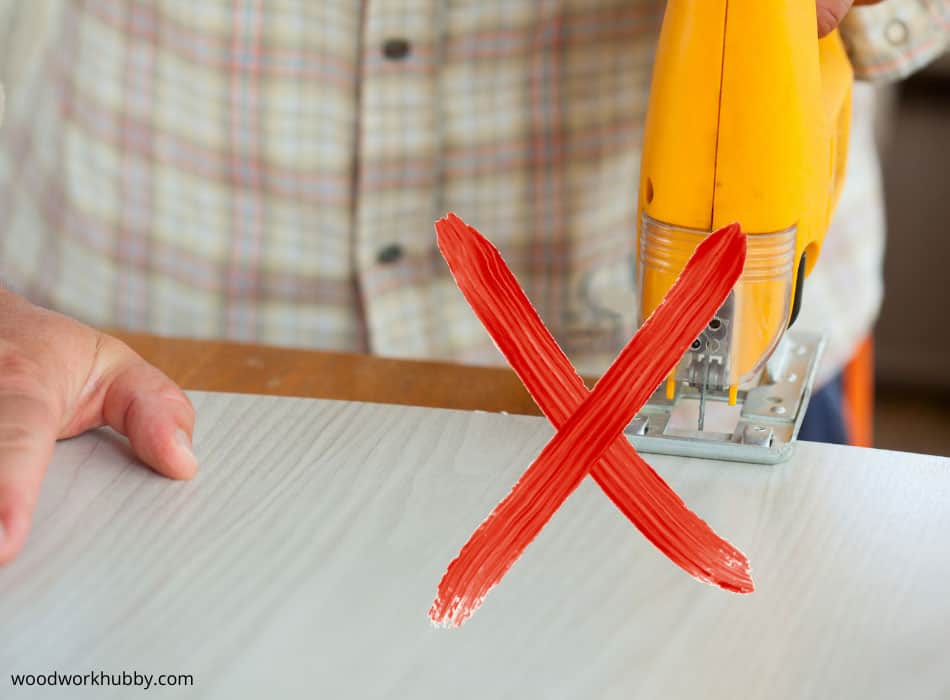 The most obvious tool to use if you aren't going to be using a power tool is the humble hand saw. You can cut plywood reasonably easily by hand using a hand saw – and of course, these are the traditional means of cutting wood, which humans have been using for many years.
There are many kinds of saw, and while most will work to cut plywood, you will probably find that a crosscut saw gives you the best results and the smoothest finish. Many people find that hand saws tear plywood, rather than giving them a neat, satisfying cut, so choose with care.
In case you were wondering – Which power tool would be best to cut plywood? A circular saw or jigsaw? See my full explanation on which is best.
Remember that plywood contains a lot of glue, and that makes it challenging to cut well, especially by hand. You may also find that it splinters easily and that it splits if you put too much pressure on it. Set up your bench to minimize pressure and work slowly and carefully to avoid splintering.
I will quickly go through the kinds of saw you may want to use. Hand saws will take longer to work through plywood than a powered saw, but if you don't have power tools or you prefer a hand saw, there are plenty of options for you to check out.
1. Japanese Saw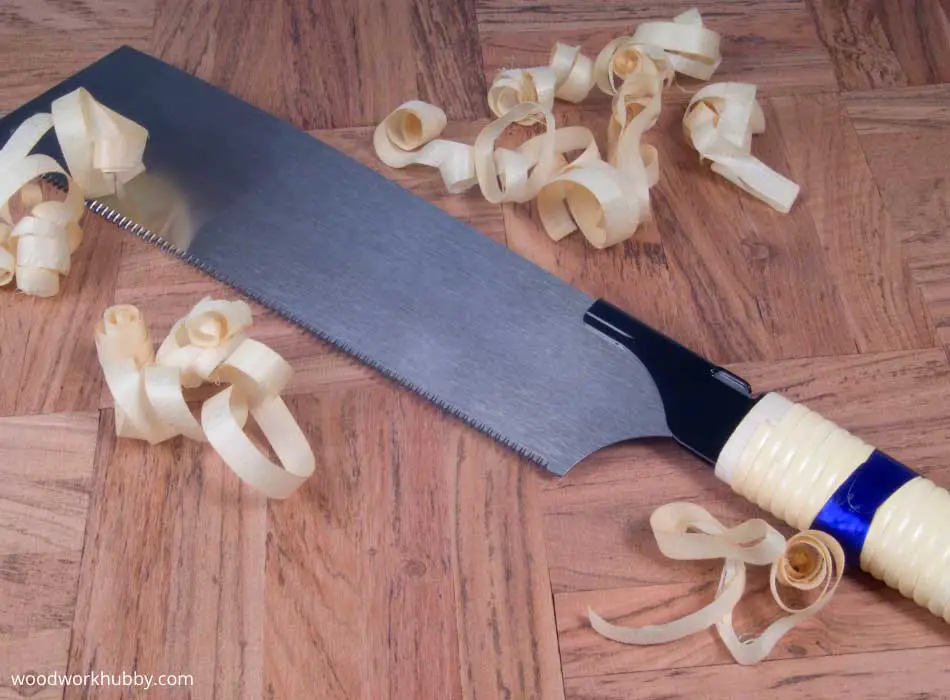 Firstly, a Japanese saw is very popular for cutting plywood. It cuts on the pull, and you can easily get double-sided saws, which are ideal for cutting when you need to saw patterns, as you can flip the blade as needed. One side is usually a rip side, while the other is a crosscut side.
You will probably need to practice a bit to get the feel for the saw, so it's best to have some scrap plywood to work with first. You may find that it's not easy to make intricate cuts with a Japanese hand saw, but it sits flush to the wood to give you a nice edge, and it can handle cutting curves easily enough.
I love using this Japanese saw which you can grab from Amazon.
SUIZAN Japanese Pull Saw
2. Coping Saw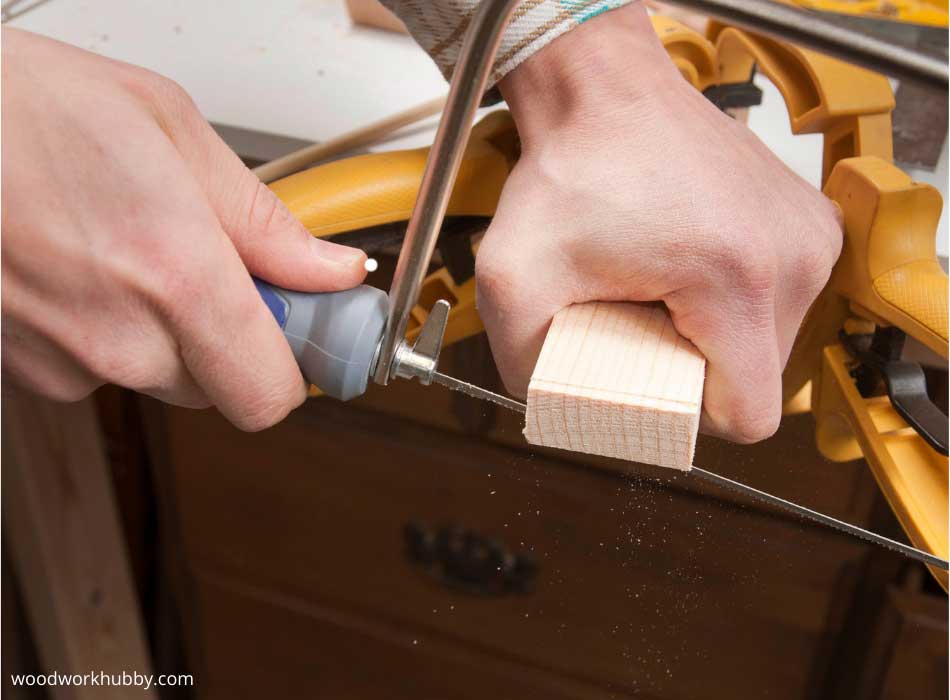 Secondly, a coping saw is another alternative option for cutting plywood. This tends to be a cheaper alternative to the Japanese saw, and it is good for intricate work, although less suitable if you want to cut large pieces of ply in straight lines; it will take a long time.
Coping saws are somewhat like using hand-powered jigsaws, and you will find it easy to rotate them to cut the wood however you like. Having a high teeth count will help ensure the saw can handle thicker plywood, although even high numbers will struggle with more than about a quarter-inch ply.
This is the coping saw I use which I purchased from Amazon.
Eclipse 70-CP1R Wood Handle and Steel Frame Coping Saw
3. Crosscut Saw or Tenon Saw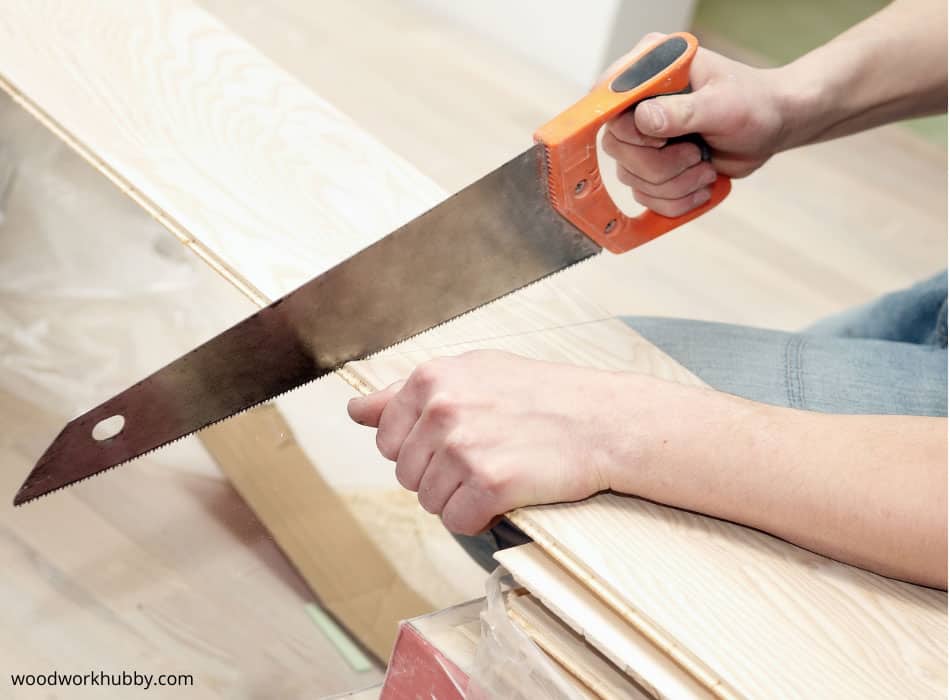 Thirdly, crosscut saws are a popular choice. These have closely grouped teeth and are suitable for cutting plywood. However, you will need to work slowly and carefully, and not press down on the ply as you cut, or you may splinter it.
Cut at around a 30° angle when using a crosscut saw for the best results, and don't rush your work. It may be best to use them for smaller pieces, as it can take a long time to get through lengths of plywood with them.
This is a good-quality cross-cut saw that you can buy through Amazon.
GreatNeck N2610 26 Inch 12 TPI Crosscut Saw
4. Hacksaw
Yes, don't laugh at me. This is probably the worst saw for cutting wood as the blade is too fine and there is little to no set on the teeth. These are not great if you have large amounts of plywood to cut, but will serve well if you want to create lots of fiddly edges.
The biggest problem with using a hacksaw for a cutting project is that the blades tend to quickly clog up with wood fibers and glue.
I would try to avoid this option but it could work for very small cuts only.
I also wrote this article showing you 7 ways to cut a hole in wood without power tools.
How To Cut Plywood With A Handsaw
If you're cutting plywood with a saw, you will need to clamp it tightly so the wood is stable, and then mark your cutting line using a sharp pencil.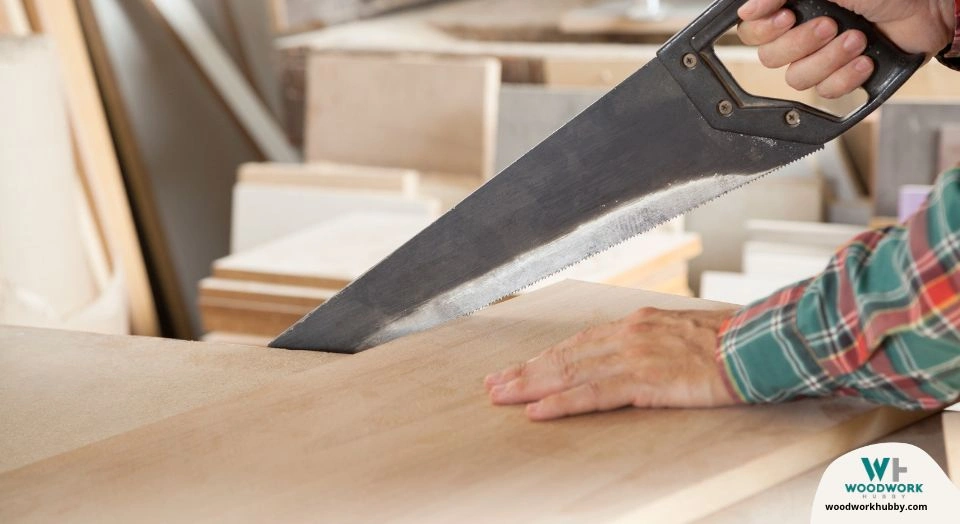 Take your saw and hold it almost horizontally to the wood. Vertical sawing will damage the plywood. Gently ease the teeth back and forth on your line until you have made a groove, and then begin to saw in the groove, making sure you keep the teeth on the line you have drawn.
You should let the teeth of the blade do most of the work and avoid using pressure to cut as much as possible. Brush sawdust off your line so you can see it clearly, and keep sawing. You will need to slow down toward the end of the cut and support the wood carefully to avoid it cracking.
The below video will show you how.
5. Can I Cut Plywood With A Utility Knife?
Plywood can be cut with a utility knife although the plywood should only be very thin and you will need to make multiple passes along a straight edge to do it. Plywood thicker than 5mm would take too long and is not recommended.
Once again, this is probably not the tool I would use but can definitely get you out a sticky spot.
How To Cut Plywood With A Utility Knife
It is as important as ever to properly measure, mark, and clamp your plywood before you start.
Your utility knife is going to need to be pressed down hard, so it's crucial to make sure your plywood is stable against a flat work surface, or you may slip and cut yourself if the wood moves. Make sure it is firmly clamped so it can't slip, and the bench behind it doesn't wobble.
Ideally, you should use a steel rule alongside your guideline so that your knife has something to press against as you cut; this will give you a good, straight edge. Line the steel rule up with your guideline, and then set the blade of your utility knife against its edge.
Slowly score along the rule, creating the first cut in the wood and using the rule to ensure the knife doesn't slip or waver. Make a second cut, still using the steel rule for your guide, and pressing down firmly on the blade so that it cuts deeply into the wood.
You can make a third cut with the steel rule in place, or – if you feel you have a deep enough furrow to guide your knife – remove the steel rule and just allow the scores you have made to guide the blade.
Keep scoring on the wood until you have made five or six cuts. Next, pick up the ply and turn it so that the thin edge faces up. Use your pencil to mark across the thin end of the ply on both sides, and then use the steel rule to join the marks up on the back of the wood.
This will ensure that the cut ends up in exactly the same place on the back of the wood. Once you have drawn your guide, place the steel rule against it to again prevent the knife from slipping, and score your knife along the edge twice, as you did before.
Set the steel rule aside and begin making sharp, smooth cuts with the knife again. Make sure your blade is still sharp, especially when you are almost through; you want a neat cut, and don't want the wood to tear or splinter.
If necessary for thick pieces of plywood, you can flip it back to the first side and score more on that side, and keep reversing. Make sure that you support the wood when turning it so its weight doesn't stress and splinter the cut you're making.
Be aware that cutting thick plywood like this will take some time and you can't rush it! A utility knife is not a good way to get through large amounts of plywood.
Comparing The Tools
| | | | | | |
| --- | --- | --- | --- | --- | --- |
|   | Japanese Hand Saw | Coping Saw | Crosscut or Tenon Saw | Hacksaw | Utility Knife |
| Speed | Reasonably fast, good for cutting long curves or planks of plywood | Fast provided you have a high teeth count, but not good for large projects | Depends on the size and teeth count, but reasonably fast | Quite slow as you will have to keep stopping to clean the blade | Slow |
| Accuracy | Sits flush to the wood so easy to cut a close line | Accurate as long as you let the blade do the work and don't force it | Good as long as the blade is very sharp | It May struggle to be accurate over long cuts unless you keep the blade very clean so it can cut straight | As accurate as the steel rule, provided you use one for your guide. Otherwise very difficult to get a straight cut |
| Durability | Should last well over large cuts | Should last well over large cuts | Should last well over large cuts | May struggle with cutting long pieces and will need regular attention on the blade | It Will not last well for a lot of cutting; you will need to clean, sharpen, or change the blade |
| Intricacy | Not very suitable for intricate cuts | Suitable for performing tight cutting jobs | Not very suitable for intricate cuts | Reasonably good at creating intricate cuts | Excellent for getting tight corners and edges in thin ply |
How To Cut Plywood At Home
In order to get the best results in cutting plywood at home, you have to do a few things before you start cutting.
Firstly, make sure you are marking your wood accurately, using a reliable measure and a straight-edged tool, a set square if necessary, etc. Make sure your pencil is sharp and take the time to double-check all measurements before you start cutting. This will minimize the risk of errors and ensure your guides are accurate.
Secondly, remember that plywood splinters very readily, even if you are using power tools. That means it's very important to ensure plywood is well-supported and to cut slowly whenever you're cutting plywood at home.
You may be able to rest your plywood on a bench, depending on the tool you're using, or you might have to put it in clamps. The wood will readily snap as you reach the end of your cut, so make sure there is no weight on the part you are cutting; it will splinter and possibly break otherwise. Dog holes are good to hold down the plywood.
You can use another piece of wood underneath to support the ply if necessary, though this will probably get marked, so treat it as sacrificial wood. It will help to reduce movement in the ply and stop it from splitting so easily.
You also need to make sure that the wood does not move while cutting; this is crucial to getting a good, even cut. If your wood flexes or shifts while you are cutting, your line will not end up straight and you'll have to spend a long time sanding.
Thirdly, remember that whenever you're working at home you need to make sure you take safety precautions, even if you aren't using power tools – you can still cut yourself on a hand saw or a utility knife.
You should wear cut-resistant gloves to protect your hands, and a dust mask to prevent yourself from inhaling the dust caused by cutting. You may also want to wear safety glasses.
Fourthly, if you are cutting thick plywood, you may need to sharpen the saw blade at some point, depending on how much you are cutting. The glue used to make plywood is quick to blunt a blade, and a blunt saw will cut slowly and badly.
Finally, remember that you should always test how a tool works before using it to cut a piece of wood and check that you are satisfied with the result. Create a rough version of your project and test how well the tool does what you want it to do before you get started on the real thing.
What if your plywood is wet? Can it be cut?
Final Thoughts – 5 Ways To Cut Plywood WITHOUT Power Tools
I hope this list of 5 tools to cut plywood other than power tools is handy. It certainly was to me when I first set up my shop as power tools are expensive.
Always take safety precautions and wear protective gloves, a mask, and safety glasses when cutting plywood, as the sawdust created can easily get into your eyes or lungs. Although hand tools are often considered safer than power tools, you should still treat them with care and protect yourself.