Woodworking is elaborate, and woodcarving isn't. You don't need to be a lumberjack to build small wood sculptures. And as a woodworker who started out with an interest in carving, I can tell you it is personally rewarding. But some people believe it is very expensive.
Wood carving is not an expensive hobby because you can start with less than $50 and stay engaged for two months. As your skill improves, you can start selling your projects and break even. Eventually, you can even start making a profit from your hobby.
The earlier portion of your woodcarving journey will be investment-heavy. But this article will show you that this hobby is not very expensive and how you can space out strategic purchases to avoid overspending right away. Bookmark this post, so you don't lose it. And let's get started.
How Expensive Is Woodworking as a Hobby?
Woodworking costs $17 to $20 every two months if you already have the tools. The tools cost up to $50 to get individually and $35 if you buy different sets. If you have $115 of disposable income, you can get started and keep carving projects for the next 3 to 6 months.
Check out my detailed article that shows you 12 beginner wood carving projects that are cheap and easy for anyone to get started with.
So even if you buy three months' worth of supplies, you'll not spend a lot of money. And after you have the tools, you'll not need to get new knives any time soon. In contrast, other artists have to keep buying brushes and paint.
This is one hobby where you just buy the medium (wood), work on it, and sell it for at least a higher price than the price of lumber.
But if $115 is a lot of money for you, that's understandable. Not everyone wants to put that much up for a suspected interest. In the following section, we will explore a minimum starting price for wood carving.
How Much Does It Cost To Carve Wood?
You can start carving wood by hand for under 30 dollars if you purchase a beginner wood carving kit like BeaverCraft's carving kits. However, carving projects frequently drives up the cost of your hobby. What matters, though, is that you can start with less than $50.
Ideally, you would begin with a whittling kit like the Comfort Bird Whittling Kit. These kits have two projects' worth of steam in them. You can keep the carving, buy new blocks and continue, but it gets old real quick.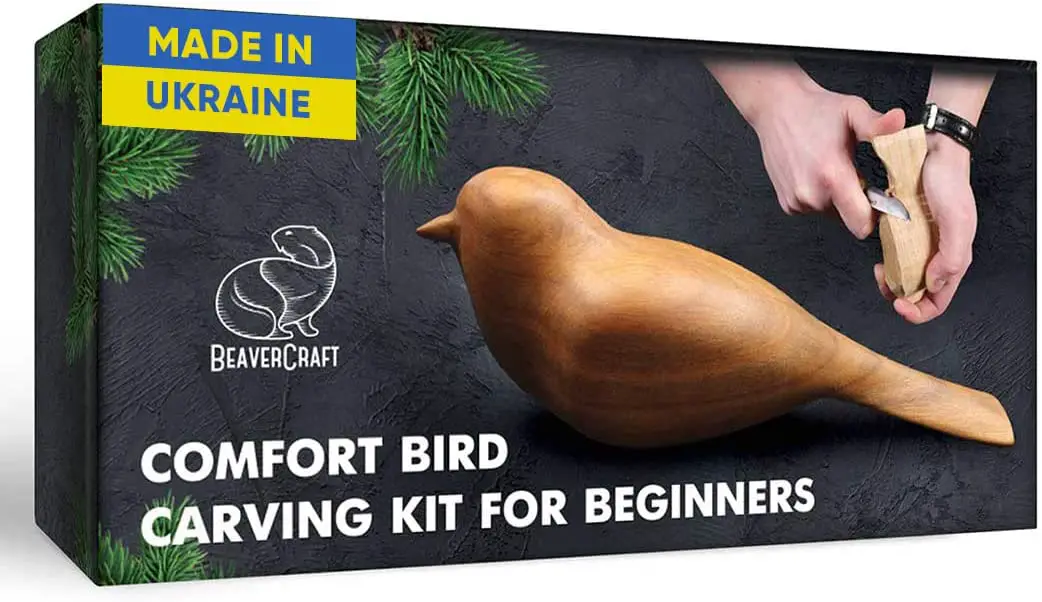 ✅ A beginner wood carving kit: 1 cherry and 1 basswood wood block, super sharp whittling knife, sharpening supplies, birdie template, and 3 types of sandpaper.
✅A razor-sharp whittling knife in the wood whittling kit, polishing and finishing supplies, step-by-step video tutorial as well as the short guide on bird carving.
Alternatively, you can purchase an unrestricted Wood Whittling Kit, which comes with multiple carving tools, their holder, and a pair of gloves. But for most beginners, this would be their second purchase after graduating from the comfort whittling kits. My article on beginner woodcraft projects can guide you more regarding the possibility of this stage.
✅The whittling kits for beginners: 3 kinds of whittling knives, 8 basswood woodblocks, and cutting gloves
✅The rounded handle is made of walnut wood and coated with a layer of varnish.
✅A pocket knife suit with anti-roll belt for easy storage and carrying.
✅Cut-resistant gloves to protect hands from cuts and scrapes.
✅The polishing and polishing mixture of leather for the blade's protection from rust.
Woodcarving doesn't take long to do or learn. I will show you exactly how long in my article How long does wood carving take?
As time goes on, you become bolder and start making self-initiated choices of buying larger blocks and trying different carving knives and tools. With each choice, your costs start changing. It is 3 to 6 months into woodworking that your projects start becoming good enough for commercial markets. 
And by then, your expenses can go down to $0 even if you don't make a profit on the sales. But up until then, you should expect to spend your own money on the projects and make no profit from them.
Going by these average estimates of $30 per month in woodblock expenses across a time frame of 3 to 6 months, we can conclude that, at a minimum, woodcarving requires a $90 investment and $180 if it takes longer to monetize your art.
Can You Make Money Selling Wood Carvings?
You can make money selling wood carvings, but it takes a long time to start selling them for a profit that is worth it. On average, a new wood carver works for over one year before his work is market-ready. Prior to that, his work becomes study material that doesn't get shipped out.
Wood carvings are considered mass-appeal art, so there is some good news and some bad news. The good news is that you'll start making money soon. The bad news is that there is a ceiling to how high your prices can go.
Wood carvings sell for $30 on the low end and $300 on the high end. This restricts a woodworker to the volume of carvings he can churn out over a period. So, later down the line, you might find that making $4,500 per month is the most you can possibly get carving wood.
There are methods to market your brand and have apprentices to increase the volume of your output. But when it comes to personally carving wood, earning more than $4,500 is very rare.
Is It Hard To Learn Wood Carving?
Learning wood carving is easy but getting good at it requires patience and consistency, which some people find quite hard. Specializing in wood carving to make larger-than-life sculptures is harder than whittling and hand-carving small projects. But the harder you work, the more money you can make.
Given that a hobbyist woodcarving can start earning within 6 months of starting, it is fair to say that learning to make acceptable wood carvings is quite easy. But to get world-class in this skill requires a lifetime. Still, it is important to take up woodcarving only if you enjoy the process.
Getting Started With Wood Carving
If you've decided to start your wood carving journey, you need to have a budget. And this budget shouldn't dictate the journey, but the cost requirements should.
In this section, we will explore how much money you need to get started with wood carving if you plan to do it as a semi-professional. You can use it as a guide to either plan your budget or make chronological purchases.
First Purchase: A Comfort Whittling Kit – $24.95 – $39.95
Comfort whittling is a label for projects so easy that people make them get rid of anxiety. These are the wood equivalent of scribbling tornados on a notebook because you're bored in class.
You need them in the beginning because they are easy enough to avoid the discouragement barrier. The discouragement barrier is a step that is so difficult it turns off beginners' interest. I work with power tools and massive lumber piles. I faced a serious discouragement barrier despite loving everything related to woodworking. That was 20 years ago.
Fortunately, the following comfort whittling projects have no discouragement barrier: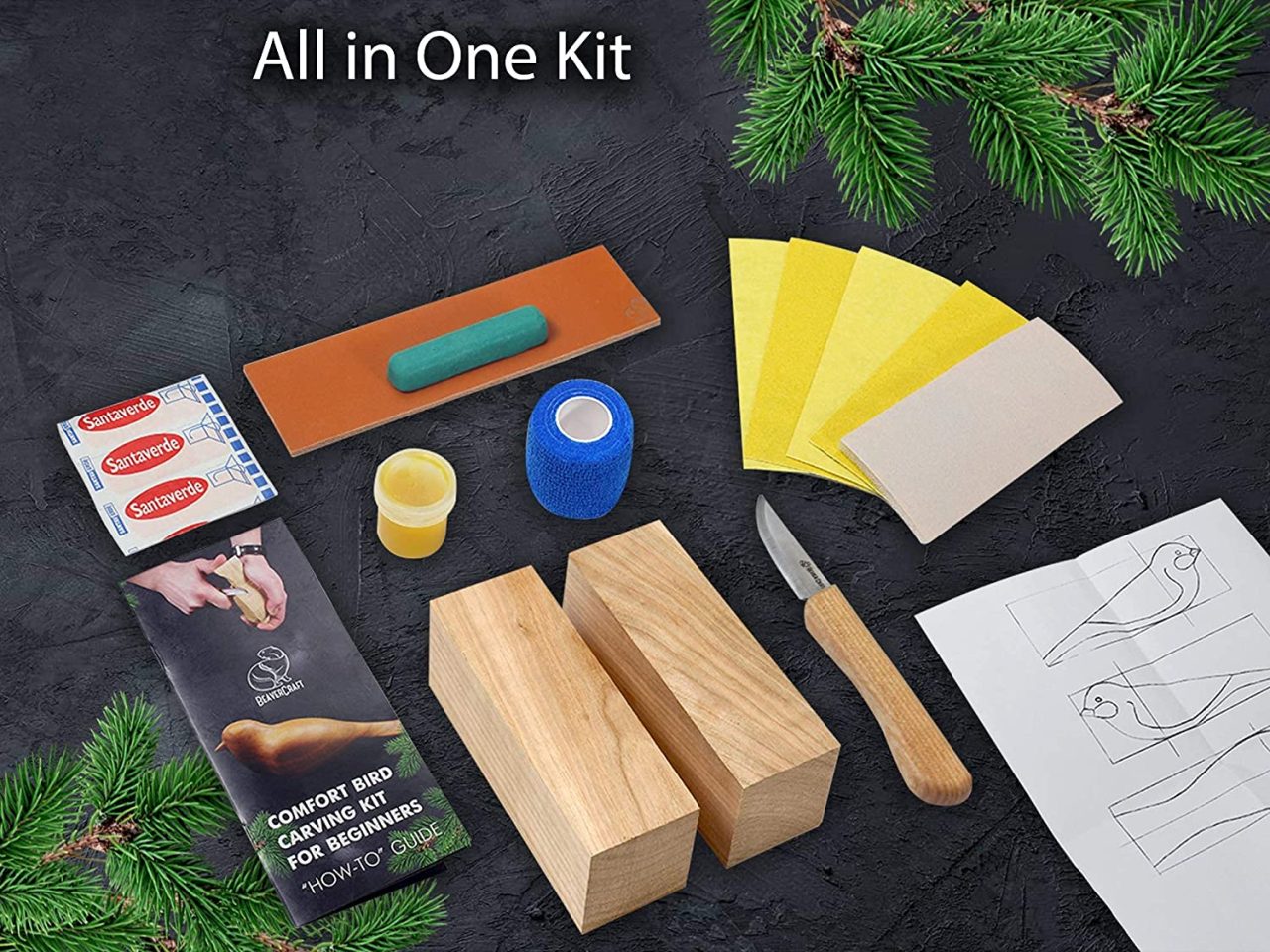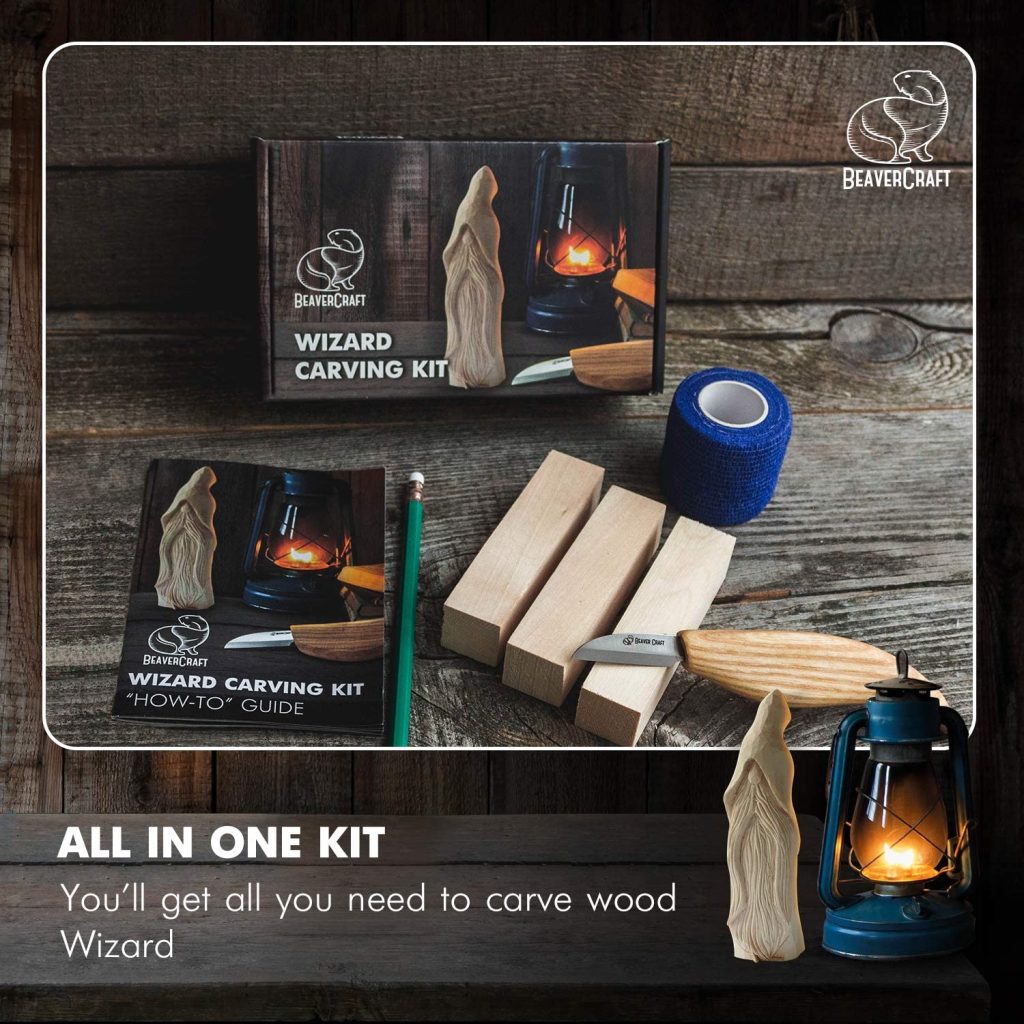 Pro tip: Buy just one whittling kit. You don't need to buy different ones that come with their own knives. Save your budget and try your hand at basswood carving in a low-stakes setting. I personnaly enjoyed the Wizard.
Second Purchase: Basswood Blocks – $19.95
Depending on how fast you run out of the wood that comes with the whittling kit, you will need to buy more wood blocks. In my estimation, this will be 2 weeks to 4 weeks after you receive the comfort whittling kit.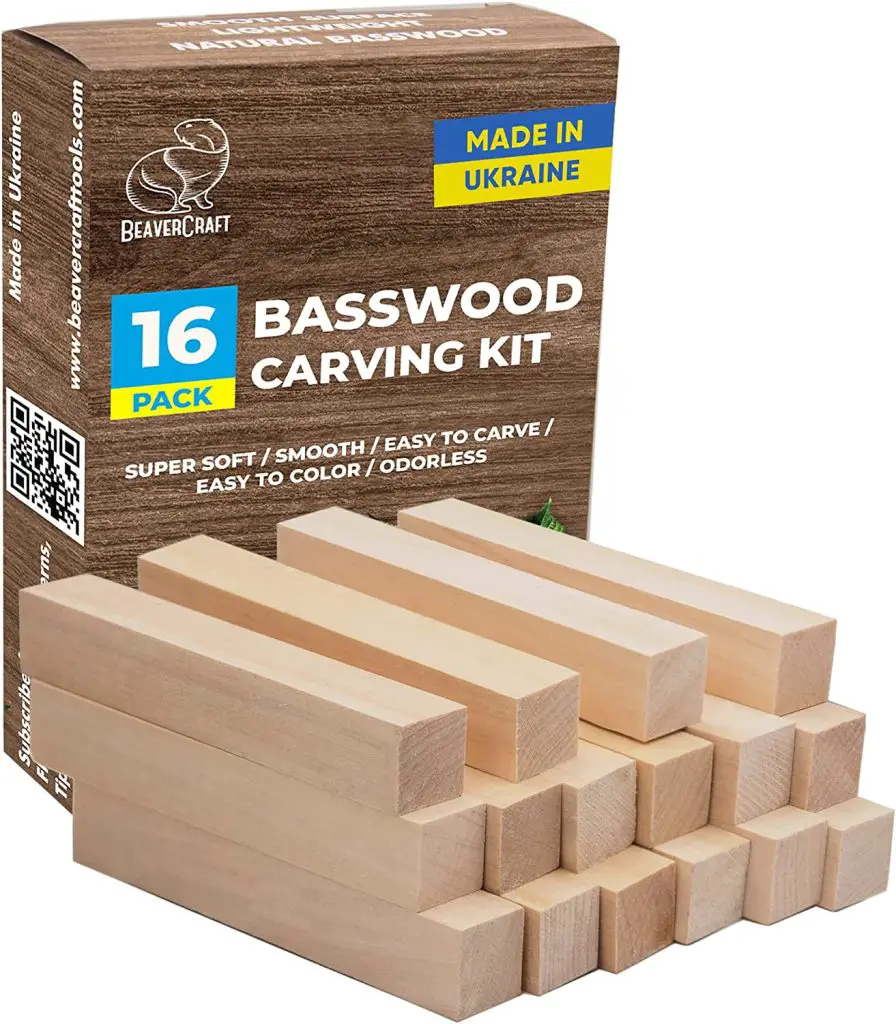 A set of Basswood Blocks can cost $19.95. These are pre-prepped to be easier to whittle and will not feel any different from the wood that you are used to whittling.
Now, you can choose to continue perfecting the old project plans on new wood blocks. Or you can try your hand at other whittle animals and similar projects. Here is a video showing different whittling projects you can take on with a month of experience:
Third Purchase: More Carving Tools – $15 to $50
Once you're past the whittling stage, you will need tools beyond the ones you already have. Let's look at some of the tools you can purchase by your third month as a wood carver. You can also purchase these in your second month if you are a quick learner.
All of the tools mentioned below work with the basswood blocks you've previously purchased.
The table shows the different types of wood carving tools, their price, and how they look.
Next Phase: Different Lumber
This is a stage where you start exploring different types of lumber, from Aspen to Black Walnut and Butternut to larger limewood. The prices here vary by your preference, and this stage is entirely optional.
In conclusion, you can get started as a woodcarver with a budget of $115 spread over 3 months. This can be further brought down by $15 if you purchase a knife kit instead of individually purchasing different wood-cutting knives.
Fuyit Whittling Set is one of the best-value purchases as it features multiple blocks of carving wood alongside gloves and protective tape. It is, of course, a set of tools, so it includes carving knives. The Gouge has to be purchased separately, though.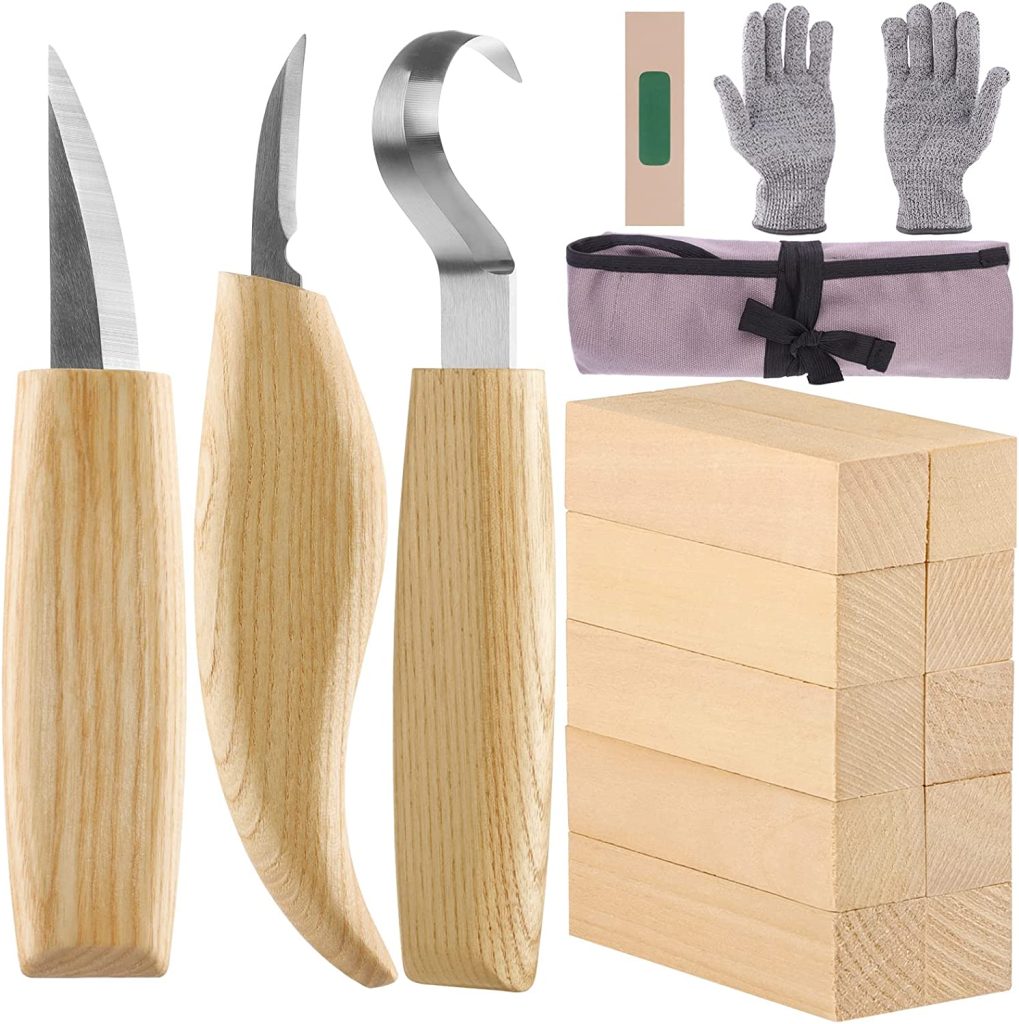 ✅Fuyit Wood Carving Tools with Basswood Wood Blocks Gift Set, Hook, Sloyd, Chip Knife for Wood Whittling Widdling. 17Pcs
This set has over 1,150 reviews and ratings, so there's enough social proof in its favor. The reviews and ratings add up to a global collective average of 4.6 stars on a 5-star scale. More specifically, it has 4.5 stars for its value-for-money proposition and the same for being beginner-friendly, both of which make it an excellent purchase.
Final Thoughts
Wood carving is not an expensive hobby at all. You can start with less than $50 and stay engaged for two months. You can also start selling your projects and break even as your skill improves. Eventually, you can start making a profit from your hobby.
Starting a project with Whittling Kit, especially if you are a beginner, is very helpful. I personally used the ones I mentioned above. Give yourself some time with your new hobby and you'll see how rewarding it will be without spending much.
IKEA furniture's best (and often annoying aspect) is that you get to assemble it yourself. But whenever the end product isn't perfect, you might doubt your own assembly instead of the product itself. As an owner of an IKEA bed, I can understand the hundreds of complaints about the slats falling off. I have had…

---

Gluing joints is no woodworker's favorite part, and letting the glue dry can be as boring as watching paint dry. Most woodworkers learn the ideal drying time of glue through trial and error. But if you don't want to mess up a well-crafted joint, you better learn from others' experiences. And I have 20 years…

---

Trailer floors need to be laid to make a trailer more liveable. Standard flooring options include single-layer flooring as well as subfloors with a top surface. In both instances, OSB and plywood remain the top contenders. It is, therefore, understandable why people wonder which one of these two is better for a trailer floor. Plywood…

---