In a dry season, wood can start cracking because of moisture escaping at different rates across different areas of wood. Generally, varnishing the wood can prevent cracking. But what about an oil finish?
Linseed oil will stop wood from cracking, but you should also use other ways to discourage dry-splitting. Make sure the wood is in the presence of a humidifier that maintains a 30% to 50% humidity level and use weight, joinery, or adhesives to keep cracks tight before they turn into splits.
In this article, you will discover different ways to keep wood from cracking alongside their respective pros and cons. You will also find out how you can keep raw timber and logs from cracking and which best practices can help you keep your finished furniture crack-free.
How Do You Stop Wood From Splitting?
To stop wood from splitting, you need to first understand the causes of wood splits. When wood dries, it starts losing volume. This results in natural contraction. However, since the contraction isn't equal across the entire surface, some shrink quicker than others, which causes splitting.
To stop wood from splitting, you have to do one of two things.
The first is to stop moisture from escaping wood at an uneven pace.
And the second is to apply an adhesive force that is far greater than wood's splitting force.
The first method works best when noticeable cracks have not occurred, while the second is a better solution when the cracks are getting out of control.
Both of these methods are broad, and each one has different ways of execution.
In this section, I will cover two ways to prevent uneven moisture escape and two ways to apply an adhesive force to stop the split.
Method 1: Coat the Wood With a Sealer
Open grain is an invitation for moisture to seep into the wood and change its volume with every change in the atmosphere.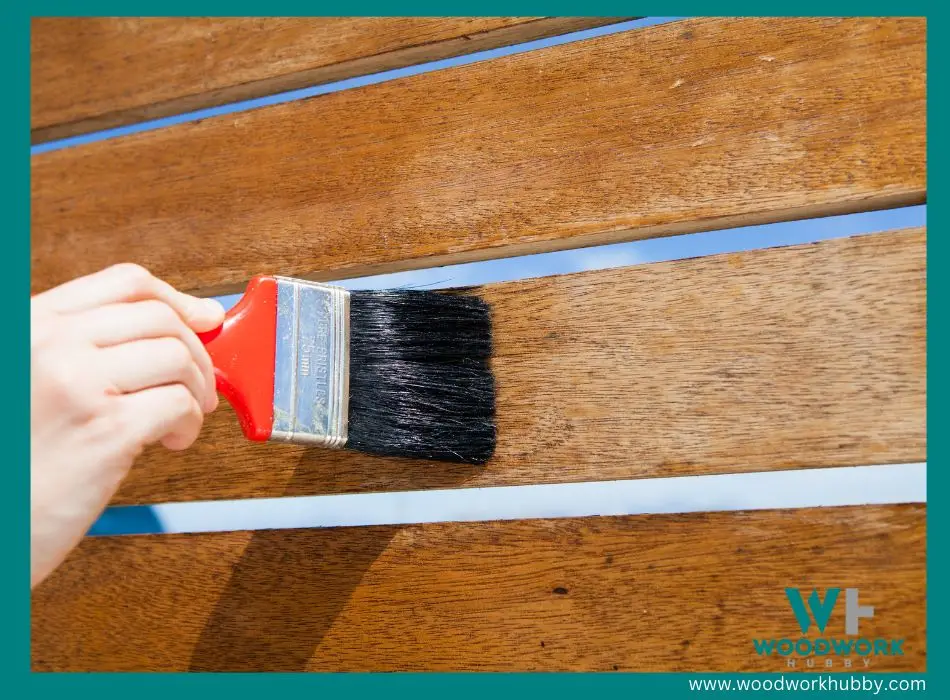 Coating your wood panels with a waterproof sealer stops the wood from breathing. No more moisture loss or gain, which means no more splitting. This might seem like the perfect conclusion. 
But within one year of woodworking, every woodworker learns that no waterproof sealer is 100% effective. Eventually, there is moisture loss and cracking to an extent. But the wood doesn't get damaged the way it would without the sealer.
Method 2: Coat the Wood in an Alternative Material
This is a combination of the adhesive method and the moisture-escape prevention method.
There Are Three Ways to Cover a Wood Panel in a Way That Prevents Expansion
Veneers
Lamination
Epoxy coating
It is effective because of two reasons. 
Firstly, the moisture doesn't escape or enter when the surface is covered by a non-porous film.
Secondly, the film covers the entire surface and holds it together. Even when the wood is pushing against itself to split, a larger force keeps it in place.
Method 3: Fill the Crack With Epoxy Resin or Wood Glue
When method 2 is applied late enough, it becomes entirely adhesive and nominally moisture-resistant. In other words, when the wood starts cracking and you fill the cracks with resin or any other glue, the point isn't to seal the wood but to hold it together.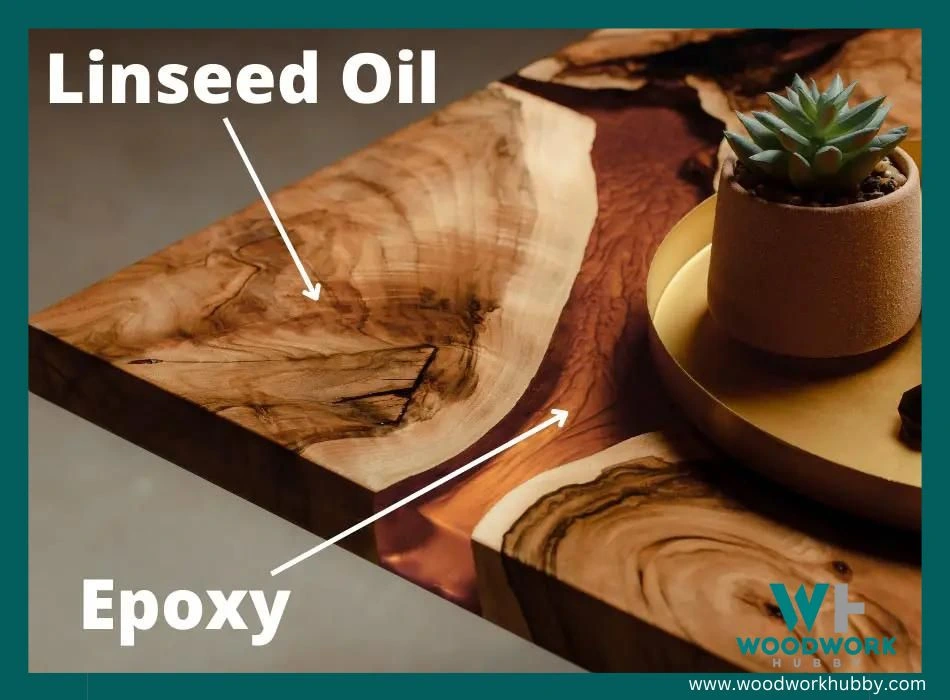 It is not the ideal method, but it is easy enough for even beginners to execute. I have personally never used epoxy resin to fix split wood, but I have seen enough intermediate woodworkers do it to include it as a possible solution.
The drawbacks of this method start with how the wood looks. The result of holding together splits with glue isn't exactly aesthetically appealing. Yet the principle is effective. That brings us to the last method, which combines the strength of adhesive contraction with the aesthetics of dovetails.
Method 4: The Butterfly Key
Back when the epoxy resin wasn't a click away, I learned how to stop wood from splitting as it dries with a simple inlay. This was 2 years into woodworking, and even 17 years later, I have not found a better alternative to keep wood together once it starts splitting.
A butterfly key is a butterfly-shaped inlay that is pushed into splitting wood after applying wood glue to its base. The inlay holds the split together from both ends with the force of the adhesive and its own shape.
The following video shows how a butterfly key can be used to stop wood from splitting:
How Do You Keep Wood Furniture From Cracking?
While one can prevent wood panels from cracking by using nails and dovetail keys to keep splits from expanding, one cannot use the same solution for pre-built projects like slim furniture.
The way to keep furniture from cracking is to use a series of different tactics that move the needle. I think of them as best practices.
And in this portion, I will go over each one.
To stop wood from cracking, you need to:
1. Keep Furniture Out of the Extremely Dry Environment 
As mentioned earlier, the moisture escape leads to contraction. And when it is uneven, it results in splitting. A dry environment sucks the moisture out of everything it can, including your breath and wood. Keeping furniture out of a very dry environment can help prevent splitting.
2. Don't Let the Room Get Too Damp 
If you thought the best way to keep wood from drying and splitting was to keep it in a damp environment, I have some bad news. Dampness will keep wood from splitting in the short term, but as the moisture leaves wood eventually, it will start cracking.
The key is to maintain humidity levels that keep moisture from going in and out of the furniture wood.
3. Keep Furniture Out of Direct Sunlight 
Sunlight might be great for you, but it is not the best for wood as it causes moisture to evaporate. And this, again, causes shrinkage and splitting. When you keep wood out of sunlight, you keep it from going through moisture-content shifts that can accelerate cracking.
4. Don't Let the Room Temperature Rise Too Much 
Even when the furniture is out of direct sunlight, temperature changes can affect it. The effect is generally slower in the shade. Still, maintaining the temperature so that it doesn't get too hot is advisable.
Remember: Heat equals evaporation. And that leads to splitting, thanks to shrinkage.
5. Use a Humidifier or a Dehumidifier 
At this point, you might feel like giving up because it doesn't seem practical to make a room dry but not too dry and damp, but not too damp while also making sure it is not too cold or too hot. However, simply buying a humidifier or a dehumidifier can ensure that the environment stays at the perfect level of humidity to keep furniture from cracking.
Should You Buy a Dehumidifier To Preserve Your Furniture?
Not everyone has a dehumidifier or a humidifier. And it would be in my best interest to push you to buy one anyway. But the best way to figure out if you should buy a humidifier/dehumidifier is to simply google, "Average humidity in [insert your location]."
Google Weather keeps track of humidity levels and can help you figure out how safe your furniture is.
You should buy a dehumidifier if the humidity levels in your region are over 55%. And you should get a humidifier if the moisture drops below 30%. For humidity between 30% to 50%, simply wood finish and varnish are sufficient.
Recommended Humidifier/Dehumidifier
I have already laid out the conditions where getting one of these is necessary. I don't want you to get one if you don't need it. I personally use a dehumidifier to accelerate wood drying and to keep wood from cracking.
You need a humidifier more than a dehumidifier because, ultimately, wood cracks upon drying. LEVOIT humidifier makes sure your room stays at a set humidity level without getting too damp.
It has over 25,800 reviews and ratings and is Amazon's number one choice for humidifiers. Its reviews and ratings add up to a global collective average of 4.5 stars on a 5-star scale. 
LEVOIT Humidifier for Bedroom 
The number one choice for humidifiers
A one-liner about the best popcorn machine in the universe.
The Auto Mode will automatically adjust the mist level to a perfect humidity and maintain the target humidity you want.
This 4L humidifier can last for 5 nights, and its 300ml mist output can cover your big bedroom which makes it effective for dry air.
It has a handle designed for convenient refill and cleaning, dual nozzles for mist in all directions, and safe auto shutoff when there's no water in the tank.
4.5 ⭐⭐⭐⭐⭐
SIMSEN Dehumidifier for Home 
While it is one of the best dehumidifiers you can get, I recommend checking your local humidity levels before buying it. It is only necessary for regions that have over 55% humidity. In such areas, this product is pretty effective as it silently and efficiently removes excess moisture from the air. The most important effect of this is on furniture as it saves the wood from the burden of absorbing excess moisture. 
SIMSEN Dehumidifier for Home 
Highly-recommended dehumidifier for home that have over 55% humidity.
Equipped with a double dehumidification condenser with a maximum dehumidification area of up to 720 sq ft. Quickly reduce the humidity of the room and removes the humidity from the atmosphere at a rate of 34oz(1000ml) per day which helps improve air quality and create a healthier, more comfortable living environment.
Equipped with a 95oz(2800ml) water tank, with a drain hose, so there's no need to pour water every day. It has an auto-off function, where the dehumidifier will automatically shut down and emit red light when the water tank is full of water, as a reminder that you need to pour the water out.
With high power mode and sleep mode. The sleep mode is super quiet, with a considerate 30dB whisper-quiet operation and sleep mode.
4.5 ⭐⭐⭐⭐⭐
This product has over 1600 reviews and ratings that add up to a global average of 4.5 stars on a 5-star scale. Its ease of use and maneuverability is rated at 4.8 stars which means it can be easily transferred near the furniture that it is supposed to protect.
How Do You Keep Wood Logs From Cracking?
Wood logs are much bulkier than the average working panel or plank. That means you cannot afford to waterproof each log prior to using it for projects. Most projects require sealing anyway, which makes log sealing redundant. But leaving logs as it is can result in cracks. So how does one stop this from happening?
To keep wood logs from cracking, you can keep them away from rain and sunshine, check humidity levels before cutting them, and apply the salt paste to facilitate natural, even drying. You can also varnish or seal the logs to prevent moisture exchange.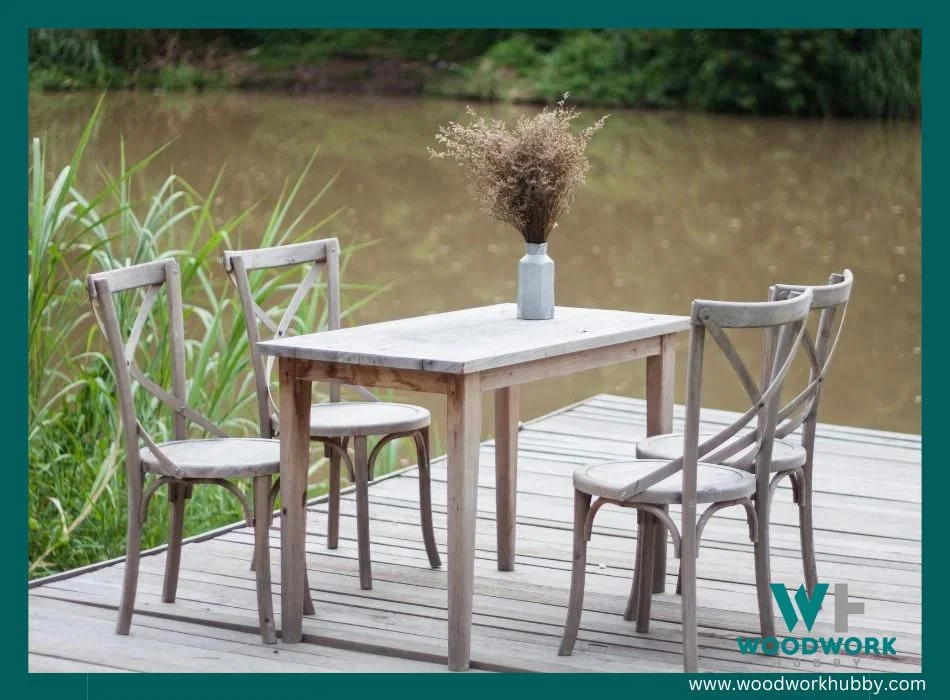 In this section, I will go over all these solutions and their respective pros and cons. This will help you figure out which method is best to protect your logs against dry-cracking.
Method 1 – Protection From the Elements
One of the best things you can do to keep logs from cracking is to keep them in conditions where they don't have to expand or contract rapidly.
This entails keeping them out of sunlight, rain, and too much heat. It also requires maintaining ideal humidity levels, which might mean investing in a humidifier.
| Pros of this method | Cons of this method |
| --- | --- |
| A natural method that doesn't waste varnish | Doesn't work in every region |
| It is easy to implement if you have a shed | It can be impossible in rainy locations |
| It is good for medium-term storage | Is bad for long-term storage |
A table showing the pros and cons of protecting the wood furniture from the elements method.
Method 2 – Weight down the logs
Knowing the way the wood grain will open up is very helpful in this method. By placing a heavy item on the logs, you can keep it from splitting away against its own interior. Weighing down the logs is also something you can do when drying wood after rain.
| Pros of this method | Cons of this method |
| --- | --- |
| Self-executing if you buy enough logs | Doesn't work on just one log |
| You don't need to waste varnish prematurely | The top log remains exposed |
A table showing the pros and cons of weighing down the logs method.
Method 3 – Varnishing/Sealing
One of the main ways to keep logs from splitting away from their core is to apply varnish over them. Sealing the logs (especially at the ends) can prevent moisture from seeping into the wood and then escaping to an uneven splitting effect. This method is commonly used by woodworkers who purchase one log and store it for long-term use.
| Pros of this method | Cons of this method |
| --- | --- |
| Allows you to feel secure about the condition of the log | Wastes varnish/sealer twice as you need to reseal the project after cutting the log |
| It is one of the default methods used by many woodworkers | It is an expensive solution |
| It is easy to apply and adopt | It might cheapen the appearance of your project wood. |
A table showing the pros and cons of the varnishing/sealing method on woods.
Method 4 – Apply Salt Paste
Salt paste absorbs water from the wood. If it is applied evenly, its absorption rate is also even. That is why salt paste is often used in conjunction with other methods to keep wood from cracking.
| Pros of this method | Cons of this method  |
| --- | --- |
| It is ideal for log cross-sections | It is difficult to apply to a large log |
| Beginners might have trouble with it | It is a reliable method if you understand how to use it |
A table showing the pros and cons of applying the salt paste method on woods
Final Thoughts – Will Linseed Oil Stop Wood From Cracking?
All wood ends in sealing. And if you haven't varnished or sufficiently sealed your projects or project wood, you might find the lumber/project cracking as it dries.
Linseed oil will stop wood from cracking but there are also other methods. Use the methods covered in this post to keep wood from cracking, or to stop it while it is starting to split.