Woodworking in an apartment can seem impossible because of the space you think you may need. Recently I helped a friend set up a workshop in her apartment and it actually turned out better than I thought. Here is what we learned from the process of how to woodwork in an apartment.
Woodworking in an apartment is possible if you control the scale of your projects and start small. Things like a dust collection system, folding workbench, hand tools, and smaller mobile machinery will be all you really need to do woodworking in an apartment.
In this article, you will learn the extent to which woodwork is possible in an apartment alongside the 5 things you can do to save space. By the end, you'll know if such a hybrid workspace is for you and how you can set one up if it is.
Can You Do Woodwork In An Apartment?
You can do woodwork in an apartment if you craft smaller projects. A hobbyist woodworking bench is around 2.25 square feet (0.2090 sqm), so you can woodwork in an apartment that has enough space for one. Storage space and room to move are also essential, making the minimum workshop area around 75 square feet (6.97 sqm).
The factors you must consider before using an apartment for woodworking include whether the workshop will be a standalone one or a hybrid space that doubles as your home. You will also look at the scale of your projects and keep in mind the kind of equipment you'll use.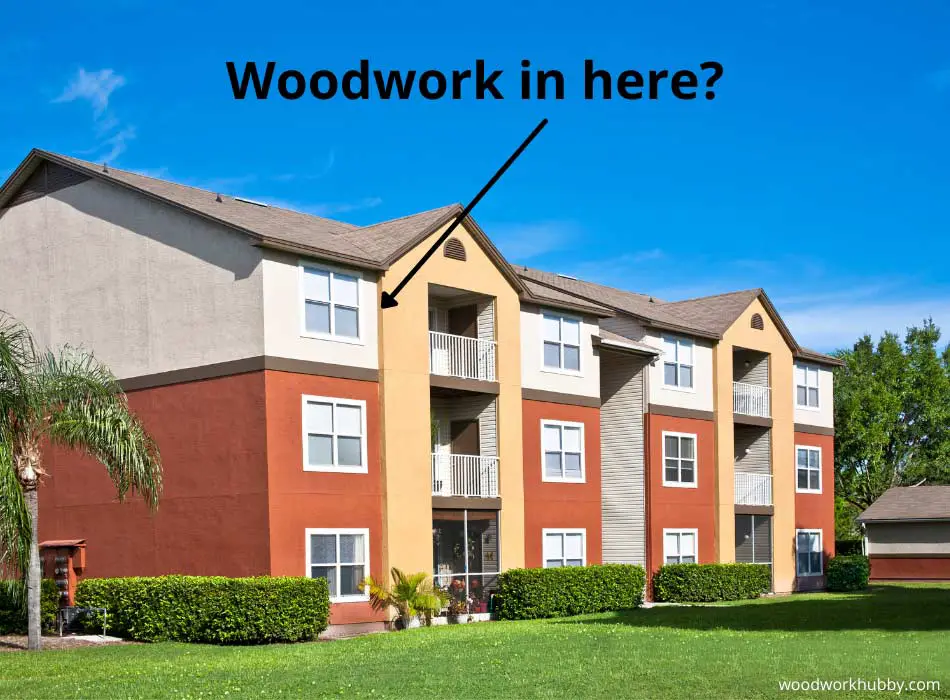 Hybrid items like a router and table saw combination can be excellent for apartment workshops. But before you can decide what's good for your woodworking apartment, you must ask yourself the following question.
What is the end goal? Is your woodwork meant to be commercial, a side hustle that you'll monetize later, or a true passion project that is divorced from the market?
 
What equipment will I use? Here, the first question is regarding electronic and manual equipment. Usually, manual tools occupy less room. Within electricity-operated ones, hybrid machines save space.
 
How long will the space be used? If the apartment workshop is used for woodworking only 10% of the time, then it is best to focus on flexible equipment that can be easily packed. In contrast, if the workshop will be operating for half a workday or more, dedicating one room to woodworking is better than setting it up in a multipurpose room.
Marking the floor with masking tape is the simplest way
How Much Space Is Needed For A Woodworking Shop
According to yard matrix data, the typical size of a U.S. apartment is 941 square feet (87m²).
Now an Ideally sized workshop, with all the bells and whistles, is approximately 125 square feet (11.6m²). Plus that would also need to come with a bit of spare room for storing lumber.
But, if you live in a small apartment and need to cut back on square footage, then a minimum of 75 square feet (7m²) is recommended. I took to my shop with a tape measure and I think this would be cozy but comfortable.
Instances In Which You Cannot Woodwork In An Apartment
Woodworking is more flexible than it seems. It is possible to work on your craft in a limited space, during bad times, and with poor-quality equipment.
There are very few situations that leave little to no room for woodworking and some of them are related to your workspace.
Here are the instances in which you cannot (or should not) woodwork in an apartment.
You live in a studio flat
If you live in a studio flat, there's no division between your living area and your bed space, which makes it hard for extracurricular activities. Woodworking in such a residential unit becomes difficult if not impossible.
The only type of wood-crafting that's practical in a studio flat, is miniature sculpting. You can also get a laser etching machine and "print" designs onto blocks of wood. There's not much else you can do in a studio flat.
You have a pet or a child
While you may technically be able to woodwork in an apartment where you live with your family, it poses a serious enough risk to deem such a workspace impractical. Woodworking tools are safe for those who know how to operate them.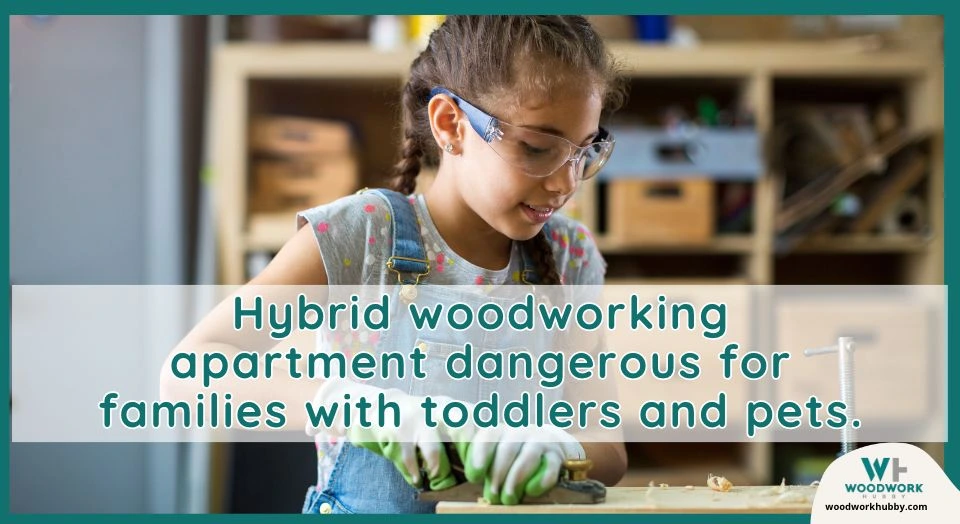 Unfortunately, children and pets don't, which makes a hybrid woodworking apartment dangerous for families with toddlers and pets.
How Do You Get A Workshop In An Apartment?
To get a workshop in an apartment, you need to measure the space you want to dedicate to the woodwork, as well as measure if you can fit any equipment through the door! I then gather the dimensions of things like benches and machinery you wish to use and then put masking tape on the floor to see if it all fits.
Then, you must place your tools and working materials in a way that everything is accessible. The design must facilitate production. Access into your apartment can be a restricting factor so be sure to consider this.
Follow the steps below to get a practical workshop in an apartment.
Start with the workbench – Almost everything you do from DIY projects, to small commercial tasks, will require a workstation. Building a workbench or getting one that falls within the parameters of your designated space is a good start. I recommend using a folding one like this from Amazon.
 
Have a dust collection system in place – The next step in getting an apartment workshop is to have a decent dust collection system. This is the one I have recommended in the past. Just check on noises levels.
 
Set up the machinery of your choice – Be very mindful of the sheer size of the machinery and weight of them. Can you get them in your apartment especially if stairs are involved? Don't forget to check the size of your doorway as well.
 
Get the portable tools – Finally, you can get the portable tools into your workshop. This is the last step because these tools can be placed outside if there's no room left. Electric tools, as well as manual ones, qualify for this description as long as you can carry them outside the workshop after each shift.
Stormann Folding Shelf Brackets
Highly recommended dust collection system.
Highly recommended folding workbench with limited space.
Highly qualified for heavy-duty purposes, and specially designed with powder-coated steel to prevent any rusts, chips, and cracks.
Customized work bench in anywhere you want in workshops, garage, or even your kitchen.
Space saving
5 ⭐⭐⭐⭐⭐
Rikon 1Hp Portable Dust Collector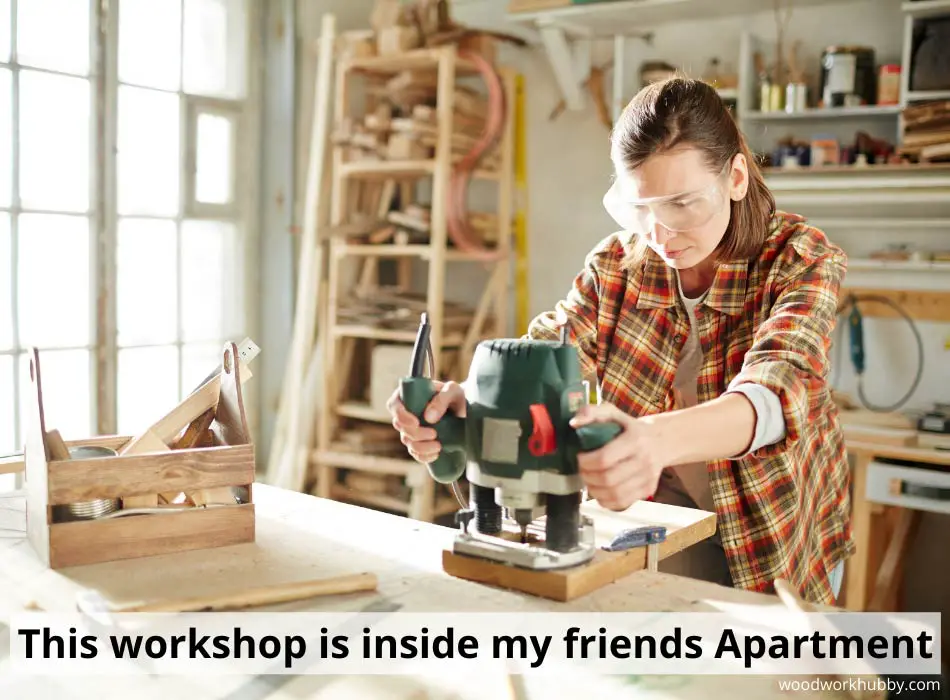 Apartment Woodworking – Space-saving Tips For Indoor Workshops
Calculate the final designated area – Do not let the equipment dictate the area. Decide the room you can dedicate to your workspace and find tools that match the space you have. 
Don't do it all – You do not need a router if you're not going to use one. Be a minimalist and forget what you're "supposed to do." Get what you need only. 
Be open to rotation – Not all the equipment you get has to be housed in the workshop at once. You can store what you don't use in a storage closet and have what you use most often at hand in the work area.
Put larger items on wheels – I had to do this in my workshop due to space constraints and it makes it simple to wheel machines around where you need them and push them back into a corner when not in use.
Use a folding workbench – This enables it to be stored away when not needed. I have used this one in the past and works well.
Reduce Workshop Noise Levels
If you are planning on doing woodwork from your apartment, I would suggest you try to minimize sound levels. I'm sure your neighbors will agree.
Here is what I would do to achieve this:
Soundproof your walls – This is easy if your walls are not sheeted or you plan to renovate. You could just add acoustic insulation and then apply sheets to the walls. But if your walls are already sheeted, then make up some simple sound-deadening panels and hang them around the place. Watch this video which explains how.
Use Hand Tools – Hand tools are great to experience the origins of woodwork. Best of all, they are much quieter! Use hand tools wherever possible.
Pick your projects – Maybe start out with projects that are easier to cut and build which will cut down on noise and disturbance to your neighbors. You may be able to get a friend or Home Depot to cut your lumber to size and then just assemble it with a drill at home
Can You Cut Wood Indoors?
You can cut wood indoors though you will need protective equipment to keep sawdust from entering your eyes or lungs. As long as you have safety glasses and a respirator, you can cut wood indoors. A dust collection system is required for indoor woodworking spaces like hybrid apartments.
Be careful not to use machines that throw dust out into the open air where it might enter someone else's apartment.
See my recommendation for the best dust collector for MDF.
How Do I Start Woodworking?
To start woodworking, you should look up projects that require portable tools. You can get sufficient practice with such tools without prematurely wasting money on larger equipment. Since these tools require less working material, you don't spend too much on pieces of wood.
This guide helped me get started in woodwork. I highly recommend taking a look.
Final Thoughts – Woodworking When You Live In An Apartment
Woodworking in an apartment is possible especially when you are starting out. Just be sure to limit yourself to smaller projects and use smaller machines and you might find it works well for you.
As you advance in skills, you can designate an area in your home for woodworking and start acquiring equipment to help you get more done in less time. By now, your manual woodworking fundamentals will be strong and you'll get the most out of your woodworking apartment.
FAQ
How Do You Woodwork Without A Shop?
Woodwork can be performed anywhere and does not necessarily need a workshop. You can simply have a collection of tools in a tool bag and perform the work on saw horses. The invention on modern machinery has brought about the need for a place to perform woodwork.
Can You Do Woodworking At Home?
Woodworking is typically done from home usually in a small garage or shed. You can even do woodwork in a room in your house if the need arose.
What Is An Example of Woodcraft?
Woodcraft is a skill that is learned by working with wood. Some actual examples of woodcraft items can be anything small that is made of wood. Some examples are:
Pens
Bowls
Utensils
Signs
Ornaments