MDF dust can be hazardous to breathe in and unappealing to look at. More importantly, it can increase the wear and tear of your machinery. If you regularly saw MDF boards, then you should have an appropriate dust collector in your workshop. I went on the hunt to find the best dust collector for MDF.
SHOP FOX W1685 is the best portable dust extractor for MDF as well as regular sawdust. It is portable enough to an extent and is area-specific with 1.5 horsepower and 1,280 CFM airflow. Its 2.5-micron filter can trap most of the MDF dust.
In this article, you will learn more about MDF dust extraction and why it is important. I will also cover the different types of dust extractors and the specifications you must look for when buying a dust collector for your workshop.
Why Do I Choose The Shop Fox W1685?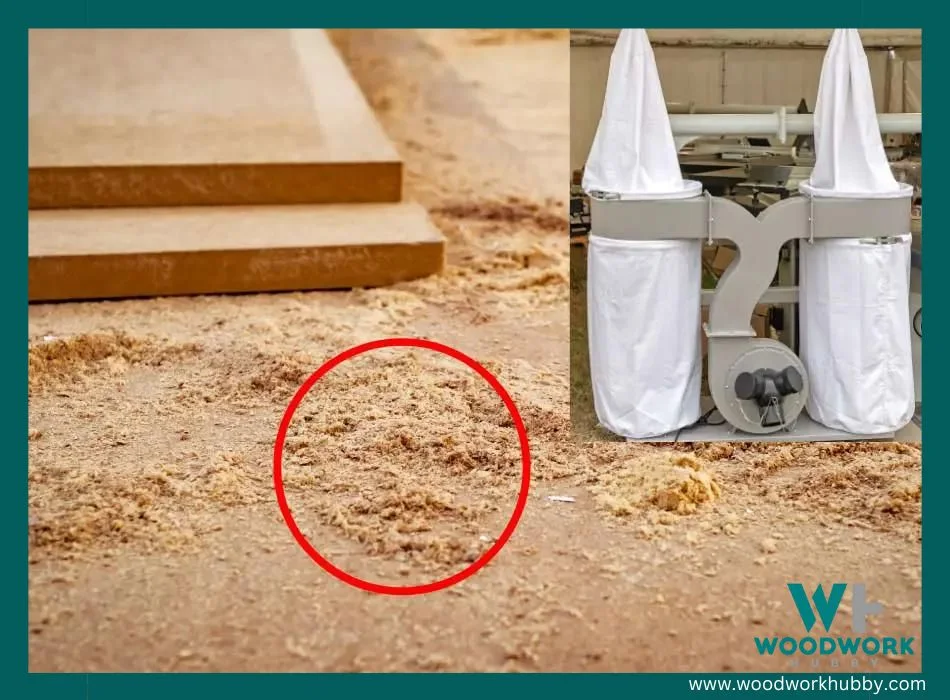 Over the years I have had many variations of this type of dust collector and am fortunate enough to experience which ones work well and which ones don't.
The Shop Fox W1685 is my personal recommendation because of the following reasons:
It has 1280 CFM – meaning it is capable of moving 1280 Cubic Feet of air per Minute sucking up course and fine dust from many machines at once if you prefer.
Not overly large – It is big enough to fit in most workshops without needing a huge floor space. I use up approx. 900mm x 600mm of floor area. It also comes on castors enabling you to easily move it around. I find this very handy when it comes time to empty the bag as I can wheel it outside.
Low noise – whilst it does create around 90 dBA it is less than that of machinery I have mine in the workshop with me and is not uncomfortable to have running.
2.5 Micron bag – This is good for keeping dust inside but I would highly recommend swapping this out for a pleated filter like this one. This will keep the real fine dust inside and will give you less reduction in power.
Easy to use – Simply plug it into a standard wall socket
Bag volume – The bag holds up to 5.4 cubic feet of sawdust and chips which is quite a lot. I find it takes around 65-95 lineal feet of timber being fully dressed through my thicknesser to fill it.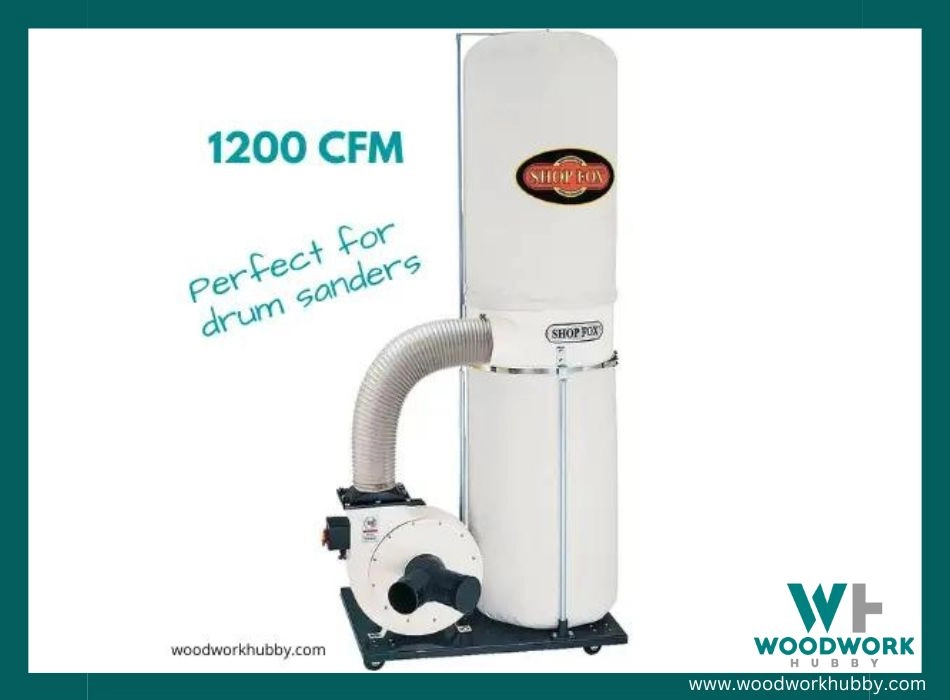 How Do You Remove Dust From MDF?
You can remove dust from MDF with a good quality dust collector or shop vac system. For fine dust, you can wipe over the surface with a slightly damp cloth to remove dust particles.
All alternative dust-clearing options either miss a bulk of the MDF dust or make it airborne where it can be breathed in. To avoid breathing in hazardous MDF dust, you should get a high-performing dust collector.
What Type Of Dust Collector Is Best?
In general, a portable dust collector that picks up class H dust is the best type of dust collector for MDF, while a stationary dust collector with similar performance specs and collection precision works best if you use a table saw and router table to work on your MDF boards.
That said, any dust collector that can pick up class H dust will be effective in clearing dust from your workshop. Below I've covered the three main types of dust extraction options available to you.
Stationary – These are larger dust collection systems named after their compatibility with stationary equipment like table saws. If you saw large MDF boards, such a dust collector would be ideal for your work. The drawback of this is that you need to attach it to one tool at a time.
Portable – Portable dust collectors are ideal for handheld tools and provide more area-specific dust collection. For most MDF projects, this type of dust collector works best.
Ambient – Ambient air cleaners act as dust collectors for the entire workshop. They are usually hung from the ceiling and filter the air by circulating it past a filter panel.
Make sure you are using the right size pipe/ducting. I wrote an article on the best pipe size for harbor freight dust collectors.
Now that you know the different types of dust extractors let's look at the reason you need one so you're able to make an informed decision regarding your purchase.
Dust collector bags can get very dirty especially after sucking up a lot of MDF dust. With this being said, can you wash dust collector bags? See my full article which may surprise you!
Why Do You Need A Dust Collector?
You need a dust collector in your workshop because sawdust can be a fire hazard, a safety issue, it can ruin motors and just generally be untidy.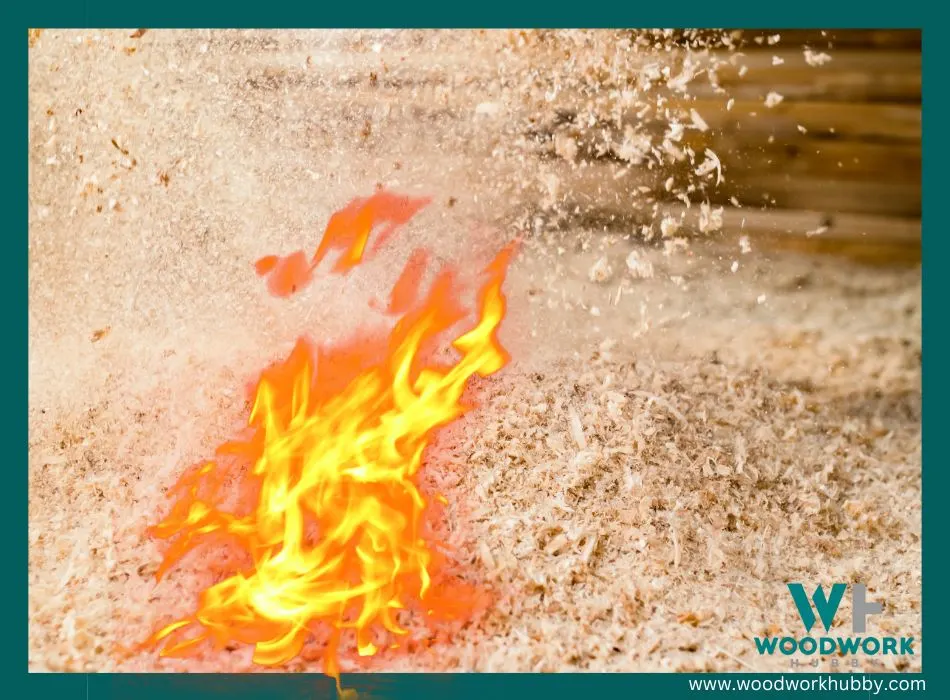 That's why most woodworking spaces feature dust collection systems, and I mentioned them as essential, even in apartment workshops. See my article on setting up a woodworking area in a flat. 
However, with MDF not being as combustible, this risk is low. There's another risk, though: MDF dust can ruin motors quicker than sawdust. So, while the traditional rationale behind having a dust collection system doesn't work for MDF boards, there's an alternative rationale that makes these dust collection systems just as important.
Because of this difference in rationale, we can make our selection more specific. See my full explanation on can you burn MDF.
Quick Collection 
As motors are usually attached to rotary tools and power saws, they capture dust while operating. This means your dust collection system must be nimble and should capture dust as soon as possible.
More Area-Focused
If MDF dust falls to the ground, it doesn't pose as big a risk. While room-cleaning systems clear out the dust from the entire workshop, you need dust extractors that can get rid of MDF dust from specific areas. This way, you can clear the area for your sawing tool to operate without catching fine adhesive bits and fibers in its motor.
How Many CFM Should A Dust Collector Have?
A dust collector should have 1000 CFM in order to pick up fine MDF dust, though a 350 CFM collector can suffice for extracting bigger chips and board chunks. Alongside higher Cubic Feet per Minute, the extractor should also have a fine filter.
To check your CFM rating, I bought one of these Anemometers from Amazon.
ANNMETER AN-866A Digital Anemometer
See my full article on the Best dust collector for drum sanders which explains more about the best CFM.
What Is the Best Portable Dust Extractor?
Rikon dust collector is the best portable dust extractor because it is easy to carry and has a 0.5-micron filter that clears surfaces of sawdust, wood chips, and shavings. It has lower CFM, though, like most portable extractors. Make sure to use a fixed system for finer dust collection.
Rikon 1Hp Portable Dust Collector
Different Kinds of Dust in Your Workshop
One of the mistakes I see novices often make is confusing standard carpentry dust collection with MDF dust extraction. While similar dust collection practices can work for both solid wood and MDF, what's actually collected isn't the same.
With hardwood and any other type of natural wood panel, you need dust collection to get rid of ground-up wood. You don't usually collect regular dust off of wood. You capture sawdust that usually flies during routing and sawing. 
In the case of an MDF panel, you're likely extracting regular dust off of its surface. I have on occasion cut MDF, though I had to use a carbide-tipped blade, and having the right vacuum-based dust collection system helped preserve my table saw.
So, when it comes to looking for the best dust collector for MDF, you have to be clear about what type of dust you'll collect. If you're not cutting MDF boards, then, for the most part, you'll get away with using a tack cloth or blowing compressed air on the surface. Of course, doing this with sawdust wouldn't be feasible and would require vacuuming.
In case you're cutting up MDF, I would first urge you to read my post that explains the drawbacks of doing so. But assuming you know the drawbacks and choose to saw into your MDF panel, I would advise you to have as good a carpentry dust collector as your budget allows.
Final Thoughts – Best Dust Collector for MDF In 2023
MDF dust collectors are simply higher-performing sawdust extractors. Because MDF dust can pose a serious health risk, one has to get the best filter and the highest airflow extractor. Two of the best options are SHOP FOX W1685 and Rikon Dust Collector.
I have put together the Dust Collector and Pleated Filter that I recommend
in one place on Amazon to make it easier for you to find.