I sometimes use MDF in my workshop as templates or guides, and on larger projects, I end up with quite a lot of scrap. I find it time-consuming to cut up so it will fit in the bin. So recently I started burning some of it in my fire pit, which made me wonder, can you burn MDF?
You can burn MDF but the risks associated with breathing in the fumes emitted from the glues are thought to be bad for your health and the environment. Burning MDF sheets, items, and even chipped residue in an enclosed space can be dangerous to the people within the area. Landfilling the material is a much better, and often the only legal, option.
I have decided to put some time into exploring this topic and hopefully help you learn more about MDF burning in different contexts, disposing of MDF, and which MDF adjacent materials can be burned safely. By the end, you'll know a lot more about MDF safety, its contents, and what you need to be cautious about.
Is MDF Toxic When Burned?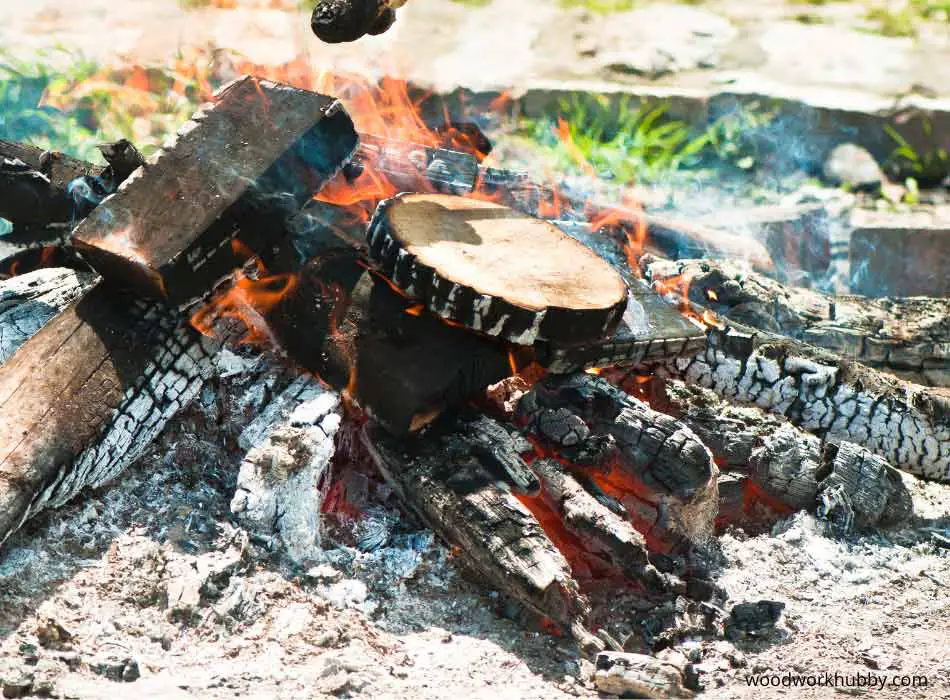 MDF is toxic when burned in a closed space because the released compounds alongside the new ones formed when the material reacts with fire. These results are largely unknown. There's a reason why, despite being unsustainable, such materials are dumped.
However, the surprising truth about burning MDF-burning is that the human health risk applies only within a closed environment. Going by DHA's guidelines, MDF should be considered unsafe to burn because it is a composite material. While we know that MDFs feature soft and hard fibers brought together by adhesive, the kind of adhesive isn't always clear.
This results in an unknown, which can be safe or toxic. The best assumption, or the safest one at least, in such cases, is that burning the material is toxic. 
If the MDF, however, features standard MDF materials with the industry adhesive for Medium Density Fiber, then burning it outside isn't risky to human health. That is not to say that burning MDF boards are safe.
Some people say you can burn plywood. Check out my full article if this is myth or truth!
While burning the material from a distance in the open might be safe for human health, it is unsafe for the human wallet as many cities and state-level governments will levy heavy fines for the practice. And even if the practice is allowed by your city, burning MDF can still not be considered entirely safe because of yet another aspect.
MDF can be difficult to screw together, so I have put together this article which will show you how to screw MDF without splitting it.
Is It Safe to Burn MDF?
Burning MDF is not safe for the environment when done out in the open and is risky for human health when done indoors. As a result, you can dispose of MDF in a restricted range of ways, including landfilling, dumping in fire-free junkyards, and donating old MDF products.
How to Dispose of Old MDF Products Without Burning
Since burning MDF is unsafe, be it indoors or outdoors, albeit to different degrees, the easier option is to landfill old products. However, this can cost money as junkyards and landfills often charge for usage. 
Large junk hauling services aren't included in most cities' regular garbage pickup, and even ones that do have a complimentary heavy junk pickup do so once or twice a year.
Did you know you can use pocket holes in MDF? See my article explaining how.
This is what tempts most people to burn the MDF product because paying to get it hauled costs money. In some instances, the illegal dumping practice of a hauler can leave the product owner exposed to liability. But in most cases burning MDF too can open you up to liability, making it a health risk and a legal risk, not to mention an environmental risk as well.
The alternatives to burning MDF are as follows:
The salvation army and Goodwill are among the biggest thrift shop franchises that receive donations. You can also donate your product online with PcikUpMyDonation.com, even though the service isn't available everywhere.
If the above-mentioned franchises aren't accessible in your area, you can simply look at the local shelters and charities and ask around if they receive product donations. MDF furniture like cabinets and tables are easy to dispose of this way but getting rid of a door might be tougher unless the shelter has a workout door. 
Doors and planks are considered incomplete items as they're not as "plug and play" as tables and cabinets. A similar inconvenience is expected when trying to get rid of window frames made of MDF. 
Again, burning these shouldn't be your first option. Craigslist can be a great place to list your product. Others who need a door or a window frame might find it and message you. The only problem with this method is that Craigslist is not equally popular in all states.
Offer It on Facebook Marketplace 
Facebook Marketplace has easily taken over the local classifieds market, and you're more likely to generate interest for the MDF product you're trying to dispose of.  I get rid of most of my offcuts this way.
Ultimately, the decision between Facebook Marketplace and Craigslist isn't a mutually exclusive one, so you can list your item and respond to interested parties from either platform. Facebook seems safer because you can glance at the profile of the interested party.
Finally, if no option works, the safest possible one and the one that ensures that you don't have an MDF product taking up space in your home by the end of the week is to have it hauled away to a junkyard. 
In such a case, it can save money to have a hauler who can disassemble the product before taking it away, as many landfills charge by unit size. Alternatively, there are hauling services that have their competitive landfilling rates pre-arranged with a waste management company. These services charge only for hauling.
At this point, if you're a resident of a city that regulated MDF or composite garbage burning, you should be considering one or more of the above alternatives based on what you find feasible. However, it is possible that you don't want to burn MDF to get rid of an old furniture item. Instead, you're mainly looking to use MDF as firewood.
Can You Burn MDF in a Firepit?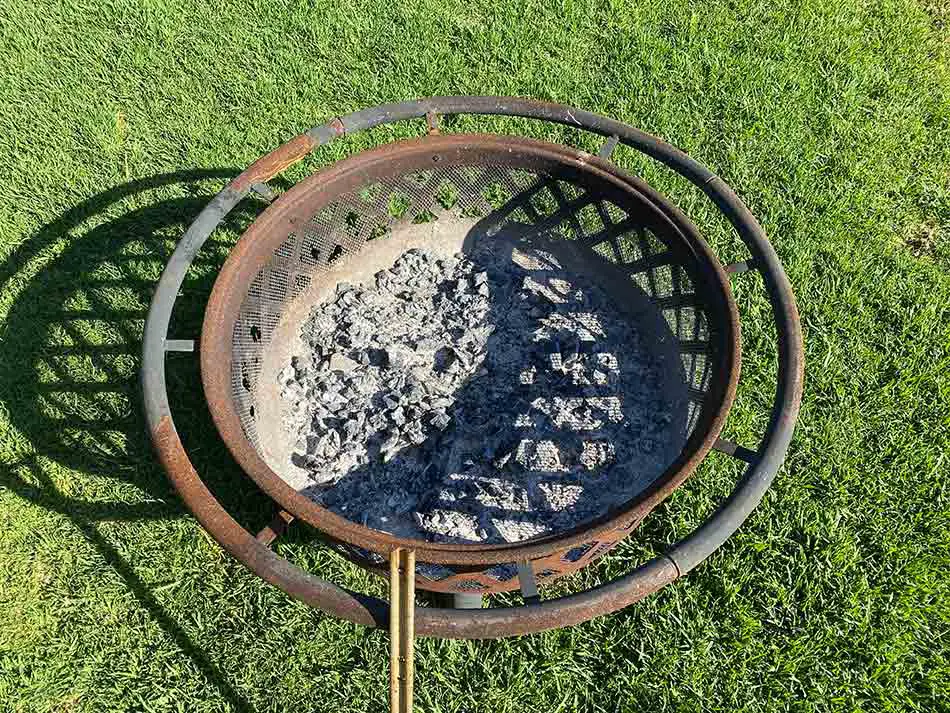 To even ask this question, you must reside in a place that doesn't ban or punish MDF burning. Moreover, you already know that burning MDF in an enclosed space can be dangerous. Considering both those factors, I still was wondering if I could burn my MDF at home in a fire pit?
You can burn MDF in a firepit if it is legal in your city. Be sure to get far enough away from the smoke so you don't inhale any harmful fumes it puts off. You'll also have to ensure that you don't burn enough MDFs to significantly harm your environment.
Aside from legality, there are other factors that keep MDF from being the ideal campfire, bonfire, or pit-fire wood. MDF burning has a similar apparent effect as glue or plastic catching fire. There's a weird smell alongside fumes that are not safe to inhale. I also found that MDF does not burn as well as natural wood.
That said, burning old MDF products in a firepit as a way of getting rid of the composite wood, can be feasible as long as it is legal. While a strong argument can be made for the practice of harming the environment, landfilling also harms the environment, albeit in a smaller capacity. 
This is also why I recommend some woodwork tasks be performed outdoors.
Ultimately the choice to burn or avoid burning MDF has to do with the legality and your willingness to opt for convenience over environment preservation.
Since MDF burning, when legal, is all about convenience, it actually helps to know whether the MDF burns easily and has any lasting effects that might make life inconvenient or should be taken seriously. Here are a few facts that might inform your decision to burn MDF in a firepit.
Don't burn too much of that firewood! Some people ask me if firewood can be used for woodwork. I tested the theory and wrote an article to explain more. Be sure to take a look.
Burning MDF Released Toxic Decomposed Urea-Formaldehyde Fumes
Formaldehyde can cause cancer if inhaled, ingested, or contacted in dense quantities with a degree of consistency. These fumes can get distributed and thin out if done in the open with no human nearby for long periods. As a result, MDF as a firewood replacement isn't feasible.
If You Can Feel the Warmth, You Can Inhale the Fumes 
Burning MDFs even where it is legal won't help if the goal is to safely get warmth from an MDF fire. That's because if the fire's warmth is reaching you, you're too close.
Industrial Burning, Even in Open Spaces, Is Dangerous
While burning a small block of MDF in a huge backyard might not instantly knock out the neighborhood, fire-powered garbage management plants are not legally allowed to accept MDF. That's because such plants burn products in huge quantities, and cities can't risk too much MDF being burned even out in the other. 
What this means for your MDF firepit idea is that even if you can get away with chucking a few sheets or planks in the fire without having difficulty breathing, you cannot use too much wood even if you are not in an enclosed environment.
Does MDF Burn Easily?
I recently tested this by burning some MDF in my own firepit. The results were not great.
MDF does not burn easily though it can maintain a fire once it combusts. This makes MDF further impractical as a firewood replacement. While it isn't advisable to burn MDF, one would need to apply lighter fluid to even start the fire.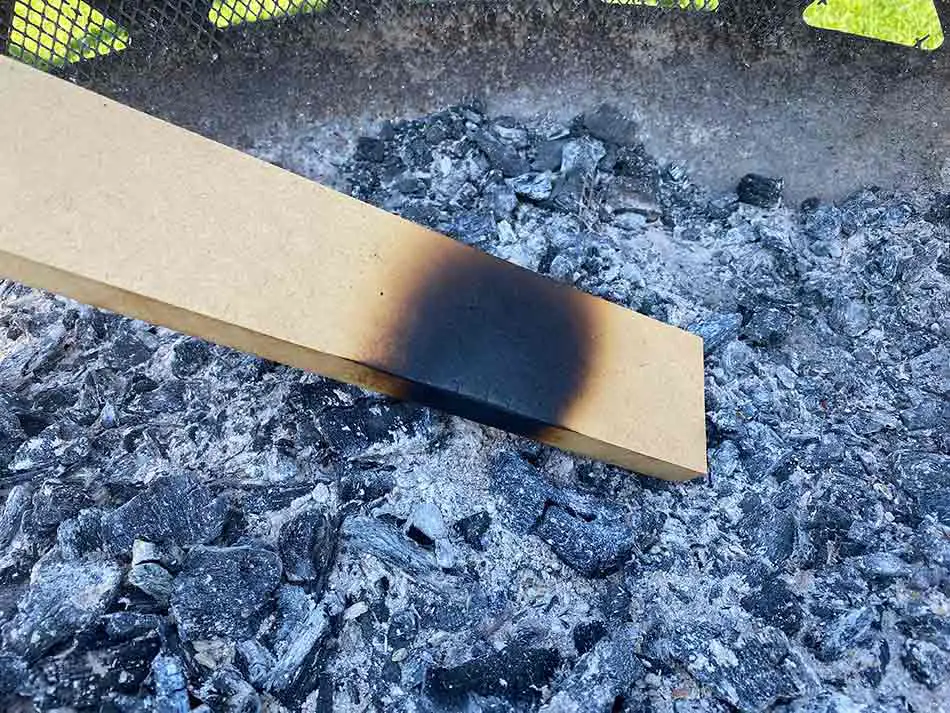 The difficulty of ignition alongside the health risks, legal liabilities, and environmental damage make a compelling case against burning MDF. So if you're reading this post because you want to use it as cheaper firewood, then our recommendation is that you look at alternatives that might match MDF in price but may not feature similar content.
Can I Burn Chipboard?
If you're looking at alternatives to MDF, the closest one is chipboard, which is manufactured using a similar process with a different fiber definition. The contents of MDF are far finer than those of chipboard. Still, it is a composite, processed wood, which means that before you burn it as a "safer" alternative to MDF, you should know if it is safe in the first place.
You can burn chipboard technically, but you should not do so because it contains an adhesive that releases unhealthy fumes when burned. Just like with any composite wood, of which contents you're unsure, you must opt not to burn it.
Alternatives to Burning Chipboard
If you're looking to burn chipboard as a way of getting rid of old, broken, or used chipboard furniture, then scroll up to the portion on MDF-burning alternatives as it covers donation and disposal options. This section briefly covers alternatives that are easier and safer to burn.
I often buy these bundles of wood if I'm planning on burning them in my fire pit. I find this wood burns easily with minimal smoke.
This firewood comes in small mini logs reminiscent of chopped-up chipboard, but its high-quality oak wood can never be confused with the wood waste that makes up the average chipboard. 
It burns with little smoke making it far more preferable indoors compared to composite wood. Finally, it is Georgia-harvested wood dried to perfection and conducive to lighting up outdoors in a fire pit.
Smoak – Kiln Dried Premium Firewood
This firewood comes pre-chopped and ready to light with minimal kindling. It is designed specifically for the outdoors and will burn more easily than MDF, Chipboard, or any other composite alternative. More importantly, it is perfectly legal to burn in any place where lighting a fire is allowed. This isn't the case with chipboards or MDF, which can land you in trouble.
Solo Stove – Outdoor Fire Pit Firewood
The smell of our naturally scented fire wood is the perfect fit for the perfect flame
Aromatic firewood
Kiln dried, long burning, and sustainably sourced from the American Southwest, you'll experience the ease and enjoyment of an amazing low smoke and aromatic fire.
The lively sound of crackling wood takes your fire pit experience to the next level.
Is MDF Really Toxic?
MDF is really toxic if burned, drilled, or consistently shaved in a closed-in environment. However, it is perfectly safe to use without breaking or taking apart the fibers that make up an MDF sheet. It is in vaporizing the glue or combusting it that one unlocks the risk factor of MDF.
Final Thoughts – Can You Burn MDF?
MDF has incredible advantages in terms of affordability and, in some contexts, durability. However, these pros don't translate well to using it as firewood. If you're looking to burn MDF in a firepit, it is better to get cheaper firewood and keep yourself safe.
In contrast, if you want to burn it in order to get rid of old MDF items, donating it or paying a hauler to a landfill is the better option.