I believe the Jigsaw is a valuable tool to have in your shop and one that I believe would be the most common tool we all use.
A jigsaw is a saw that features a directional blade movement that helps one cut wood in unconventional ways guided by a stencil or one's own hand. The key determining factors in the kind of cut one can make, and the final finish are the blade material, movement depth, and controllability.
In this article, I will discuss jigsaw blades instead of the saw itself. That's because despite the jigsaw's own impact on a project, the blade is what really determines the quality, finish, and success of the end product. 
I often get questions like, Which Jigsaw blade should I use?
This has also led to people building different brand preferences for the jigsaw and the jigsaw blades. I will go over which brands' blades can go into other jigsaws. By the end of this article, you will know whether you should get a bosch, Milwaukee, Dewalt, or black and decker jigsaw.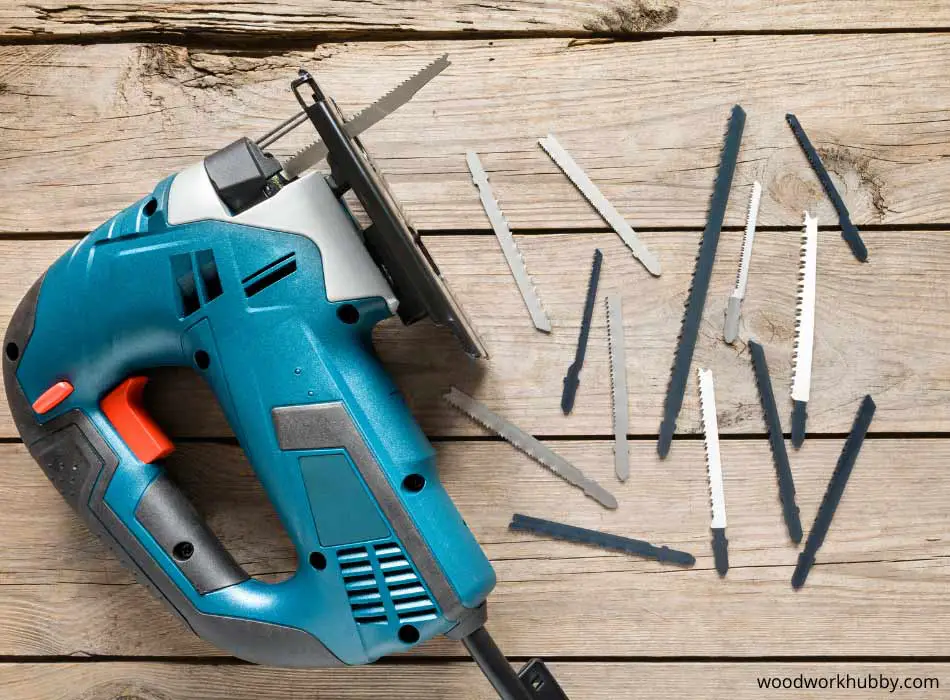 Jigsaw Blades: A Brief Overview
It is safe to say that a jigsaw is as good as its blade. And since these blades are the single-most crucial aspect of cutting unconventional curves and lines, you don't actually need the jigsaw if you can use the blade with another sawing tool. Remember, most sawing tools either provide leverage for manual movement or feature a movement mechanism that hosts the blade.
Scope Of Use
You cannot use a jigsaw blade with another tool because the movement of general power tools is rotary and not reciprocating. As a result, jigsaws can only be used within the same device umbrella, albeit across different brands. Even then, the interchangeability of the blades isn't guaranteed.
As a rule of thumb, you must note down the size of the blade and the hosting capacity of the jigsaw. As long as a jigsaw blade of a certain brand can sit in another brand's jigsaw, it will undergo reciprocating movement and be used regularly. 
Even the controllability will not vary by much, but you'll need to adjust to the new tool before the end result gets better. Now that you know that a jigsaw blades' usability across different brands isn't entirely out of the question let's look at how specific jigsaw blades get along with different devices.
Do Bosch Jigsaw Blades Fit DeWalt?
Bosch jigsaw blades fit DeWalt jigsaws because they are made to fit standard jigsaws and they all take the T-shank blades. DeWalt also manufactures jigsaw blades that fit Bosch jigsaws.
The Bosch blade model T1044DP1 is 10 inches long and is ideal for cutting at a 6-inch depth. In contrast, DeWalt has a cutting capacity of 3 to 4 inches.
In other words, you can fit the blade in the machine regardless of whether the jigsaw is made by Dewalt or bosch, but the efficiency of cutting and the depth of the cut will not be the same. Bosch blades have greater capacity, but DeWalt allows more control. It is up to you to decide what matters more to your project and pick the blade and the machine accordingly.
Since both jigsaws take T-shank blades, the brands' blades are interchangeable. The cutting capacity, as well as the controllability, are affected. When you fit a Bosch blade in a DeWalt jigsaw, you increase the saw's cutting capacity. 
The material of the blades can also vary. Remember, it is possible to get Bosch Jigsaw blades that match a Dewalt T-shank blade's cutting capacity, but the inverse isn't possible. DeWalt doesn't make wood-cutting blades that cut at the same depth as a Bosch.
Most Jigsaw Blades Take a T-Shank Blade And Are Interchangeable These Days
Do Bosch Jigsaw Blades Fit Milwaukee?
Bosch jigsaw blades fit Milwaukee because the latter is a T-shank jigsaw, and Bosch makes T-shank blades for wood cutting as well as metal cutting.
The blade lengths may vary, but T-shank jigsaws don't depend on the blade length for grip. However, a long blade decreases the jigsaw's controllability.
A Milwaukee blade is usually slightly longer than most Dewalt blades but is significantly shorter than the longest bosch T-shank blade of any category. Again, this doesn't affect how interchangeable these jigsaw blades are; it affects only how deep you can cut a material you're working with. 
Both brands offer blades with a wider range of cutting capacity and applications, which makes switching blades redundant. Valid reasons for using a Bosch blade in a Milwaukee are as follows:
You want to use a 10-inch blade – It is easier to get a Bosch blade of this length.
You already have a Bosch blade – If you have the Bosch T-shank and a Milwaukee jigsaw, no additional purchases are required.
You prefer Bosch – This brings into question why you wouldn't have a Bosch jigsaw, but if you prefer the teeth per inch or blade integrity of Bosch blades, then you don't need to buy a Milwaukee blade. 
Do Bosch Jigsaw Blades Fit Ryobi? 
Bosch jigsaw blades fit Ryobi as well as other brand jigsaws that accept T-shank blades. The blades' width is relatively standardized while their lengths vary across brands but don't affect their ability to fit into a T-shank jigsaw.
In the comparatively rare case that a jigsaw uses a U-shank blade, a Bosch T-shank blade will not fit said jigsaw. Fortunately, that isn't the case with Ryobi or other big-name brands. As long as you're happy with the blade material, length, application, and teeth per inch of your Bosch jigsaw blade, you can bring it home to your Ryobi jigsaw.
Do Bosch Jigsaw Blades Fit Black and Decker?
Bosch jigsaw blades fit Black and Decker jigsaws models released recently. Older black and decker models are U-shank only and do not accept T-shank blades of any brand, including Bosch. Modern Black and Decker jigsaws often accept both U-shank and T-shank blades. 
The blade length and material have a greater say in the cutting capacity and the application of the work, so even though the machine will be a black and decker variety, the bosch blade will dictate the scope of its results. That's why you must get the brand's blade if it matches what your project requires. This brings us to the topic of blade specs.
Shank Alphabet
You may have read the terms "t-shank" and "u-shank" throughout the article up to this point. While you can simply flip different blade boxes and find a T-shank blade to match your t-shank jigsaw or a u-shank blade to match your u-shank jigsaw, it helps to know what the terms stand for.
A t-shank jigsaw blade is a blade with two small perpendicular arms protruding closer to the holding edge. These arms fit into the t-shank jigsaw, allowing the machine to grip the blade. On the other hand, a u-shank blade is a straight blade with a U cut out on one side.
The u-shank jigsaw has a U-shaped mouth that fills that gap and grips the blade. It goes without saying that a T-shank provides better grip, which is why most recent jigsaws accept T-shank blades.
A mix-up with shank types is one of the causes as to why your blade may fall out. Check out my full article here: What To Do If Your Jigsaw Blade Keeps Falling Out
Blade Length
While jigsaw blades have relatively similar width and thickness, their lengths can vary. The cutting capacity and depth of a jigsaw depend on how long a jigsaw blade is. If your goal is not as detail-dependent as most jigsaw projects, then opting for the longest blade helps. In most cases, the size isn't an inherent pro or a con.
That is to say that for some projects, a longer jigsaw blade is a liability, while for others, it is the shorter blade that is preferred. If you get a pack of 5-blades or more, most sizes that are relevant to your application might be covered.
Application
A jigsaw can be used for different projects, and the "application" aspect is dictated by the blade. You can use a blade of one sort for another type of work, but the results will be poor. Here are the different labels the application section of your jigsaw blade packaging might have:
Fast cutting – This is used for speedy wood cutting for roughing, sawing to length, and making cutouts.
Clean cutting – Usually, a finer blade is used for this application. When a jigsaw clean cuts an item, little to no splintering occurs on the surface of the wood.
Fine cut smooth finish – This mode leaves no teeth marks after a fine blade is used to cut across a wider area for a smooth finish.
Trim cropping – This application involves cropping the material around its edges and protruding areas while retaining a bulk of the original matter.
Laminate – To cut laminate, a jigsaw blade must have high teeth per inch count.
Aluminum/Fiberglass – Sturdy wood-cutting jigsaw blades can be used to cut aluminum.
Metal – For metal application, a jigsaw blade must feature stronger material and a higher teeth count.
Material
Unlike applications, the range of materials from which jigsaw blades are crafted is relatively smaller. You have a handful of materials that make for good jigsaw blades, and even those are different versions of the same basic substance. This is because very few compounds have the strength needed by a jigsaw blade while being as thin as a jigsaw blade.
High Carbon Steel – Often used for wood cutting, this is a relatively strong jigsaw blade that can break when pushed past its limits.
High-Speed steel – Used for advanced wood cutting, this is considered an upgrade from high carbon steel.
Tungsten Carbide – This material is three times stronger than steel which allows it to cut certain metals.
Bi-metal – Used primarily for metal cutting, bi-metal blades feature two metals combined to increase the jigsaw's effectiveness.
Thick timber such as a 2×4 may be a challenge for a jigsaw. Check out my article to see if a jigsaw can cut a 2×4.
Teeth per inch
This refers to the number of teeth in a jigsaw blade for every inch. The total tooth-count matters, but how far apart the teeth are set also affects how good a blade will be at sawing. A higher tooth count doesn't necessarily make a blade better. 
The blade strength doesn't change with the number of teeth mainly because the length of the blade, as well as the thickness of the material, contributes more to the blade's sturdiness. 
However, teeth per inch affect the fineness of the cut and how smooth the result will be post-cutting. If you want to have a smooth, bump-free surface, get the highest teeth per inch blade with the appropriate material. If you simply want to saw at depth, go for the highest overall tooth count.
Having covered the different aspects that govern a jigsaw blade's effectiveness, let's look at the best jigsaw blades different brands have to offer.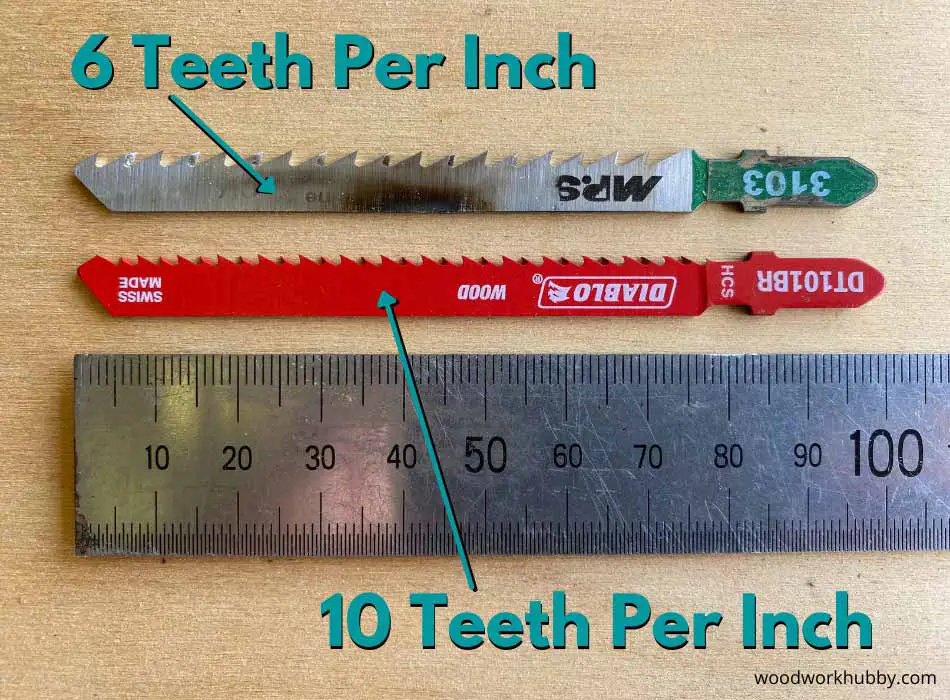 Bosch Jigsaw Blades
Bosch jigsaw blades are popular simply because their option variety ensures that the brand is introduced to as many woodworkers as possible. Whether you need a 3-inch t-shank blade or a 10-inch one, you'll get it from Bosch. 
The fact that standard T shank models are practically interchangeable works in Bosch's favor and people buy these blades to use them whichever jigsaw they already own. Bosch blades have the fewest complaints of breaking, at least in Amazon reviews.
Bosch blades are my personal favorite!
One can test this by opening a random Bosch blade sales page and one belonging to any other brand and looking for the number of times a review features the word "break." Since jigsaws' results depend more on the blade than the machine, people are feasibility-conscious when purchasing a jigsaw and splurge when it comes to acquiring a jigsaw blade. 
Of all brands, Bosch seems to be the only one producing 10-inch blades alongside ones smaller than 3 inches. If you get familiar with Bosch blades, you don't have to switch brands when your project scope, mode, or material changes drastically. 
| Blade | Type | Application | Material | Length |
| --- | --- | --- | --- | --- |
| T1018AFP | T-shank | Metal Sandwich or wood | Bi-metal | 10 inches |
| T101AO | T-shank | Laminate, MDF, or Plywood | High Carbon Steel | 3.25 inches |
| T101AO100 | T-shank | Wood, laminate, soft, and hardwood. | High Carbon Steel | 3.25 inches  |
| T101BF | T-shank | Hardwood, plywood, plastics, and laminate | Bi-metal | 4 inches |
| T118B | T-shank | Medium-sized metals | High-speed steel | 3.625 inches |
| T118AHM1 | T-shank | Stainless steel and non-ferrous metals. | Carbide strip | 3.25 inches |
| T118A | T-shank | Sheet metal and thin metals. | High-speed steel | 3.625 inches |
These are the Bosch Jigsaw blades that I use.
DeWalt Jigsaw Blades
DeWalt offers the second-best range of choices when it comes to T-shank jigsaw blades. The brand seems to bet on T-shank with almost zero presence in the U-shank space.
It seems like DeWalt knows which brand is number one, though as its own jigsaw sales pages assure potential customers that they will be able to use Bosch jigsaw blades with their t-shank jigsaws. 
Still, DeWalt has to be credited with compatibility. Its jigsaws can host Bosch and Milwaukee blades, while its jigsaw blades can fit in any t shank jigsaw. If your machine can hold at-shank, the following blades might be of interest to you.
| Blade | Type | Application | Material | Length |
| --- | --- | --- | --- | --- |
| DW3753H2 | T-shank | Clean Cutting Wood | High Carbon Steel | 4 inches |
| DW3762H50 | T-shank | Fast Cutting Wood | High Carbon Steel | 4 inches |
| DW3760H50 | T-shank | Fine Cut Smooth Finish | High Carbon Steel | 4 inches |
| DW3776-5  | T-shank | Metal | High Carbon Steel | 3 inches |
Milwaukee Jigsaw Blades
Milwaukee presents both T-shank and U-shank blades, so it has a variety of blade types. However, most of its jigsaw blades hover around the 4-inch mark, reducing the utility of a Milwaukee jigsaw unless a different blade is used with it.
If you're still interested in brand uniformity, then the following blades will go with your Milwaukee jigsaw. Please be mindful of the shank type, though.
Recommended Milwaukee Blades
Black and Decker Jigsaw Blades
Black and Decker is a well-established brand in the power tools space. However, it lags behind in the jigsaw tool category. Initially, the brand's jigsaws had a tough time catching up with the standardization T-shanks. 
Now, Black and Decker's jigsaws accept T-shank alongside U-shank blades. However, most of their well-distributed blade models are U-shank. In other words, you can use these blades with a narrower range of jigsaw tools. 
If you have a black and Decker jigsaw, you can get a blade of the same brand without worrying about compatibility. In Black and Decker's defense, the brand does offer blades of most standard size points. 
The only drawback is that it locks you into using them with Black and Decker machines only. In contrast, if you opt for a Bosch or a Dewalt blade, you can use it with other machines that accept T-shank blades, including some black and decker models.
| Blade | Type | Application | Material | Length |
| --- | --- | --- | --- | --- |
| 75-250 | U-shank | Rough Cut Wood | Steel | 6 inches |
| 75 – 269 | U-shank | Aluminum | Metal | 2.62 inches |
| 75 – 254 | U-shank | Aluminum | Metal | 2 inches |
Best Practices For Buying A Jigsaw Blade
As we reach the end of this definitive guide to buying jigsaw blades, it is appropriate to emphasize the best practices to abide by when getting a blade for your jigsaw tool.
U-shank or T-shank? Make sure of the compatibility – T-shank blades of any brand will go into a jigsaw that accepts t-shank blades. The same applies to U-shank blades with machines that host u-shank blades.
Material and application – Make sure the blade you get matches the kind of work you expect it to do. At least make sure you get a blade sturdy enough to cut through the material you're working with.
Check the reviews – Always purchase from a website like Amazon where the native brand cannot remove negative reviews. Reading both critical and positive feedback can help you see the complete picture.
Final Thoughts – Which Jigsaw Blade Should I Use?
Whether you need a jigsaw blade for stencil-directed cutting or for trim cropping in an unconventional direction, you have one thing less to worry about. If a jigsaw blade of the size you desire isn't available from the brand of your jigsaw machine, you can get an equivalent from Bosch or DeWalt, and it will fit your jigsaw.
My personal favorite is the Bosch ones, simply because they seem to have a big variety available and they last a long time. As I have said before, don't skimp on buying good-quality blades.
A good quality blade can be the difference between a great finished cut or a rough one!