(I have just updated this information with new plywood varieties for 2023)
A house is good as its door and a boat is as good as its floor, goes the saying. But when you're building your own boat, you have to go beyond idioms and get practical information so you can get everything just right and make the vessel function. What size plywood for boat floors?
The best plywood size for boat floors is 7 x 4 ft (2100 x 1200mm), which is also the standard size of Marine plywood, a hardwood amalgamation designed specifically for use in boats, catamarans, and ships. Its ideal thickness is 8 to 12 mm, depending on the size of the boat and the weight she intends to carry.
In this article, you will learn about your options when it comes to building a plywood boat floor. More specifically, you will find out about the types of plywood you can use and their respective sizes, pros, and cons. Finally, you will discover if plywood floors are a good idea, to begin with as we discuss their lifespan and ways to extend plywood boats' longevity.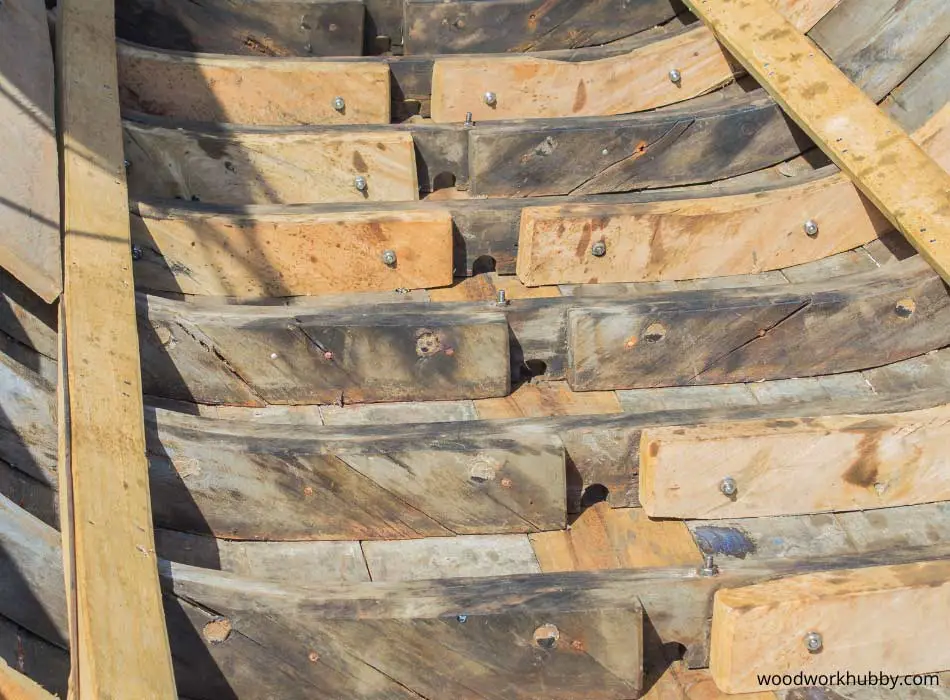 What Kind of Plywood Should I Use for My Boat Floor?
Using standard plywood for your boat floor can drastically reduce the longevity and use potential of your boat. That's because water isn't kind to plywood, and standard stacks aren't built for prolonged water exposure. That, however, doesn't mean that a boat cannot have a plywood floor.
You should use marine plywood for a boat floor as it can withstand water exposure and is sturdy enough to not deteriorate in a rough environment. Marine plywood is the highest grade in the market, and for a good reason, its planks are built with thin sheets laid perpendicularly for maximum strength.
If you're wary of Marine plywood's environmental impact, you have an alternative as well. Since the boat floor isn't the boat's hull, you can also get away with using pressure-treated plywood provided you seal it appropriately and dock the boat in an environment that isn't as humid as the average pier. Pressure-treated plywood is heavily reinforced to make the planks more durable. 
However, the word pressure shouldn't make one assume that this type of plywood can stand up to excessive pressure. While planks of treated plywood are more durable than standard plywood sheets, they're not built to withstand a certain psi.
Boat floors do not experience a lot of pressure, which means that despite being better than average sheets to an extent only, treated plywood can still perform well as a boat's floor.
So, why is marine plywood better? The following benefits exclusive to marine plywood might explain the preference.
Here is a short video which will help explain plywood selection and installation in your boat:
Marine Ply Doesn't Absorb Moisture
While treated plywood is sturdy, it is also quite absorbent and can soak up a lot of moisture, which is readily available in the ocean, seas, and other bodies of water that boats inhabit for prolonged periods. Marine plywood is relatively moisture-resistant. 
Find out what happens if your normal plywood gets wet.
Uniform Strength 
Marine plywood planks have the same density and strength across a wide enough area. Consequently, they make for predictable building materials. Treated plywood can become uneven if the treatment process isn't carried out perfectly. 
Each Component Is Geared Towards Water Resistance
Marine plywood features thinner layers of sturdier wood, held together with strong glue that remains unaffected by water and laminated in a water-resistant coating. These contents do not fall apart when exposed to water, something that one cannot be entirely sure about with treated plywood.
What Is The Standard Size of Marine Plywood?
From calculating the retail price for your budget to drawing up transport plans for the planks, almost every step of getting plywood for your project involves factoring in the costs. Since Marine plywood is not only manufactured through a different process but is also sized to a different standard, it is critical not to assume standard plank length or stack depth of plywood when you plan to get marine plywood.
The standard size of marine plywood planks is 4 x 7 ft (1200x2100mm), which is a foot shorter lengthwise than standard plywood. Marine plywood also comes in a depth range of 8 to 12 mm. Being shorter and thicker than standard plywood helps Marine plywood stand up to more pressure without buckling.
While the length and width of marine plywood pieces are uniform across multiple suppliers, the depth can vary. So, which plank should you pick? While you may tend to opt for the thickest planks just to be secure, you don't really need to get a 12 mm Marine plywood piece for your boat floor. Remember, the cost stacks up when you scale the price difference, between pieces, to a project's worth of plywood.
See my full article on how many sheets of plywood in a bundle? Handy to know if you need to pick up multiple sheets.
8 mm is sufficient thickness for marine plywood if your boat is small. For medium-sized boats, opting for 10 mm plywood is advisable, while 12 mm pieces are best for catamarans and boats of larger capacity. Discussing project specifications with the manufacturer can also help inform your decision.
The downside of using low-depth plywood is that you cannot load your boat with more things as the floor's weight-carrying capacity gets reduced in proportion to the decrease in the planks' depth. But since 8mm planks used in boat construction can carry the weight of an average adult human, you can make an operational boat with the shallowest marine plywood. Here are some factors that affect the thickness required for a plank of marine plywood.
Keep in mind, adding thicker plywood will add extra weight to your boat. Check on my full guide on plywood weights to see how much weight plywood will add.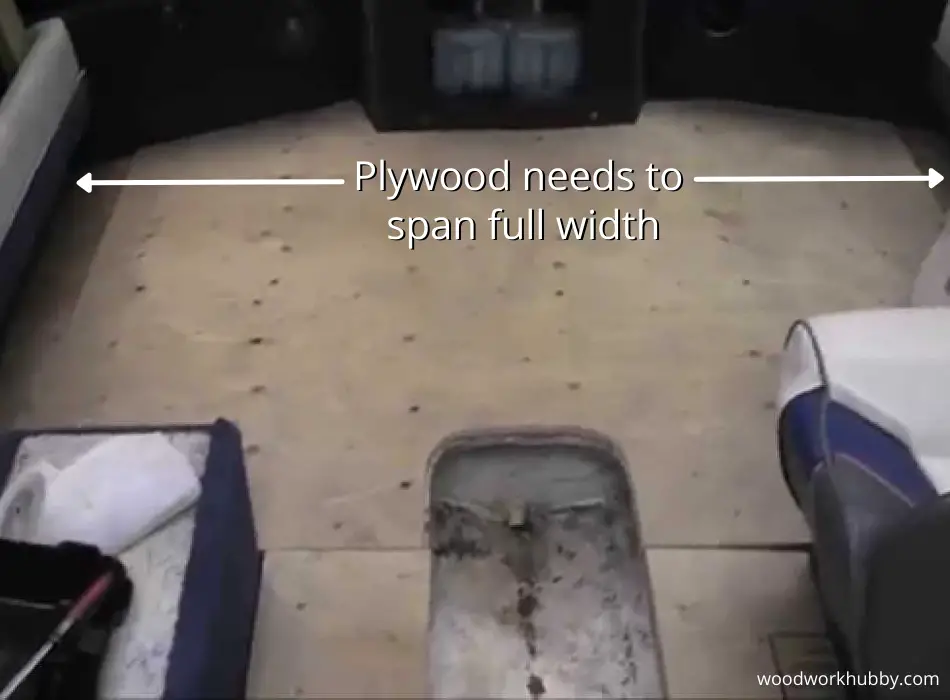 How many people will be on the boat?
The number of people on the boat affects the required plywood thickness. For three people or less, plywood of 12mm in thickness is sufficient, but if your boat will carry over half a dozen friends, you should opt for thicker plywood. The reverse also applies to boats with smaller weight requirements. 
What you will add to the boat floor.
While a standard boat floor won't have a saloon, you might add canopies, benches, lounge chairs, which might contribute to the overall weight on the marine plywood floor. In some instances, you might have a saloon constructed to give your friends and family a luxury yacht-like experience. Even if the saloon is small, it puts significant pressure on the plywood planks. The more the added weight, the thicker your floors must be.
What activities will the boat be used for? 
Finally, the actual action that happens on the boat also informs the kind of plywood her floors require. If you like to sunbathe near the coast, then your boat floor will remain in impeccable condition despite being thin. But if you use it for catching big fish, then the impact on planks is higher, requiring you to build a sturdier floor.
Speaking of sturdy floors and passable plank depth, we must return to treated plywood. While it is clear that marine plywood is the stronger of the two options, you have to consider your budget and the best usable options within it. So the question now is whether treated plywood is an option, to begin with.
You can use treated plywood for boat floors because it is better in adhesion maintenance and durability than standard plywood sheets. However, it won't last as long as Marine plywood because it isn't built to resist moisture.
Can You Use Treated Plywood For Boat Floors?
Treated plywood is, the second-best option for plywood boats and is worth opting for if you're on a tight budget. However, since the treated planks aren't all built alike, you need to know about the two key treatment processes before you can make the right choice of treated sheets for your boat floors.
Pressure Treated Plywood
This is plywood that has been mechanically injected with a chemical that makes the sheets more durable. Not only can the treated planks stand up to impact and prolonged weight-bearing, but they can also resist rot, molding, and termites. However, mummifying wood doesn't make it damage-proof. Plywood that's been solely pressure treated has the following drawbacks.
It can absorb moisture to an extent – While the chemical usually injected for preservation is water-proof, the wood contents still interact with water. Many treated plywood manufacturers also sell their products with a water-resistant coat to neutralize this drawback.
 
It can catch fire – It might seem like the potential for combustion shouldn't be a dealbreaker in boating. However, there is always a fire hazard with motorized vessels, especially ones that use gas. So, unless you have a manual sailboat, you must be mindful of this disadvantage.
See the truth about burning plywood here.
Fire treated plywood
This is pressure-treated plywood that is also fire-resistant. The pressure treatment and fire treatment happen simultaneously, often by injecting a preservative that strengthens the planks while making them fire-resistant. However, if you take plywood that's been solely pressure-treated and coat it with a fire retardant layer, it can be considered fire treated, technically.
Getting fire-treated plywood also gives you the opportunity to fire-proof the planks. Simply ask the manufacturer if the fire retardant plywood gets wet. While the planks might resist moisture, the dampness will be controlled, making the plywood last longer.
It isn't mandatory to get your treated plywood water-proofed, but if you use it for your boat, please be sure it has been coated (or injected) with appropriate water-resistant and fire-retardant material to prolong your boat floor's lifespan while preventing warping.
How Long Do Plywood Boats Last?
Warping, heat, moisture, water, and weight will all affect the longevity of plywood, and consequently, plywood boats. Since almost all these factors are present in sailing, you should expect the plywood boat to last for a finite time. Knowing how long your boat can last will help manage expectations.
Plywood boats last five years if made with treated plywood and 10 to 25 years if constructed with marine grade plywood. Marine plywood can soak in boiling water for 72 hours without buckling, which means that the marine environment won't ruin it the way it would a standard plywood sheet.
As covered above, almost all the factors that ruin plywood are present in or around a boat. Let's explore these further so you can minimize them even if your boat is made with marine grade plywood. Knowing the following will help extend your plywood boat's lifespan from 10 years to 25 years.
Factors That Affect The Plywood's Longevity
Warping 
The greatest problem with plywood or any boat floor isn't the material's inability to carry weight. It is that the material can warp and make the floor uneven. Standard plywood can warp or cup depending on the level of heat and water it is exposed to.
Moisture 
Moisture is the finest unit of water that comes in contact with plywood aside from water spills and the material actually getting drenched in water. Unfortunately, standard plywood absorbs water, and even some treated varieties buckle after excessive moisture absorption.
Adhesive 
Since plywood is an amalgamation of wood put together with an adhesive, the quality of the glue that holds the wood together is representative of the quality of the plywood as a whole. The adhesive that loses its stickiness upon interaction with factors a boat is exposed to has no business being in the plywood used for boats.
Layer count 
Boat floors have to carry a lot of weight in the form of cargo, seating, fish, and/or humans. Consequently, the layer count of the plywood matters. The higher the number of layers, the sturdier the plywood. Thicker plywood, of course, is more expensive (per plank) but is still cheaper than equivalent solid wood.
Treatment 
Finally, the factor that brings plywood closest to being acceptable for marine use is its treatment. With pressure-treating and fire treating the planks of plywood, one can extend the longevity of the material. Still, exposure to a humid environment does affect the plywood's lifespan. In other words, treated plywood would last much longer as flooring for a treehouse than it would for a boat. But a boat will last longer with treated plywood than untreated plywood.
Final Thoughts
Plywood use for boats isn't as alien as it might seem to someone who is familiar with standard plywood. The material can be pressure treated and coated to be water-resistant, which makes it okay for boats. However, to avoid warping and water damage and extend a boat floor's lifespan, one must use marine grade plywood, which is made with thinner sheets stacked for maximum durability and is pre-coated to resist moisture.
These planks also come in a standard size that's better for boat building, albeit shorter than standard plywood.
Cedar is one of my favorite wood types because I am tasked with perpetually protecting some of my passion projects. It is one of the most resilient woods out there, and I often find myself wishing that all woods were like Cedar because I cannot really use it for all projects. Cedar wood is used…

---