Cedar is one of my favorite wood types because I am tasked with perpetually protecting some of my passion projects. It is one of the most resilient woods out there, and I often find myself wishing that all woods were like Cedar because I cannot really use it for all projects.
Cedar wood is used for fencing and sizing alongside light load-bearing furniture like side tables and cabinets. It is inherently weather-proof, absorbs sound, and resists water damage, which makes it great for high-humidity environments. But, it is not hard enough for heavy load-bearing projects.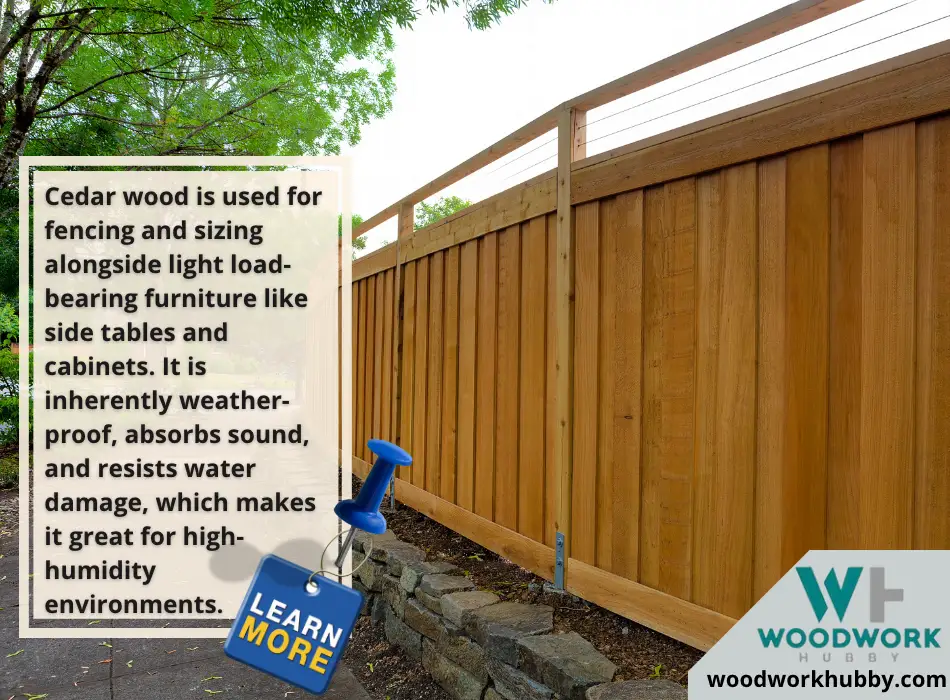 In this article, you will find out more about the different uses of Cedar alongside the pros and cons of this wood. You will also learn about cedar grading and which grade cedar is best for specific types of projects. Toward the end, I will go over what makes Cedar special and how I have found it to be limited in my 20 years of woodworking.
What Are The Best Uses For Cedar Wood?
The best uses of Cedar are decorative and people-facing, regardless of the scale of the project. On a smaller scale, you can make pendants, coasters, and bird feeders out of it. On a larger scale, you can use cedar wood for fences, decks, and siding.
It isn't just to use Cedar in these contexts only, though. You might as well use them in places where the wood isn't as evident, but that would be a waste of beautiful wood. Cedar is an aesthetic lumber that beautifies projects. That is just one of the many advantages of Cedar. The section below covers all the common pros and cons of using Cedar.
Cedarwood's Advantages and Disadvantages
Here are the key benefits and drawbacks of cedar wood that I've discovered over two decades of working with it.
| Advantages of Cedar | Disadvantages of Cedar |
| --- | --- |
| It is durable in damp climate | It can be more expensive than alternate lumber |
| It can absorb sound | It can change color over time |
| It naturally repels insects | It can trigger allergies |
| It is naturally aesthetic | It is sensitive to chemicals |
A table showing the key benefits and drawbacks of cedar wood.
Now let's dive deeper into what these pros and cons mean for you as a woodworker or a wood buyer. The durability and almost waterproof nature of Cedar make it ideal for exterior applications. It also makes great siding material thanks to its insect-repellent and sound-absorbent properties.
At the same time, it can be expensive, so you cannot splurge on it without forethought. More important, Cedar can cause an allergic reaction, so you shouldn't buy it in bulk right away. Working with a small sample can help you determine whether you can work with it in the first place.
Very few people are actually allergic to Cedar, but cedar sawdust can be an irritant. Make sure to wear a respirator or a mask when working with Cedar.
Cedar Uses and Benefits
Let's look at some of the advantages of Cedar and how they individually inform the kinds of projects Cedar is used for. The following table covers the benefits of Cedar and its corresponding use cases.
| Cedar Benefits | Corresponding uses |
| --- | --- |
| Naturally water-resistant | Ideal for shingles, fences, exterior siding, and bathroom cabinets |
| It can absorb sound | Ideal for interior and exterior siding  |
| It naturally repels insects | Great for fences, mailbox poles, and signposts |
| It is naturally aesthetic | Excellent for small artistic projects like pedants, coasters, etc |
A table showing some of the advantages of Cedar and how they individually inform the kinds of projects Cedar is used for.
While the beauty of Cedar does make it a great candidate for almost any visible project, from cabinets to birdhouses, there are many other wood types that also look good.
A much rare benefit that is exclusive to far fewer wood types is the natural repulsion of insects. Some people erroneously believe that only teak repels insects. Cedar is so repulsive to insects that it can even be used to protect other types of wood.
Does Cedar Keep Bugs Away?
Cedar keeps bugs away because of the chemical it releases. The scent of this chemical repels insects to the point that cedar chips or shavings can be used to keep bugs away from beds and furniture, among other things.
How effective cedar chips are at keeping bugs away depends on the number of chips used and the extent to which the protected item is appetizing. Cedar chips are better at protecting couches and beds than they are at guarding stocked pantries.
Wood Smith USA's 100% Natural Cedar Shavings are great for minimizing insect attacks on potted plants and gardens. The finer the shavings are, the more effectively they repel insects. Bigger chips can be used to safeguard less appetizing items, while shavings of this size are better for organic matter like plants and flowers.
With over 1700 reviews and ratings, these natural cedar shavings have a collective average of 4.4 stars on a 5-star scale. 83% of its customers have given it 4 or 5 stars.
Natural Cedar Shavings
Insects attack fruits and vegetables more often than they attack wood. If cedar shavings can discourage insect attacks on plants and edible items, imagine how effective cedar lumber is against insect attacks.
Almost all types of Cedar repel insects, but the other advantages of Cedar can vary by its grade. That's why you should know how to tell apart cedar quality before you decide to purchase it for your next project.
What Are The Different Grades Of Cedar?
#1 to #5 is the range of Cedar's structural grades, with #1 being the highest quality and #5 the lowest quality. A to D is the range of cedar appearance grades, with A grade being the best and D grade being the worst. Clear, STK, and Knotty are terms used to highlight appearance faults or perfection.
The structural grades of Cedar are
#1 Cedar – The best structural quality cedar, ideal for load-bearing work.
 
#2 Cedar – Decent structural quality cedar, ideal for resilient solo-standing work like fencing and signposts.
 
#3 Cedar – Average durability cedar, great for non-weighted projects
 
#4 Cedar – Relatively weak cedar, best supported by other wood
 
#5 Cedar – Poor structural integrity cedar, not fit for large-scale projects.

The appearance grades of Cedar are:
A-Grade Cedar – Often Clear of flaws and knots, this type of Cedar is visually pleasing.
 
B-Grade Cedar – Doesn't have knots but is not as aesthetic as A-grade wood
 
C-Grade Cedar – Has some noticeable flaws but doesn't qualify as knotty
 
D-Grade Cedar – Is knotty and cannot be considered aesthetic.

What Is Clear Cedar?
Clear Cedar is A-grade Cedar or B-grade Cedar that is free of almost all knots.
What Is Stk Cedar?
STK Cedar is Select Tight Knotty Cedar, which features intergrown knots that are structurally stable but can be visually off-putting. This Cedar isn't compromised, and its knots won't fall out. However, the knots can pepper the STK planks to the point of looking like design patterns.
Now you know everything about the structural grades as well as the appearance grades of Cedar. The extent to which Cedar can hold weight varies by grade, and the extent to which it is visually appealing also varies by grade, albeit on a different grading system.
The best cedar wood, then, would be #1 A-Grade Cedar as it would be the best in structural strength as well as appearance and by the same two grading systems, the word Cedar would be #5 D-Grade Cedar as it has more knots and is the weakest in structural durability.
#1 Cedar comes from the heartwood or the closest region of the cedar log. #5 Cedar comes from the extremities of the sapwood. But regardless of where the wood is taken, a few properties remain the same. Cedarwood of all grades repels insects, for instance. You might wonder if the same applies to its ability to withstand water damage.
Is Cedarwood Waterproof?
Cedar is not waterproof but can resist rot and water damage because of its ability to breathe without warping and its inherent rot resistance. Cedar can be out in the rain and avoid getting damaged. However, excessive water exposure can still weaken Cedar, especially if said wood is of #4 or #5 grade.
Cedar is not technically waterproof but is as good as waterproof lumber since it doesn't incur water damage under most normal circumstances. Optimizing cedar grade selection can make your projects last longer despite water exposure.
Here is how you can use different grades of Cedar for different situations:
| Context | Recommended Cedar Grade | Reason |
| --- | --- | --- |
| Bathroom/Kitchen Cabinet | #1 or #2 Cedar | It can handle moisture and humidity in these indoor environments |
| Roofing Shingles | #1 Cedar | It can survive rainfall |
| Bird-house | #1 Cedar | It can survive water splashes from the garden hose |
| Room Furniture | #2 or #3 Cedar | The interior humidity can be managed by medium-tier cedar |
| Coffee table | #2 Cedar | It is waterproof enough to withstand occasional spills. |
| Fence / Sign Posts | #1 Cedar | It can resist insects, the weather, and water spills. |
A table showing different grades of Cedar for different situations.
With the functional aspects of cedar lumber behind us, we can move to the timber and discuss what makes cedar trees special. As promised in the beginning, I will point out where Cedar tends to be limited.
Why Are Cedar Trees Special?
Cedar trees are special in two ways. Firstly, they have high functional value because of their rot resistance, insect repulsion, and weather resistance. Secondly, they have high biblical significance because of six references to the Cedars of Lebanon.
Approaching it from a woodworker's perspective, I find the following qualities make Cedar trees quite special.
Cedar Is Weather-Resistant
Rainfall or extreme summer sunlight weather doesn't affect Cedar the way it affects most wood types. Cedar doesn't incur weather-driven wear-and-tear like most wood, which is why you don't need to waterproof it or even finish it.
Cedar Doesn't Rot
One of the greatest headaches of having natural wood products is having to maintain them. This includes regularly refreshing their finish so the underlying wood is not exposed to humidity, which can encourage rotting. Cedar can get wet, but it doesn't become hospitable for fungi or insects.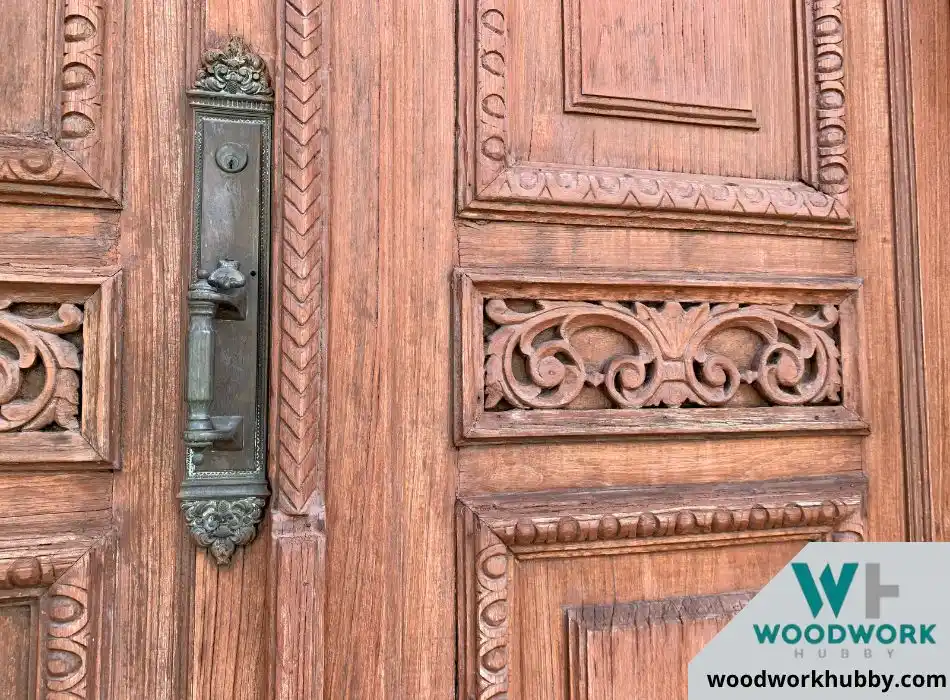 Cedar Doesn't Incur Water Damage
Water damage is structural and organic. While cedar fibers can become loose due to water exposure, they tighten back up the moment Cedar is dry. Higher-grade cedar doesn't get structural damage from water, and no type of cedar rots after getting wet. More importantly, it doesn't warp as it dries.
Cedar Is Easy To Work With
Cedar is a softwood which means you can see it with relative ease. It is easy to chop, trim, and nail. That's why it can work on roofing shingles as easily as it can work for cabinet tops. Aside from being compatible with different woodworking methods, it is also compatible with different uses, many of which I covered earlier.
Cedar Is Objectively Aesthetic
Cedar does look beautiful and is often made the highlight of the project in which it is used. You will rarely see it in a burdened aspect of a project. It is generally the cover or the outer face of the project. Siding, roof shingles, cabinet sides, and fences all have one thing in common: they show off the beauty of Cedar.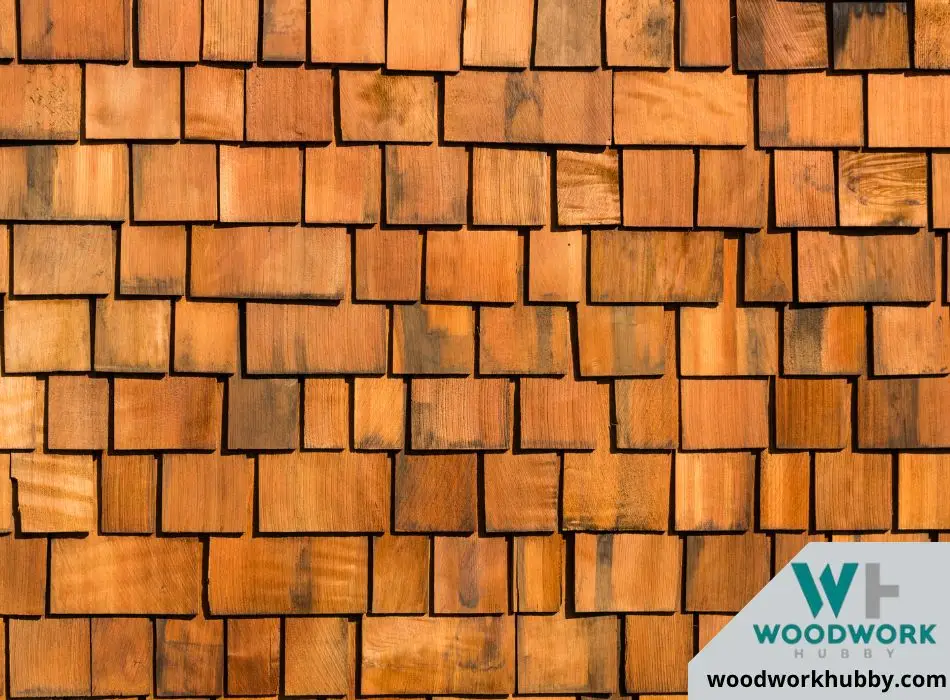 The Limitation Of Cedar
Cedar is not in load-bearing parts of projects, not just because it is an aesthetic wood best used in more prominent areas like side covers. It is not put under load because it cannot handle the excessive weight. Cedar is severely limited by its softness. Cedar's Janka hardness rating is 350 lbs, which is three times less than most semi-hardwoods. 
Cedar chairs and tables are not even strong enough to bear the weight of some people. If your exterior wood application is meant to bear a heavy load, opt for teak instead. It is also waterproof and insect resistant, but it can carry much more weight without incurring structural damage.
If you want to learn what are the Best Plywood For Cabinets, please click on the link provided.
Final Thoughts – Cedar Wood Uses
Cedar is used in applications where the wood needs to be water-resistant and rot-proof. However, its softness keeps it from becoming used more widely. As of now, Cedar is most common in fencing, siding, shingles, and decorative projects. Heavier-burden projects often use teak, which is much harder and more resilient.