I have used remaining wood from projects in so many ways that I run out of ideas as to what I can do with little bits of wood that remain from my larger projects. Yesterday, I was going over the different things I could fashion out of some leftover red cedar. I thought a cutting board was a good fit but is cedar good for cutting boards?
Cedar is not good for cutting boards since most types of Cedar are not food safe. Food-safe Cedar, like western red Cedar, is quite soft and can be too easy to scratch with an average knife, which makes for short-lived cutting boards.
In this article, you will learn more about Cedar's compatibility with cutting boards alongside some myths that prevail regarding Cedar's safety. You will find out which types of Cedar are the worst and which ones are the best for cutting boards. So, let's get started.
Cedar For Cutting Boards: Yes Or No?
Cedar isn't a very good choice for cutting boards in general for two reasons, one of which is perpetually valid. The first reason is that Cedar is soft and can incur scratches pretty rapidly. Cutting boards need to be two things: hard and food-safe, and no type of Cedar is hard enough to resist knife scratches.
The second reason is that not all Cedar is food-safe. Buying a cedar cutting board from a reputable business shouldn't be an issue. But using a random cedar block to make your own cutting board can lead to accidental poisoning. Understanding whether a specific type of Cedar is toxic or not is therefore crucial.
Is Cedar Toxic For Cutting Boards?
Eastern red Cedar is toxic, while western red Cedar is non-toxic and carries a delicious flavor. You should not use eastern red Cedar in any food-adjacent application like cheese trays and cutting boards.
It is also advisable to avoid using any cedar that isn't confirmed to be non-toxic and food-safe for cutting boards. Unlike most wood types, Cedar secretes chemicals throughout its lifespan and if they are toxic, the ingredients cut on it become unfit for consumption.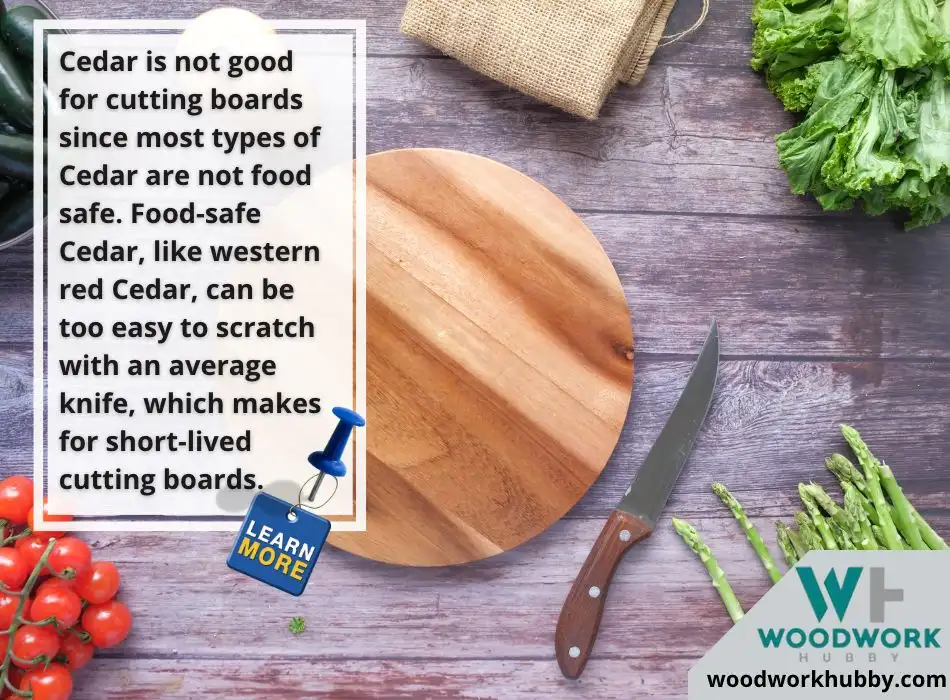 Some people prefer cedar cutting boards precisely because it releases chemicals. They choose food-safe Cedar for cutting boards and depend on it to add a smoky flavor to the food cut on it.
The board has a short lifespan but is worth it for the people who buy it. Before you choose to buy or craft a cedar cutting board, though, you must be aware of its pros and cons.
Pros And Cons Of Using Cedar For Cutting Boards
Before we get into the specific impact of each advantage and disadvantage of cutting board, let's look at how cutting cedar cutting boards' pros and cons compare at a glance.
| Pros of Cedar Cutting Boards | Cons of Cedar Cutting Boards |
| --- | --- |
| They are visually appealing | Some types of Cedar secrete toxic oil |
| They resist bacterial growth | They can get scratch marks easily |
| They are cost effective | They infuse food with cedar odor |
| They won't warp when exposed to wet food | Cedar grain can produce slivers |
| They resist rot and insect attacks | Their chemicals can alter the taste of food |
| They are light | They don't last as long |
| They are easier to make | They are harder to find |
A table showing the pros and cons of using cedar for cutting boards.
The above table shows how cedar cutting boards' advantages and disadvantages stack up. Now I want to go into the details of these pros and cons because not all of them are equally valid for everyone.
The pros of Cedar Cutting Boards:
They are visually appealing – Cedar cutting boards are beautiful as Cedar's texture is quite prominent and earthy. To the extent that your cutting board is meant to impress, this feature can be beneficial. If you don't care about aesthetics, this doesn't matter as much.
 
They resist bacterial growth – Water collected on top of a cutting board can often become a culture for bacteria. Since Cedar absorbs water quickly, it discourages bacterial growth.
 
They are cost-effective – Cedar is cheaper than oak and other woods commonly used to make cutting boards. This makes Cedar an economical choice, at least in the short run.
 
They won't warp when exposed to wet food – Cutting board wood is usually warp-resistant. Cedar naturally resists warping without any need for a protective finish.
 
They resist rot and insect attacks – Most wood can incur water damage and can rot if exposed to water and organic matter. That's why food-safe finishes are used on cutting boards made from common wood. Cedar naturally repels insects and discourages rot thanks to its tannins and scent.
 
They are light – Cutting boards can be heavy or light. Neither property is inherently bad. Lighter cutting boards are easier to work with, while heavier ones can take more punishment. Cedar cutting boards are usually easier to handle.
 
They are easier to make – Cedar has high workability. This is an advantage that matters to woodworkers like me. If you don't make cutting boards, then this is advantageous to the extent that you can etch and engrave a cedar cutting board.
Cons of Cedar Cutting boards:
Some types of Cedar secrete toxic oil – Eastern Red Cedar is pretty commonly used in woodworking in North America. It is one of the many species of Cedar that are toxic. Cutting boards made from such Cedar can pose a health risk.
 
They can get scratch marks easily – Cedar's overall softness that makes it easy to work with also makes it easy to scratch. Cedar cheese trays last longer than cutting boards because the Cedar can handle wet food but not heavy knife action.
 
They infuse food with cedar odor – This might be a plus in some cases, but most people don't like the taste of their food altered. Cedar species that aren't toxic have oils that have a distinct smell that lingers in the food.
 
Cedar grain can produce slivers – Cedar grain pattern is aesthetic. But it can carve slivers in meat and other food items. This matters when the overall presentation of the food is meant to be preserved.
 
Their chemicals can alter the taste of food – Aside from changing the smell of food, Cedar can also affect the taste of what you eat. Again, this can be a feature if cedar taste is what you are going for. But in most cases, this is a liability.
 
They don't last as long – Cedar cutting boards are better for kitchen decor than an actual cutting action. In my experience, these cutting boards last a few months only because of their brittleness and ease of scratching.
 
They are harder to find – Because of their short lifespan and vulnerability to sharp objects, cedar planks are not fashioned into cutting boards very often.
Of all the drawbacks, the most significant one is that it can be toxic. Most intermediate woodworkers still struggle to tell Cedar apart from redwood. It takes a lot of confidence to then procure Cedar with certainty that it isn't the kind that is toxic.
Western Red Cedar is one of the few cedar types that is explicitly categorized as food safe. With most other Cedar, you roll the dice when you choose to produce a cutting board. The toxicity of some cedar species brings down the general willingness to work with any type of Cedar in a food-adjacent application.
Why Cedar Cutting Boards Are Toxic
Cedar cutting boards can be toxic if their internal liquid isn't fit for ingestion. All types of Cedar have an insect-repellant liquid that gives cedar its signature citrus and woodsy smell. This liquid can range from slightly toxic to downright poisonous, depending on the cedar type.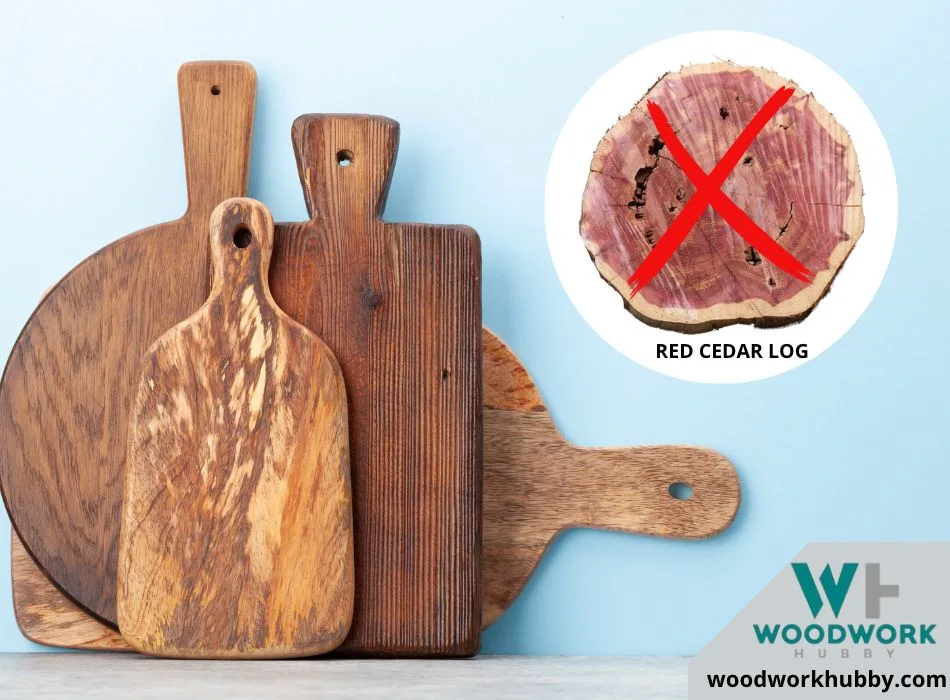 To work as a cutting board, wood needs to be 100% food-safe. Ingredients that sit on a cedar slab for a prolonged period can get infused with Cedar's internal oils. Eating them can make you sick.
There are two solutions to this problem. The first is to coat Cedar in clear resin like Amberart Epoxy Resin. This will maintain the visual appeal of the cedar cutting board without exposing the food to Cedar's toxic oil. It is also hard enough to protect the board from knife scratches.
Amberart Epoxy Resin Kit
The second solution is to select Cedar that isn't toxic. Western red Cedar or an American-made cedar package that says "FDA Food-Safe" can be used for cutting boards. But unlike epoxy-coated cutting boards, such cedar boards remain vulnerable to knife scratches.
Is Cedar Too Soft For Cutting Boards?
Cedar is too soft for cutting boards unless you want a cutting board for decorative purposes. You can scratch Cedar with a butterknife, so a chopping knife will likely leave marks, which will imprint on the next batch of food you cut.
Depending on why you want a cedar cutting board, you can resort to different solutions. If you want a cedar cutting board to make your food smell and taste a certain way, then you have to accept that the board will not last very long.
But if you want a cedar cutting board because you like how Cedar looks, you can use a food-safe resin coat to cover the board and offset its softness. That said, you won't get any cedar scent or flavor in your food. Many people genuinely dislike the idea of sealing away Cedar when making a cutting board. People who are the most adamant about using unfinished Cedar for cutting boards need to be most cautious when selecting wood for it. And one has to be especially cautious of red cedar cutting boards.
Red Cedar For A Cutting Board
Red Cedar cutting board can be toxic as Eastern Red Cedar secrets oils that are not food-safe. Western Red Cedar, on the other hand, is used as a cutting board for its flavoring and aromatic qualities.
Wood Fire Grilling Co's XL Cedar Grilling Planks are 100% food-safe red cedar planks that can be used as boards. Using products explicitly positioned as food-safe can help you stay protected regardless of whether you create cutting boards for your own consumption or for sale.
These boards have 4.5 out of 5 stars from an average of over 380 reviews. More specifically, their highest rated feature is flavor (4.2 stars) which shows that they influence food, especially barbeque, in a good way.
What Are The Best Woods For Cutting Boards?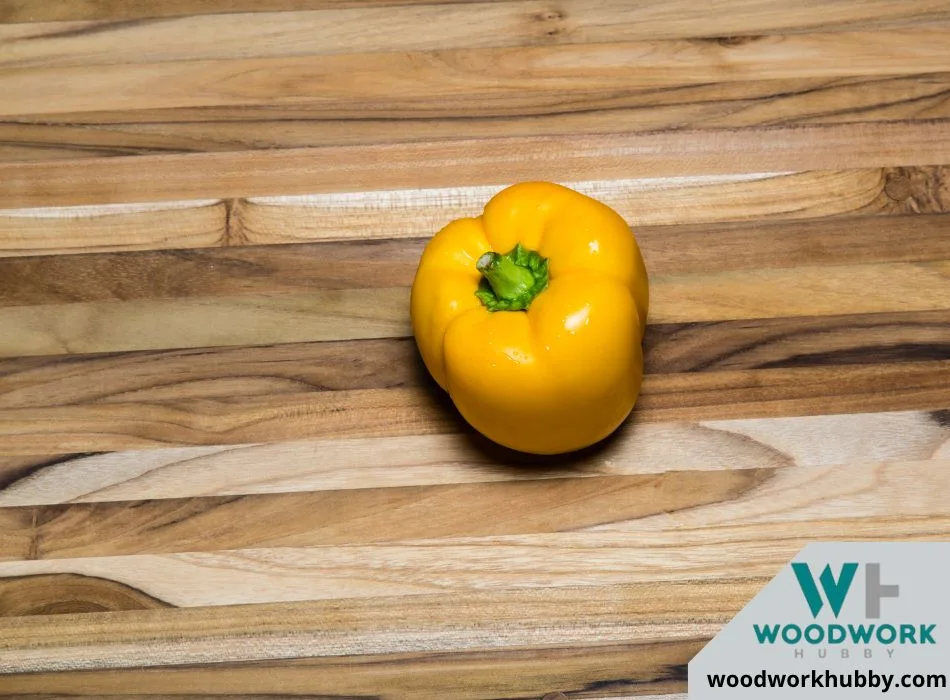 The best woods for cutting boards are hardwoods that resist rot and knife damage while being food-safe. These include beech, teak, cherry, acacia, walnut, and maple. Other woods you can use for cutting boards include birch, oak, and mahogany.
Remember to use a food-safe finish on the wood to protect it from water damage. These hardwoods don't need protection from knife damage but some of them can rot with water exposure.
Teak is the best wood for cutting boards if you don't intend on applying any finish since teak resists water damage as well as scratches. It is also resilient against insect attacks.
If you want to know if Purpleheart Food Safe, please click on the link to check if purpleheart wood good for cutting boards.
Can You Use Cedar To Make A Charcuterie Board?
You cannot use Cedar to make charcuterie boards since Cedar is highly porous and soft. Food residue can sink into its pores and the oil secreted by Cedar can change the taste of food in the best cases and introduce toxins to it in the worst ones.
What Wood Should Not Be Used For Cutting Boards?
Softwood and highly porous wood should not be used for cutting boards as they won't last long. Wood that is toxic or causes allergies (sensitizer), is also a poor choice for cutting boards even if it is hard and non-porous.
Final Thoughts
You can use Cedar BBQ slabs as makeshift chopping boards but by all accounts, Cedar is not the best choice for cutting boards. Western Red Cedar is used as a flavor-enhancing base material for meat, but most other cedar types aren't even food-safe.
Choose teak or hardwood with a food-safe and durable finish for your next cutting board project.