I own a slightly larger than double garage-sized woodworking shop where I spend every weekend doing random projects. I recently bought a dual drum sander and needed to know how big a dust collector I would need. I'm sure we all have this question – what is the best dust collector for drum sanders?
On average, 41.66 CFM per Inch of drum sander is required for effective dust collection. Based on this, a 12-inch (300mm) drum sander should have 500CFM and a 24-inch (600mm) drum sander should have 1,000 CFM+ to ensure the sandpaper does not clog easily.
I have used and tested a couple in my workshop over the years and I can confirm that the Shop Fox W1685 is the best dust collector for drum sanders in my opinion. There are several other smaller options but from my experience, less CFM leaves excess dust on the sandpaper which then collects on the rollers of the drum sander.
Let me explain further why I like this machine as a good dust collector for drum sanders.
Shop Fox W1685 Dust Collector Review
I did not just pick this model as the best. Having used it for several months, and comparing it with other dust collectors that I have used before, this stands out in terms of efficiency and performance. It does not leave any dust or debris when set up correctly.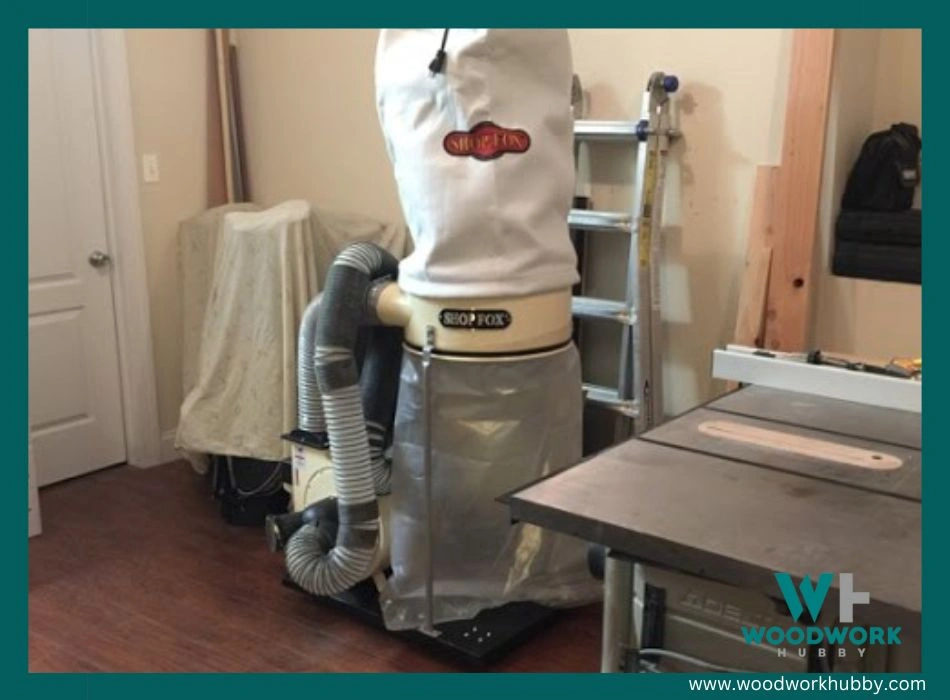 While it is slightly larger in physical size, it certainly will do a great job at pulling dust from a drum sander. I find that the fine dust produced from drum sanders is harder to suck up. Don't risk your lungs by going 2nd best!
What Are The Features Of The Shop Fox W1685 Duct Collector?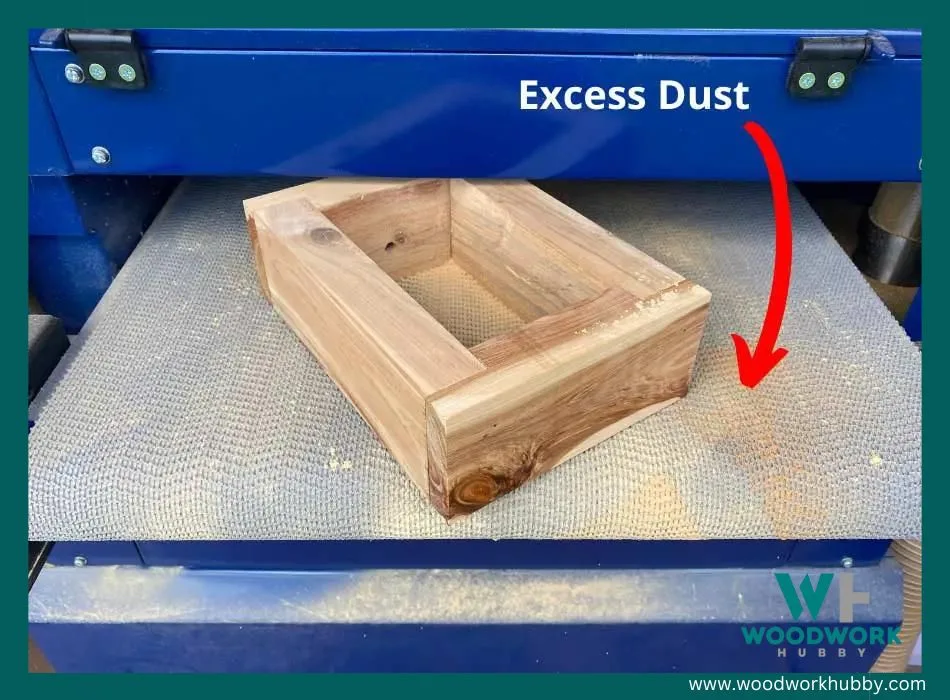 This dust collector comes with unique features that enhance its performance. It makes it suitable for use with both small tools and also for large drum sanders. However, it is best for medium-sized workshops. Its main features include:
| Hose diameter | Twin 4 inches or single 6 inch |
| --- | --- |
| Airflow (CFM) | 1280 |
| Bag capacity | 5.4 cubic feet |
| Horsepower (HP) | 1.5 |
| L x W x H | 22.2 x 37 x 22.5 inches |
Shop Fox W1685-1-1/2 HP Dust Collector & POWERTEC
I suggest using a 6-inch line right up until the machine where you can then reduce to a 4-inch.
Is 650 CFM Dust Collector Enough?
A 650 CFM dust collector is enough for a 12 inch (300mm) drum sander and will work well for small workshops with small spaces. It may not be enough for 24 inches and above drum sanders, as it may leave excess dust inside the machine.
I once come across a 0.75HP, 650 CFM dust collector when I visited a friend's workshop and when I checked, the workshop seemed to me like it was new. I later realized that the dust collector with these specifications was mounted on the wall next to the wall, and attached to the drum sander.
My garage size is different from this shop and I cannot use a 650 CFM since there is so much dust that is produced by my drum sander. Though it looked great and efficient for that small workshop, it did not work for my case. However, I would recommend it for small workshops with small sanding tools.
What Type Of Dust Collector Is Best?
A larger dust collector of over 600 CFM is recommended to ensure all dust is sucked from the sander before it can clog the sandpaper. I recommend the Shop Fox W1685 or a similar dust collector with similar specs.
I wrote an article on the best dust collector for MDF that I tested. Make sure you are not using the wrong one!
Though it is the best for my case, it may not necessarily be the best for your workshop depending on the size, nature of your shop, and amount of dust produced among other factors.
Most dust collectors come with capacities of between 400 and 600 CFM. These are largely for small sanding tools and small workshops. Other medium-sized options are ranging from 700 CFM and above and are the best for large workshops with more dust and debris.
Therefore, to my opinion, the best dust collector is determined by the size of your workshop, the amount of dust produced, or the size of your drum sander among other factors. For the brand, I will still go with Shop Fox since I have tested it and compared it with other brands.
You can read in more detail, every aspect of dust collection from Bill Pentz. He has done testing on most dust collection systems to give you the exact science.
Bigger drum sanders have large open areas above the drums. Be sure to double the CFM amount for these machines!
How Many CFM Should A Dust Collector Have?
A dust collector for a drum sander should be rated a little higher than what the machine asks for to ensure that all dust is removed and the sandpaper does not clog easily.
Dust collectors vary in size and come from as low as 400 CFM to as high as over 2000 CFM. They are different in capacities to suit different functions. Large and small workshops require different capacities of dust collectors due to the amount of dust produced.
In the table below, I have matched the best suitable dust collectors to some of the more popular drum sanders. I found that you cannot overdo dust collection with drum sanders.
| Size | CFM Requirements | Avg. CFM Per Inch |
| --- | --- | --- |
| Up to 12-inch (300mm) drum sanders | 500 | 41.66 |
| 24 inch (600mm) drum sanders | 1,000+ | 41.66 |
| 200 sq .in sanding surface drum sander | 800 | – |
| 201 – 400 sq. in sanding surface drum sander | 1,200+ | – |
| Small workshops (3 small machines) | 400 – 650 | – |
| Medium workshops (5-7 machines) | 1,500 | – |
| Large workshops (multiple large machines) | 2,000+ | – |
Can I Use A Shop Vac As A Dust Collector?
You can use a shop vacuum to collect dust from your workshop tools but it is not an efficient method, especially for a larger workshop. It can work for small shops that use handheld sanding or power tools due to its greater maneuverability.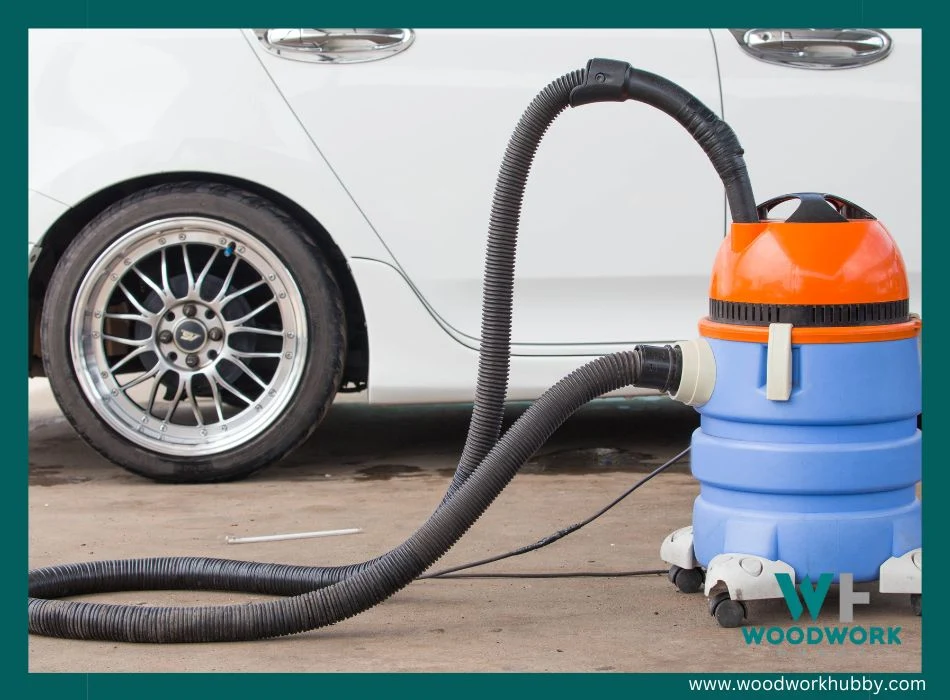 Most of the sanding tools come with ports where you can connect the dust collector, and if you have it compatible with that of a shop vac, it may still not do the work as a dust collector will do. However, it is better than having nothing.
If you were to use a shop vac, then I would recommend Vacmaster Professional due to its powerful suction capacity.
Vacmaster Professional
It is important to note that, the filters and bags that come with shop vac are suitable for quick home jobs and not for heavy-duty dust collection.
Conclusion – Best Dust Collector For Drum Sanders And Why
If you want the best dust collector for your drum sander, you need to check on the specifications to ensure that it can suck all the dust from your workshop.
The choice depends on the capacity of the dust collector, your workshop size, the size of the drum sander, and other factors that we have discussed.
For the brand, I will still go with Shop Fox W1685 due to its performance and it can also work for large workshops hence a good choice when you want to expand your workshop.