Searching for the best tape measure is harder than you might have thought, isn't it? Trust me, I've been there – with so many types and brands on the market, even a simple tool like this can be overwhelming.
That's why I dove deep into research and testing to help you choose the right tape measure that meets your woodworking needs. Stick around because I'm about to unravel which models stand out in terms of accuracy, durability, and ease of use.
Key Takeaways
Features to Consider in the Best Tape Measures for Woodworkers
When selecting the best tape measure for woodworkers, it's important to consider several key features such as consistency over accuracy, ergonomic design for one-handed use, blade durability, and smooth blade retraction.
Consistency over accuracy
In the bustling world of woodworking, we often find ourselves torn between accuracy and consistency. However, seasoned woodworkers like myself would agree that consistency takes precedence over mere accuracy.
Here's why – using the same tape measure for all your projects ensures you maintain uniform measurements throughout. Sure, a millimeter off might not seem much initially but think about it – this tiny discrepancy can accumulate over several cuts and cause issues with fitting or aligning pieces later on.
Precision tools such as steel rulers are great for exact measurements while working on layouts and smaller setups but they aren't practical for larger rough measures where tape rules reign supreme.
So remember to keep in mind wear and tear that could impact your rule's precision, especially if using older tapes with worn-out slots which may throw your consistency game off track!
Now you know why most professionals prefer Class 1 or precision tape measures; they provide a consistent standard that we can rely upon time after time for our projects!
Ergonomics for one-handed use
Ergonomics for one-handed use is a critical feature that I always check when picking out the perfect tape measure. Woodworking requires precision and ease, making it vital to have a tool designed with comfort in mind.
See my article on why is the end of your tape loose.
Trust me on this; having a tape measure specifically built for one-handed use makes all the difference! It contributes to smoother operations and allows woodworkers like us to take accurate measurements without hassle.
A winning ergonomic design means it boasts a comfortable grip, robust retraction, easy-to-read markings, and just the right weight balance. Seasons of woodworking taught me that such features make work less strenuous while ensuring precision measurements every time – fundamental in achieving flawless results.
Remember your choice can spell success or disaster in any woodworking project – pick wisely! Always consider tools designed with ergonomics for one-handed use.
Blade durability
Blade durability is a fundamental feature to consider when shopping for the best tape measure for woodworkers. Let's face it; we need our tools to last long and withstand daily usage, especially in woodworking where precision matters.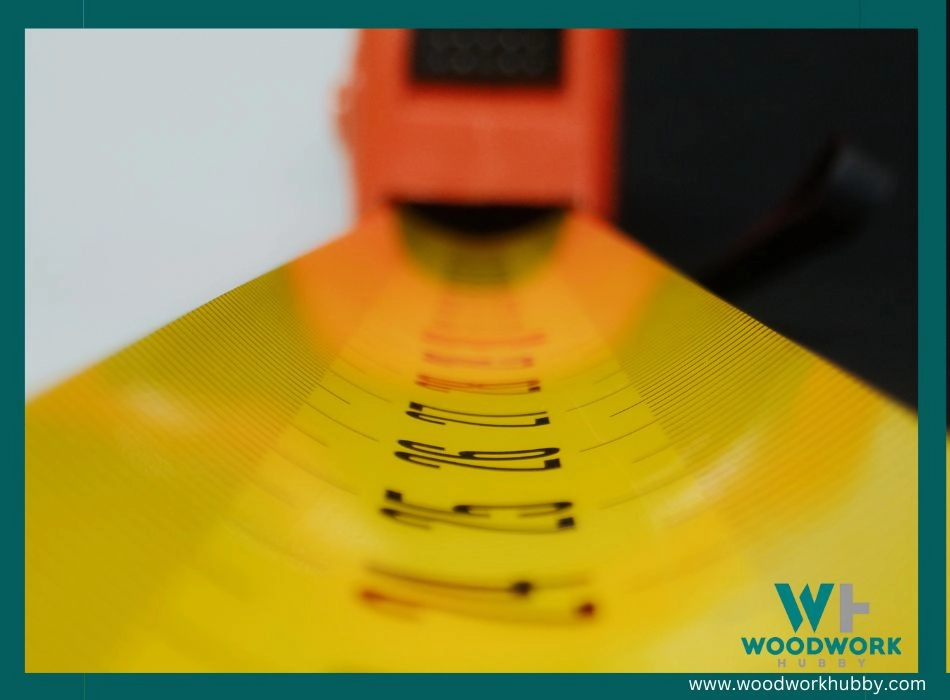 We're looking at longevity here, so premium, durable measuring tapes become invaluable assets. Take the Craftsman Pro Reach 25-Foot Tape Measure as an example—it aced my blade durability test, primarily due to its blade being made of durable alloy steel—a perfect blend of rigidity and flexibility catering specifically to woodworkers' needs.
It assures you of a sturdy, reliable woodworking tape measure that offers accurate measurements time after time—exactly what every professional or DIYer needs!
Blade retraction
Blade retraction is a crucial feature to consider when choosing the best tape measures for woodworkers. It determines how smoothly and easily the tape measure's blade can be pulled back into its housing after use.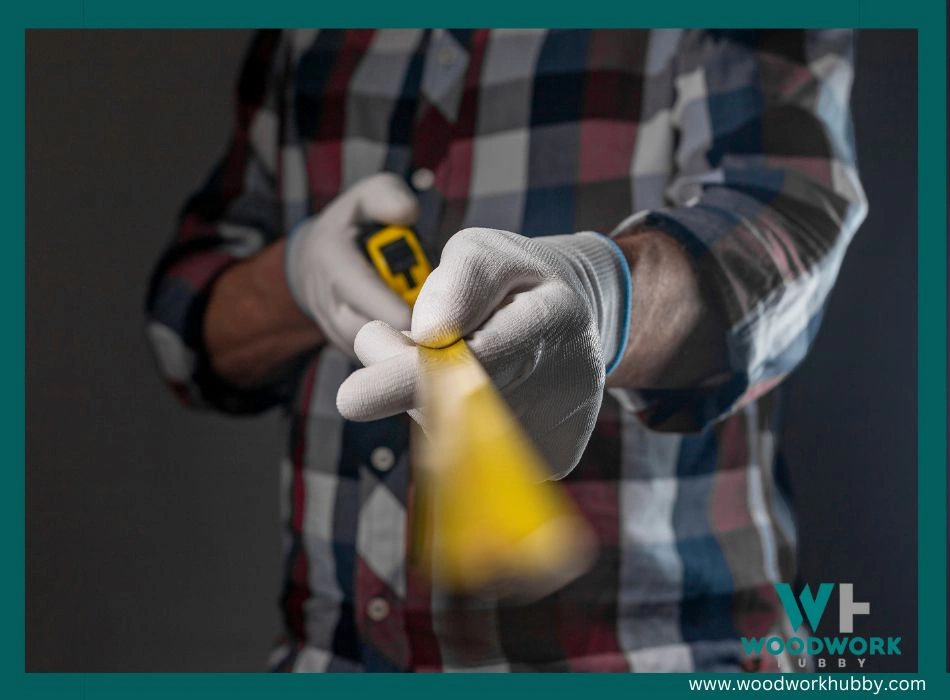 A reliable blade retraction mechanism ensures convenience and efficiency, allowing woodworkers to work with just one hand and saving precious time during their projects.
Additionally, a well-designed blade retraction system helps prevent accidents or injuries that may occur from a sudden snap-back of the tape measure.
When selecting a tape measure for woodworking, it's important to look for models that offer smooth and controlled blade retraction, ensuring precision in measurements and ease of use throughout your woodworking tasks.
Top Picks for the Best Tape Measures for Woodworkers
Here are the top picks for the best tape measures for woodworkers. Read on to find out which one suits your needs best.
As a woodworking enthusiast, I understand the importance of having a reliable and accurate tape measure. That's why I highly recommend the Milwaukee 25-Foot Auto-Lock Tape Measure as the best overall option for woodworkers.
This tape measure boasts advanced technology that ensures precise and consistent measurements, making it perfect for any woodworking project.
One standout feature of this tape measure is its AutoLock technology, which keeps the blade extended until you're ready to retract it. This means no more struggling with a floppy or collapsing blade while trying to take measurements.
The autolock feature provides added convenience and efficiency, allowing you to focus on your work without any distractions.
In addition to its innovative features, the Milwaukee 25-Foot Auto-Lock Tape Measure is built tough with a 5-point reinforced frame. It can withstand heavy-duty use in carpentry and construction settings, making it an excellent choice for professionals who rely on their tools day in and day out.
Stanley Fatmax Tape Measure (Best 35-Foot Tape Measure)
As a woodworker, having the right tools is crucial for precise and reliable measurements. That's why I highly recommend the Stanley FatMax Tape Measure as the best 35-foot tape measure on the market.
With its durable construction and accurate readings, this high-quality tape measure is designed to meet the needs of professionals and DIY enthusiasts alike. The wider and more durable blade ensures easy reading of measurements, while the polymer-coated blade guarantees long-lasting performance even in tough working conditions.
Its easy-to-read markings make it convenient for precise measuring, and its professional-grade quality sets it apart from other options available. With a 35-foot length, you'll have ample reach for various woodworking projects.
FastCap Lefty/Righty 16
One of the top picks for the best tape measures for woodworkers is the FastCap Lefty/Righty 16-Foot Tape Measure. As a high-quality and affordable option, it offers accurate measurements while still being lightweight and easy to use.
Designed with both left-handed and right-handed individuals in mind, this tape measure boasts innovative features such as a lever-action belt clip, pencil sharpener, dual locking system, and an erasable notepad.
With its durability and versatility, the FastCap Lefty/Righty 16′ Tape Measure is ideal for any woodworking task. Professionals and hobbyists alike can rely on this reliable measuring tool to provide precise measurements for their projects.
FAQs
1. What features should I look for in a tape measure for woodworking?
When choosing a tape measure for woodworking, look for features such as a durable and reliable blade, easy-to-read markings, precise measurements, and a comfortable grip. Some models may also have additional functionalities like magnetic tips or self-locking mechanisms.
2. What is the ideal length of a tape measure for woodworking projects?
The ideal length of a tape measure for woodworking projects depends on the type of work you typically do. A 25-foot or 30-foot tape measure is often recommended as it provides enough reach for most woodworking tasks while still being manageable to handle.
3. Are there any specific brands that are highly recommended for woodworkers?
There are several reputable brands known for their quality tape measures that cater specifically to woodworkers' needs. Some popular choices among woodworkers include Stanley, Milwaukee, DEWALT, and FastCap.
4. How do I ensure accurate measurements with my tape measure?
To ensure accurate measurements with your tape measure, make sure the blade is fully extended without any bends or kinks that could affect accuracy. Use steady pressure when taking measurements and double-check by measuring multiple times if precision is crucial in your project. Also, consider calibrating your tape measure periodically to maintain accuracy over time.