So you bought some patio furniture. Great! But now that winter is approaching, you're still trying to figure out what to do.
Winterizing your outdoor furniture should be on your mind as soon as the leaves change color. The cold weather, freezing rain, and snow will affect your patio furniture. Prepare now so that everything is prepared for when the weather turns warm again.
Clean
Coat
Brush or vacuum
Cover outdoor area
Store furniture away
Apply furniture oil
Clean patio surface
You must understand how to safeguard your patio furniture over the winter if you want it to appear new and last longer. If you winterize your outdoor space as soon as you can as you prepare for the chilly months, you will save more time and money in the long run.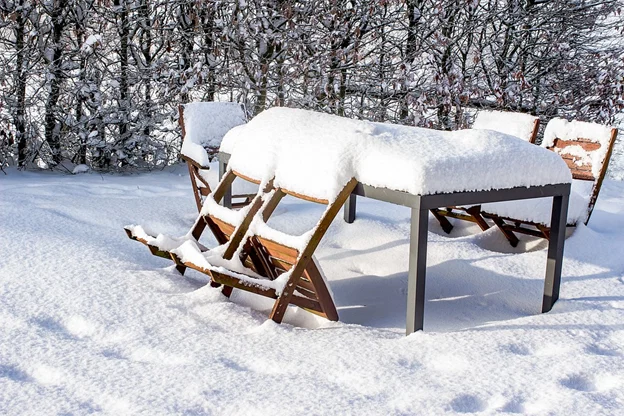 Why Protect Outdoor Furniture During Snowfall?
Why should your outdoor furniture be protected throughout the winter? The ability of outdoor furniture to survive the environment isn't its whole purpose, right? If you want your furniture to live longer, you should preserve it during the chilly winter months.
You won't want to sit on your outdoor furniture when it is coated with snow and ice if you reside close to colder climates. If so, live your best life; we're not judging. Your outdoor furniture won't likely be used throughout the winter if you aren't interested in pretending to be a snowman. If so, live your best life; we're not judging.
Your furniture will last longer and need fewer repairs if you protect it over the winter. Your patio furniture will last three times longer if you keep it covered all winter.
Protecting outdoor furniture throughout the chilly, snowy, and wet winter months is your best bet for keeping it looking great for longer.
How to Protect Patio Furniture During Snowfall
Outdoor patio furniture may be left outside throughout the winter because it was designed to be used outdoors. But even the toughest materials may be harmed by cold temperatures (abrupt temperature swings) and dry air. For example, if your patio furniture is made of plywood, you must read waterproofing plywood guide to take care of it during winter.
Let's take a look at the many steps you may take during snowfall to extend the life of your patio furniture.
1.  Clean
Cleaning your outdoor furniture is the first step in preparing it for winter. By the following spring, your furniture may be in poor condition due to mold or mildew growth caused by moisture, dirt, and debris on your patio furniture and fabrics. Use the tips listed below to clean your patio furniture, and ensure it completely dries before putting it away.
Tips for cleaning different furniture materials: Wicker, wrought iron, or plastic outdoor furniture may be cleaned using a sponge or brush, a dish detergent, and a water solution. Rinse, then let air dry. Observe the care recommendations provided by the manufacturer for wood patio furniture. The incorrect stain, cleaner, or cleaning technique might damage your furniture or void the guarantee. Wooden objects painted or whitewashed can be cleaned with a moist cloth. Hosing or scrubbing should be avoided since they might cause the paint to chip.
Tips for cleaning cushions and textiles: Keeping fabrics and upholstered objects clean and dry is crucial for their lifetime, including cushions, outdoor rugs, and umbrellas. Most of the time, all that is needed is a simple dusting and air drying of anything that becomes moist. However, this is an excellent time to deep clean upholstered furniture if you're ready to store it. In general, outdoor pillows and cushions that are particularly dirty respond well to pressure washing, but if in doubt, consult the care recommendations provided by the manufacturer. Allow everything to dry totally after washing.
2.  Coat
It is essential to treat furniture used outside properly. Depending on the material, different methods will work best for treating your outdoor furniture, so as always, read the suggested care instructions for your particular patio set before you start. Here are some general rules we follow.
Fabric protector for textiles: After a thorough wash, preserve outdoor fabrics like pillows and cushions with a quality fabric protector.
Wax coating for finished metal and aluminum: A paste wax coating will safeguard metal coatings if there are no indications of rust.
Fresh paint for corroded metal: Apply a fresh layer of primer and paint after carefully sanding any painted metal items that have corrosion. This improves the appearance and protects your furniture.
Waterproofing plywood: Plywood is unfortunately not any different from other types of wood when it comes to rot. This is because wood decays with time, much like most other natural materials. However, there are techniques to impede or completely stop the natural decaying process, much like other biological things. You may prevent rot in wood-based products by sealing them, whether they are solid wood, plywood, or fiberboard.
Plywood that has been waterproofed is protected from fungus growth and moisture from the environment. Sealing it protects plywood from the elements that frequently cause dry rot.
Soap and water for plastic: One of the simplest furniture materials to keep is plastic. Wash in some warm, soapy water, then let it air dry.
3.  Brush or Vacuum Outdoor Furniture
Clean your patio furniture thoroughly to eliminate any loose dirt or debris. This is crucial if your patio furniture is made of woven resin wicker. Brush it quickly or gently clean it with light soap and water. A vacuum cleaner should do the trick if the upholstery material is made of cloth.
4.  Protect With a Patio Canopy or Pergola
One of the most efficient strategies to guarantee that your patio furniture weathers the storm is to keep it under a sheltered/roofed location. A patio canopy will shield your patio's furniture and other items from hail, intense downpours, and fallen trees. Additionally, having a roof over your deck means that you can use your outdoor furniture all year round by installing a heater.
5.  Store Furniture Away in a Protected, Secure Location
The truth is that any amount of overhead protection cannot protect some severe weather situations. Because of this, residents of regions with harsh weather choose to put their patio furniture inside a shed or a basement for the winter.
6.  Apply Oil to Natural Wood Furniture
If you have outside wooden furniture,  apply oil to natural wood furniture at least once a year. As the sun ages the wood, you'll want to restore it with a new coat of paint. Additionally, this aids in preventing future harm to the wood.
7.  Clean Your Patio Surface
Once you've taken care of your BBQ and patio furniture, you need to consider keeping the patio's surface safe. Give it a thorough cleaning, and if necessary, reseal the surface.
Best Practices
Before putting any furniture in storage, make sure it is completely dry and pick a location that won't experience flooding or water leaks.
In the winter, keep a watch on your furniture. Once a month, check it over to ensure sure nothing is damp, moldy, or rat-damaged.
Before storing things, remove any detachable parts like cushions and umbrellas.
Before putting furniture away, dust and clean it.
Use a temperature-controlled storage location to preserve more fragile outdoor furniture like wicker.
Keep this in mind before placing your outdoor furniture into a storage area. Ensure your furniture is covered and has good ventilation in a location free of dampness and rodents. Don't put your furniture in storage; just retrieve it after the winter. Make sure your furniture is in good shape by checking on it once a month.
Can I Leave Anything Outside?
Furniture made of treated teak, cedar, and synthetic wicker can be left outside during the winter. The most weatherproof patio furniture materials are treated teak and cedar. Additionally, any furniture (apart from plastic) can be kept outdoors, provided you have fitting patio furniture coverings.
Conclusion
If you take the extra time to maintain your patio and outdoor furniture before winter, you'll feel more rested knowing that you did all that is required to protect your assets from bad weather. Use these suggestions, and your patio furniture will be as good-looking as new by springtime. You'll be happy you tried to clean up and winterize your patio when springtime rolls around.