Walnut is strong, beautiful, and fairly expensive. And one of its differentiators is its unique appearance. Some wish it were a little darker. Others want it to stay exactly as it is. In either case, most walnut wood buyers wonder if their purchase will darken over time.
Walnut wood does not darken with age. Its dark rings might darken, but the surrounding sapwood gets lighter, giving an overall faded appearance. If you take care of it, its color will change gradually to a honey tint, which is aesthetic and emphasizes the wood grain's beauty.
In this article, you will learn more about preventing walnut wood color change as well as the different types of wood that darken over time. By the end of this post, you will know all you need to know before buying walnut wood. So bookmark this post, and continue reading.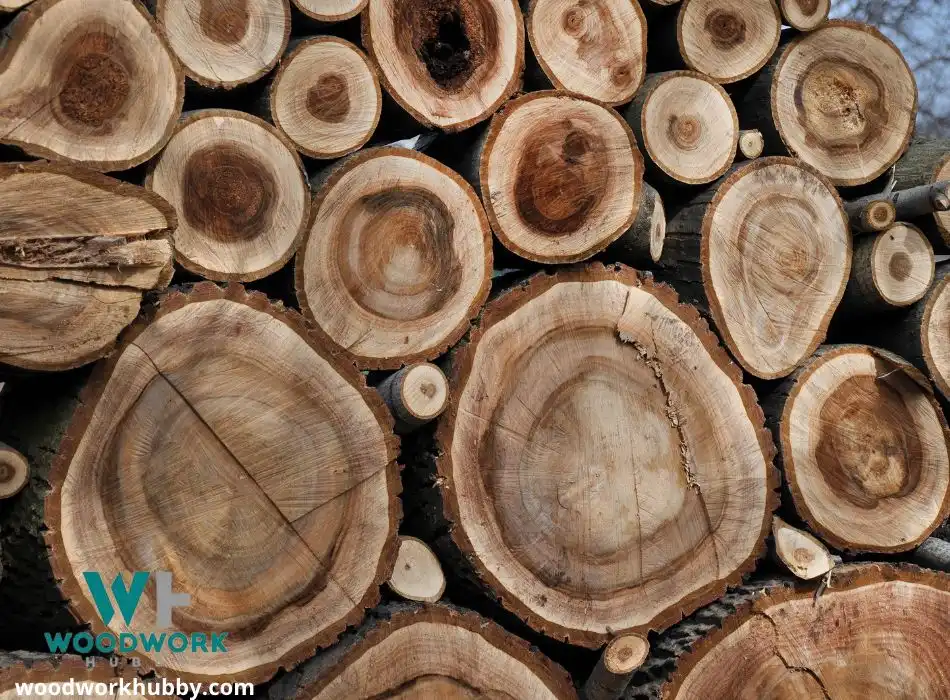 Walnut Wood: A Brief Overview
Walnut is one of the most expensive hardwoods because it grows slowly and has a very aesthetic appearance. Its color makes it easy to spot even if its grain is similar to some other luxury woods. Since Walnut wood's natural color is among its markets, it is understandable why most buyers don't want the wood to get darker over time.
That said, some people buy walnut wood not because of how it looks but because of how it feels. They wish it were darker, especially if they find light boards. Neither camp wants a solution as tacky as painting over the lumber.
In my experience, walnut wood takes a very long time to change color if you handle it with care. Some indoor decor items I made from walnut wood have stayed the same color for years.
In my experience, walnut wood takes a very long time to change color if you handle it with care. Some indoor decor items I made from walnut wood have stayed the same color for years. But I have also noticed fading in some walnut lumber I recently acquired. So the good news is that you can make Walnut wood stay the same color. The bad news is that it takes a lot of effort to do so.
For those who want darker wood, I recommend black Walnut, and for those who want it to be lighter, perhaps give it time or opt for Butternut.
For those who want darker wood, I recommend black Walnut, and for those who want it to be lighter, perhaps give it time or opt for Butternut. My advice would be to get Walnut wood that is either darker than what you want or the exact color you want.
Once you have the lumber, you can take steps to maintain its color. We will discuss the best practices for that later in this post. But since walnut lumber can range from clear to medium-maple in hue, some people might wonder if Walnut wood of any specific type darkens more than other types. Let's address that first.
Does Walnut Wood Get Darker Over Time?
Walnut wood does not get darker over time. Not even the lightest walnut lumber darkens a bit over time. Sunlight exposure won't make walnut wood darker, nor will moisture. The only thing that can make Walnut dark is a dim finish that offsets its lightness.
This doesn't mean that no part of walnut wood gets dark. The darker rings do get dark, but the surrounding sapwood's lightness makes the overall slap appear faded.
You can also stain or paint walnut wood to look darker. But that is a very tacky solution. I tried it over 17 years ago when I wasn't as experienced, and I regretted doing it.
If you want dark wood and are considering Walnut as an option, please don't assume that it will darken like maple. While walnut and maple wood can be used for similar purposes, they are not visually interchangeable, especially over the long term. Where maple darkens over time, Walnut starts getting lighter.
There is a misconception that all hardwoods darken with age. And you might be thinking that if Walnut wood doesn't darken within one or two years, it might darken after five or six years. I have had walnut wood projects that I crafted two years into woodworking, which is over 17 years ago now.
How Long Does It Take for Walnut To Darken?
Walnut doesn't darken even after 20 years. It doesn't darken at all unless painted or stained with a dark tint, in which case the appearance changes instantly. Over a long period, walnut wood naturally becomes less dark.
In some applications, this change in color works in your favor because the wood becomes more beautiful as it ages. But outdoor applications aren't among such uses. A walnut wood door will not look aesthetic with age if it faces the sun every day for a few years.
The interior of that door might have a honey golden tint over the same period. I used to be confused about the honey tint and assumed the walnut wood with a darker tone might graduate to a similar tint as the lighter golden Walnut that was aged.
Does Walnut Get Darker or Lighter Over Time?
Walnut gets lighter over time, with a honey tint appearing over the dark brown color of the wood. Black Walnut doesn't have a similar tint, though it, too, gets lighter. This change can be seen as fading by those who wish for walnut wood to retain its initial, slightly dark appearance.
If you want to purchase lumber that becomes darker with age, don't waste your time worrying about the specific shades and types of walnut wood. Instead, get wood that actually gets darker over time.
What Wood Gets Darker With Age?
Plenty of wood types get dark with age. Some of them can replace Walnut in your projects because they are luxury hardwoods. Others aren't even hardwoods. Make sure to research each lumber's pros and cons before getting it. Here are the wood types that get darker with age.
| Wood Type | Notable Changes | Period |
| --- | --- | --- |
| Ash  | From a sandy tone to a tan tint | It can take 1 to 5 years to achieve a darker tint |
| Mahogany    | Gets darker with exposure to light | Darkens within one year. |
| Zebrano | Gets slightly darker with age | Takes 10 years to get darker |
| More | Darkens very slightly with age | It darkens after a few years |
| Rosewood | It darkens very prominently across time | It can start darkening within one year |
| Teak | Darkens temporarily before becoming greyish in appearance | Darkens within the first 3 months |
| Mexican Ebony | It gets lighter in the short term and becomes darker over the years | It takes 5 years to achieve its peak dark tint |
| Maple | Maple wood darkens over the years, albeit slightly | It can darken within a year but said change is hard to notice |
| Oak | This wood darkens to an amber hue over time | Oak can keep getting darker for a few years |
A table that shows the wood types that darker with age.
As you can see from the table above, there are plenty of wood types that do get darker with age. You might have also noticed that some lumber gets lighter before becoming dark. There are also wood types that lighten over time.
Most wood that hasn't been treated and sealed will get lighter or darker. Walnut lumber you get from a lumber yard gets lighter with age. Walnut boards you get from big box stores get lighter with age. This might make you wonder if prebuilt furniture or your future projects will have unreliable colors.
How does Walnut Furniture Change Overtime?
Walnut furniture is sealed properly and hence doesn't change color too prominently. It does get a richer honey tint that emphasizes its grain. Walnut furniture becomes more aesthetic over time, provided that it doesn't have uneven sunlight exposure.
Area-specific exposure can result in spot-fading. Whichever environment walnut furniture is in should be available universally to the entirety of the furniture unit. If you have a dining table and chairs made from Walnut wood, they should all remain in relatively similar lighting. If one of the chairs is sitting in the backyard, it might not seem like it belongs with the rest of the furniture after a while.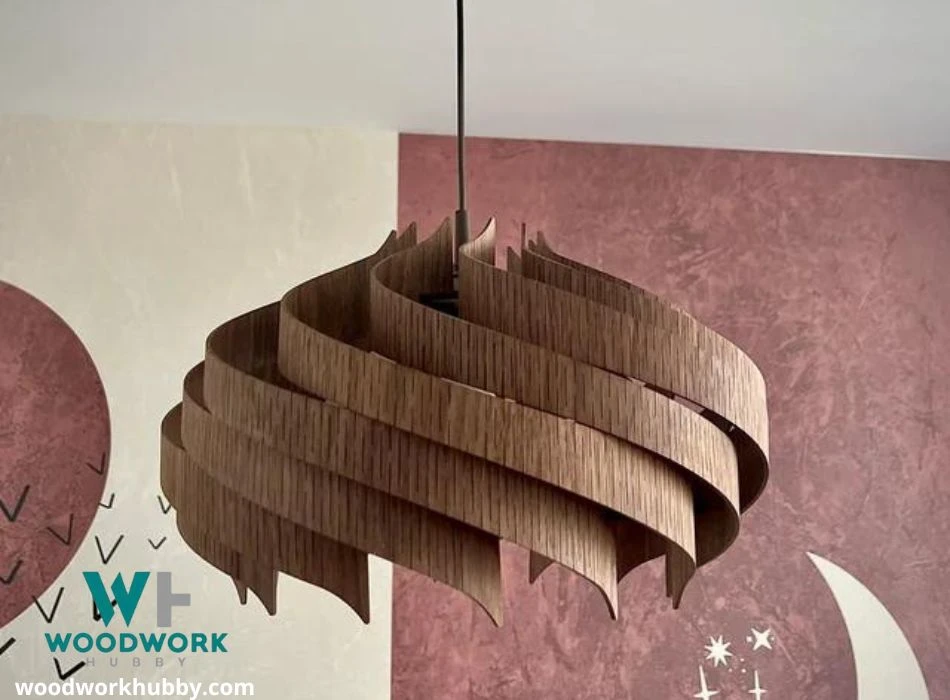 Creating uniformity is what ensures that no matter how the walnut wood furniture turns out, it at least looks good. If you want to keep Walnut from fading, then the practices you need to employ must be different.
How to keep Walnut Furniture From Fading?
Walnut furniture can fade with sun exposure and water contact. Here are the best practices you need to follow in order to minimize sun and water exposure.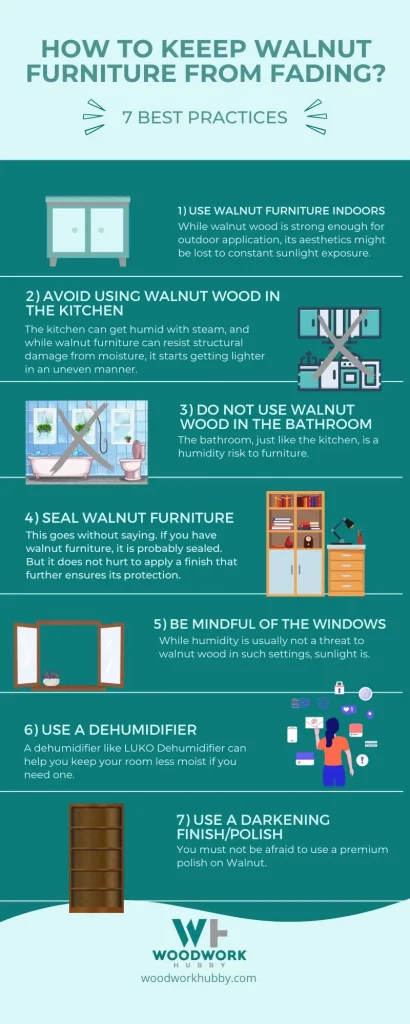 Use walnut furniture indoors – While walnut wood is strong enough for outdoor application, its aesthetics might be lost to constant sunlight exposure.
 
Avoid using walnut wood in the kitchen – The kitchen can get humid with steam, and while walnut furniture can resist structural damage from moisture, it starts getting lighter in an uneven manner.
 
Do not use walnut wood in the bathroom – The bathroom, just like the kitchen, is a humidity risk to furniture. Walnut wood is often used for prestigious furniture pieces, so its presence in the bathroom feels inappropriate, to begin with. But even if you can afford to have it there, you should not simply because it will lose its darker tint.
 
Seal walnut furniture – This goes without saying. If you have walnut furniture, it is probably sealed. But it does not hurt to apply a finish that further ensures its protection.
 
Be mindful of the windows – Walnut furniture is often found in drawing rooms and bedrooms, away from the kitchen and the bathroom. While humidity is usually not a threat to walnut wood in such settings, sunlight is. If you have a window that lights up a portion of the furniture (like a bed frame) over a long period, the furniture will have a light spot where the sunlight hits. Use window blinds or an opaque furniture cover to prevent harsh sunlight from lighting up a portion of your walnut furniture.
 
Use a dehumidifier – Your bedroom and drawing room are not as humid as your bathroom and kitchen. That doesn't mean there is no humidity indoors. A dehumidifier like LUKO Dehumidifier can help you keep your room less moist if you need one. Not every region has humidity issues, so this practice must be taken with a pinch of salt.
 
Use a darkening finish/polish – Finally, you must not be afraid to use a premium polish on Walnut. I know it can hurt to even think about this possibility, but sooner or later, Walnut wood will become light, and polishing it is just like dying your hair black in your early fifties. It can work well and even fool the eyes if the subject is in shape!
Different Types of Walnut Wood: From the Lightest to the Darkest
I have worked with various types of walnut wood. Initially, I chalked up the differences in appearance to some wood being fresh and others having aged. But over time, I discovered a few types of walnut wood with remarkably different native appearances. Here are the different types of walnut wood and how they look.
English Walnut Wood – English Walnut Wood is light, to begin with. It has a maple-like appearance but comes into its own as it is carefully aged to have a greyish-brown appearance.
 
Black Walnut Wood – This is a dark walnut wood with crotch slabs having the darkest appearance. It changes color minimally.
 
Claro Walnut Wood – Claro walnut wood can be even darker than Black Walnut wood. It has a black and brown grain pattern, and the brown parts fade more prominently.
 
White Walnut Wood – Commonly known as Butternut, this lumber is related to black Walnut but does not share its appearance. It is lighter than black Walnut and is not as expensive.
 
Bastogne Walnut – This walnut wood is a hybrid of the English and the Claro walnut varieties. It has a rich dark color that doesn't fade with time.
 
Peruvian Walnut Wood – This wood is specifically selected because it is darker than domestic walnut wood. It does have a slight purple tint, but overall doesn't resemble walnut wood.
The Only Time Walnut Wood Darkens
I had an experience where I witnessed Walnut wood darken. But it was not as a woodworker. I witnessed black walnut wood being freshly chopped. This is one of the perks of being in woodworking for 2 decades. The wood that was chopped looked very different from the untreated lumber you would see at a junkyard.
This particular log had much more heartwood than sapwood. And the heartwood had a greyish-brown appearance. Within a few hours, Walnut's natural color started to set in. And that's when I realized that the darker rings in Walnut do get darker. But the sapwood gets lighter, which is what gives regular Walnut a fading appearance.
Check out my article on the truth about how long walnut last outside here.
| Recommended furniture made of walnut wood | Where To Buy? |
| --- | --- |
| 2 Pieces Wooden Measuring Coffee Scoop Set Ground Coffee Coffee Spoon in Walnut Wood | AMAZON |
| Walnut Wood Rower Machine for Home Use | AMAZON |
| Upright Laptop Holder for Desk, Black Walnut Wood | AMAZON |
| Solid Walnut Wood Wall Mounted Jewelry Organizer | AMAZON |
Table showing some of the furniture made of walnut wood which I personally recommend and where to buy them.
Final Thoughts – Does Walnut Wood Darken With Age?
If you get black walnut wood where the black rings dominate the brown rings, you can expect the wood to darken with age. But most, the brown parts dominate the overall aesthetic, and they lighten with age, making the wood itself fade. You should protect the lumber from sunlight and moisture to keep it from changing colors.