If you are building a sturdy project that's meant to last, you're probably not planning to use softwood as its key material. But hardwood prices might put you in a bit of a pickle. Given that lumber prices weren't as high when I started woodworking 20 years ago, I still feel the sting of having to buy premium hardwood.
The least expensive hardwood is Poplar, while White Oak is the strongest hardwood that is relatively cheap. Maple and White Oak are durable, aesthetic, and cheap. European Ashwood is cheap and durable. And Poplar is just cheap.
All of these hardwoods have their own uses. In this article, you will learn about these and other cheap hardwoods that you can use for a wide range of projects.
Among other things, you will discover which hardwood is the least expensive, which one is the hardest, and which lumber is best for making cheap yet resilient furniture.
What Is the Least Expensive Hardwood?
Poplar is the least expensive hardwood, but it is not the hardest cheap wood. It can be used for applications that require tougher lumber than softwoods but not in furniture that bears a lot of weight.
Cheap Hardwood
When you need to buy cheap hardwood, you have to keep two things in mind: the function of the lumber and how that translates to its performance. For instance, a plank that is too rigid might be scratch-resistant. But that might not be an advantage in a situation where the wood has to be flexible.
One way to get cheap hardwood without compromising functionality is to find the premium option first, then get wood that matches the premium option in its physical properties.
I have found lumber hardness, porousness, and grain variety to be the three most distinguishable factors aside from aesthetic appeal. 
There is no way cheap hardwood can replace the aesthetic appeal of mahogany. However, at least half a dozen hardwoods are harder than mahogany and don't cost as much.
What Is The Cheapest Wood
Poplar

Minimum Price: $2
Maximum Price: $5

Ash

Minimum Price: $3
 
Maximum Price: $7

Maple

Minimum Price: $3
Maximum Price:$7

Alder

Minimum Price: $6
Maximum Price:$8

Beech

Minimum Price: $6
Maximum Price:$8

White Oak

Minimum Price: $6
Maximum Price:$8

Walnut

Minimum Price: $10
Maximum Price:$14
What Type of Hardwood Is the Cheapest?
The cheapest type of hardwood is one that grows at a fast pace. The quicker a lumberyard can replace the boards it sells, the cheaper the boards will be. Poplar and Ash are generally in a tight competition for the cheapest spot, but Maple remains predictably cheap throughout the year.
Cheap woods aren't necessarily less durable than expensive ones. They are just less "prestigious." Having worked with wood for 2 decades, I have learned to undo the conditioning around wood quality that's prominent among new woodworkers.
It is easy to convince yourself that mahogany is the hardest wood. But in reality, lumber much cheaper than mahogany is much harder in the Janka hardness test and even shear strength.
So, when you look for cheap hardwoods, do not give up on the aesthetic appearance or durability of the lumber. Compare and contrast them to find the one that works best for your project.
What Is The Cheapest Hardwood Lumber
Here are some of the cheap hardwood types and their respective Janka Hardness.
Maple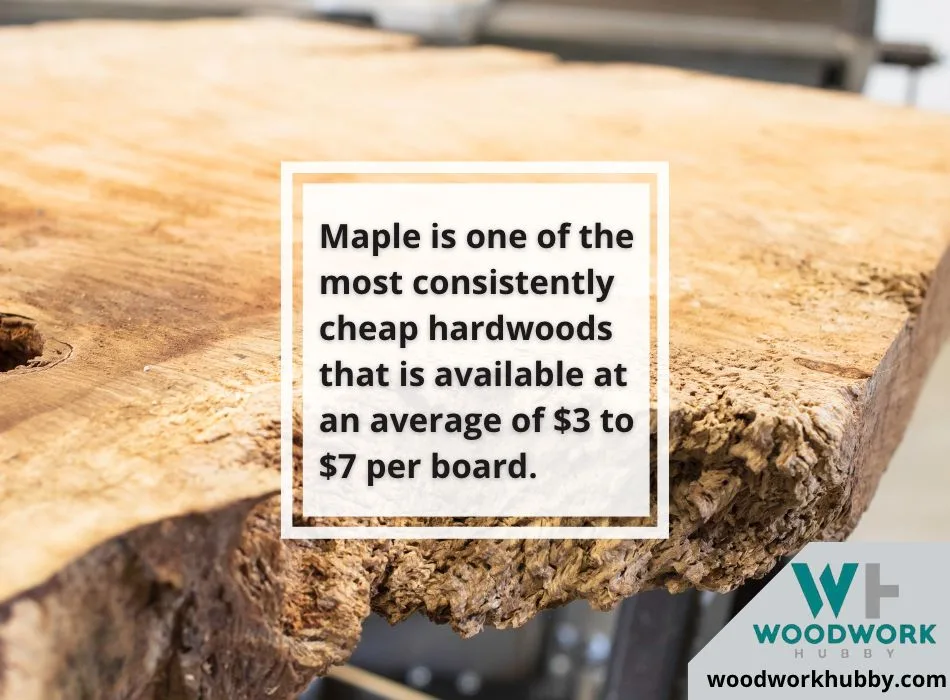 This is one of the most consistently cheap hardwoods that is available at an average of $3 to $7 per board. It has a Janka Hardness of 1450. 
Poplar 
Retailing at an average maximum of $5, Poplar can be found priced as low as $2 in some lumberyards. It has a Janka Hardness of 540, significantly lower than that of Oak.
Alder
The cheapness or expensiveness of this specific wood depends largely on its supply. In some cases, it can command a higher price than its average maximum of $8 per board.
In periods and regions where it is abundant, Alder boards can be priced as low as $5. Its Janka hardness is 690, slightly above that of Poplar.
White Oak 
When it comes to reliably durable wood, Oak varieties are often brought up. Oak trees are massive, and their wood strength is reflected in their Janka rating. White oak has a Janka hardness of 1360. It retails at an average price of $6 to $8 per board.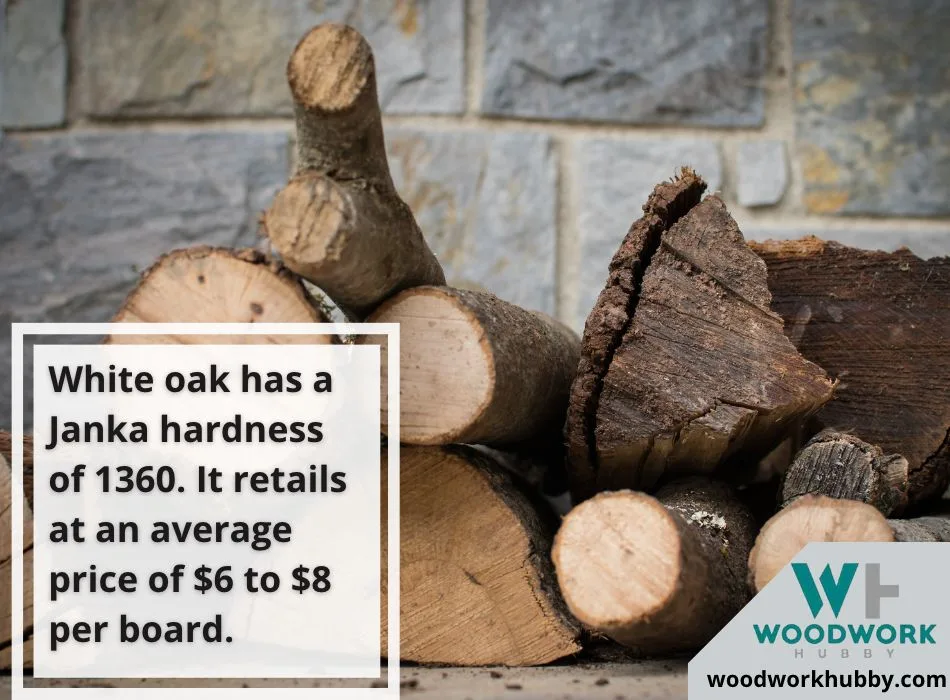 Beech 
Despite retailing for the same price range as white Oak, Beechwood does not have the same Janka hardness rating. It is harder than Oakwood and is available at lumberyards as well as Home Depot. Its maximum price is $8 while its minimum is $5.
Ash 
Ashwood is one of the cheapest hardwoods and has a quality similar to that of Oak. I have even used it as replacement lumber for the relatively more expensive hardwoods. It might not look like the primo woods, but it is definitely strong enough. 
There are many types of ash trees, but the ashwood you generally is common ash (or European Ash). And it has a Janka hardness of 1480.
If you factor value-for-money into your woodworking as I do, you'll be pleased to know that ashwood can be purchased for $3 to $5 per board.
Walnut 
On the more expensive side is Walnut, which commands $10 to $14 but has incredible longevity. One of my walnut projects has been sitting well-preserved for 18 years. And that's nothing compared to the 400 years Walnut is said to last. 
The Janka Hardness of Walnut is 1010, which is lower than some other wood types on this list. But durability isn't entirely contingent on the surface hardness against vertical force.
What Is an Economical Hardwood?
Hardwoods like Ash, Poplar, and Oak are relatively cheap and are durable enough to serve serious load-bearing functions. Most resources would suggest that all hardwoods that are equally cheap are equally economical.
In my experience, that is not the case. While poplar is definitely the cheapest, I have had the hardest time moving poplar projects in the market.
The term "economical" implies profit. And for hardwood to be economical, it should be compelling enough to command a high price once it is used in a project. From what I gather, ashwood is the most economical hardwood primarily because it doesn't drive down a functional project's price despite being cheap.
Again, the key term here is "functional." A chair that's meant for sitting won't be cheaper just because it is made with common ashwood. However, a decorative chair that is meant to adorn a high-end hotel suite's window-side corner will probably not be made from ashwood.
In my 20 years of woodworking and selling wood craft projects, I have learned that project wood with different selling prices can better economy in different types of projects.
| Economical Hardwood | Most economical in | Rationale |
| --- | --- | --- |
| Ashwood | Staircases, Treats, Large Frames, and Beams. | Since it is one of the cheapest per foot, using it in large-scale applications saves the most money. |
| Oak | Veneers and Decorative Furniture | Despite being relatively cheap, Oakwood has prestige because of its beautiful appearance and the majestic trees it comes from. |
| Maple | High-end furniture and mansion flooring | Maple's strength and durability make it a great fit for high-end flooring and furniture. Customers are willing to pay top dollar for it. |
| Poplar | Cabinets and low-value furniture | This wood's price makes it economical in almost every instance where the customer is not paying for wood quality. |
| Beech | Beech veneers and handles for sporting goods.  | Its best quality is that it is able to handle shocks and impact much better than some rigid hardwoods. |
| Alder | Wood turnings | It is the most economical wood aside from ash that lends itself to woodturning. |
A table showing economical hardwood and what projects you can use it.
What Is the Most Common Hardwood To Buy?
Oak is one of the most common hardwoods to buy as it can be bought from almost any lumberyard across the world. In the Pacific Northwest and Canada, Ashwood is just as common and much cheaper. Buying ashwood will save you up to 50% of Oak's retail price.
If you're thinking about common hardwood, you're probably looking to buy the first hardwood you can get your hands on. I have made that mistake in the past, so I advise you to pause.
Lumber selection is the most important step in a project. When you select a specific type of wood for your project, you already set an upper limit to its retail price. So lumber selection should be based on not just the price of the wood but also how much said price affects the potential customer's choice.
If you don't plan to sell your project, you should still avoid making your purchase based on whatever is commonly available. Find the lumber that is best for the specific function of your project. A chair must bear weight but also be comfortable.
Cheapest Hardwood for Furniture
Hardwood for furniture must ideally have high durability, great ability to bear weight, and workability that allows furniture production in the first place. With these factors in mind, the cheapest hardwood for furniture is different from the cheapest hardwood in general.
Maple is the cheapest hardwood for furniture. Even though there are other hardwoods that are cheaper, Maple is one of the few that is simultaneously cheap, strong, easy to work with, and aesthetically pleasing.
Maple wood can be used in decorative furniture projects as well as in functional ones. More importantly, it is available in most lumber retail establishments. Grain pattern variety is yet another positive.
Of course, poplar and other wood types that are cheaper than Maple can be used for furniture. They would even be technically the cheapest furniture lumber. But my practical experience sides with Maple.
Hardwood Buying Guide
Now that you know everything you need to know about cheap hardwood rates and their relative durability, it is time I communicate a few tips and tricks I have picked up over two decades of lumber sourcing for my own woodwork.
What Is The Cheapest Wood To Buy?
Follow these tips to get cheap and reliable hardwood that's perfect for your projects.
| Recommended least expensive hardwood | Where To Buy? |
| --- | --- |
| Poplar Lumber Board (S4S), Solid, Hardwood  | AMAZON |
| Maple Lumber Square Turning Blanks  | AMAZON |
| White Oak Lumber Square Stock, Solid, Hardwood | AMAZON |
A table showing my recommended hardwood you can buy online.
Consider How the Lumber Is Used by Other Woodworkers 
Ask yourself if a specific type of lumber has been used for the type of project you want to use it for. Don't build a skyscraper out of plywood if it hasn't been done before. Whenever you acquire relatively soft hardwood, look at different things made from it that are already being sold. That will show you what you can build from it. 
Consider the Diversity of Project Possibilities 
When you run through lumber at the rate at which I do, getting bulk orders becomes feasible. But even when you are starting out, you should pick the type of wood that is used in the broadest set of projects. This will enable you to buy lumber in bulk, at a lower price, without having to waste 
Look for Faults 
one of the most common mistakes woodworkers make is that they try to find the best hardwood. But when they try to look for the best, they can easily ignore knots and even mold marks. It is unbelievable how often red flags are ignored when one really wants a specific type of lumber. My personal rule is to try to look for faults in the wood I buy unless I'm buying from a trustworthy outlet.
Shop the Seller, Not the Lumber 
This is something I advocate for regardless of context. The business you buy from and the person who sells the item are worth examining. And that's true for lumber suppliers as well. If the seller is the type who would lie for a little profit, you cannot really trust their material either. I prefer to shop from the same locations over and over, so I find it rewarding to invest a little time in finding the right shop.
Final Thoughts – What Is the Least Expensive Hardwood?
Poplar is the least expensive hardwood, while Maple and Ash are reasonably inexpensive and much more durable. Ashwood can be used in place of Oak for functional purposes, while Maple makes an excellent yet cheap building material for weight-bearing furniture.
FAQ's
What Hardwood Is Cheapest?
Maple, Poplar, and Alder are the 3 cheapest hardwoods. Ash is also a cheap inexpensive hardwood. These will obviously vary given market conditions and the way they were cut from the log.
What Wood Is Most Cheap Furniture Made Of?
Cheap furniture is often made from engineered wood like particleboard, MDF, or plywood due to their cost-effectiveness. These materials consist of wood particles or veneers bonded together with adhesive. While budget-friendly, they may not be as durable as solid wood.
What Is The Cheapest Wood For A Table?
The cheapest wood for a table is typically pine. Pine is readily available and relatively inexpensive, making it a popular choice for budget-conscious furniture makers. However, it's important to note that pine is softer than some other woods, which means it may be more prone to dents and scratches over time.
What Wood Is Lightweight And Cheap?
Pine is a lightweight and cheap wood for most types of woodworking. The next cheapest hardwood is Poplar which is common in furniture where budget is a restraint.
Is Oak A Cheap Wood?
Oak is not considered a cheap wood; it is generally regarded as hardwood and tends to be more expensive than softwoods like pine or cedar.
Rough pricing for oak lumber can range from $4 to $10 or more per board foot, with higher quality or specialty cuts commanding a higher price. Keep in mind that wood prices can fluctuate over time due to market conditions and other factors, so it's a good idea to check current prices from local suppliers or lumberyards for the most accurate information.