If you've worked with plywood, you know that its rigidity, quality, and load-bearing capacity depend on its grade. Cabinet-grade plywood is most commonly used for cabinetry and shelf-building. I have been working with plywood for the last 20 years as a cabinetmaker, and this is what I have learned about plywood warping.
Cabinet-grade plywood will warp unless it is sufficiently waterproofed and shielded from heat. Both heat and moisture can warp plywood over time which makes cabinets made from the material particularly vulnerable in kitchens and bathrooms.
In this article, you will learn more about plywood warping causes and prevention methods. This post compiles what I have learned in over two decades of woodworking. But before we get into the prevention methods, we must look at what makes plywood warp, so you can pick up the prevention tip specific to your situation.
Warping In Plywood: What Happens And Why
To avoid warping in plywood, you need to understand it. I have had plywood warp for multiple reasons in the past two decades, which is why I know what happens to cause warping. In this section, you'll learn from my mistake so you, hopefully, don't make it yourself.
Anytime plywood's uniformity is compromised, it warps. Plywood is a wood board constructed from a series of sheets held together with an adhesive. On one side of the spectrum is the perfect plywood board, with all sheets uniformly glued and held together. 
On the other side is a plywood board where all the sheets are completely loose, and the glue has completely worn out. In the middle is warped plywood, which has some portions holding their shape while the other portions start splitting up. That's what causes the curvature often seen as warping.
Here are the situations in which plywood might get deformed:
Plywood gets wet – When plywood gets wet, the board might absorb moisture to different extents. The wood also dries at different rates causing uneven contraction and expansion.
 
Plywood gets hot – If plywood gets hot, the adhesive holding together wood plies starts to loosen up. Depending on the kind of load on the board, different areas of the board will warp to a different extent.
 
Plywood is cut with a blunt tool – If plywood is cut with a blunt tool, the sheets can start to splinter and split up. As a result, the plywood can warp.
 
Plywood is under uneven load – If different areas of the board are under different levels of stress, the plywood board can start to bow out.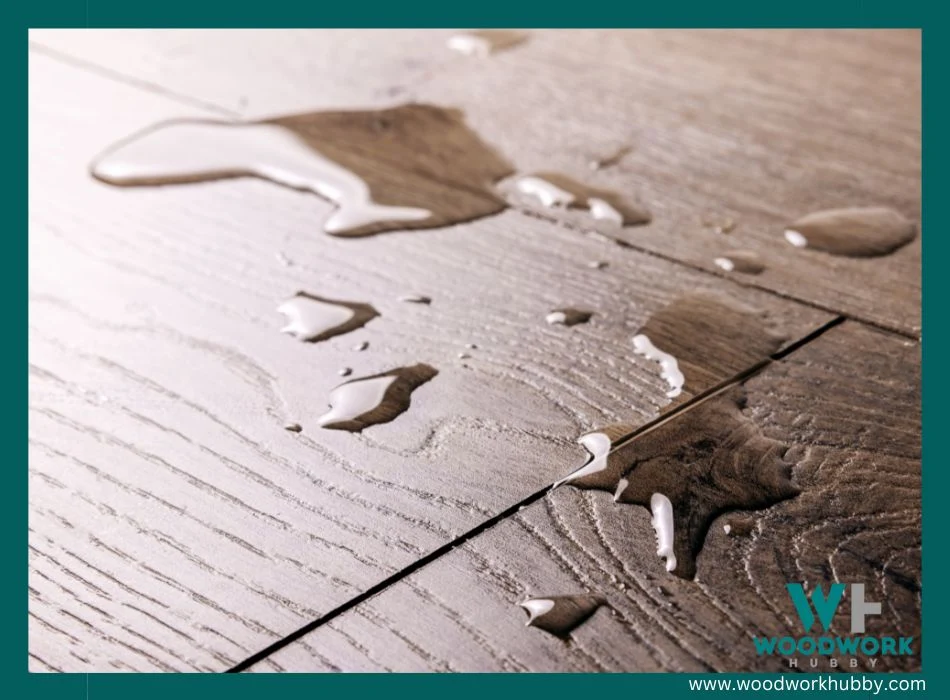 Regardless of the type of project, you plan to build, you do not want plywood that warps. Most high-quality plywood maintains its shape if you take good care of it. Some tips for maintaining plywood structures are covered later. But first, you must know about the type of plywood that does not warp.
What Type Of Plywood Does Not Warp?
Hardwood plywood is the least likely to warp underweight, while marine-grade plywood does not warp because of moisture. Plywood with resin adhesive doesn't warp when exposed to heat. Therefore, the plywood that has the lowest risk of warping is made of hardwood, contains hard resin adhesive, and has marine-grade waterproofing.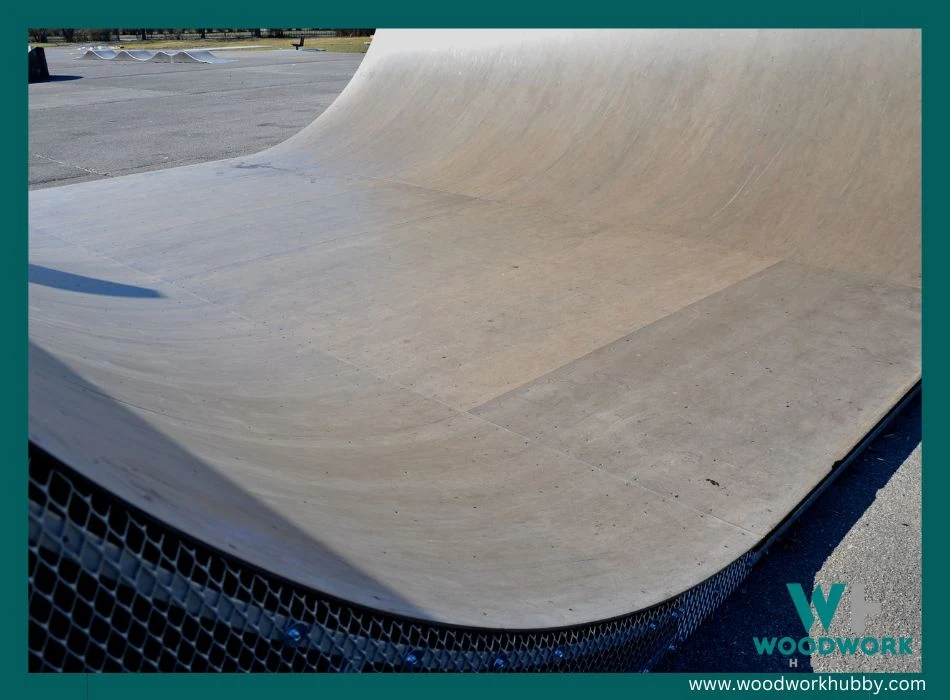 Here is how each of these aspects affects the plywood's structural integrity:
Hardwood plywood – It has hardwood plys, which are far more rigid than softwood sheets. That's why it doesn't bow easily, and even when it does, the difference is barely noticeable.
 
Waterproof plywood – The more water resistant a plywood board is, the less likely it is to warp due to moisture or rainfall. Since the wood in it doesn't absorb water, it doesn't expand or contract unevenly.
 
Hard resin adhesive – Heat can melt plywood glue, making the sheets slide against each other. As a result, the plywood can become semi-malleable and can warp.

If you want the lowest odds of warping, you can get plywood that checks all of the boxes above. But in most cases, you can get plywood that offsets the possible disadvantage in your area/context. I've created a table below to help you cover these bases.
| Situation | Plywood that will not warp |
| --- | --- |
| Kitchen Cabinets | Moisture-proof plywood |
| Outdoor use in a hot area | Pressure-treated plywood with waterproof varnish |
| Outdoor plywood in a rainy area | Marine-grade or BWP Grade Waterproof Plywood |
| Heavy-duty cabinets | Reinforced Hardwood plywood |
A table showing the recommended plywood depending on the location of cabinets.
Will Plywood Cabinets Warp?
Let's suppose you have not had the time to refer to the table earlier and already have the plywood you plan to use for cabinetry. Is this plywood bound to warp, you might wonder.
Plywood cabinets will warp unless it is sufficiently waterproofed and kept away from heat. However, the extent to which it will warp and how long it will take to do so both depend on the quality of its construction and contents. Not all plywood is made alike.
Aside from the contents of your plywood, the thing that matters the most is how much breathing room the plywood has. The more breathing room there is in its construction, the less likely it will bow. But you cannot hang your hat on the construction alone. You need to either select plywood that is least likely to warp or do what you can to keep the plywood from warping.
How Do You Keep The Plywood From Warping?
To keep the plywood from warping, you need to minimize its water exposure. You also need to reduce the heat that can get to the plywood and avoid putting an uneven weight at its center. The action you must take depends on why certain plywood board is at risk.
| Risk to plywood | How to keep it from warping |
| --- | --- |
| The moisture in the atmosphere might get absorbed by the plywood | Waterproof the plywood board or get a dehumidifier |
| The sunlight might melt the plywood adhesive | Use a shade to remove direct sunlight contact and coat the plywood in UV-resistant varnish. |
| The weight on the plywood might be too much to handle | Reinforce it with hardwood or use hardwood plywood |
| The cabinet might be joined too tightly | Loosen up the joinery to facilitate breathing |
A table showing all the risks to plywood and how to keep it from warping.
While most of what's covered above can help reduce situational warping, let's go over the steps that can help reduce warping in general. Regardless of the grade or the make of the plywood you currently have, you can use the following steps to keep it from warping.
Coat The Plywood With Waterproof Varnish/Paint/Primer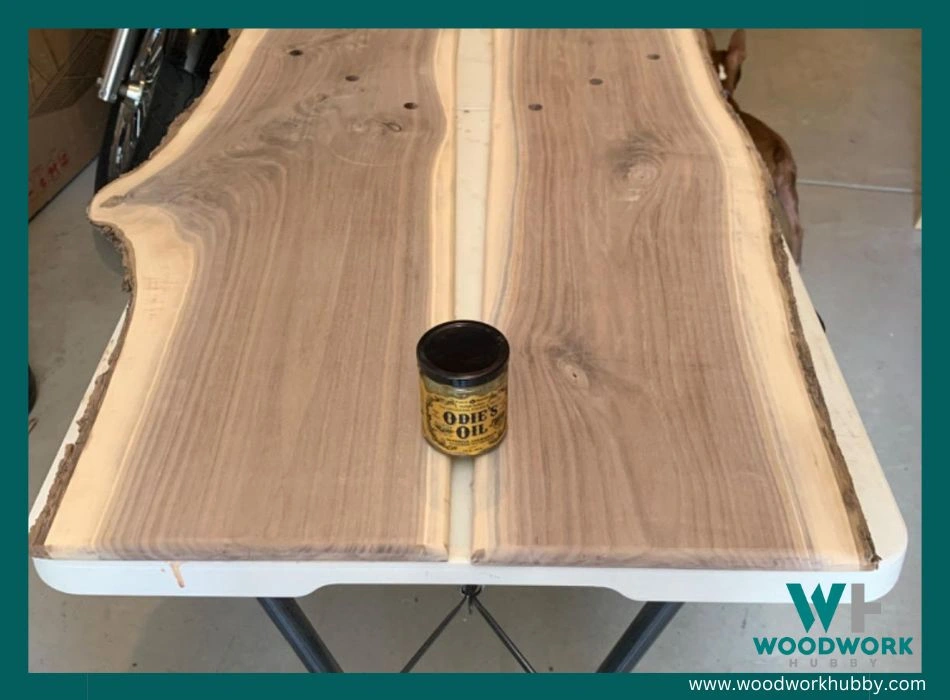 The coat you use to cover the plywood will affect its appearance. But the fundamental aspect that matters the most in this situation is that the coat creates a water-resistant film. The better you seal the plywood, the less likely it is to warp due to water exposure.
Odie's Oil is my favorite finish in general, though it might be expensive for a plywood project. But the best part about this finish is that it works on virtually every surface, including leather and plastic. That means you won't be using it for plywood only. It has a waterproofing, beautifying, and strengthening effect. It is especially appropriate for kitchen cabinets because it is 100% food safe.
Odie's oil is solvent-free and features no chemical preservatives, which means it is a natural blend of oils and waxes. With over 2900 reviews and ratings, it has a global average of 4.8 stars on a 5-star scale, which is among the highest for any product across any category.
Odie's oil
That said, if you have any waterproof primer, varnish, or paint that can adhere to the plywood surface, you can use that instead. The only reason I covered Oldie's in depth is because of how passionate I am about it. But almost any waterproof coat can work.
If you want something that's easy to apply to a finished product, try Helmsman Spar Urethane Spray. As long as you carefully spray the cabinet and cover all exposed areas on the outside as well as the inside, you will have a plywood cabinet that isn't as likely to warp. It has over 7,600 reviews and ratings but has a comparatively shorter collective average of 4.6 stars on a 5-star scale.
Helmsman Spar Urethane Spray
Add Appropriate Support To Each Plywood Sheet
The less stress there is on a plywood board, the less likely it will warp due to weight.
Whether you have plywood sheets that are too thin or ones that are too small, using an appropriate construction mechanism, especially when it comes to joinery, will help you minimize the pressure on each board. The less stress there is on a plywood board, the less likely it will warp due to weight. So, in addition to coating the boards or the project in a waterproof finish, you need to use appropriate joinery and shelf support to keep the boards from coming under uneven pressure.
Loosen Up The Construction
On the subject of joinery, one more thing you can do to improve your plywood's overall structural integrity is to leave breathing room in the joints. All wood expands and contracts to an extent. Plywood contains wood material that might similarly expand and contract, especially after its waterproof finish begins to decline. By simply leaving minute breathing room in between joints, the expansion and contraction of plywood won't warp the plywood.
Use Weight For Straightening Purposes
The final way of keeping plywood straight in a cabinet context is to use weight. Uneven weight might promote bowing, but if the weight is distributed evenly, it will have the opposite effect.
If you read my post on drying wet wood, you will notice that weighting down the lumber is crucial in the drying process as it prevents wood from losing its shape as it dries.
In plywood cabinets, the shelves are under enough weight to prevent warping. However, there is a serious lack of even pressure on cabinet doors. Moreover, they are at the highest risk of moisture and water exposure.
How Do You Keep Plywood Cabinet Doors From Warping?
As mentioned earlier, cabinet doors do not have the weight advantage that shelves do. Moreover, they are the first line of contact for moisture in a kitchen or a humid bathroom. So what can you do to keep cabinet doors from warping if you cannot weigh them down?
You can use a spar urethane sealing spray to coat the plywood cabinet doors and refresh the coat with enough regularity to keep the plywood doors from warping. Sufficiently waterproof plywood doors will not warp or split, provided that they are made from high-quality plywood.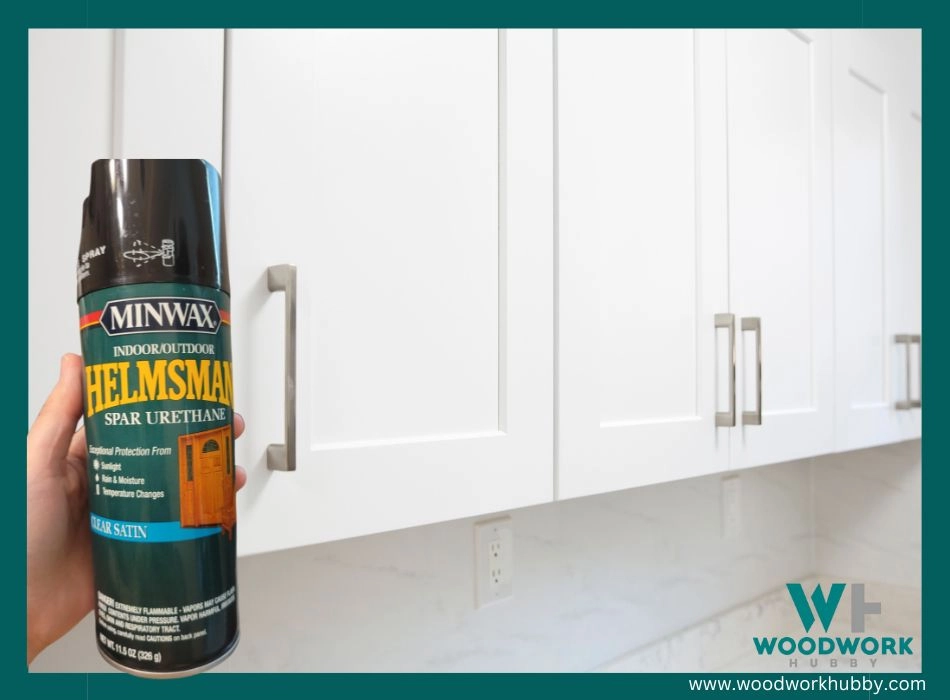 Warp-Free Plywood: Getting It Vs. Building It
Warp-free plywood is simply waterproof plywood. Hardwood plywood usually doesn't warp as long as it isn't drenched in water for an extended period. Heat can technically warp any plywood, but we don't practically reach temperatures that would hurt plywood in a regular cabinet context.
You have two options to make warp-free plywood. The first is to get plywood that is 100% warp-free. The second is to waterproof plywood at home. Both have their respective advantages and disadvantages.
If you already have cabinet-grade plywood, and it isn't BWP-grade waterproof, you can simply use one of the sealants or finishes covered earlier to waterproof the boards. None of the advantages of marine grade plywood in this situation are significant enough to warrant buying new plywood if you already have plywood.
Trust me, I was worried sick about warping at one point. You don't want your effort to be washed over by the project material's weakness. Sealing the plywood will make it as good as moisture-resistant plywood to a practical effect.
However, if you don't have plywood and are about to buy it, it is much better to get at least moisture-proof plywood, if not waterproof. The more "bare" your plywood, the more you have to do to keep it from warping.
In either case, I would recommend baltic birch plywood because of its structural integrity and overall hardness. In my estimation, it is the least likely to warp whether you get it in a waterproof variety or waterproof it at home.
Final Thoughts – Will Cabinet Grade Plywood Warp?
Cabinet-grade plywood is sturdy enough to be used for cabinetry. However, it is not warp-proof, and using it in kitchen and bathroom cabinets is risky since both environments can have plenty of steam. Steam, moisture, and water can all warp plywood cabinets, but if you sufficiently waterproof the two, the plywood will not be as vulnerable.