One of the problems I often face is having paint left over after I am done painting a project. After I finished painting the trim on two windows, I had some latex paint left over. It wasn't enough to cover the door frame, so I thought, can you paint cabinet grade plywood with it?
You can paint cabinet-grade plywood with latex paint as well as acrylic-based paint. Cabinet-grade plywood has decent adherence to water-based paints and can be primed for further paint durability, better waterproofing, and aesthetic appearance.
In this article, you will find out everything I learned about painting plywood including the types of paints that are best for the surface. You will also discover the pros and cons of different paint types, alongside the best practices of applying paint to cabinet-grade plywood. But let's start with the topic of paint selection.
What kind of paint do you use on plywood cabinets?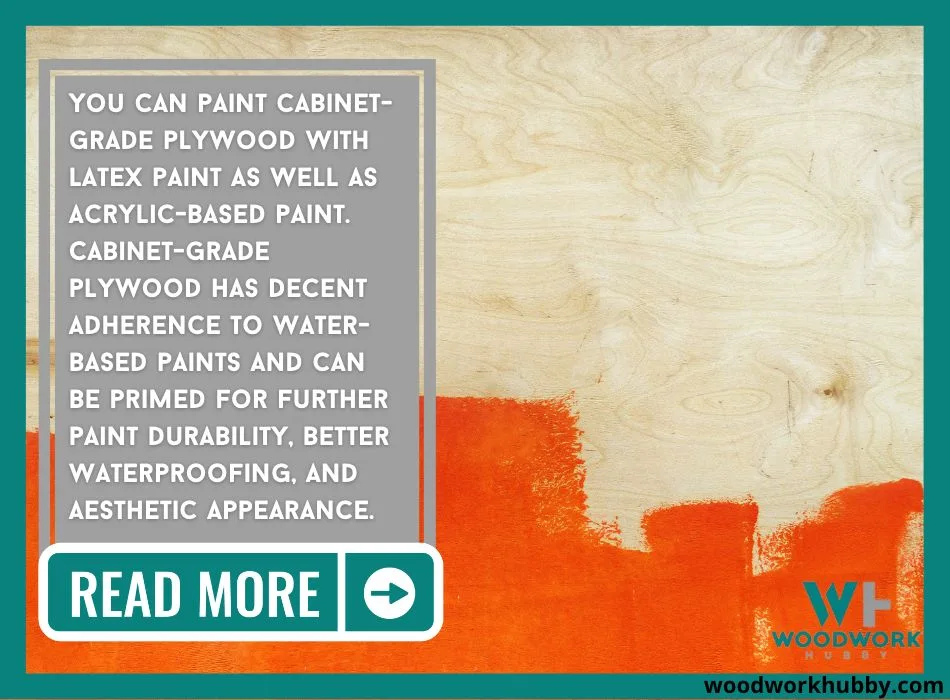 The best paint to use on plywood cabinets is water-based. More specifically, Latex and Acrylic paints are the main water-based paint options you have. Both have different costs and appearances but can adhere well to primed plywood.
Latex paint has somewhat of a matte effect and is much smoother than oil paint. It is best to opt for latex paint if you want to have an opaque cabinet with solid colors.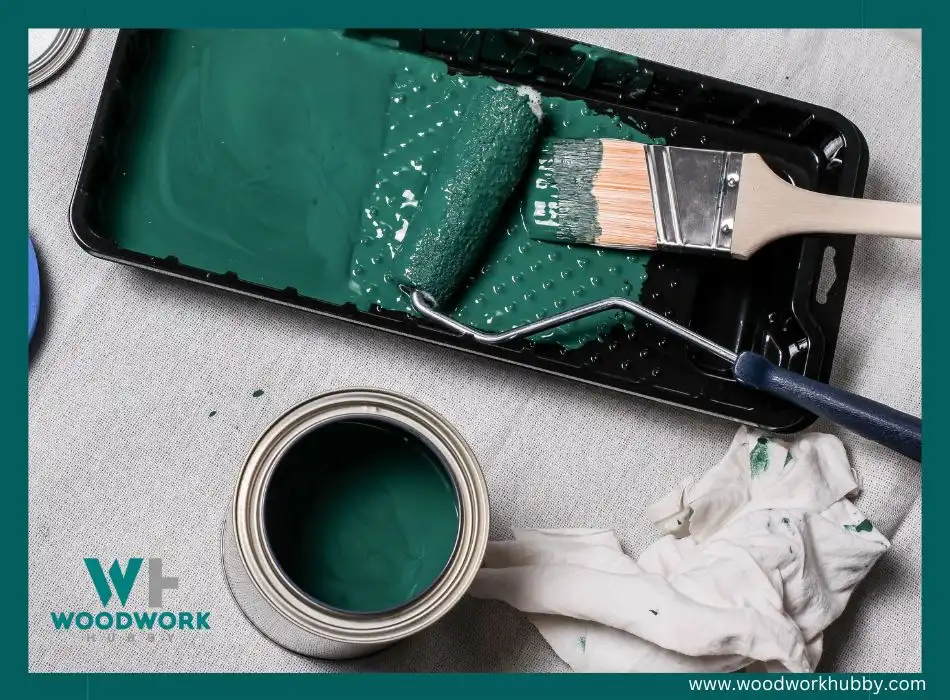 In contrast, Acrylic paint is thinner and requires multiple coats for higher opacity. It is best for dye jobs and bright popping colors. Since acrylic colors have higher saturation than latex, you should use acrylic-based paint only if it makes aesthetic sense to have a brightly painted cabinet.
Aside from the appearance of both paints, they vary in other ways as well. Let's look at the main pros and cons of these water-based paints for plywood cabinets.
Pros And Cons Of Acrylic Paint On Plywood.
Acrylic paint products are often recommended for most interior use cases when it comes to plywood. Let's look at the strong points and drawbacks of acrylic paint on plywood.
The pros of cabinet-grade plywood are as follows:
It doesn't change appearance over time – Acrylic paint is solid unlike oil-based paints and retains its appearance over time. The paint you apply is the color you get.
 
It is more vibrant than latex – With better saturation, the color of acrylic paint pops better.
 
It is not toxic – If you have pets or kids, acrylic paint is safer as they might get exposed to semi-wet cabinet walls.
 
It can be painted over – If you change your mind regarding the appearance of your plywood cabinet after painting it, you can paint over the previous acrylic coat with a different one.
The cons of acrylic-based paint are:
It is more expensive than latex paint – While you can use multiple coats to completely do over your cabinet color, acrylic-based paints are more expensive and can inflate your paint job budget.
 
It doesn't suit neutral aesthetics – Neutral aesthetics are popular in contemporary culture, which means you most likely have somewhat of a neutral palette in your house. Acrylic paints can appear too poppy and childish in such a context.
 
It requires multiple coats – Acrylic paint isn't just expensive by the ounce, it is also less effective per applied unit. You have to apply three layers of acrylic paint to have the same opacity as a single layer of latex paint.

Pros And Cons Of Latex Paint
Aside from acrylic, the second most recommended water-based paint option is latex, which is admired for its adherence and relatively low profile. Let's look at the individual pros and cons of this water-based option for plywood cabinets.
The pros of latex paint are:
Latex paint is cheaper than acrylic paint – Acrylic paint requires more volume for coating and is priced higher per ounce, which makes it doubly expensive in a paint job project.
 
Latex paint is easy to apply – Latex is beginner-friendly, which means it can be applied easily, even on surfaces like plywood.
 
Latex paint is easy to fix – If you mess up a layer of latex paint, you can touch it up without many complications.
 
Latex paint dries quickly – Latex paint can be irritating for some pets but it dries quickly, minimizing the accidental ingestion risk.
 
Latex paint doesn't crack or peel easily – Once dried, the latex paint coat becomes pretty uniformly rigid. It doesn't peel off easily, especially if applied with proper priming.
 
Latex paint doesn't fade – Latex paint might appear less vibrant initially but it retains its brightness for a long time. Oil paints yellow and fades more easily.
 
Latex paint is cheaper than acrylic – Not only is latex paint cheaper than acrylic by the ounce, but it is also cheaper in that less of it is used in the same area.
 
Latex paint requires fewer coats – As mentioned earlier, latex paint saves money because you don't have to use more of it. This cost-saving factor brings down the project painting costs by 15%. The actual price difference between acrylic and latex paint brings it further down by double digits.
 
Latex paint can be cleaned with water – Cooking ingredients might stain your kitchen cabinet. Fortunately, latex paint can be cleaned easily with water.
 
Latex paint matches a broader range of aesthetics – Latex paint, being of a less intrusive vibrance, can easily match a wider range of aesthetics.
The cons of latex paint are:
Latex paint isn't very bright – Latex paint is relatively toned-down, which can be a plus in many instances but not when you want a brighter coat like for a child's cabinet.
 
Latex paint coats can have more brushmarks – Latex coats are thicker, which means any brushmarks on them are more prominent. Latex paint doesn't self-level.
 
Latex paint isn't as durable as oil and acrylic – While latex paint is great in many ways, it falls short in terms of lifespan. That's why it isn't a great choice for a project meant to last more than 5 to 8 years.
From a comparison of latex and acrylic paints, it is clear that one is better for vibrant interiors while the other is for neutral ones. Latex paint is cheaper, but you might have to refresh it when it starts to lose traction.
This brings up two important aspects of applying water-based paint on cabinet-grade plywood: priming and paint storage.
How Long Can You Store Latex Paint?
You can store latex paint for up to 2 years in a cold climate and 10 years in a warmer region. Unopened cans can last 15 years. Given that the latex paint coat needs to be refreshed every 5 years, it is better to buy new latex paint.
So if you get a bucket of latex paint, you might be able to use the leftover paint to refresh the cabinet 5 years later. But that would be feasible only in a warm state like California.
If you are in a cooler area like coastal Oregon, you should use the leftover paint for other projects before 2 years.
With the storage question out of the way, let's address priming as it affects the longevity of the paint job on the cabinet.
Do I Need To Prime Cabinet-Grade Plywood?
You need to prime cabinet-grade plywood before you paint it so that the paint job has maximum adhesion and waterproofing. Moreover, the right primer ensures that the paint job looks the way it is intended to look.
Zinsser 02004 Bulls Eye All-Surface Primer is the best primer for plywood cabinets and furniture. It works for other surfaces as well, so the leftover isn't wasted. With over 3,800 reviews and ratings, Bulls Eye primer has an average of 4.6 out of 5 stars. More specifically, it has 5 stars for durability, 4.5 for its ease of use, and 4.4 stars for adhesion.
Zinsser 02004 Bulls Eye All-Surface Primer
As a rule of thumb, the more porous the wood, the better it looks with a primer. To that extent, plywood doesn't really need a primer for smoothness' sake. It needs a primer for waterproofing and paint adhesion.
Between acrylic and latex paints, latex coats need a primer undercoat more than acrylic, but both types of paint benefit from surface priming. That's why it is better to err on the side of caution and prime cabinet-grade plywood before painting it.
Here are the pros and cons of priming cabinet-grade plywood.
| Pros of priming plywood | Cons of priming Plywood |
| --- | --- |
| A paint coat lasts longer when applied on a well-primed surface | It costs more to get and use primer |
| With waterproof primer, the plywood lasts longer | It takes longer to finish the paint job with a primer |
| Your plywood paint job looks the way you want it to look | |
| It takes fewer paint layers to bring out the intended color | |
A table showing the pros and cons of priming cabinet-grade plywood.
The short-term advantage of not priming cabinet-grade plywood is that you can finish your project quickly. Even the money saved not buying primer is lost in the excess paint used to make the paint job opaque enough.
Similarly, the time saved finishing a paint job without priming is ultimately lost when the paint is peeled off, and you need to refresh the coat or repaint the plywood. In either case, priming doesn't seem as optional as some might make it to be.
Let's suppose you don't want to prime your plywood cabinets and want to go straight to paint anyway. Is that possible? Technically, yes.
Is It Possible To Paint Plywood Cabinets?
You can paint plywood cabinets with or without primer, though you should use an appropriate primer and water-based paint for longevity. But even suboptimal paint choices can work on plywood cabinets, as this woodboard isn't very restrictive.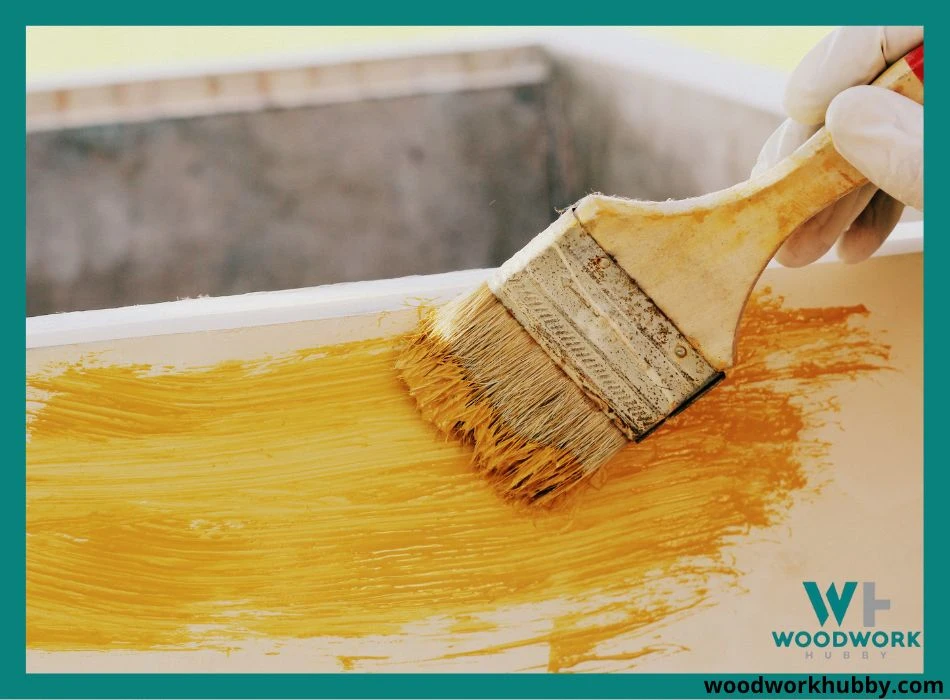 Oil-based paint can technically be applied to plywood, but how well it turns out depends on the grade of the plywood. Acrylic enamel paint is best for grade-A birch plywood. In contrast, construction-grade plywood is best left uncoated.
If you're not familiar with different grades of plywood, don't worry. You do not need to know about all the types when you want to build or paint a plywood cabinet. The only category you should be concerned with is cabinet-grade plywood.
What Is Considered Cabinet-Grade Plywood?
Cabinet-grade plywood is plywood made from hardwood sheets and used in cabinetry and furniture-making. It doesn't always have the lamination job that laminated plywood does, but it can also come pre-laminated.
The finish of the cabinet dictates the painting choices and practices. The grade of the plywood, on the other hand, dictates how long the plywood will last and the types of projects it should be used for. In the section below, you will find out more about how lamination can affect plywood.
The Best Practices For Painting Cabinet-Grade Plywood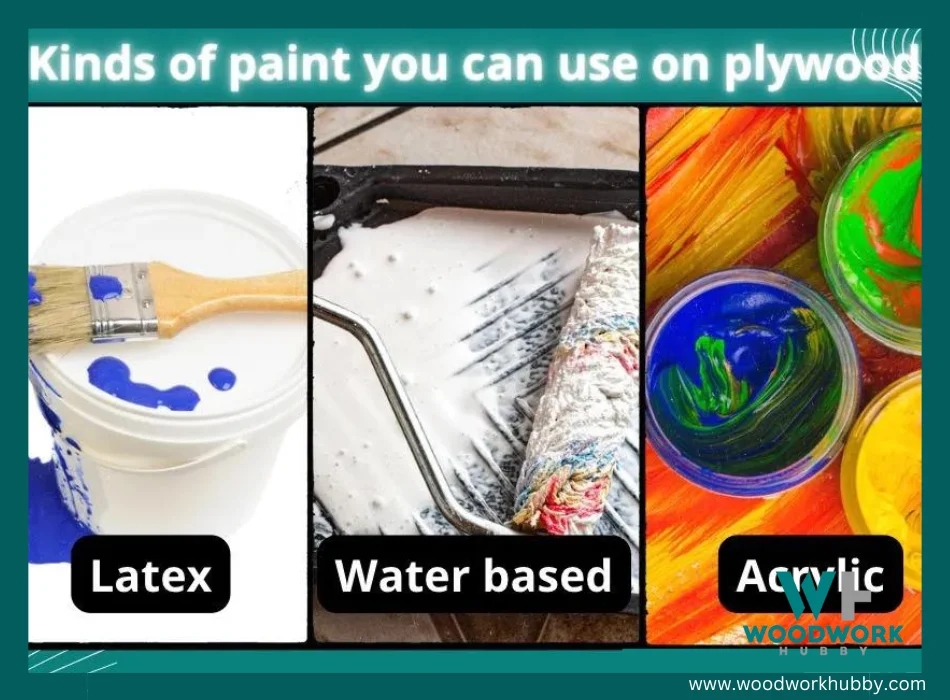 If you purchase plywood at your local big box store, it is most likely cabinet grade. Most plywood that is intended for non-sheathing use is usually cabinet grade. In other words, the following practices should be held up for pretty much any type of hardwood plywood.
Select the right paint – As this article points out, latex and acrylic paints are ideal for cabinet-grade plywood. Oil paint isn't ideal for most plywood surfaces.
 
Prime with a waterproof primer – Waterproof primer can help make your cabinet last longer, alongside making it easier to paint.
 
Apply in the direction of the top grain – Applying in the direction of the top grain is important because it minimizes awkward brushmarks and makes the paint look natural.
 
Use the best quality brush possible – The secret to a smooth layer isn't the paint selection alone but also the brush selection. Use a brush with slim bristles and soft contact to get a cohesive coat.
Final Thoughts – Can You Paint Cabinet Grade Plywood?
Cabinet-grade plywood can be painted with water-based paints as long as it is appropriately primed. Latex and Acrylic paints can work depending on whether you want a relatively neutral or bright color. In either case, you should apply paint with a high-quality brush and paint along the direction of the top grain.