A few days ago, I had left a single MDF plank vertically standing against my bathroom wall. I intended to take it out, but within three days, it was swollen at the bottom, and its fibers were coming off in wet powder form. I decided to write this post to make sure no one accidentally uses MDF in a bathroom.
You cannot use MDF in a bathroom because water splashes, as well as trapped humidity, can degrade the MDF causing it to swell. Never use MDF for baseboards or close to the shower. And if you use it for crown moulding, you must ensure proper ventilation and seal the MDF.
In this article, you will find out everything you need to know about using MDF in bathrooms and elsewhere in your house. Among the things you will learn is how long MDF can last in the bathroom in different applications, where MDF trim should be used, and what material you should use for the bathroom trim and molding.
But first, let's look at the main question in a little more detail.
Can MDF Baseboards Be Used In A Bathroom?
MDF baseboards should not be used in a bathroom because of the mandatory water exposure of bathroom baseboards. Moreover, the heat and steam in the bathroom can further degrade the MDF baseboard.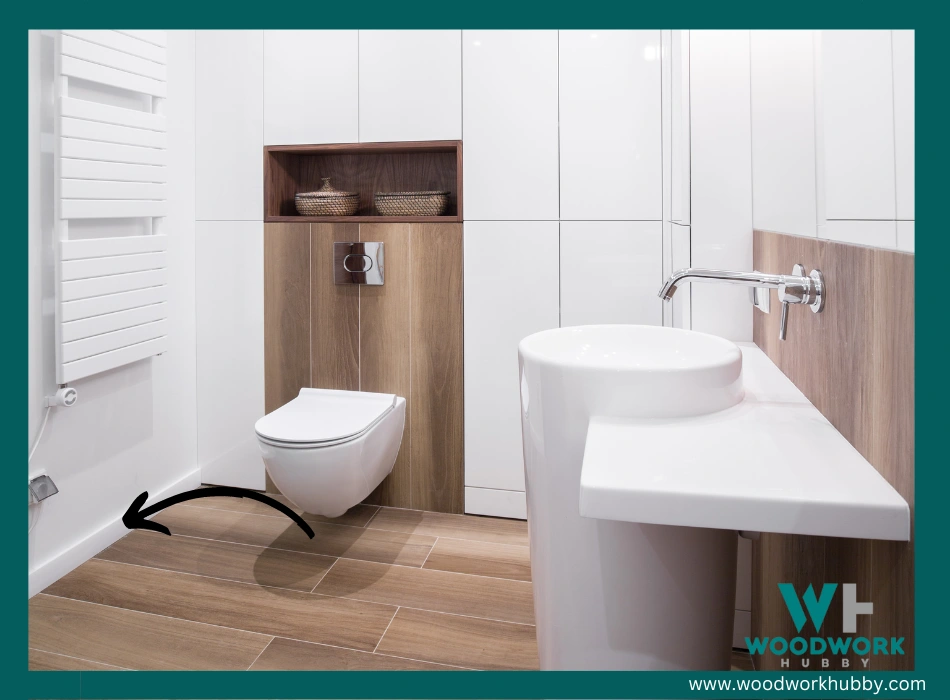 The greatest danger to the MDF baseboard isn't heat or steam but actual liquid water. If your bathroom is designed such that the baseboard is unlikely to get wet, then you can use MDF baseboards. They will last up to a year.
If the MDF keeps getting wet every time someone takes a shower, the baseboard will deteriorate within months. Unlike plywood, waterproof MDF isn't really a thing. And even sealing MDF doesn't make it completely immune to the ill effects of being drenched.
Then why would you want to have MDF baseboards in the bathroom? Here are a few reasons you might have in mind, alongside an explanation for why each one isn't worth it.
You already purchased MDF baseboards – This is the most common reason people end up using MDF baseboards where they shouldn't be used. Just because you have, it doesn't mean it is okay to use it anywhere. There are plenty of areas to use MDF trim, but the bathroom isn't even among the top 50 acceptable spots for MDF.
 
MDF baseboards are cheaper – When you consider the price of alternative trims, you might find MDF to be much cheaper. But given that MDF trim goes bad within a year of being fixed in a bathroom, what you pay for isn't the cost of the trim but a yearly subscription. Buying Polystyrene or PVC molding once is much better than buying MDF molding every year.
 
You want the bathroom baseboards to match the ones in the rest of the house – I have been given this reason a few times. The easiest way to match the aesthetics of the trim is to simply have it match in color but differ in material. You can use MDF trim and Polystyrene trim of the same color in the bedroom and bathroom, respectively.
The information above might not make you happy, but it will save you a lot of trouble. If you happen to have plenty of MDF trim around or have actually installed it in the rest of the house, you might be worried about it getting wet. As long as the MDF trim is out of the bathroom, it can have a fair degree of longevity. Still, you have to keep it from getting wet.
Can MDF Trim Get Wet?
MDF trim should not get wet. It can resist moisture, so a humid environment doesn't degrade it significantly. But if the humidity condenses on the MDF or liquid water splashes over it repeatedly, the MDF can start deteriorating rapidly.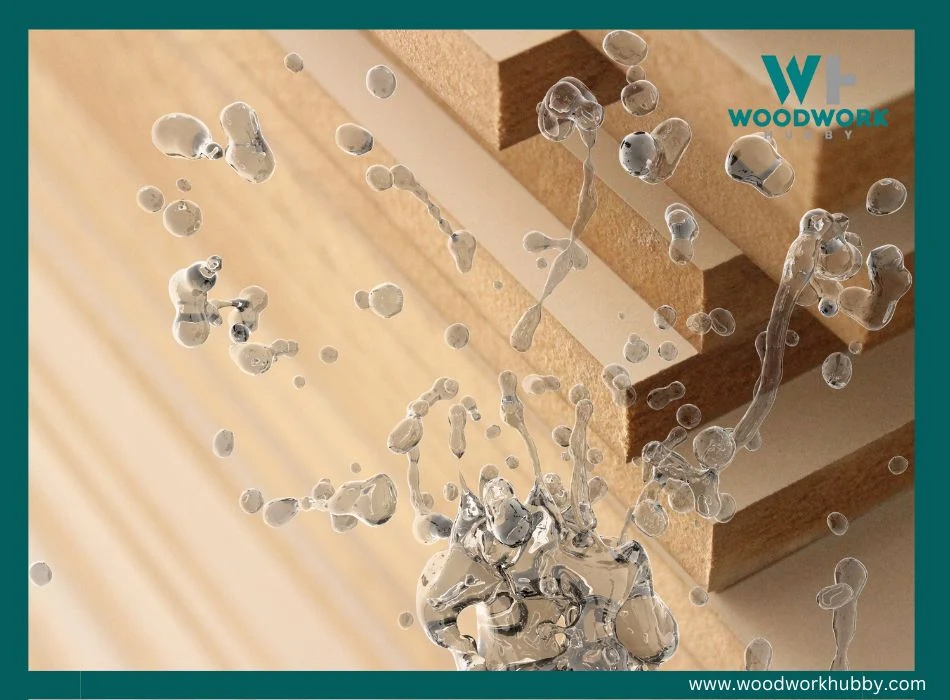 So, how often can MDF be exposed to water and survive? Since I have worked with MDF for two decades, I have seen it get exposed to varying extents. The table below can better communicate the frequency with which MDF can resist water.
| Water exposure context | Effect on MDF | Implication |
| --- | --- | --- |
| A single water splash (accident) | The MDF board can survive if dried immediately | Dry MDF with a rag and a blow dryer if you accidentally spill water on it. |
| The steam condenses on a cold MDF board | The MDF board can survive, but its lifespan gets reduced | Avoid using MDF in high-heat, humid environments. |
| Constant water splashes | The MDF starts to degrade. Fibers start detaching. | Never use MDF where it will have close proximity to water. |
| High humidity (no liquid exposure) | The MDF will be fine | MDF can be moisture resistant. |
A table showing the effects and implications of MDF water exposure.
Now that you know the contexts where MDF actually degrades, you can see that the boards you might own could fit perfectly in your rooms and halls, just not the bathroom or the kitchen. And if you want to stretch it, you can even use them in the kitchen and the bathroom, but only in spots you can bet won't ever get wet.
If you can bet $50 that the ceiling of your bathroom won't get wet, you can attach $50 worth of MDF close to the ceiling. It is a gamble, but not one that is guaranteed to go bad each time.
Can I Use MDF Crown Molding In The Bathroom?
You can use MDF moulding in the bathroom if the MDF is properly sealed, the bathroom is appropriately ventilated, and the moulding doesn't get water splashed on it. With all of these conditions fulfilled, MDF moulding can work for a bathroom.
Let's dissect the conditions and why non of them are negotiable. To install crown molding in a bathroom, the following must be valid:
The MDF should be sealed – While MDF is moisture resistant, it isn't resistant enough to constant humidity.
 
The ventilation should work – The moisture should pass out of the bathroom before it starts to condense. Otherwise, the MDF will get wet and start to lose its cohesive structure.
 
The moulding should be out of the reach of water – As mentioned earlier, MDF is not water-resistant and can rapidly deteriorate with frequent exposure.
Crown moulding is usually high enough that it doesn't get damaged immediately when used in a bathroom. I would still not use it personally in a risky environment. Imagine your bathroom exhaust fan breaking down and the molding losing shape shortly after.
It is better to use MDF moulding elsewhere, so you don't have to make sure that three to four conditions stay the same. Best woodwork is one you don't have to constantly think about, and MDF in a bathroom is the opposite of that. 
There are places outside the bathroom as well where MDF is suboptimal. When you think about it, it is a very limiting material for trim.
Where Should You Not Use MDF Trim?
You should not use MDF trim in the bathroom, near the floor, around window exteriors/sills, near plumbing outlets, and in the kitchen close to the stove. It should also be kept away from areas that get too hot or too cold.
It might seem like I am exaggerating how bad MDF trims can be, but that's not the case. Here is why MDF trim can be bad in different contexts.
Bathroom – MDF can get wet in the bathroom. The closer it is to the ground, the higher the odds of it getting wet.
 
Kitchen – There is a lot of humidity in a kitchen, and condensation occurs whenever something is boiled, and the kitchen returns to room temperature. Aside from that, there can be actual liquid spills as well.
 
Window exterior/sill – Windows usually feature glass which is colder than air. This means that the humidity can turn into water droplets, making the sill wet. On the exterior side, MDF trim can get wet from the rain. In either case, wet MDF is bad news.
 
Around plumbing – Water leaks are problematic enough. You don't want your plumbing problem to turn into your MDF problem.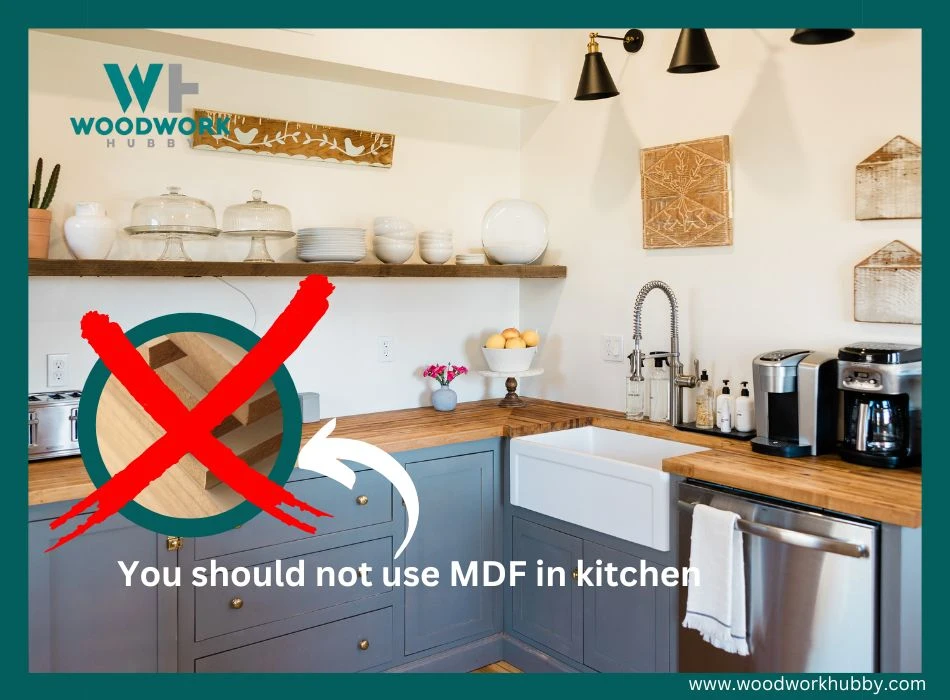 Where Can You Use MDF Trim?
Just to prove that I am not anti-MDF, I have to point out a few places where MDF trim and crown moulding can be used. If you have bought MDF trim and are looking to install it, there are a few use cases where the trim stays pretty safe.
You can use MDF trim in all rooms except the bathroom and the kitchen. It can also be used for siding and framing purposes in any space that doesn't have a lot of humidity and where the chances of water splashes are low.
Here are places where I would be comfortable using MDF trim:
Bedroom – The floors and the ceilings don't get wet, and there is no source of constant humidity and water vapor.
 
Living Room – The living room might have water spills, but the trim isn't likely affected.
 
Hallways – The hallways are high-traffic, but that affects the floor and not the side trim.
 
Stair Siding – Stair siding might get wet, so I would be a little cautious with this.
 
Clothing cabinet accents – This is a dry environment unless one stores liquids in the clothing cabinet.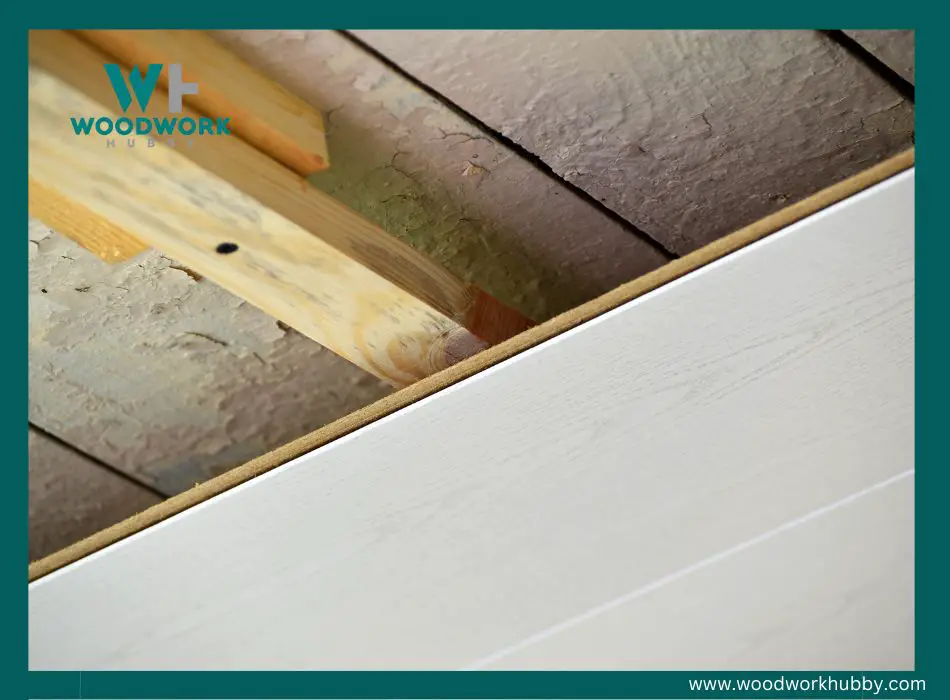 Now you know what to do with the MDF trim if you already have it. But if you intend to buy it for your bathroom, you already know not to get it. So what should you get instead?
Best Trim/Moulding For Bathroom
The best moulding or trim for your bathroom is usually not made out of wood. You can get something rigid that is reminiscent of traditional wood. And that would be made out of polystyrene like this Orac Decor Crown Moulding. It is also available in Baseboard format.
Orac Decor Crown Moulding
The best moulding or trim for your bathroom
It can be used for indirect lighting applications in a variety of different environments
Resistant to moisture and can be used in both indoor and outdoor environments with no problem
Extremely versatile, lightweight and feature large profiles without buildup
4.5 ⭐⭐⭐⭐⭐
There are also alternatives like a stick and peel trim, and I personally do not like those. They aren't as water resistant as they claim to be and are worse than MDF in some cases. 
The material of the trim itself doesn't deteriorate upon getting exposed to water. But the adhesive behind it comes loose with humidity and water, making the foldable trim useless.
Moreover, it starts looking tacky. Rigid trim is much better because it is permanently fixed. The only option that compares to polystyrene in water resistance is PVC. This is the material that many pipes are made out of. 
So there is no question as to its ability to remain in shape despite water exposure. My problem with PVC trims is that they do not look good. They appear plastic-like, and that can make your bathroom look tacky.
Final Thoughts – Can You Use MDF In A Bathroom?
MDF should not be in the bathroom, especially not close to the ground. If you have no other material besides MDF for your bathroom trim, then your bathroom should just not have a trim. Polystyrene is a material better suited for the bathroom environment.