I have had wood cut at Ikea and a few other big boxwood stores, and I think they have spoiled me. Now I expect to have the wood cut to size at almost every establishment. The Bunnings in my area actually cuts wood, but I wasn't sure I could get my MDF cut to size there.
Bunnings will cut MDF to size as long as the specific store has a cutting section. With many Bunnings stores equipped with saws capable of cutting MDF, plywood, and solid wood, most bunnings will cut MDF for $0 to $7, depending on the number of cuts.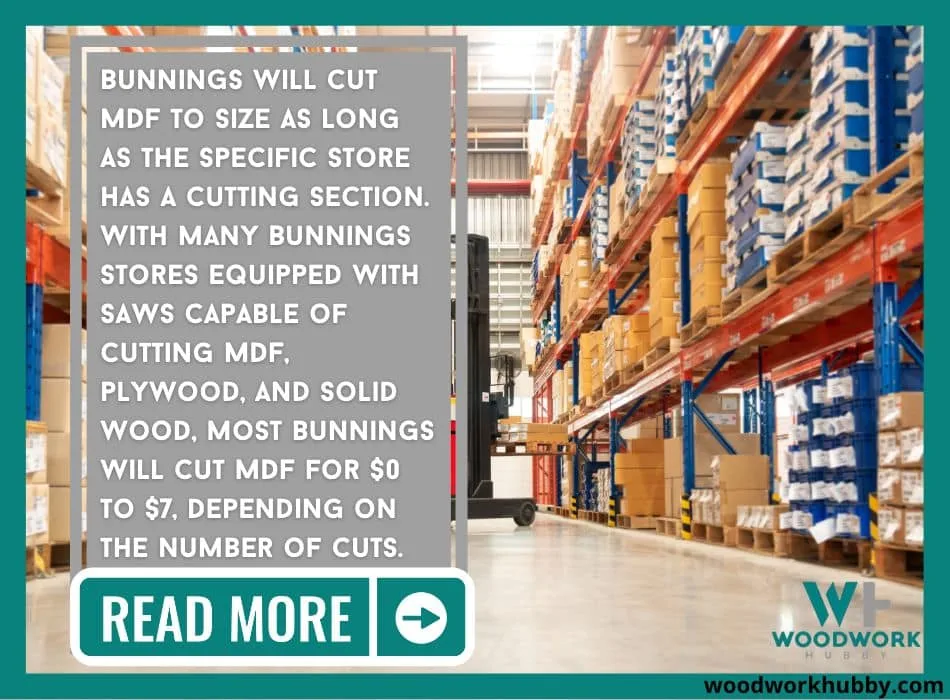 In this article, you will learn more about the pricing of cuts at Bunnings and the types of cuts they can make. You will also find out if you can get wood purchased from elsewhere cut at Bunnings, among other things. So, let's get started with the exact number of cuts bunnings can make for you.
How Many Cuts Will Bunnings Make For You?
Bunnings will make as many cuts for you as you need, but you will be charged after the first cut in the case of panels and sheeting and after the first two cuts in the case of timber docking.
Bunnings doesn't limit cuts because it can take at least two cuts to get wood to a specific size. However, it does place a limit on the number of cuts you can get for free so that the cutting corner of the establishment doesn't get misused.
You can get wood or wood board cut so that it can fit in your vehicle or get it to the exact size you need for your project. The latter might require multiple cuts, which might cost you $1 to $7, depending on the number of cuts.
Before we get into the prices of wood-cutting at Bunnings, let's look at the types of wood and wood boards they cut.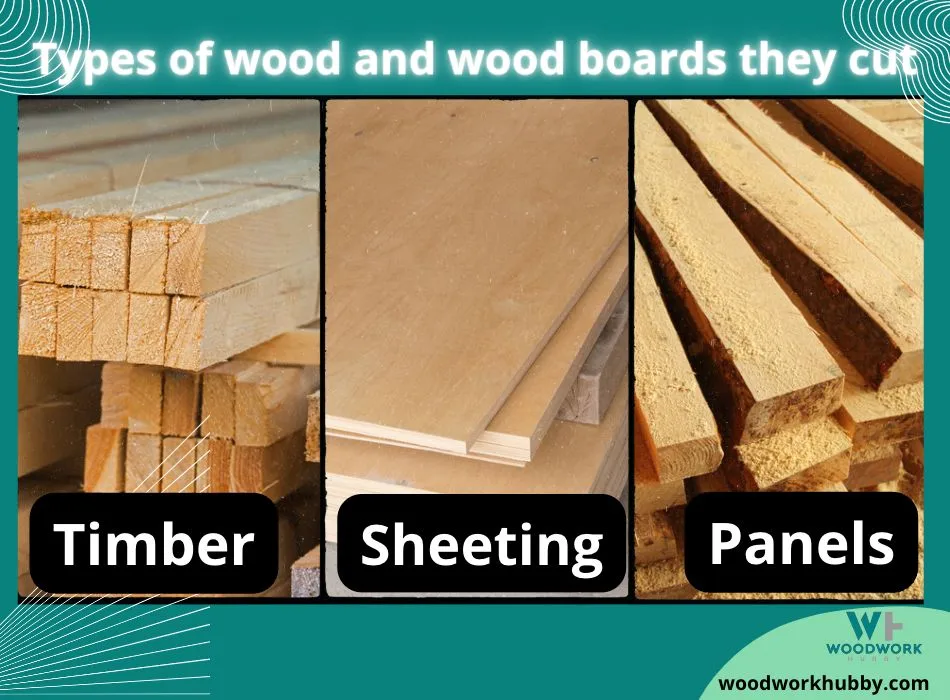 Timber Docking – This is usually longer wood type like trims, baseboards, and molding. They are usually cut in one direction only, at a 90-degree angle. You can get these materials cut to the length you require. Bunnings offers two cuts for free before you are expected to pay 50 cents per additional cut.
 
Panels – This is more of a classic board and plank structure common for lumber. These materials can be cut horizontally and vertically to drive down the width and depth. Since cuts in one direction are sufficient to make panels easy to carry and store, you only get the first cut for free. After that, you're expected to pay a dollar for every cut. On average, you have to pay $1 for the initial sizing attempt because the panel has to be cut along the width and the height.
 
Sheeting – Sheeting is a much slimmer version of the panel. Wood veneer, thin plywood, and decorative composite sheets are all examples of sheeting. Like panels, sheeting can be cut across width and height. Only one cut is free, and additional cuts cost a dollar. Since it is almost always necessary to cut wood sheets across two dimensions, you have to pay a minimum of $1 and a maximum of $4 to get the sheets to the size you want.
Two Cuts On Two Purchases
I have had mixed results at different bunnings locations when requesting two cuts on two different wood purchases. On the one hand, I had a Bunnings that considered the first cut on each wood a "free first." On the other one, I was told that my first cut was redeemed on one purchase and that sizing my next purchase would cost money. 
The policy is interpreted differently at different locations. Make sure to ask the staff if the first cut is free on every wood or MDF board you get or if the first cut on your second purchase is considered the second cut. Another thing worth remembering is that not all bunnings locations have the cutting capacity.
Does Every Bunnings Cut MDF To Size?
Not every Bunnings can cut MDF to size because all locations aren't equipped with an industrial wood-cutter. To make sure you can get MDF cut to size, you must visit the Bunnings website and find the store nearest to you. 
Checking the additional details of the specific store, you will find out if the wood-cutting option is available. You can also use the mobile app to find out more about your nearest bunnings location.
And if you can't get MDF cut at Bunnings, you can cut it yourself.
Can Bunnings Cut Wood You Bring From Home?
Bunnings is usually pretty liberal with wood cutting, so you can try to take wood from your home for cutting at a relevant equipped bunnings. However, you must expect to pay for the cutting services and should be prepared to be turned down as well.
It is ultimately at the discretion of the branch manager to allow or disallow it since bunnings policy hasn't explicitly accepted or rejected outside wood. If you purchase wood at Bunnings and take it home, you can bring it back for cutting, provided that you retain its receipt.
If you want to know if Lowes Cut Wood, please refer to the link to learn more.
Do Mitre 10 Cut Wood To Size?
Mitre 10 cut wood to size and are therefore reliable for sizing wood broadly. Further edge trimming and cutting might be needed to get the wood to fit the exact project specs you need, but Mitre 10 can bring it close enough.
Final Thoughts
I would not use the Bunnings cutting the corner as a replacement for an actual saw, but it is helpful. Bunnings can cut wood to the requested size, though you should leave 2 inches of room for error and request a 2-inch wider/longer cut. Once you bring home the wood or the wood board, you can further trim it to fit your project requirements.