IKEA furniture's best (and often annoying aspect) is that you get to assemble it yourself. But whenever the end product isn't perfect, you might doubt your own assembly instead of the product itself.
As an owner of an IKEA bed, I can understand the hundreds of complaints about the slats falling off. I have had to fix my bed twice so I decided to put together this article to help show you how.
IKEA bed slats keep falling because they are too short or are under too much weight. You can add slat support at the center of the ones that fall the most or use adhesive to fasten the slats to the bed frame. If that doesn't work, you can get sturdier and better-fitting slats.
In this article, you will learn more about all the different fixes for an IKEA bed frame alongside their respective pros and cons. By the end of this post, you'll know what is likely to work for you. This post covers fixes that work for king-size and queen-size Ikea beds alongside ones that work for regular twin-size beds.
How Do You Keep Ikea Bed Slats From Falling Down?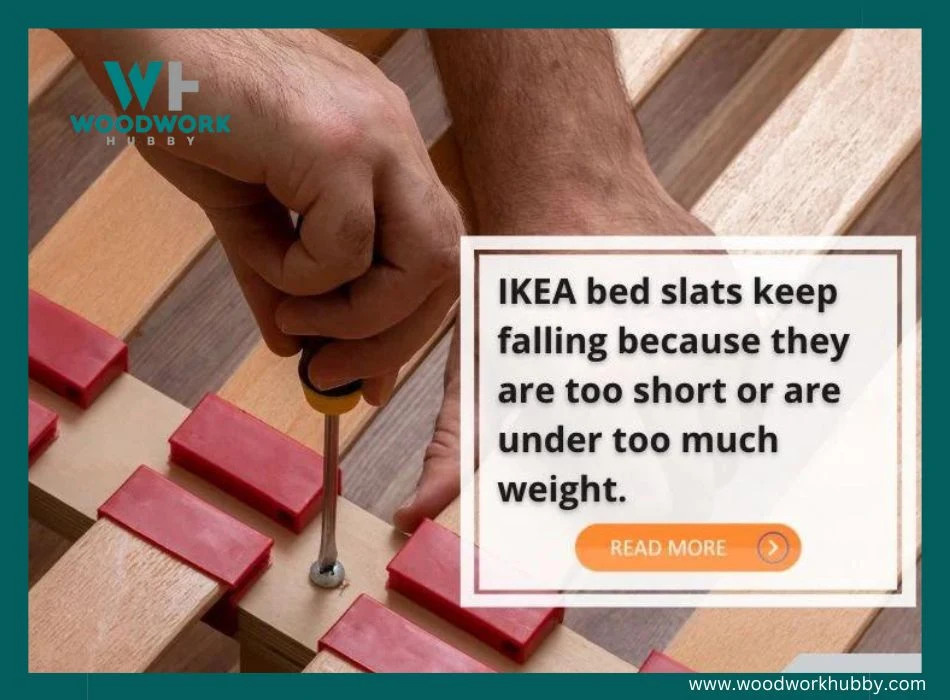 You can use adhesives like wood glue or velcro hooks and loops to fix the bed slats to the frame. This prevents slats from sliding and falling down. Alternatively, you can attach material to extend the length of the slats.
This solution works for slats that fall because of movement and not for the ones that fall due to the bed being weak or the load being over the slats' collective threshold. Over 90% of the time, the slats fall does is due to their ease of movement.
It seems like slats would fall because of the heaviness of the mattress, but it is actually the lightness of the mattress that makes slat movement possible. Whenever the IKEA bed base gives way without bending or breaking, you can be sure that movement is its main cause.
The wood glue solution is far more permanent than the velcro one. But it might take time to get velcro hooks and loops while you might have wood glue at home. If the need arises, you can always remove the glue with drying and sanding. The velcro solution is easier to reverse, but you'll need to make an additional purchase.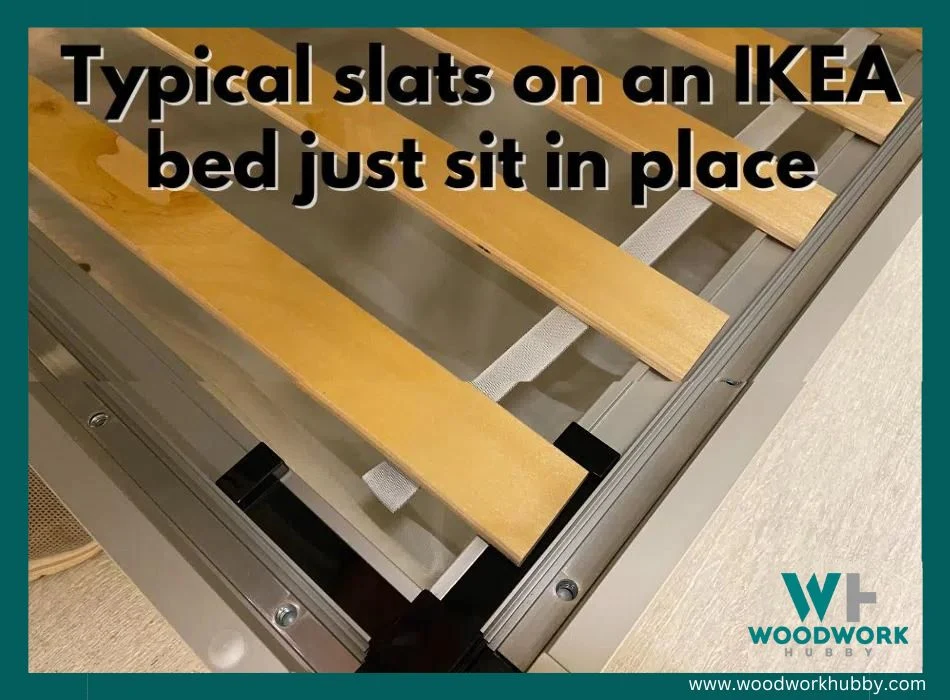 I recommend Strenco 2 Inch Hook and Loop Strips because of their load-bearing capacity and ease of application. They can also be used for other projects (woodworking or otherwise). You can hand containers and attach pockets to cabinets, for instance.
This product has over 22,000 reviews and ratings that add up to a global collective average of 4.6 stars on a 5-star scale. Its highest-rated specific features are its "ease of use" (4.6 stars) and "value for money" (4.4 stars).
That said, you should buy these fasteners only when the main reason behind the slats falling is their instability. If your bed slats are too weak to bear the load of the average mattress, then you need to work on making your bed stronger.
How Can I Make My Ikea Bed Stronger?
You can make your IKEA bed stronger by using sturdier slats or placing objects under the slat to solidify their support base. The less lean your bed slats are and the more material they have underneath, the more weight they can hold.
Before we get into the specifics of this solution, let's go over the signs that your bed slats fall because they are weak.
Your bed creaks when you get on – This is a major sign of the bed slats being weak. If you get on the bed and it creaks, the frame isn't joined properly, or the slats on your bed are very weak.
 
The bed slats bend – As you know, IKEA bed planks have the tendency to slip. But if they actually bend under your weight or the weight of the mattress, the issue isn't their adhesion but it is their lack of durability.
 
The bed slats don't shift vertically – If the bed slats move around on the frame instead of falling down, you don't need to strengthen the frame. You just need to get them attached to the frame with a stronger adhesive.
 
The bed base is getting cracked or bent – If you notice cracks or bending in your bed base, then you can be sure that the problem is with your bed frame's structural weakness.
Using the above methods, if you learn that your bed slats are falling because your bed is weak or that your bed base needs to hold more weight than it currently can, you can get alternative slats or place items under the bed to make it capable of carrying more weight. Here's how these solutions weigh against each other.
| Advantages/Disadvantages | Getting Sturdier Slats | Putting Items under the bed |
| --- | --- | --- |
| Advantage | You don't need to hold your items hostage to the bed | You don't need to purchase slats |
| Disadvantage | The slats need to be purchased | Whatever you keep under the bed becomes a part of the bed |
| Advantage | You can fix the weakness of any type of bed planks | You can fix the weakness of the bed frame itself |
| Disadvantage | You cannot fix the frame's weakness. | The slats might become uneven depending on what's under them |
| Advantage | The bed is more comfortable without uneven material underneath. | You can implement this solution within an hour |
| Disadvantage | It takes longer to get and place new slats | The items placed under the bed might get damaged. |
A table comparison between getting sturdier slats or putting items under the bed.
Which Bed Slats To Buy To Make Your Bed Stronger?
Wood to the world's Solid Pine Slats are pretty durable and can be bought in a wide range of sizes. These slats have over 700 reviews and ratings, with a 4.5-star average out of 5 stars. 86% of this product's verified customers have given it 4 or 5 stars, which is a pretty good vote of confidence.
How well they work for your bed depends on two things:
The right size – The slats should fit the bed frame properly. If they don't, then their sturdiness doesn't matter, as they will slide and move.
 
Whether the slats were the problem in the first place – If the bed frame is the cause of the weakness, then replacing the slats won't work.
This solution can be further fortified by placing slat support underneath the bed. You can also use slat supports on the existing planks without buying new slats.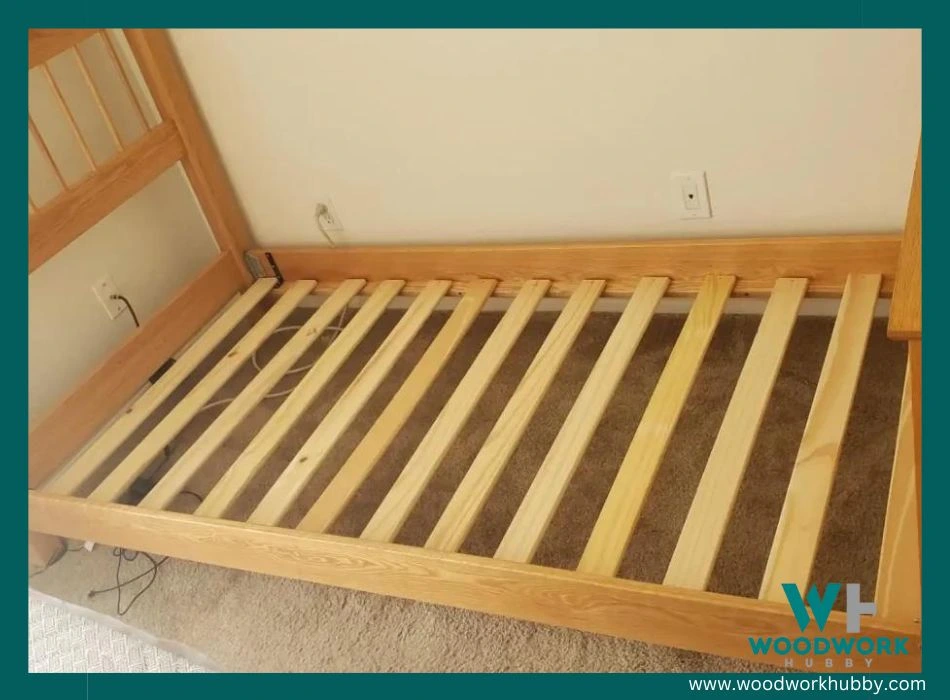 What Can I Put Under My Bed To Keep It From Falling?
You can add a small box spring, solid wood boxes or slat supports underneath the bed to keep the platform from collapsing under the bed's weight. This solution is ideal for larger bed frames where the slats keep buckling.
Keeping solid wood boxes or large items you have lying around the house beneath your bed is the lowest-effort version of adding support. A spring box works for broader beds, while slat supports are ideal for smaller beds where individual slats are stressed.
Let's compare all three options:
| Spring Box | Luggage/Boxes | Slat Support |
| --- | --- | --- |
| A dedicated support system for the entire bed. Makes slats irrelevant. | Slight support for your existing bed planks.  | For individual slats that might bear the disproportionate load. |
| $100+ on average | $0 | $25 – $35 |
| Ideal for Queen and King Size beds | Good for Twin Size bed | Single and Queen Size beds |
| Has to fit the bed's width | Has to be even  | Has to match the slat's elevation |
A table showing the comparison between spring box, luggage/boxes and slat support.
In other words, you need to be very specific with your bed's support system regardless of which route you take. If you choose individual slat support, then you must measure the height of the slat. Ideally, the slat support would be adjustable so you can raise or lower each support to match the slat's elevation.
I find Popmoon Center Slat Support to be well worth its price because it costs 50% of what average slat supports cost. But more important than its value for money is its stability. Over 400 reviews and ratings have given it 4.4 stars on average for its overall performance and 4.8 stars for its stability. It also has 4.6 stars for its stability. So, overall, this is quite promising support for your center slats.
If you want something that holds up the entire mattress from the center, then aspiring box support like the Tatago Metal Spring Box might be an excellent choice for your queen bed. The product page also allows you to opt for a king bed box or a full-sized box.
Tatago Metal Spring Box
Highly recommended metal spring box that holds up entire mattress.
 Sturdy square steel slats can support heavier deluxe Mattress and also easily withstand the pressure of 4 to 6 people without any sags.
Real Heavy-duty Square steel frame
9 inch Height of box spring fit most lower bed frames and mattresses, and provide more collocation options.
4.5 ⭐⭐⭐⭐⭐
This spring box has 4.5 out of 5 stars from an average of over 600 reviews and ratings. It has a 3000-lb (1360.77 kg) weigh-holding capacity, so you can see why customers have given it an average of 4.5 stars for its stability. However, its highest-rated feature is maneuverability, which makes this spring box perfect for bed support.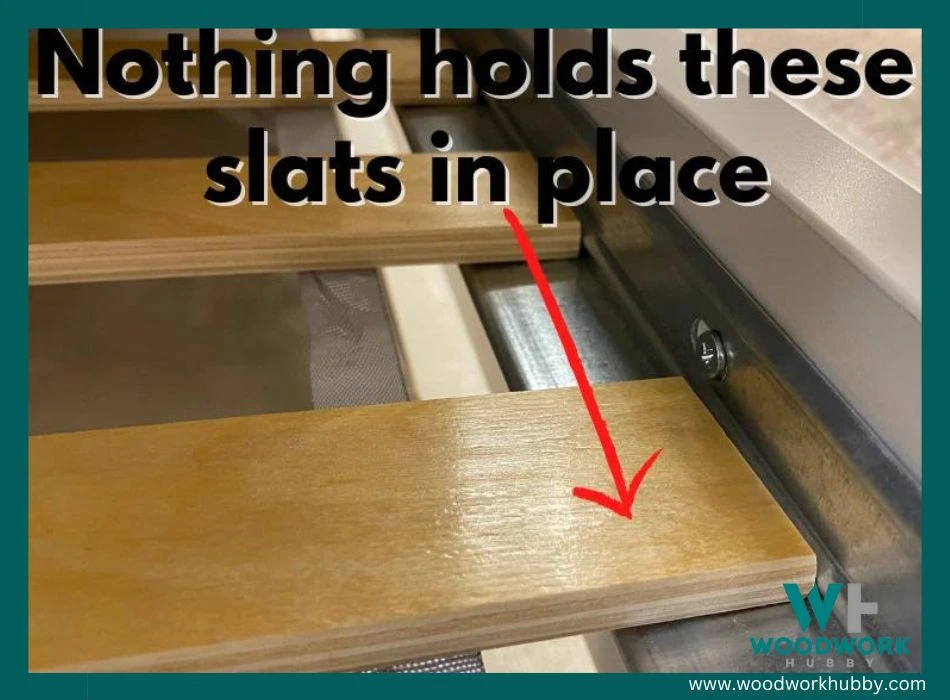 It is the perfect solution for a weak bed. But its value-for-money proposition is rated at 4.2 stars. It is indeed an expensive fix, which is why I recommend that you don't use it as you go to the solution. Sometimes your bed might have other issues like being wobbly, which do not need a drastic solution like a fresh spring box.
How Do You Fix A Wobbly Ikea Bed?
You can fix a wobbly Ikea bed by simply screwing it tighter or using shelf brackets that allow the use of longer screws. Make sure the screws do not blow through the side of the frame or its back. You can also use two pairs of shelf brackets (high and low) to further stiffen up the frame.
A wobbly bed frame might get mistaken as a weak frame. In reality, bed frames get wobbly because of three reasons that have nothing to do with the frame's durability:
Screw length – IKEA screws aren't usually long enough to stiffen up a bed frame with a serious load.
 
Wood's hold on screws – Wood might start giving way, and the screws might come loose as the screw holes widen.
 
The environment – Humidity and extreme climate can affect the wood since screwholes' tightness is a key factor in keeping the bed frame stiff.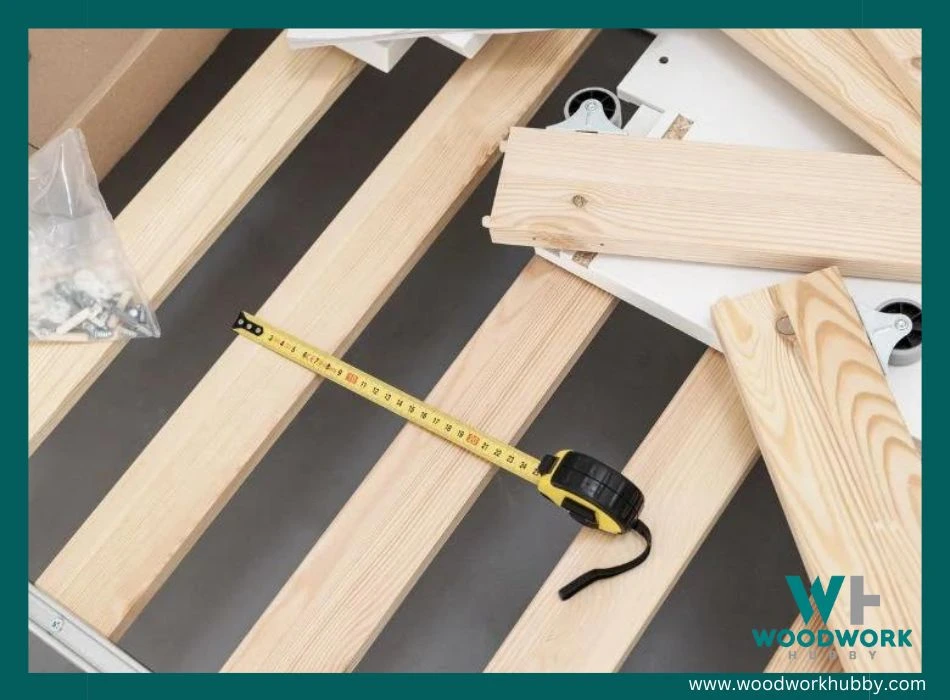 What Do I Do If My Bed Frame Breaks?
If your bed frame breaks, you can reinforce it by replacing the wood and staining the entire frame the same color. If it has just a single crack, you can use wood glue to fill it up. You can also add a spring box under the mattress, so the bed frame doesn't bear any weight.
It all depends on the extent of the damage incurred by the frame. If more than one side of the frame break, you might need to replace the whole frame.
How Do I Fix My Ikea Bed?
You can fix your IKEA bed by using wood glue to fix cracks and reinforcing the frame with sturdier slats, shelf brackets, and long screws. Remember to start by figuring out the problem.
Here are a few problems and their corresponding solutions:
The frame is wobbly – Use shelf brackets and long screws to tighten it up.
 
Bed slats bend at the center – Add center support for the slats
 
The slats crack under weight – Use a spring box or any material object to lend support to the slats from beneath the bed.
 
The frame has cracked – Add wood glue and improve weight distribution across the frame.
As long as you mind the weight distribution, your bed frame will have the same problems over and over. The slats will not fall, and the frame will not crack, at least for a reasonable period of a bed's lifespan.
How Often Do Bed Frames Break?
Bed frames break after 15 to 20 years of regular use. They lose 70% of their structural integrity after 10 years of average use. If your bed becomes wobbly or starts creaking within the first two years of use, it is not set up properly, or the climate is accelerating its wear and tear.
Final Thoughts – Ikea Bed Slats Falling – Bed Frame Fixes That Work
The quickest solution for IKEA bed slats falling is velcro. A strip that can keep the smooth wood from shifting underweight can keep the bed slats in place. Further reinforcements like shelf brackets and slat supports can add to the integrity of an IKEA bed frame.