Ikea floating shelves are quite popular in offices and houses alike. But if you plan to use them as actual storage options instead of aesthetic decor-holding units, you might want to know how much weight they can carry before giving way.
In general, Ikea floating shelves can hold approximately 33 lbs. or 5 kg of weight for shelves with a depth of 8-12 inches (200-300mm). Different size shelves, and where it is mounted, can affect their weight carrying capacity.
After spending 30 years in the cabinetmaking industry, I have put up a lot of these types of floating shelves. They are definitely not my favorite, but I have done my best to list all of the details below in this article to help you out while putting up Ikea floating shelves.
How Much Weight Can Floating Shelf Hold?
As mentioned above, a shelf's weight-holding capacity also depends upon its width and length, and if the shelf will butt into a corner. Some experts believe certain shelves hold nearly 300 lbs (136kg) of weight.
However, there are certain core factors that decide their limits, such as the material they are made of and the supporting brackets. Shelves with up to 22mm thickness can be typically supported by 12mm diameter brackets when loaded with 20kg.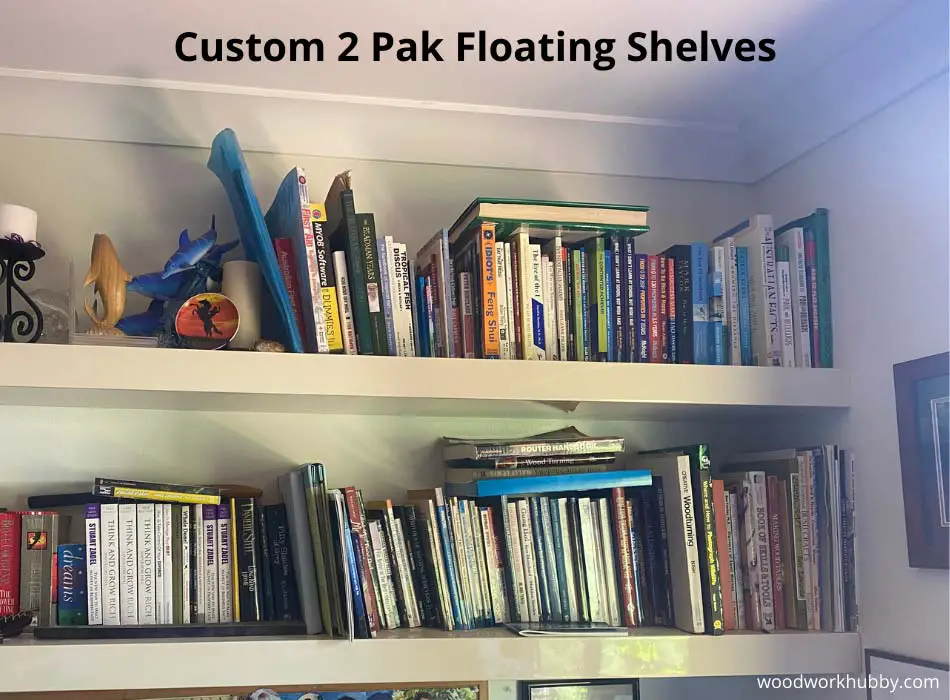 Floating shelves struggle to carry much because they're carrying themselves by leveraging substantial force against the wall and in most cases, that wall is plaster or Gyprock. Ikea floating shelves come with small metal brackets that screw against the wall.
These brackets usually embed themselves into the soft plasterboard as weight is applied to the shelf. As these brackets PUSH into the plasterboard, the shelf will sag over time.
Below is a table showing some of the standard Ikea shelf sizes and the weight they can carry.
| | |
| --- | --- |
| Shelf Size (Length x Depth) | Weight Capacity |
| 30 x 26cm | 3 kg (6.6 lbs) |
| 110 x 26cm | 10 kg (22lbs) |
| 190 x 26cm | 15 kg (33 lbs) |
Table showing weight capacity of floating shelves
Andy Mac, who has been running successful property maintenance and woodworking business for many years and has established award-winning companies, undertook an experiment to find out the real strength of these shelves.
Floating shelves are much
stronger when installed in a
corner of the room!
He fitted an Ikea floating shelf using 5 x M5 x 52mm expanding metal drywall anchors to a standard 12.5mm drywall while intentionally avoiding all studs and applying force to its outermost edge in the center.
Be sure to read my article showing what screws to use for Ikea LACK shelves as the instructions provided are next to useless!
Two screws were fitted above each bracket pole and one underside screw in the center, a configuration that matched IKEA's installation instructions. He applied force as steadily as possible and finally reached a breaking point, which was 25.85kg!
Although putting this amount of weight on these shelves is not recommended, Andy's experiment showed us that the substantial weight these shelves can withstand is five times the recommended loading, which is truly a testament to the high quality of the shelves.
Both the metal shelf brackets and expanding anchors were okay after the experiment with only a limited bending, but the plasterboard wall had given out under this weight. That is the case for many users as well, as it is usually the plasterboard that fails. 
Be sure to find out if you can cut down Ikea floating shelves by seeing my full article. This may surprise you!
In most cases, shelves start drooping when the bracket does not sit flat on the wall. This can be rectified by attempting to fix the studs and using expanding drywall anchors with a proper setting tool.
It is also necessary to use the recommended hole usage by the company. All in all, these floating shelves are quite sturdy and are widely recommended by users. Each shelf can easily hold an excess of the expected limit and is aesthetically pleasing as well.
See how to patch plasterboard holes and if you can use spackling on wood joints?
How Do You Strengthen IKEA Floating Shelves?
Various factors decide the strength of floating shelves and can thus be manipulated to increase their weight holding capacity. Let us take a look at some of them.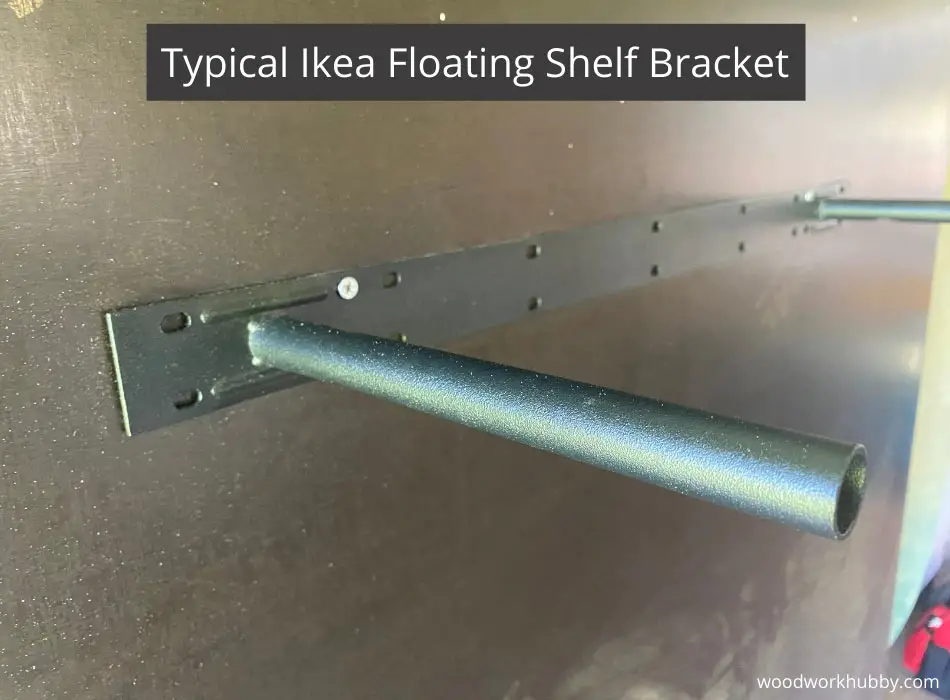 Mount Floating Shelves In The Corner Of The Room
This is my most requested condition for customers who wanted floating shelves from me. Mounting a floating shelf into the corner of a room enables the end of the shelf to be fixed to the sidewall. This of course provides greater strength in holding the front edge of the shelf and prevents sagging to some degree.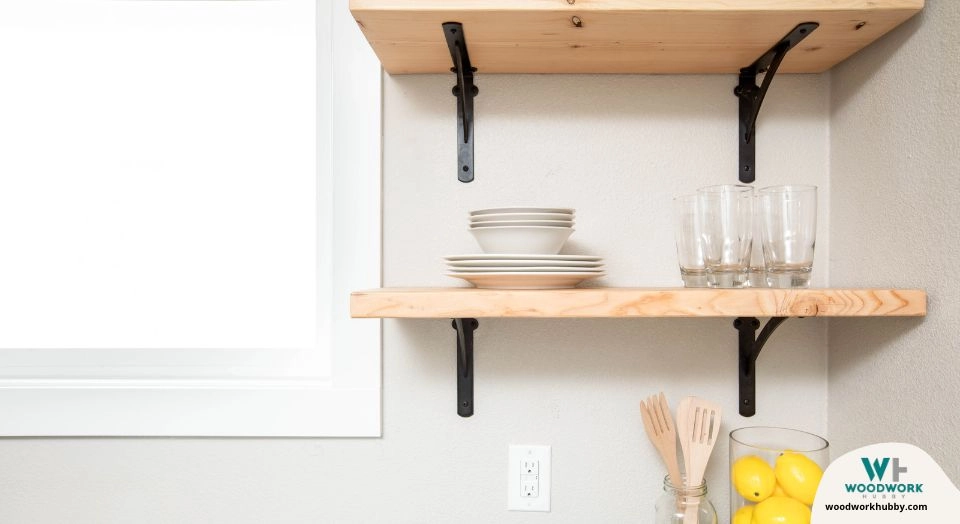 The strength of course is greatly increased if a floating shelf can be mounted between 2 walls. See the photos in this post of 2 floating shelves I made that butt into the corner of a room.
Ensure Floating Shelf Brackets Are Screwed Into The Wall Studs
This might seem like common sense, although I do see many people trying to screw up floating shelves into the sheet material of the wall rather than into the studs.
This might be because they could not get a stud where the holes in the brackets were. Floating shelves must ALWAYS be screwed into wall studs without exceptions! In most cases, this will mean, you should move your floating shelves to line up with wall studs.
Use Multiple Screws Into The Brackets
This should go without saying, but make sure to use as many screws as possible into wall studs. One screw per stud may not be enough.
Use Metal Rods Drilled Into Studs Rather Than Brackets
This is my hot tip to you from a tradesman's perspective!! After mounting hundreds of these shelves, this one tip alone can turn an ordinary floating shelf, into one that can carry a whole row of encyclopedias!!
Any custom-made floating shelf will use this method if the shelf is going to be quite large. In fact, I would highly recommend using this method on any floating shelf that sits against 1 single wall. Keep in mind that this will only work if your floating shelf has a solid center core and is thicker than 1 inch (25mm).
This is the method for mounting a floating shelf onto metal wall rods:
First, make the location of your floating shelf on the wall
Ensure the shelf can fix to as many studs as possible
Using a level, draw a line across the wall, and mark the locations of your rods which will be the stud centers
Take some metal rods that are at least 10mm in diameter
Drill a hole that is 10.5mm into each of your wall studs. Try to ensure that the holes you drill are straight or at right angles to the wall. This is called a clearance hole and here is what it means.
Insert construction adhesive such as Liquid Nails into each of the holes
Insert the metal rods into the holes. It is best if the rods are a little tight and use a hammer if needed
Wait 24 hours for the glue to set
Drill matching holes into the back edge of the floating.
Insert shelf over metal rods to test for fit.
At this point, you most likely find that your floating shelf does sag a little due to the weight of the shelf. This is normal and the advantage of the metal rods.
Remove the shelf again
Using a hammer, slowly hit each of the metal rods upwards to bend them
Insert the shelf again – It should be level
You can repeat the above steps as many times as you like until you are happy with how the shelf sits
Once you are satisfied, apply glue to the holes inside the shelf and push back onto the metal rods for the final time.
Ensure Floating Shelves Have a Strong Frame
It is important to check how a floating shelf is made as this will affect how much weight it can hold. A good floating shelf should have a strong frame and be surrounded by thick material or one that will not crack under load.
Custom-made ones are better as they offer both of these in spades!
Are Floating Shelves Strong Enough for Books?
Specially designed bookcases not only take too much room but also come with the arduous task of building and installing the setup. Floating shelves are, therefore, the top pick of book lovers with either no storage space or a developed aesthetic sense which draws them to such shelves. 
Floating shelves such as Ikea ones are generally not strong enough to hold many books. While they can carry the weight of books initially, the static weight of books over time will cause floating shelves to sag.
Custom-made floating shelves are the only type that can withstand heavier weights.
This is my honest opinion after installing hundreds of these in the last 30 years. Only custom-made floating shelves can offer the carrying capacity of books. This is due to how they are mounted to the wall.
Ikea Shelf Weight Capacity
Hardcover books generally weigh between 0.9 kg and 3.18 kg, whereas soft covers weigh up to 160 g. You need to opt for a suitable floating shelf by estimating your weight capacity requirements first.
The below table will give you an idea of how many books Ikea shelves will hold. This is based on an average hardcover book being 1.5kg (3.3 lbs).
| | | |
| --- | --- | --- |
| Shelf Size (Length x Depth) | Weight Capacity | No. of Books |
| 30 x 26cm | 3 kg (6.6 lbs) | 2 |
| 110 x 26cm | 10 kg (22lbs) | 6 |
| 190 x 26cm | 15 kg (33 lbs) | 10 |
Table showing number of books floating shelves can hold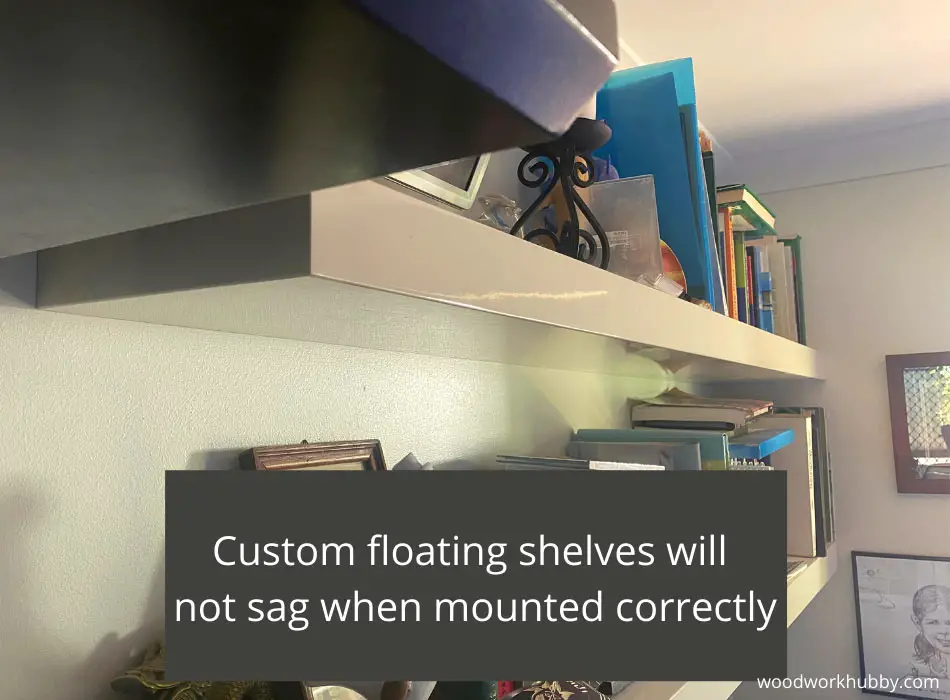 Floating shelves are not actually floating- even though we would all love that. They are usually mounted on walls with the use of a cleat over which the shelf slides or screws are anchored in the wall. This gives the appearance that the shelf is floating when the support structure is actually hidden.
Most people are skeptical of the strength of floating shelves and if they can withstand the weight of books. Floating shelves made by most companies, specifically Ikea, are quite strong even though they don't have visible support.
Tips For Floating Shelves
Ikea provides the best quality products with clear installation instructions that play a vital role in the strength of a shelf. Although the perfect installation is not a complicated task, you should hire a pro to do it for you. One common query when installing floating shelves for books is the holding capacity of solid and drywalls.
These shelves easily hold a large amount of weight when mounted on solid walls, but drywalls are not strong enough. A high weight capacity for floating shelves can only be maintained when they are secured to something solid like wall studs or a masonry block.
You can put a reasonable number of books on them when they are mounted to a solid wall all the way across the length of each shelf. But they can sag and flex where the brackets are not attached to a firm surface, or there are gaps in attachment, so make sure to put a few books in such cases to prevent any mishaps.
Why Does My Floating Shelf Sag?
They sag, droop, and can be a safety hazard if not fixed on time. The struggle is real, especially if you are dealing with thin drywall. Why do these shelves fail to float seamlessly, and how can we fix them to give a perfect look to our walls? Let us take a look.
Floating shelves sag because of the small surface area the brackets have to attach to the wall. These brackets are generally mounted to drywall or Gyprock walls which are soft in nature. Over time, the weight on the shelf pushes that bracket into the drywall or plasterboard surface and causes the shelf to sag.
Any sort of bracket that comes with floating shelves will push into the drywall surface. This is why I suggest Metal rods for the ultimate in strength and function. Read above for more on metal rods.
Do Floating Shelves Sag Even When Screwed Into Studs?
Floating shelves will almost always sag over time even when screwed into studs. This is because a wall is usually lined with drywall which is soft in nature. The metal brackets of floating shelves push into this drywall and compress it, causing the shelf to sag.
There are not many store-bought shelves I have seen that do not sag over time. The major causes of floating shelves sagging are as follows:
Poor shelf construction
Poor mounting system
Too much weight on the shelf
Poor installation methods
Final Thoughts – Are Floating Shelves Strong?
Ikea floating shelves are popular not only because of their aesthetic but also because of their sturdiness. However, a floating shelf is as strong as the surface it is pinned against, and it isn't advisable to put too much weight on a floating shelf if it is attached to drywall or plywood.
The same shelf can hold much more weight if it is attached to a thick wooden or concrete wall.
If you want something even better, spend a little extra a get a custom-made floating shelf done by a cabinetmaker or qualified tradesperson.