IKEA bed frames are very stylish and are often designed to match a wide range of interior aesthetics. But despite complementing decor from all around the world, these bed frames are not very size-friendly to non-IKEA mattresses.
IKEA Bed Frames do not fit standard mattresses, except in very few instances. It is best not to leave this to chance and get the exact measurement of your bed frame and potential mattress to conclude whether they will match.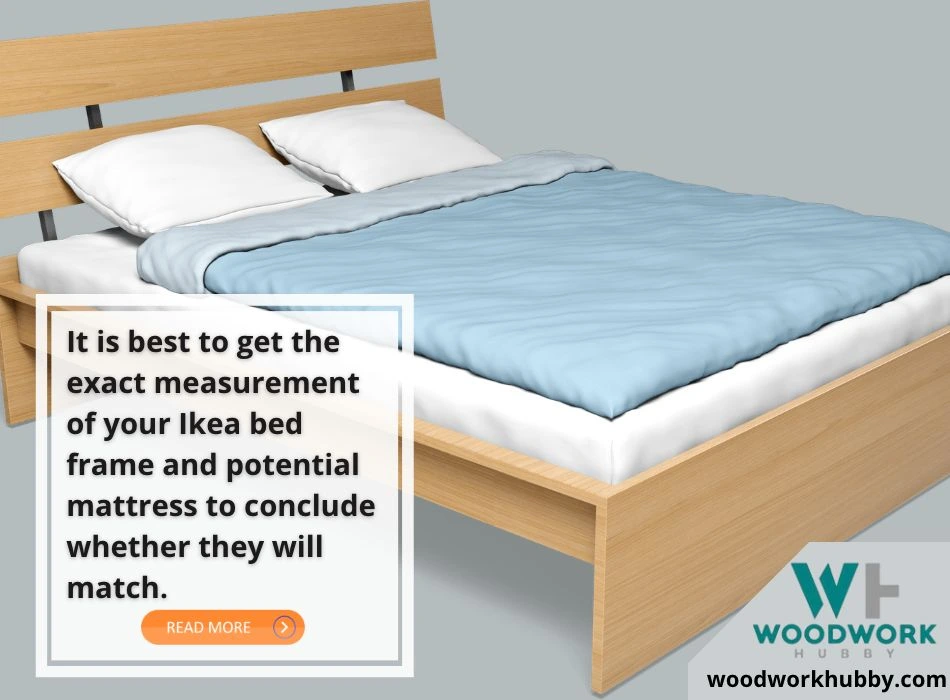 In this article, we will go over different American, British, and Australian mattress sizes and compare them with IKEA bed frames so you can decide which ones are better for you. By the end of this post, you'll know how you can find non-IKEA mattresses to match your IKEA bed frame or the ideal frame to buy for your normal mattress.
Will A Normal Mattress Fit An IKEA Bed?
A normal single bed mattress will be off IKEA's single bed frame by 1 to 3 inches (76.2 mm). A normal King or Queen bed mattress will also be off IKEA's respective bed frames by a few inches. You need to cross-check the exact length and breadth of the mattress in inches with the frame measurements.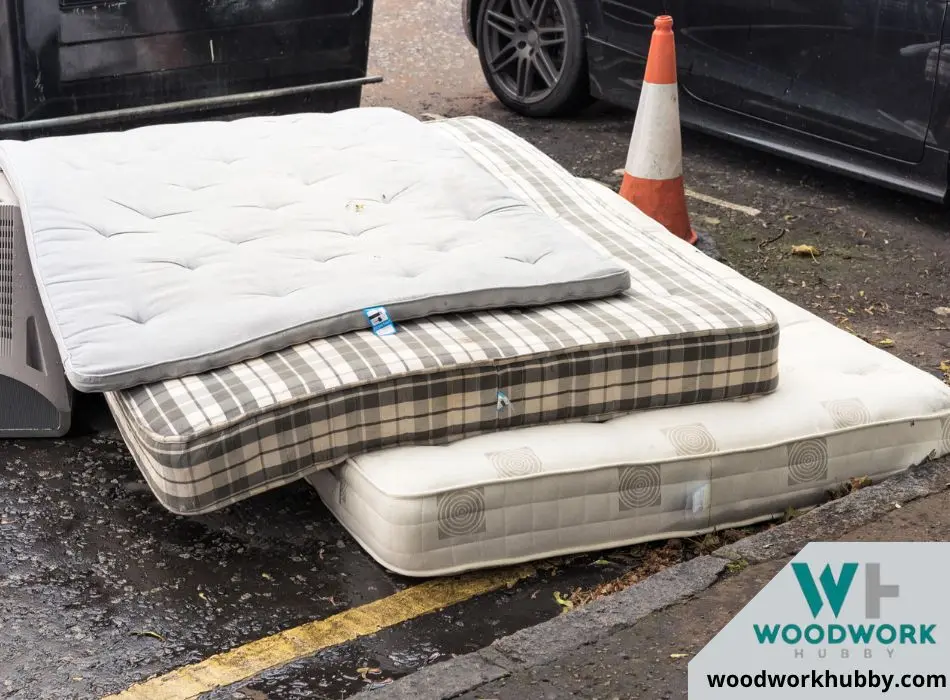 Unless you purchase your mattress and your bed frame from IKEA, you will need to get measurements of both and see how closely they match. Most non-IKEA King Size beds have the capacity to house any King Size mattress.
IKEA's sizing is different from that of standard American manufacturers. Often when there is a size mismatch in things like apparel, Americans wonder if the UK scale is being used. This question does come up even in IKEA furniture sizing.
Is A Larger Or Smaller Mattress Better?
When it comes to mattresses that don't fit IKEA beds, you have two possibilities. Either the mattress is larger than your bed frame, or it is smaller than your bed frame. Let's suppose you really cannot find any mattress that fits the exact dimensions of your IKEA bed. Which of the ill-fitting options would you go for?
A larger mattress is better if it doesn't exceed 2 inches (50.8 mm) in width. If the mattress is 4 inches (101.6 mm) wider or 2 inches (50.8 mm) longer than the bed frame, it will not fit properly. On the other hand, a mattress that is 4 inches (101.6 mm) leaner or 2 inches (50.8 mm) shorter than the bed frame can be covered up with comforters and even stuffed bedding.
In either case, resorting to ill-fitting mattresses should be a last resort action. Mattresses are medium-term investments, even in the shortest-case instances. That's why you must follow the measuring best practices covered later in this post when matching a mattress to the IKEA bed frame.
Do USA Mattresses Fit IKEA Beds?
IKEA is pretty popular in the states. In fact, the US adoption of IKEA furniture is one of the leading causes of the brand's global growth. But that doesn't mean that the Swedish manufacturer plays by the American sizing rules.
USA mattresses do not fit IKEA beds except in a few cases. In most cases, American mattresses are a few inches longer than the IKEA bed frames. As long as the bed frame doesn't have an elevated footboard, IKEA beds can be used with some American mattresses.
The following table shows American mattresses alongside their closest IKEA bed frame match.
| American Bed Size | Length | Width | Closest IKEA Bed Frame | Compatibility |
| --- | --- | --- | --- | --- |
| Twin | 75″ | 38″ | Standard Single Bed (36" x 75") | Yes |
| Twin XL | 80″ | 38″ | IKEA European Single Bed (36" x 78") | No |
| Full | 74″ | 54″ | IKEA standard Double Bed (54" x 75") | Yes |
| Queen | 80″ | 60″ | IKEA Standard king (60" x 78") | Not Ideal, but possible. |
| King | 80″ | 76″ | IKEA Super King (71" x 78") | No |
| California King | 84″ | 72″ | IKEA Super King (71" x 78") | No |
A table showing American mattresses alongside their closest IKEA bed frame match.
The American mattress sizes start mismatching IKEA bed frames as you graduate from smaller beds to larger ones. If you have a single bed mattress or a queen-size mattress, you can get an IKEA bed frame, but you cannot assume that a specific IKEA size will reflect a regular size. Instead, you must go by the actual measurements of both the mattress and the bed frame.
Do UK Mattresses Fit IKEA Beds?
UK mattresses fit IKEA beds of standard single, double, and King categories. However, UK's small single, small double, and super king beds do not have equivalent bed frames available at IKEA. The standard single, double, and king-size mattresses in the UK will work for IKEA beds of the same size.
UK mattresses have a higher chance of matching an IKEA bed frame. That's why many IKEA customers opt for non-IKEA mattresses for their bed frames. If you want to use a UK mattress that's not a standard size, you just need to mind the frame difference and opt for the size that is practical for the IKEA bed.
| UK Mattress Size | Length of the mattress | Width of the mattress |
| --- | --- | --- |
| Small Single | 6'3″ | 2'6″   |
| Single   | 6'3″   | 3′ |
| Small Double | 6'3″   | 4′ |
| Double   | 6'3″   | 4'6″ |
| King   | 6'6″   | 5′ |
| Super King | 6'6″   | 6′ |
A table showing the length and weight of each UK mattress's size.
Let's explore how this works with IKEA sizing. The IKEA Single Mattress size is 3′ x 6'3″, so it can easily be swapped with a UK single mattress. The small single mattress is 4 inches (101.6 mm)narrower than the regular single mattress. You can center the mattress in a standard IKEA single bed and make it work. The two-inch difference on both sides might be covered with a thick duvet.
The standard double mattresses (IKEA and UK standard) also have the same measurements. They, too, are interchangeable. The small double mattress in the UK size has a six-inch (152.4 mm) difference on either side of the frame.
The Super King mattress size in the UK is 1 foot (0.3048 m) wider than IKEA's King Size bed. But the standard UK King mattress works on IKEA's king-size beds. All in all, you're pretty safe relying on UK measurements when getting a standard mattress for your IKEA bed.
Are IKEA Bed Frames Universal?
IKEA bed frames are not universal, but there are a few IKEA models that can be extended for longer mattresses. Generally, IKEA manufactures beds in Single, King, Queen, and Double sizes, but its measurements for each type are off by non-IKEA single, King, queen, and double-bed sizes.
In some instances, you can use non-IKEA mattresses for IKEA bed frames. But you must know the exact size of the mattress and the frame to decide whether the two are compatible.
Do Australian Mattresses Fit IKEA Bed Frames?
Australian mattresses are 5 inches (127 mm) longer than IKEA mattresses, so they do not fit IKEA beds with big footboards. Australian mattresses can also be slightly wider or narrower than the IKEA beds, so you need to get individual measurements before making a compatibility conclusion.
Here are Australian mattress sizes and their respective dimensions. Closes IKEA Bed frame sizes are also included.
| Australian Mattress Size | Length | Width | Closest IKEA bed frame | Compatibility Conclusion |
| --- | --- | --- | --- | --- |
| Single | 6'2″ | 3'0″ | Standard Single (3' x 6'3") | Yes |
| Single (XL) | 6'8″ | 3'0″ | European Single (3' x 6'6") | No |
| King Size Single | 6'8″ | 3'6″ | European Single (3' x 6'6") | No |
| Double Size | 6'2″ | 4'6″ | Standard Double (4'6" x 6'3") | Yes |
| Queen Size | 6'8″ | 5'0″ | European King (5'3″ x 6'6") | No |
| King Size | 6'8″ | 6'0″ | Super King (6' x 6'6") | Possible but not ideal |
| Super King Size | 6'8″ | 6'8″ | Super King (6' x 6'6") | No |
A table showing Australian mattress sizes and their respective dimensions.
As you can see, IKEA bed frames aren't perfect for Australian mattresses. The standard single and double IKEA beds can host respective Australian mattresses, but you should still measure the mattress and get the dimensions of the bed frame.
How To Fit A Mattress In A Different-Sized Bed Frame?
If you find that despite your best attempts to get a matching mattress for your bed frame (or vice versa), the two don't go together, you can use the following sizing hacks to get an improper fit to work anyway.
Use A Duvet To Stuff The Empty Frame Sides 
This hack works when a bed frame has raised borders, and the mattress can sit in the frame but is too small to occupy it entirely. You can use a duvet and stuff it on the sides to cover up one (25.4mm) to two inches (50.8 mm) of excess space on each side. 
If there is more space, you can roll up a sheet and fill it before covering up the entire mattress and side stuffing with a bed sheet. Of course, the only place where you'll be able to comfortably sleep will be the actual mattress area.
Use A Large Bedroom Bench To Support A Long Mattress 
In the case of Australian and American mattress sizes, the main problem is that the IKEA bed frame is generally short. As long as the frame doesn't have a raised footboard, the mattress can sit on the bed with a few inches poking off towards the bottom of the frame. 
This can make the mattress unstable because as you get off the bed, the mattress might shift under your weight. But if you place a wide-foot bench like the Duhome Bedroom Bench, your mattress will not fall from the bed.
Best Practices For Getting A Matching Mattress And Bed Frame
In this section, we will go over a few things you can do to make sure the mattress you buy fits the bed frame you have (or vice versa).
Be brand specific – Instead of going universal, try to find what you are looking for from the specific brand. IKEA bed frames work best with IKEA mattresses.
 
Get the universal measurement – If you're not going to use an IKEA mattress with the IKEA bed frame, then you need to get the most transferrable measurement. While "Standard Single" or "European King" from IKEA might not mean the same to a different mattress brand, 78 inches (1981.2  mm) from IKEA equals 78 inches (1981.2  mm) from any other brand. Once you have the exact measurements in inches, feet, or metric units, you can confidently find the same in another brand.
 
Leave a 2-inch (50.8 mm) margin of error – Finally, you must recognize that a difference of 2 inches can be accommodated. Larger and smaller bed frames can work as long as the difference in size isn't more than 2 inches (50.8 mm). The only exception is a bed with a raised footboard.
 
Avoid bed frames with raised borders – If a bed has a footboard or elevated sides, the mattress cannot be even an inch larger. That's why it is better to opt for beds that have flat frames.
If you are a fan of IKEA furnitures like floating shelves, you may want to read my blog about How Strong Are Ikea Floating Shelves.
Final Thoughts
IKEA bed frames fit UK mattresses better than American ones. US mattresses in single/twin sizes are compatible with IKEA single beds, but the larger US mattresses are too long for IKEA king and super king beds.
You can get non-IKEA mattresses for an IKEA bed frame, but you must use the actual dimensions of the frame as your guide instead of the sizing title that IKEA uses.