This comes up many times in woodwork where you have to remove screws to fix a problem or you need to screw into an old hole. I have often pondered this so I thought I could share the age-old answer to can you reuse screw holes in wood?
Screw holes can be reused if the screw fits well and there is no indication that it is loose. Provided that a similarly sized screw is used, and tightens without slipping, the existing screw holes can be reused. You can even reuse stripped screw holes using a few common tools.
You can always reuse a screw hole in wood if everything fits snug. However, sometimes you may find that the screw does not seem to fit quite right. Screws getting loose and falling out is not uncommon for wooden items like doors, handrails, or windows.
Their constant use can cause wear and lead to a loose connection between the screw and wood. I will go over the most common causes, easy preventative measures, and how to reuse a screw hole that has been damaged or stripped.
Reusing Screw Holes in Wood
You can absolutely reuse screw holes in wood. As long as the screw feels tight when you insert it, then you are good to go. Unfortunately, some types of wood are more prone to having issues with screws becoming unfastened.
I will walk you through how to fix or fill and redrill a damaged screw hole so that your wooden object can continue to be used.
What If the Hole is Stripped or Loose?
Most of us are familiar with the frustration that comes when we realize a screw is coming loose and the hole is no longer secure. Most screws are going to be placed at joints within the wood object, which means the integrity of the entire joint depends on how well the screw remains firmly connected.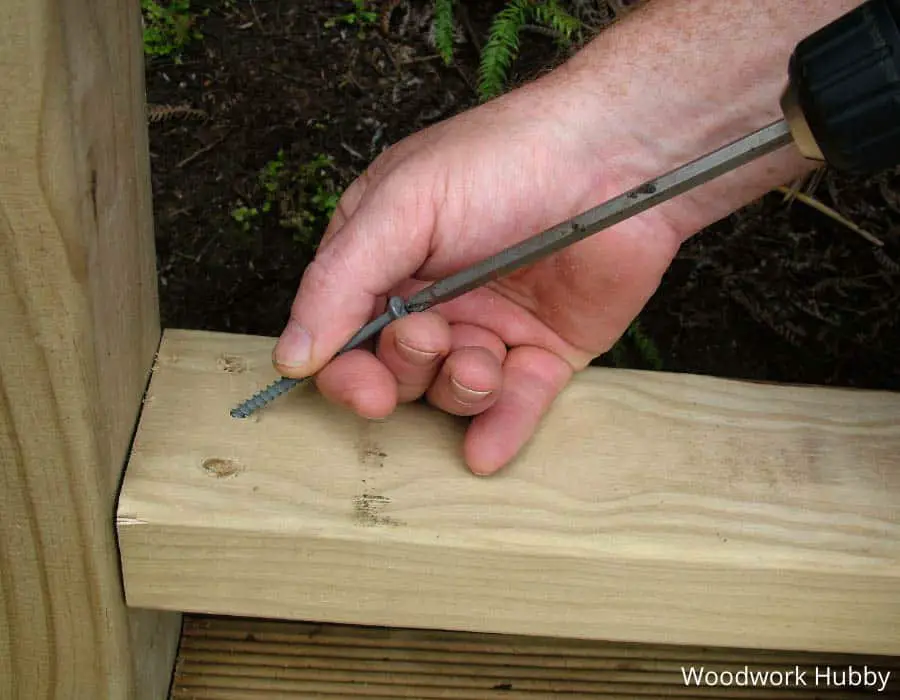 Stripped Holes Can Easily Be Fixed With A Few Basic Tools
If you find yourself facing a situation where the hole you want to use is stripped or damaged somehow, there are a few things you can do to fix it. See below on how this is done.
What Causes Stripped or Loose Screw Holes?
Before you can fix it, you need to know what exactly is causing the problem. The most common cause of stripped or loose screw holes in wood is the breaking of the wood fibers around the screw. Regular pressure or pulling on the joint will speed up this issue.
It is mainly seen on objects that undergo a great deal of everyday stress like doors, rails, and windows. Other possible causes include the following.
The most common stripped-out screw holes are usually on door hinges.
Does the Type of Wood Matter When Fixing a Hole?
Certain woods are more prone to stripped screw holes and may be harder to fix. Composites like particleboard and MDF and other materials made from wood chips tend not to hold screws as well.
Screws with coarse thread tend to hold better in softwood, and fine threads are best for hardwoods. You will want to use similar threads when fixing a hole. If you intend to fill the hole and redrill, then it is important to use similar materials.
Find out what to do if your drill stops spinning here.
How to Fix a Stripped Hole
Answering the question "can you reuse screw holes in wood?" is relatively easy. There are over half a dozen unique ways to fix a stripped or damaged hole in wood.
Which one is best for the problem you are facing will depend on what materials you have on hand and the root cause of the issue.
For example, the screw was forcefully torn from the hole, and it has been enlarged, then you can fill it and start over. Below are 3 simple ways of fixing a stripped screw hole.
Using a Plug Or Dowel
Low-quality wood or particleboard is prone to stripped screw holes, and the way they are designed makes it harder to use most methods for reusing the area. One way to overcome this is by using a hardwood plug or dowel.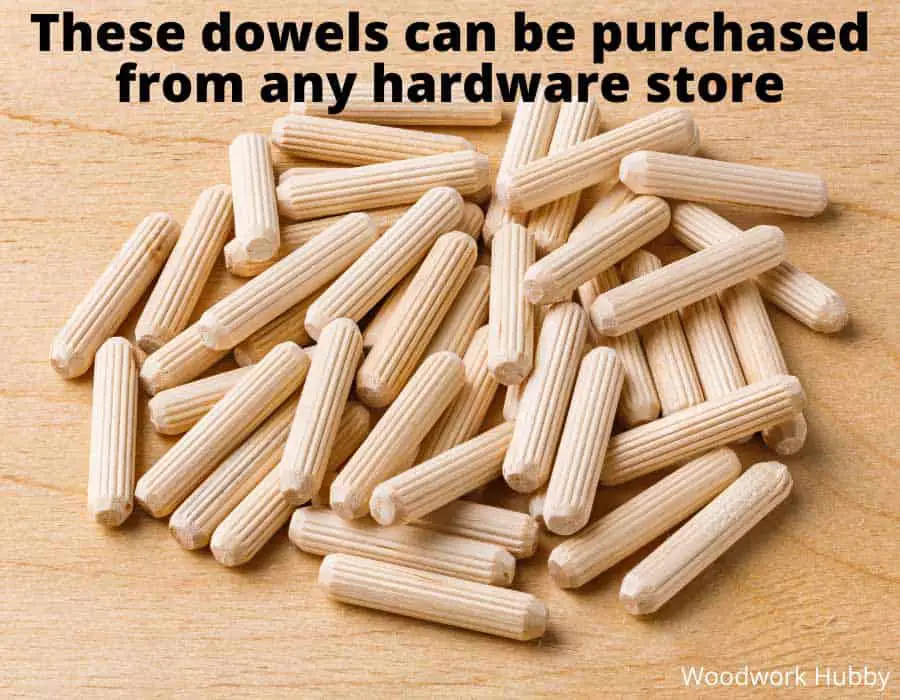 To do this you will only need some basic tools such as:
Some drill bits
Wood glue
A Hammer
A small piece of wooden dowel
Follow the below steps to insert a wooden plug or dowel:
Drill out a small hole in the same spot as the damaged screw hole that is the same size as your dowel.
Use wood glue or another adhesive to secure a hardwood plug or dowel into the new hole.
Let the glue fully dry. 24 hours is a normal dry time.
Drill a pilot hole into the center of the wooden dowel to suit your screw. This chart will help.
Larger Screws
A straightforward fix that is fast and simple is to use a new screw that is both slightly larger and wider in diameter. The new screw's threads should either match the previous one or be slightly coarser (e.g., fewer threads at higher angles).
Do not force the new screw into the wood because that can damage the hole further. Try going up only one or two gauge sizes. The goal is to put in a larger screw that will fit snugly without cracking wood around the hole. For example, if the stripped-out screw was 8 gauge, then try a 10 gauge screw.
If you are unsure, always drill a pilot hole to suit the size of screw. This article will show what size is best.
Repair Kits
There are many types of screw hole repair kits that you can buy online or at hardware stores. Below are some of the more popular ones that you can purchase on Amazon. The majority of them create an anchor for the screw to hold onto in the form of adhesive and plastic or other materials.
Before purchasing a repair kit online, it is best to look at the reviews from previous buyers and the manufacturer guidelines to make sure that it is designed for your need.
The downside of repair kids is that they are quite expensive compared to other alternatives. However, they are quick and a good option for anyone who does not have a lot of experience with doing quick fixes around the house.
When to Replace Rather than Redrill
There are a few instances where you may find the screw hole is so badly worn that you may have to replace the entire wooden piece. They include the following scenarios.
If you have already refilled, redrilled, and reused the area multiple times and there is more filler than the original wood left, this can cause structural damage to nearby areas of the joint, and it may be best to simply replace that piece.
If the wood itself has been significantly damaged, such as cracks running through the wood and across the screw hole. While filler can be used to repair the crack and the hole can be redrilled, the overall integrity will be weakened.
Wood that is made of compressed fibers mixed with resin or other binders (e.g., particleboard, etc.) tends to break down easily, and the damage often spreads beyond the area around the screw hole.
If there is an indication of wet or dry rot, then you may need to replace the whole piece with healthy wood.
Best Ways to Prevent Screw Hole Issues
By taking proper preventative measures, you can ensure that your screws remain tightly locked in place for decades. You can avoid asking yourself about how can you reuse screw holes in wood by making it a moot point with the proper upkeep and preparation.
Secure the Joint
A joint that is not adequately secured or supported is going to be constantly pulling at the connection. Over time this can cause the wood fibers inside the screw hole to break, stripping it.
You can add a little insurance to joints that will get a lot of action by adding some thread locking glue when you first install the screw. The joint may also benefit from some wood glue to permanently fix the pieces together.
Do Not Apply Sudden Pressure
Often, the wood fibers within the screw hole are torn because sudden pressure is applied to the joint. This can happen for any screw regardless of placement if the pressure is on the screw itself or the wood around it, then there is the possibility that it could make cause problems.
One great way to avoid this is by not hanging anything heavy off things like wooden handrails, doors, or window frames.
Use the Correct Screws
For Indoor Situations
When fixing items of wood together, the golden rule is that the length of the screw should be twice the thickness of the timber being fixed. This is not always going to work but try to ensure you can get as many threads of the screw in contact with the wood.
For Outdoor Situations
If your wood object is located outdoors, make sure you are using the correct type of screws and that the wood has protective coatings to keep the elements from causing issues. Stainless steel screws have natural weather-resistant properties that make them ideal for outdoor use.
By making sure the right screws are used, they will not begin to erode and potentially affect the integrity of the wood.
Practice Routine Maintenance
Proper maintenance has a huge impact on the longevity of wooden items. Where they are kept, how they are treated, and whether they are used for their intended purpose or not all play a role in how well the wood and screws hold up over time.
Anything that can affect the wood fibers has the potential to cause issues with the screws. This includes temperature and humidity. Regularly check the screw connections of doors and windows that are used often.
Here are some quick steps for fixing a loose screw before it fails completely. You will need wood glue or another appropriate adhesive and matchsticks or toothpicks.
Remove the loose screw.
Place adhesive on the body of a couple of toothpicks or matchsticks and then place them in the hole.
Let the adhesive dry.
Cut the toothpicks or matchsticks flush with the wood.
Replace the screw.