It has been a while since I carved a wood sign. I took up a sign-making project for personal use last night, and it reminded me of a time when I went on a sign-making spree and made signboards from MDF, Birch, Pine, and every type of spare lumber in my shop. After trying my hand at over 30 types of wood, I came out with 11 best woods.
The best woods for outdoor signs are Cedar and Redwood for their natural rot resistance, treated yellow pine for its low cost, plywood for its ease of manufacturing, Walnut for its workability, and teak for its breathability.
In this article, you will find out more about the 11 best woods for outdoor signs alongside their strongest and weakest points. By the end of this post, you'll know which of these wood types is best for your outdoor sign project. So let's get started with the best woods for outdoor signs at a glance:
Cedar 
Redwood
Pressure Treated woods
Cypress
Pine (pressure treated)
Teak
Oak
Black Walnut 
Wood Composite/ Playwood
Any Sealed Softwood
What Are The Best Woods For Outdoor Signs?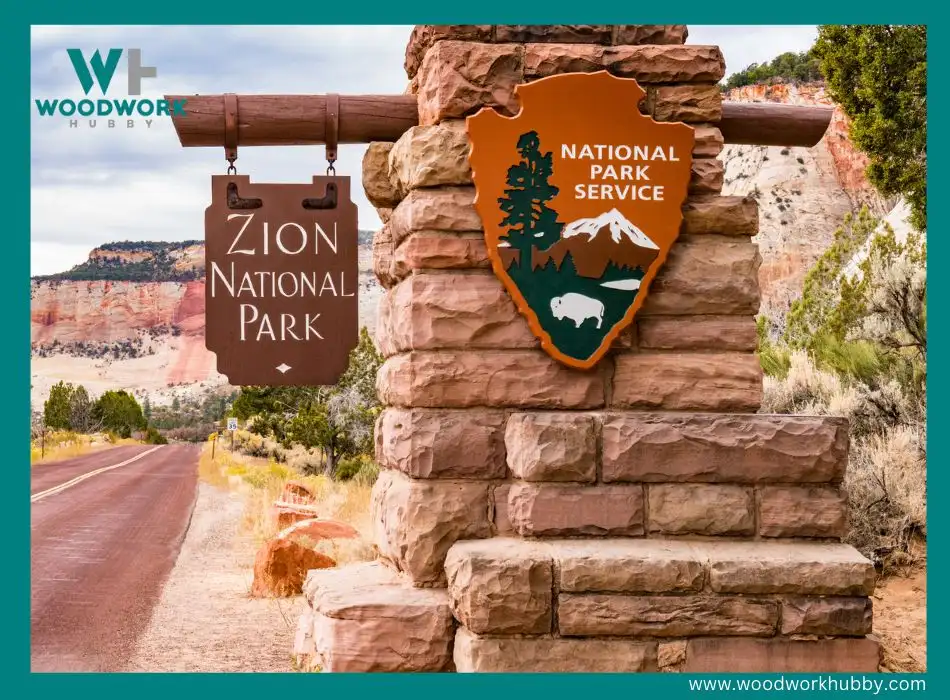 The best woods for outdoor signs have to be two things: Aesthetic and Resilient. That's from the customer's perspective. From a woodworker's perspective, it also has to be cheap and workable. 
That's why I judge wood across these four metrics to decide if it is good for outdoor signs or not. Since the consumer is always right, I do tend to start with aesthetics and resilience.
Cedar
Cedarwood looks nice, but it isn't anything to write home about. However, it overperforms when it comes to resilience. It resists insect attacks, and its natural oils keep it from rotting when it gets wet. It is also very breathable, so temperature changes don't warp it.
As for workability, this wood doesn't give the woodworker a tough time. It can be easily cut into a rectangular board and can even be carved with power carving tools. It is not cheap, though, so it does tend to lose a few points in that area.
Verdict: 8/10. Loses out in aesthetics and cost-efficiency but wins big in resilience and workability.
Redwood
Redwood is aesthetic, and its near-mahogany color is quite visually appealing. Moreover, it is resilient in the face of moisture, fungi, and insects, making it a great wood from the consumer's end.
It is fairly workable, but it can lead to planer tear out when the grain is irregular. It is also better priced than Cedar, so it isn't too bad a deal on the woodworker side, either.
Verdict: 9/10. Great aesthetics and practical durability alongside a budget-friendly market price and fair workability.
Douglas Fir
Fir can be a very beautiful choice in furniture and decorative items, but when it comes to signs, its hypnotizing pattern of light and dark grain can b distracting. It is resistant to rot and water damage but can be susceptible to a few types of insects.
Its price and workability are neither too good nor too bad, making it a slightly over-the-average signage choice.
Verdict: 6/10. It is outdoor-friendly and priced alright but leaves much to be desired in insect resistance.
Pressure Treated Woods
Pressure-treated wood types don't have a uniform look, so the aesthetics are up for debate. However, they have reliable insect resistance and rot resistance. These woods are more expensive than regular wood types, but there is a wide enough range of prices to have cheap options as well.
Verdict: 6/10. It is rot-resistant with a wide range of choices. The specifics depend on your exact choice.
Cypress
Cypress is a good-looking lumber that is used in many water-adjacent contexts. From the user's side, Cypress is perfect for an outdoor sign. Cypress is also very forgiving, which is good news for the woodworker. However, it is expensive compared to wood like pine.
Verdict: 6/10. The price tag makes an otherwise ideal wood a less attractive choice.
Pine (Pressure Treated)
Pine is a cheap wood, and when it is pressure treated, it is also quite resilient. It is an average by-the-numbers option for your outdoor sign. It will look okay and will last a fair bit. I would confine it to "For Sale" signs and similar boards.
Verdict: 5/10. The best option for your budget but is average in most of the other aspects.
Teak
Teak can provide a rich deep background for your outdoor sign if you plan to have light lettering over it. It is also easy to work with. It is famously good at breathing, which means it can expand and contract without warping. 
But it is also expensive, making it suboptimal for signs that aren't meant to be permanent. See how I identify Teak wood in this article.
Verdict: 7/10. A very good choice if you are not on a budget. An average choice if you are.
Oak
Oak is a great option for a budget hardwood sign. It needs to be finished to be outdoors appropriate, and that does factor into the overall cost of the sign. But it is a good mid-range option for the signboard as long as the signpost is made from insect-resistant material.
Verdict:6/10. It works well, but only when the ground-touching part of the signboard is made from a different wood.
Black Walnut
Black Walnut has great workability with power tools and can be used to make signs of unconventional shapes and sizes. It is also a great-looking dark wood which can prove to be the perfect backdrop for light lettering.
Verdict:6/10. It needs to be waterproofed but is a good-looking option in some contexts.
Wood Composite/ Plywood
Plywood has excellent rot resistance and insect resistance, but it looks cheap. It is also hard to cut. Despite being better than many wood options, it is not really the best choice. Still, it makes its way to the top materials list because of the price, convenience, and insect resistance.
Verdict: 5/10. A practical choice with flaws that cannot be ignored for high-end signs.
Any Sealed Softwood
Softwoods are workable and cheap. But they can also rot or get eaten up by insects. Water damage is also a serious concern. With that said, their price point makes them worthy of a mention on this list, even if at the bottom.
Verdict: 4/10. It can be used for signs but ideally not in harsh exterior conditions.
What Is The Best Wood To Make Signs?
Yellow Pine is the best wood to make signs because it is cheap and resilient. It is not very good at bearing weight, but it doesn't have to when it is used for a sign. Depending on whether the sign is placed indoors or outdoors, the pine might need to be treated.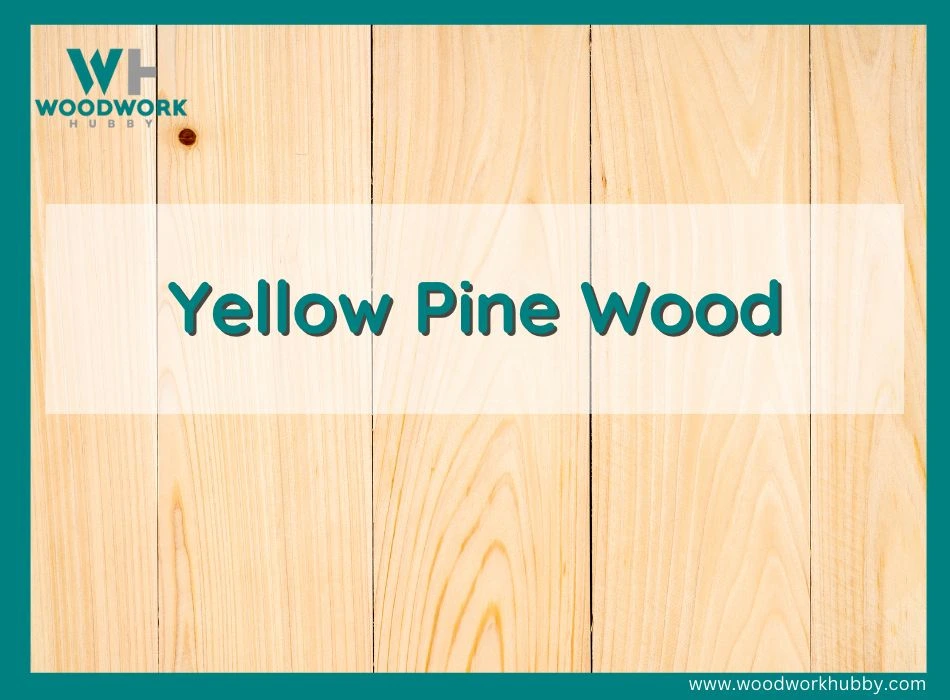 Treated yellow pine is ideal for cheap signs that have to be placed outside. It forms the perfect light background upon which words can pop out. 
Words can be painted right on the pine plank, or the entire plank can be painted. In both cases, chemically treated yellow pine can weather the outdoor weather.
What Is The Best Material To Use For An Outdoor Sign?
The best material use for an outdoor sign is Coroplast. Among wood types, though, Redwood is the best wood for outdoor signs because of its beauty and rot resistance. It is followed closely by Cedar which excels at repelling insects and breathing in open spaces without issues.
Cedar and Redwood share a similar advantage set, so the choice between the two is subjective. But in my experience, Cedar signposts are slightly more resilient than redwood ones, while redwood signs look better than Cedar ones. Functionally speaking, both woods are interchangeable.
Manufactured Boards For Outdoor Signs: Mdf Vs. Plywood
Plywood and MDF are both insect-resistant, but MDF can start sagging and may even fall apart if left outside for a long-time. Plywood is more resilient in exterior conditions, and some grades of plywood are meant to be used outside.
Is Plywood Good For Outdoor Signs?
Plywood is good for outdoor signs from a functional perspective. However, it can look cheap on Welcome signs, estate name signs, and other prestigious boards. It resists termites and rot and can be a functional "For Sale" or "Yard Sale" sign.
What Type Of Wood Is Used For Welcome Signs?
The wood used for welcome signs is usually vanity/prestige wood that is sealed or chemically treated to be more resilient to exterior conditions.
Cedar is a common option for welcome signs for suburban houses. Teak is used for Welcome signs for ranches. And sealed mahogany is common for large estates' welcome signs.
Ultimately, any wood that is waterproof, insect resistant, and aesthetically pleasing can be used for an outdoor sign.
What Is The Best Wood For Sign Carving?
Cedar is the best wood for sign carving because it is easy to carve compared to other insect-repellant and weather-resistant woods. More importantly, it doesn't rot or warp when left outdoors.
You can also use any carving wood like Walnut or Basswood and waterproof it once it is in the form that you need. There are two ways to approach sign-making as a woodworker. 
You can start with wood that is waterproof but hard to carve and can do the best you can carving a sign out of it. Or you can start with wood you can easily carve and then make it waterproof.
How To Make An Outdoor Sign Waterproof?
To make an outdoor sign waterproof, you need to coat it with a waterproof sealant, primer, or paint. Once the coat adheres to its surface, for which you might need to sand it, the sign is waterproof.
I personally recommend Gorilla Waterproof Patch & Seal Liquid, as it allows you to waterproof the wood without covering up its natural beauty. It has over 1700 reviews and ratings on amazon, with a global collective average of 4.4 stars. More specifically, it is rated 5 stars for its durability, which is great. It is also rated 4.6 stars for its value-for-money proposition. And that means you get a good deal.
Gorilla Waterproof Patch & Seal Liquid
Final Thoughts – 11 Best Woods For Outdoor Signs
Redwood and Cedar wood are leagues ahead of other wood types when it comes to outdoor wood signs. Other woods that are popular include teak and pine. But at the end of the day, any wood that is easy to work with looks good and resists rot and insects is good enough for a sign. And in many cases, it is the woodworker who makes the wood waterproof after carving a sign out of it.