So your next project requires you to cut some 4x4s. This is a common question that even I sometimes wonder as I plan and ponder my next job. Can a miter saw cut a 4×4?
A miter saw has enough power and the capability of cutting a 4×4. It can be cut in one pass if the blade is 12 inches in diameter. A 10-inch blade does not have enough depth capacity to cut through in one cut. It will require the 4×4 to be rolled over to make a secondary cut.
Both the size and type of the miter saw you use will determine how easily you can cut through the wood. A 12-inch miter saw is the best option if you plan to cut a lot of 4×4's, but you can also use a 10-inch for smaller projects.
You may already have a smaller miter saw in your workshop but is it really the best one for the job? I will answer that question and give a comprehensive overview of what to expect from the different sizes and types of miters saws, including their advantages and disadvantages.
By the time you are done reading, you will have a clear understanding of whether or not you might need to invest in a larger saw.
Cutting 4×4's With a Miter Saw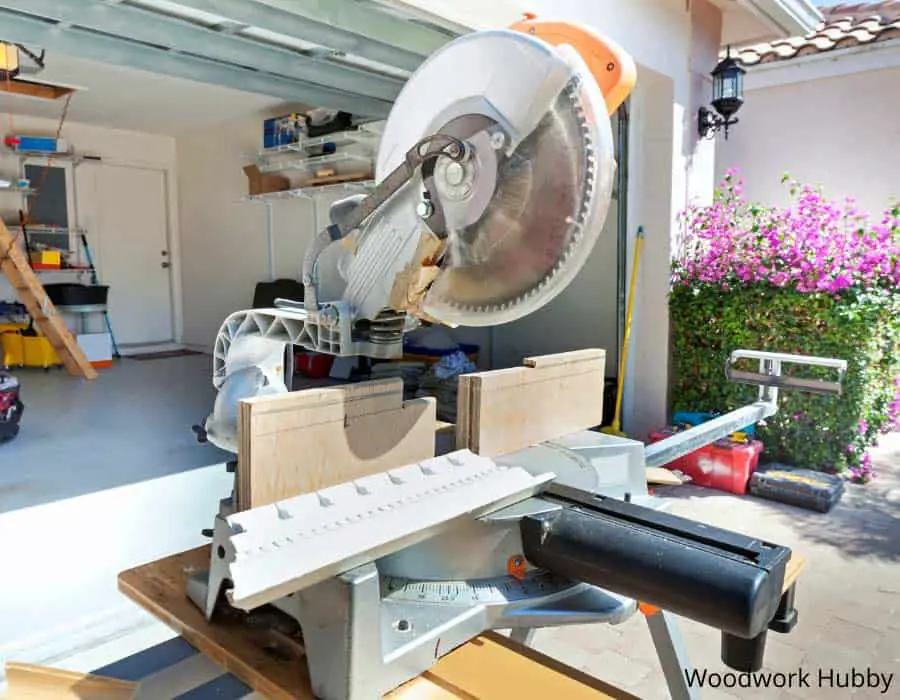 Miter saws are mainly used as accurate angle cutters, but they can also make straight cuts. They work if you have only a few larger pieces of wood but may not be the best tool if you have a project that is going to require precise cuts through a large number of 4×4's or bigger pieces.
Why Use a Miter Saw?
Most people asking, "can a miter saw cut a 4×4?" want to know because that is what they currently have on hand. It is convenient and saves both time and money if you can use the machine that is already in your shop.
However, not all miter saws are made equal, and only some of them will work well for cutting 4×4's. You want to make certain that you have one that can handle the task of cutting through something that thick, and there are several blade sizes that can do it.
Does your saw blade spin in the right direction? See my article showing which way is right.
What Size of Saw Should You Use?
A 12-inch blade is best for cutting 4×4's.
There are several different blade sizes to choose from when you are looking at miter saws. The most popular are 8-inches, 10-inches, and 12-inches. Larger diameter saw blades can make larger cuts and will also have more power. An 8-inch would be too small to cut through a 4×4 but you could use it if you were in a pinch.
Can a Miter Saw Cut a 4×4 in a Single Pass?
A 12-inch miter saw can cut a 4×4 in a single pass due to its depth capacity. A 10-inch saw cannot cut a 4×4 in a single pass. While technically you can use smaller saws for cutting 4×4's, you may just need to rotate the wood in order to take a second cut.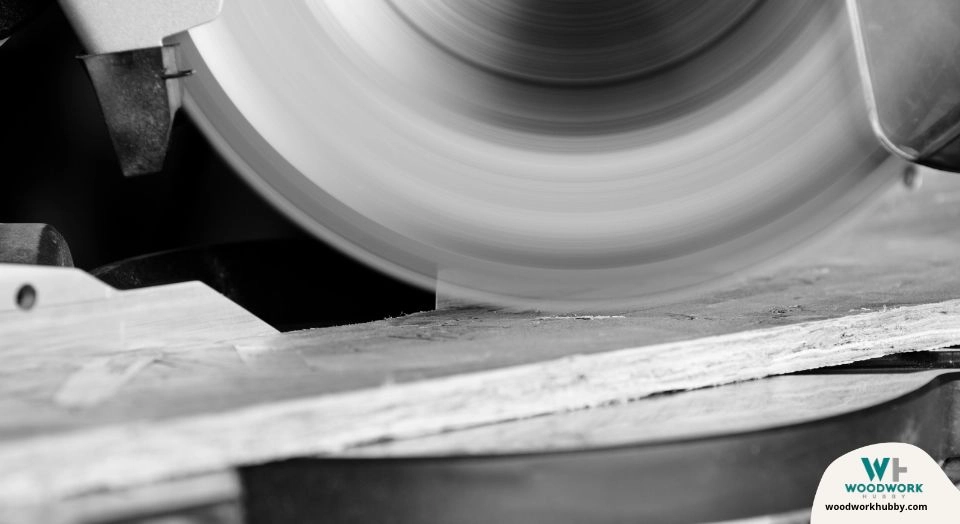 If you have an 8-inch miter saw you may need to make 3 different cuts, turning it after each one in order to go right through. While these smaller saws will certainly do the job, it just may take a little longer.
A Smaller Miter Saw Can Cut
a 4×4 but It May Take Longer And Your
Finished Cut May Not Be As Smooth
10-inch Vs. 12-inch Miter Saws
Out of all the size options available, these are the only two that can cut through a 4×4 easily, so you will need to have one of the two. They both have advantages and disadvantages, which we will list below.
10-inch Standard Miter Saw
To cut through a 4×4 in a single pass with a 10-inch miter saw, you will need to either adjust the blade guard or use a sliding miter saw. If you already have a 10-inch on hand, then it might seem more convenient to use it instead of buying another saw specifically to cut through more significant pieces of wood. If you do not have a lot of space or are on a tight budget, you could make do with a 10-inch blade.
Pros:
More cost-effective if you primarily do smaller woodworking projects
The faster spin of the 10-inch blade gives the cuts more precision
They take up less physical space, which may be vital if you have a small shop
Cons:
If you intend to cut many 4×4's, it will be slow going
It takes longer to cut through the wood
You need more than one pass to cut through a 4×4 when you are using proper safety features
12-inch Standard Miter Saw
As you can see, the 10-inch is not really designed to handle something as heavy as a 4×4. A 12-inch blade, on the other hand, will have the capacity to cut through thicker, longer, and wider pieces of wood in one pass.
Pros:
The saw will have higher power and cut the wood more efficiently, which will save you time, energy, and the money you would otherwise spend replacing blades and maintaining a smaller blade
There is more versatility available with a 12-inch saw
This larger saw can tackle many other larger jobs
Cons:
Blades with more teeth are going to be more expensive
The blade will spin slower, which can cause some cuts not to be as precise
The Different Types of Miter Saws
Some projects require making quite a few 4×4 cuts, and certain types of miter saws will work better for that than others. I have already gone over how the blade diameter is going to impact the saw's ability to cut through wood, but the type of saw you have will make a difference.
There are several main types, including compound miter, sliding miter, and dual-bevel compound sliding miter. They all have similar abilities, but we are only interested in a standard compound miter and a dual-bevel compound sliding miter for the sake of this topic.
Compound Miter Saw
Standard miter saws have an arm with a built-in blade and a connected base where the wood is positioned for cutting. It can pivot left or right and tilt.
These machines are primarily used for creating angled cuts, but they can be used for straight crosscuts. A 12-inch standard miter saw is going to have all the features you need to cut through a 4×4 without any issues.
Dual-Bevel Compound Sliding Miter Saw
A sliding miter saw is almost identical to a compound saw, but it can increase the length of a single cut due to its extended reach, and it can tilt in both directions. Dual-bevel sliding mites are useful if you have a smaller blade because it gives you a few more inches of cutting space.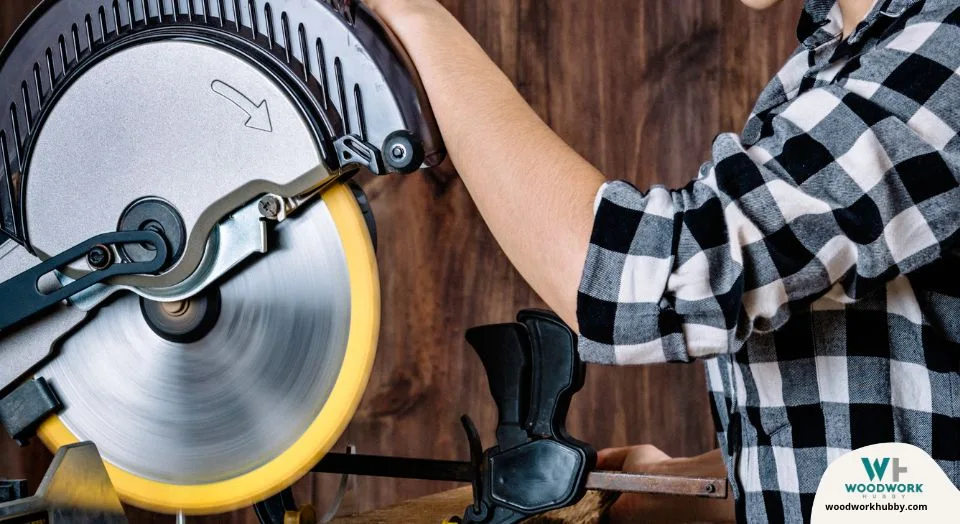 A 10-inch dual-bevel compound sliding miter saw has the potential to cut all the way through a 4×4 on the first pass. This very much depends on the brand and what safety features are in place. From my experience, the majority of 10-inch saws will not make the cut in one pass.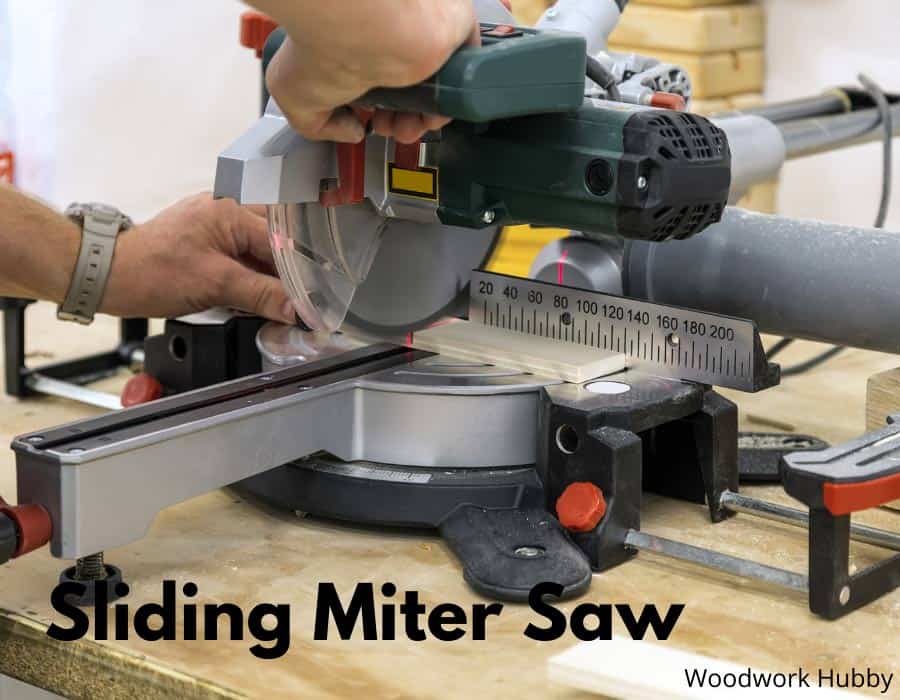 Keep Your Safety in Mind
When working with a bigger piece of wood than you usually would, it can sometimes push the limits of what your saw is capable of handling. Be careful and try not to minimize safety to cut time. In the end, the convenience might not be worth it.
Blade Guard
Anyone who already has a 10-inch miter saw on hand might be tempted to avoid getting anything more expensive for a few quick cuts. However, it will most likely take multiple passes to cut through a 4×4 unless you adjust the blade guard. This is not safe, and I recommend caution when deciding whether or not to move your blade guard to give you a few more inches of space.
Avoid Dull Blades
If you find during a cut your saw is laboring to make the cut and you are having to push the blade through the wood, there is a good chance your blade is dull. Dull or blunt blades can cause the cut to wonder and even burn the end grain of the wood.
If the wood is hard, you could also experience smoke coming from the cut from the excess friction. This is very dangerous and I suggest changing your blade immediately.
What to Look for When Buying a Miter Saw
If you have been wondering, "Can a miter saw cut a 4×4?" while looking at the various types, sizes, and other options available, then you probably found yourself looking through the lists of specs attached to each product. Each brand and model has unique features. You can narrow down what to look for when searching for a product that can easily cut through 4×4's by using the following criteria.
Any miter saw you intend to use on 4×4's is going to need the following capabilities.
Higher amps will give you greater cutting power, so look at the power details on the manufacturer or product page
Articulated blade guards will ensure you have a clearer view while cutting
Electric brakes are helpful because they can stop the blade much faster, which is both safer and can help you avoid mistakes
Table extensions will make it easier to keep longer pieces of wood steady so that cuts are cleaner
A laser guide feature can also facilitate more precise cuts
Can a Table Saw Cut a 4×4?
A table saw can cut a 4×4 with ease. It can also cut through it in one pass provided the blade is 12 inches in diameter.
You can definitely use a table saw to cut a 4×4 for your woodworking project, but just like with the miter saw, size is going to matter. A 10-inch standard table saw can do the job, but it is going to take multiple passes to cut completely through, but a 12-inch can do it in one pass.
Table saws are known to deal better with 4×4's compared to smaller miter saws. The heavy body of the machine is an advantage when working with larger pieces of wood and plywood.
The Differences Between Miter and Table Saws
Both of these saws can cut 4×4's, and they are both commonly found in woodshops, making them ideal for use in projects that require cutting larger pieces of wood. Below are the strengths and weaknesses of the two saws.
Miter Saw:
Better for cutting angles and bevels
Easier to move and transport to accommodate off-site jobs or outdoor projects
Less Precise but can definitely do neat cuts
Much more affordable than larger machines like table saws
It takes up less space
Table Saw:
Cuts through thick wood more easily
Provides more versatility in what materials it can cut
There are many accessories for this machine, making it capable of more complex cuts
There is an option for purchasing portable table saws
A table saw has the ability to make long mitered cuts on the edges of wood.
How To Cut a 4×4 With a Miter Saw
The process for cutting a 4×4 with your miter saw is straightforward and only has a few steps. Visual learners can watch one of the many online video tutorials that go over the process.
Cutting a 4×4 With a 10-inch Blade
Mark off all four sides of the 4×4 where you intend to cut.
Configure the blade for a 90-degree cut and double-check with a square.
Ensure your saw is properly secured to the table.
Fix the 4×4 on the bench and make sure the cut lines are placed under the blade.
Bring the saw down with a slow but firm grip.
Once you are finished with your first cut, bring it up at the same slow speed.
Turn the wood and follow steps 4-6.
Cutting a 4×4 With a 12-inch Blade
Mark off all four sides of the 4×4 where you intend to cut.
Configure the blade for a 90-degree cut and double-check with a square.
Ensure your saw is properly secured to the table.
Fix the 4×4 on the bench and make sure the cut lines are placed under the blade.
Bring the saw down with a slow but firm grip until it cuts all the way through the wood.
You can turn off the saw and raise the arm.
This video explains how to cut a 6×6 but this same method would apply to cutting a 4×4.
My Recommendation For Which Miter Saw To Use
I highly recommend using a 12-inch miter saw if you intend to regularly cut 4×4's because it is going to be faster, safer, and will not wear the machine down as quickly. These heavier-duty devices are specifically designed to deal with thicker wood.
The longer blade will let you get through the post or board in a single cut. For designs requiring a high level of precision in the cuts, try using something else like a table saw which will give you greater control and cleaner passes.
However, if you only intend to cut a few 4×4's for one quick project and tend to stick to smaller pieces, then using a 10-inch you already have will work fine. I do not recommend moving the blade guard. Instead, you can make multiple passes for a safer cut.