Chipboard is the weakest among panels made from fiber, and pocket hole joinery is among the weakest type of joinery in woodworking. This made me wonder how strong the combination of the two would so, so I decided to test whether the joints would last in chipboard. What I found was quite surprising.
Pocket holes can be used in chipboard as long as you add minimal weight to the project. The stability of the joints is compromised if the screws are not coarse or the chipboard is thinner than 0.7 inches (17mm). Wood glue should be used alongside the screws to help improve joint strength and retention.
In this article, I go over everything I learned about using pocket hole joinery with chipboard and melamine. The results were somewhat similar but varied in the degree of stability and the need for reinforcing adhesives. Read through to learn all you need to know before taking your pocket hole jig to the chipboard.
Can You Pocket Hole Chipboard?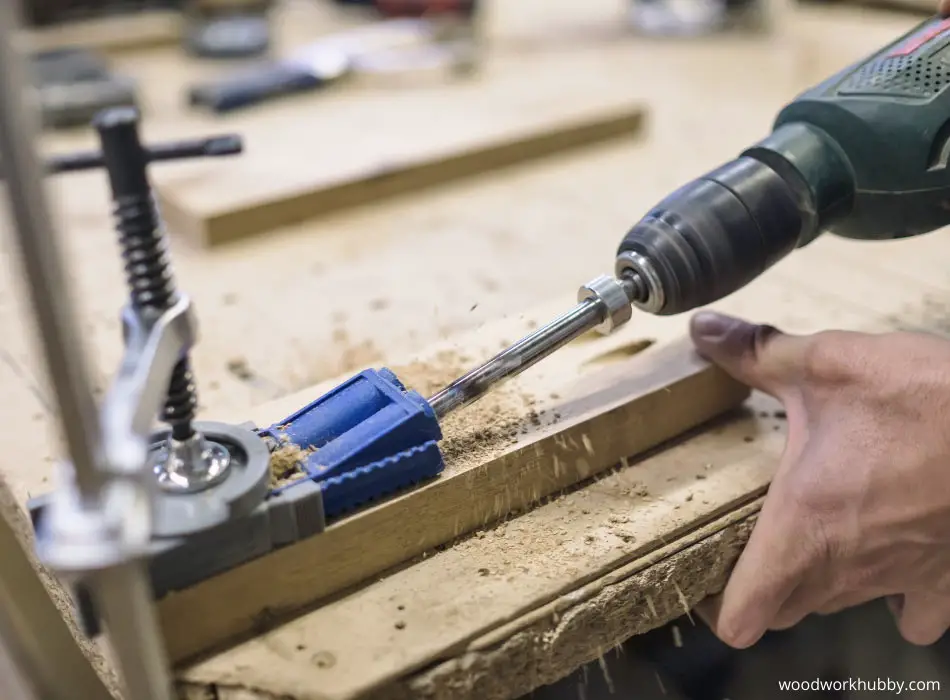 You can pocket hole chipboard, and the result doesn't lack stability. This means the pocket hole jig will work on the chipboard panel, and the resulting joint will be as durable in the chipboard of suitable thickness. The specific limitations of chipboard and pocket holes can compound.
Pocket hole joints have their limitations, which still apply to chipboard panels joined with a pocket hole screw. Some limitations are exclusive to chipboards in this context. So you have to make a few special considerations, mostly related to coarsenes
Pocket holes in chipboard work fine provided you use multiple pocket holes, coarse screws and wood glue is recommended for joints to last a long time!
Here are a few things to keep in mind when using pocket hole joinery on chipboard.
Do not use for supporting weight – While pocket hole joints can be used to hold together solid wood boards that support weight, the same luxury is not extended to chipboard. Chipboard panels joined by pocket hole screws have a lower tolerance for weight. 
Use a coarse screw – Screws can shift angles internally, so you should use coarse ones for the best grip.
Add glue for stability – Wood glue can keep pocket hole screws from backsliding when facing resistance. I highly recommend Titebond Wood glue for this. Check out my test on which type is best.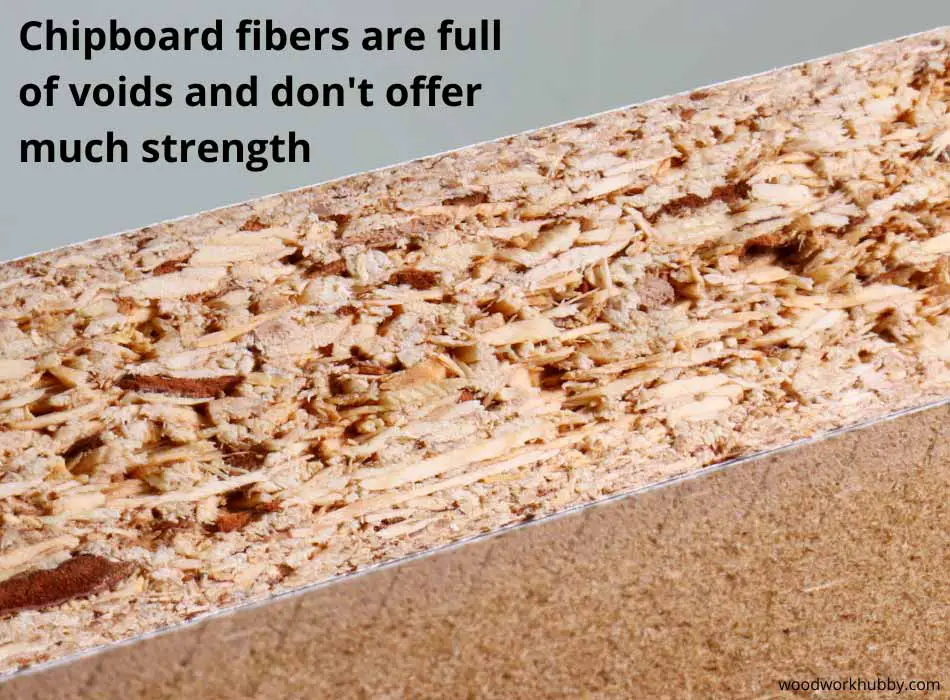 When Should You Not Use Pocket Holes?
You should not use pocket holes when the board is too thin, the joint can be visible, or the material is too weak.
Be Sure To Check Out My Other Handy Articles On Pocket Holes
A pocket hole is lodged at an angle, and if the board itself is not strong enough, the angle can keep increasing or decreasing depending on the side from which pressure is applied. Eventually, the joint collapses. However, this does not happen with chipboard.
Since the material itself doesn't render pocket holes useless, the only factors that make pocket holes impractical are context-related and usage-driven.
See the truth behind why woodworkers hate pocket holes?
Here is when you should not use pocket holes in a chipboard project.
When the chipboard is thinner than the drive of the joint screw – If the lowest angle drive of the pocket hole screw results in the screw poking through the other side of the chipboard, it is too thin for pocket holes.  
When using a non-standard-sized screw – If you use an unconventionally long screw for a pocket hole, it might pass through thick chipboard. See below for the right type of screws to use.
For a shelf carrying anything heavier than the board – At best, a pocket hole can support half the weight of the chipboard atop the chipboard. When you start putting too much weight onto a shelf, cabinet, or drawer with pocket hole joinery, the angle of the screw might start to shift within the board. This can eventually undo the joint.
When doing an elaborate project – Finally, a pocket hole joint might work on chipboard that is a part of a complex project but might not be ideal because of the difficulty in repairing. When chipboard has a broken pocket hole, there is nothing you can do to fix it. An alternative form of joinery has to be used.
Testing – Drilling Pocket Holes In Chipboard
As you can see from the below image, I have used pocket holes many times in chipboard and Melamine. Melamine has a chipboard core or center, so similar rules apply for both.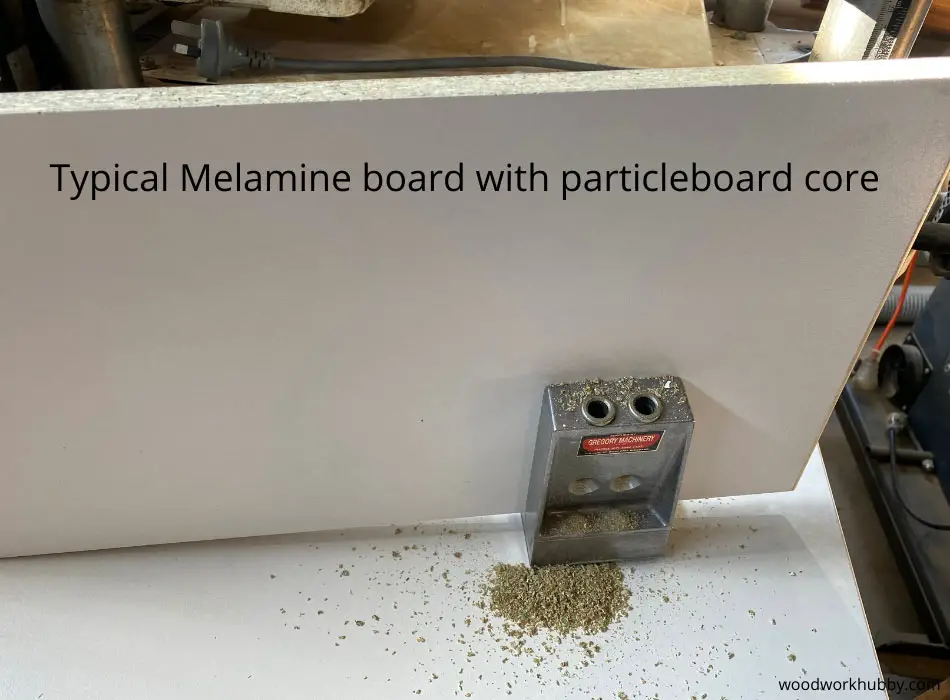 Pocket holes do work in chipboard but you just need to be careful to use multiple pocket holes, course screws and wood glue is best although not completely necessary.
Do Pocket Holes Work In Chipboard?
Pocket holes will work in chipboard provided multiple pocket holes as well as coarse screw being used for the joint. Pocket hole joints are weak with sideways movement but can be strengthened with the use of wood glue.
What Pocket Hole Screws Should Be Used For Chipboard?
The best screws for pocket holes in chipboard are ones that have a coarse thread such as Confirmat screws. These screws are designed for structural assembly and can hold their position when lodged at an angle mainly because of their coarse structure.
As mentioned earlier, one of the greatest disadvantages of chipboard is its relative coarseness, which makes it possible for screws to backslide. While it is harder for screws to shift angles within a melamine board because of the board's homogeneity, it can go back if it faces resistance. To avoid this, you must opt for a screw with more structure.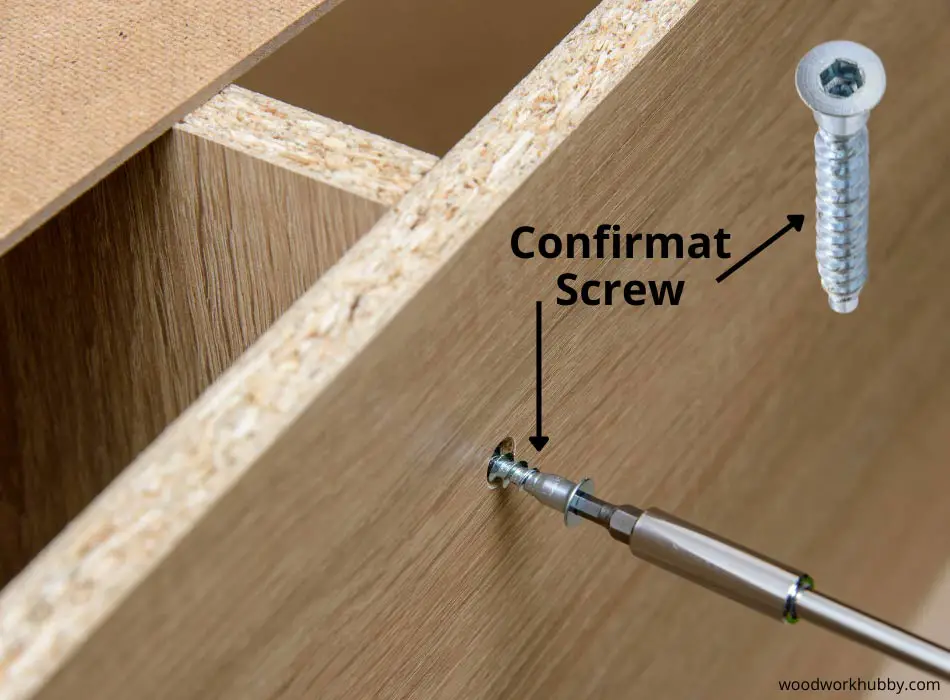 In the absence of Confirmat screws, any screw that is not big enough to poke through the board and is coarse enough to work on drywall can work on a chipboard pocket holes. This assumes that the chipboard structure doesn't have extra pressure on it. In the presence of pressure, the board itself can end up giving way even when the screw retains its position.
Final Thoughts – Can You Use Pocket Holes In Chipboard?
I have had a surprisingly tame experience with pocket holes in chipboard. But the stable structure held together with pocket hole joints doesn't support as much weight as alternative joinery.
My recommendation is to use this type of joinery for display pieces, cover items, and even shelves that aren't meant to carry too much weight. Use glue alongside coarse screws, and the project will last.