I have found that nothing changes the appearance of a project as much as your finish selection. When it comes to oil-based Varnishes, Tru Oil and Danish Oil are two somewhat identical options.
You should use Tru Oil to achieve a polished appearance, while Danish Oil should be used to strengthen wood surfaces without altering their appearance too much. Both options make a surface water-resistant and extend its lifespan, but differ the most in their looks and curing time. 
In this article, you will discover the differences and similarities between Tru Oil and Danish Oil and what each aspect means for your finish choice. You will also learn a few less-known facts about both the oils and why you should not take information about Danish Oil at face value.
For example, some resources suggest that Tru Oil is a type of Danish Oil. Let's start by examining this claim.
Is Tru Oil The Same As Danish Oil?
Tru Oil is not the same as Danish Oil, but both products contain Tung Oil. Technically, any oil-based finish that contains Tung Oil and varnish qualifies as Danish Oil, but Tung Oil's specific formula results in a drastically different finish. That's why Tru Oil is never referred to as Danish Oil.
The Key Differences Between Tru Oil and Danish Oil
Now that you know that Danish Oil and Tru Oil are both solutions that feature tung oil but are not the same let's examine the key differences. Remember, both products can be used to finish wood to a different effect.
So, to know which Oil is appropriate for your project, you should learn more about each of the aspects listed below.
Danish Oil Seeps Deeper Into Wood
Tru oil has a higher level of solids which prevent it from soaking as deep into the wood fibers. Since it is mainly used to give gunstocks a glossier appearance, its penetration isn't as big of a factor. For your project, the finish might have a major protective function, in which case, you should avoid Danish Oil.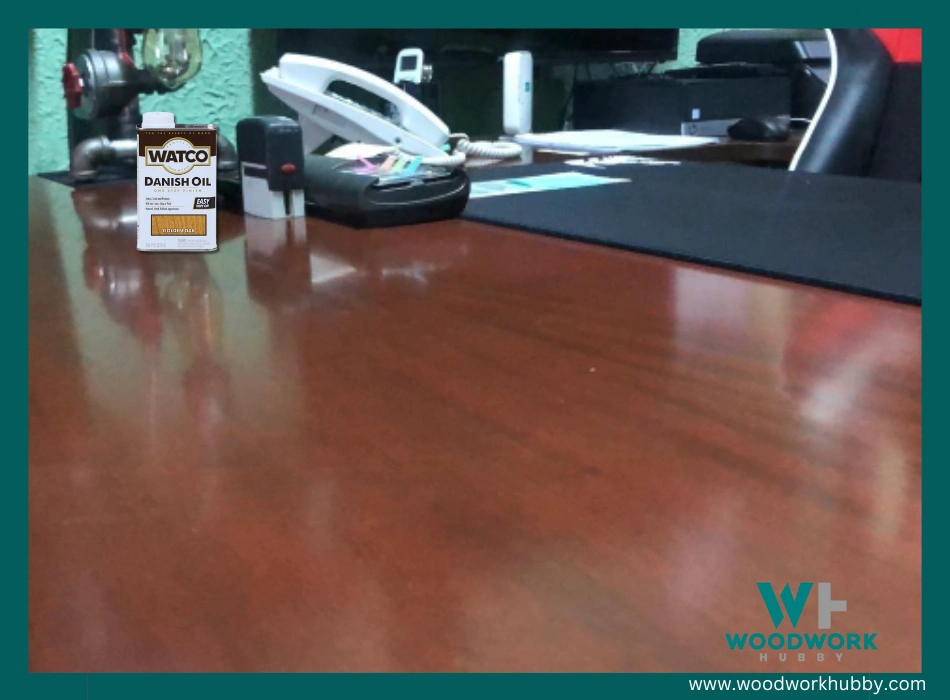 But if protecting the surface isn't the only requirement of the finish, then getting a varnish that penetrates the surface helps maintain a natural feel. A finish that creates a film on the surface takes away from the natural feeling.
Linseed oil also provides that natural feeling.
Danish Oil Is Not Standardized, While Tru Oil Is
Over the past few years, I have purchased Danish Oil from at least twelve different brands and have not found even two identical containers. The product's definition is so broad that there's plenty of room for specific recipes. From all-natural Danish Oil to food-safe Danish Oil, there are multiple iterations of this varnish. 
See my article where explain if you can apply Danish oil over sanding sealer?
So, whenever you check out a resource that covers Danish Oil, remember that everything it says about the product might not be true for the specific Oil you get. Danish Oil refers to an amalgamation of Tung Oil with other finishing and protective varnishes and oils. Tru Oil is a more specific formula that is the same regardless of where you get it. 
In other words, not all the pros and cons of Danish Oil apply to every single Danish Oil product, while everything said about Tru Oil stands true for every Tru Oil container you get. To avoid repetition, I will not mention under each Danish Oil feature or drawback that it is possible to get Danish Oil that does not have that specific aspect.
Tru Oil Has a Glossier Finish
Depending on the project, glossiness can add an appearance of novelty or make the product look cheap. Tru oil makes wood glossier, which works for wood with a deep hue like walnut and oak. The glossy finish makes such wood look fresh. 
But lighter wood can look like plastic if it receives a coat of glossy varnish. Ask yourself if adding shine to the surface will make it look better. If it does so, you should use Tru Oil. And if it won't, then you should opt for Matte Finish Danish Oil.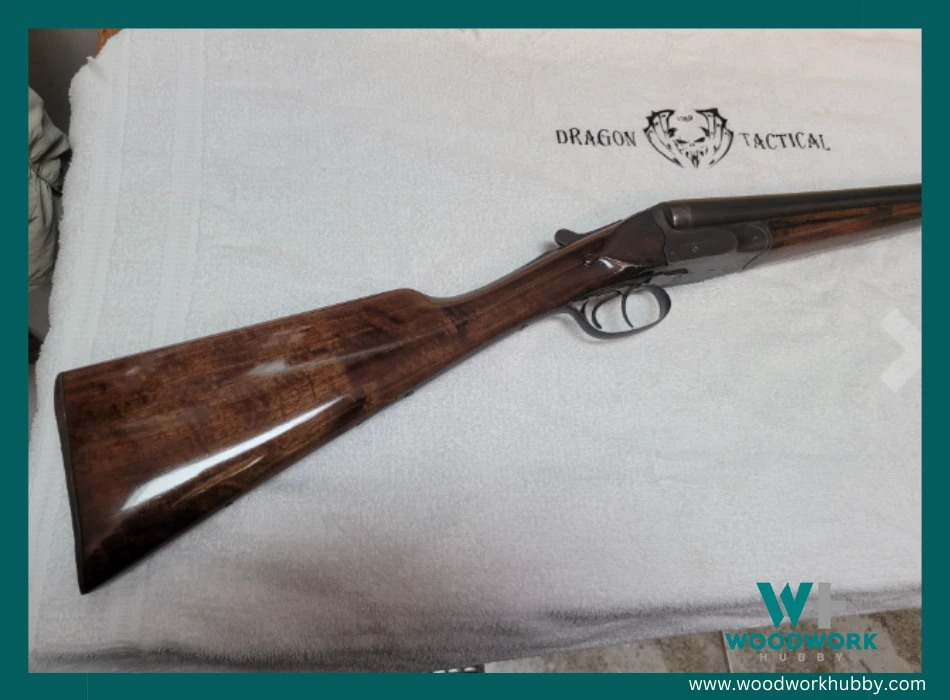 Tru Oil Is More Durable
One of the reasons behind applying a finish to a surface is to prevent damage from scratches and daily use impact. To the extent that surface protection is a priority, Tru oil is the better choice since it creates a sturdier layer. This aspect might be redundant for hardwoods with high scratch resistance, but when it comes to coating cedar or pinewood, Danish Oil might not be sufficient.
Tru Oil has been used to finish gunstocks ever since the product's initial launch. Gunstocks take plenty of punishment compared to regular furniture. That's why a gunstock finish produces a more durable layer, which can offset the weakness of softwoods and certain hardwoods.
Danish Oil Cures Faster Than Tru Oil
Sometimes, you have to finish a surface that you cannot decommission for a long time. A wooden deck is an example of this because people can wait for a limited time before they need to step on it. In such instances, using Oil or varnish that dries quickly is much more important than in cases where the surface can be left to cure for days. 
Key Similarities Between Tru Oil and Danish Oil
While the differences between the two finishes help identify which types of projects each product is suited for, the similarities between Tru Oil and Danish Oil let you know the instances where either choice works. In this section, we explore a few features and contents that are common between the two oils.
Both Are Water-Resistant
Neither Danish Oil nor Tru Oil is waterproof, but both are water-resistant and can help previously unfinished wood resist water damage. If you're looking to apply a coat of Oil to keep a surface from absorbing water, it does not matter which of the two you choose. You can make your choice based on the way they affect the project's appearance, their respective prices, and the availability of Danish Oil or Tru Oil.
Both Contain Tung Oil
Another thing that both Danish Oil and Tru Oil have in common is that they both contain Tung Oil. That said, the presence of Tung Oil isn't really a deciding factor because if using Tung Oil matters to someone, they use Tung Oil itself instead of an amalgamation of it. 
This similarity matters to the extent that the finishes extend Tung Oil's benefits to the surfaces they cover. Tru Oil contains 11% linseed or Tung Oil, while Danish Oil usually contains more Tung Oil. The common effect of this similarity is that both the oils alter the appearance of wood. If you're looking for a finish that doesn't change the color of the wood, you must opt for a third option.
Both Affect the Appearance of Wood
As mentioned above, the presence of certain contents in Danish Oil and Tru Oil ensures that they affect the appearance of wood. This is more of a feature than a drawback in most instances. Especially with Tru Oil, one of the primary objects of applying the finish is to make wood look more polished. 
Danish Oil is sometimes used to preserve and protect the wood, but it creates a yellowish tint that has a somewhat undesirable appearance. Even though both finishes change the look of the surface they coat, they do so in different ways.
Is Tru Oil a Good Finish?
Tru oil is a good finish for protecting and polishing wood surfaces that are used more frequently. Conceived as a gunstock varnish, Tru Oil is used creatively to give a range of products the classic gunstock finish. It adds a glossy layer that resists water damage and prevents wood from rotting.
Tru Oil has a very specific recipe, with 11% linseed or Tung oil and an amalgamation of different varnishes and thinners making up the rest of its contents. As a result, it produces a predictable appearance that has niche applications. Some applications of Tru Oil are listed below.
The Standard for Gunstock Finish
Tru Oil is the standard for finishing gunstocks and is synonymous with the term "gunstock finish." Wooden decor for man caves often uses Tru Oil to give a gunstock/military appearance to the overall aesthetic of the space. While most oil finishes are appropriate for a gunstock, Tru Oil remains the preferred one among gun lovers.
Excellent for Guitars
While creative uses of gunstock finish are commonly found in bachelor pad wooden decor and man caves, it is not confined to masculine themes only. Artistic products like guitars can be coated in Tru Oil for a unique appearance. Artists prefer standing out, and if they use wooden items, using a gunstock finish can be a great way to make a stand apart from the crowd.
It Can Be Used Creatively for Coasters
If you ask yourself, "what decorative wood products do I own?" you will have your answer for what Tru Oil is good for. Any project that has an aesthetic angle can be made to look better with a coat of Tru Oil. 
However, you have to be selective because having every wooden surface look the same can be boring. Wooden coasters, photo frames, shelf-dividers, and book-ends are all examples of small projects that are crafted out of wood and are meant to look good. Just avoid coating all of them in Tru Oil.
Is Tung Oil Better Than Tru Oil?
Tung Oil is better than Tru oil at producing a natural-feeling finish, while Tru Oil is better at creating a better-polished finish. For a more varnish-like finish, you should opt for Tru Oil. And for a finish that feels like regular wood, you can use Tung Oil.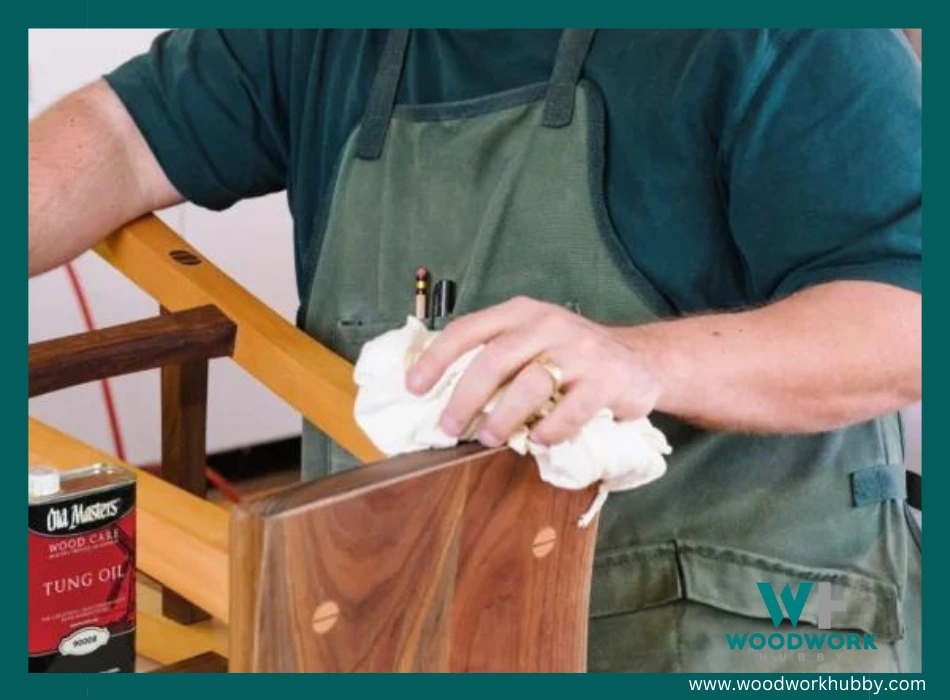 Neither of these is universally better than the other, especially when Tru Oil actually contains Tung Oil. But depending on the context, one option can be far better-suited than the other. This section explores different situations where Tung Oil is better than Tru Oil and vice versa.
Tung Oil Feels More Natural
Let's suppose you've made wooden cups or a wooden vase. Having the exterior coated in Tung Oil is far more appropriate than using Tru Oil because the former feels natural. Whenever you want the material used in a project to retain its original feel, you should use Tung Oil instead of Tru Oil.
Tru Oil Is Better for a Very Specific Look
We have covered earlier how Tru Oil presents as more polished. For projects that have a more aesthetic function, you must use Tru Oil when you want to achieve a very specific look. Creative applications of gunstock finish are covered above.
Tung Oil Needs Regular Re-Treating
Finally, you must remember that Tung oil is just Oil. While it protects a wooden surface, it eventually evaporates, and the previously-soaked item needs to be re-treated. Tru Oil is a concoction that leaves behind a varnish after some of its contents evaporate.
Is Danish Oil Better Than Tung Oil?
Danish Oil is better than Tung Oil for a quicker application, while Tung Oil is better in almost every other way. Tung Oil creates a thicker layer, coats better, and protects a wooden surface more than Danish Oil does. In contrast, Danish Oil produces a relatively more polished finish.
| Danish Oil Features | Tung Oil Features |
| --- | --- |
| Danish Oil dries faster | Tung oil is more durable |
| Danish Oil seeps deeper | Tung oil forms a thicker layer |
| Danish Oil is cheaper | Tung oil is more water-resistant |
Table showing features of both Danish Oil and Tung Oil
Recommended Products
I know that there are many good products on the market that people claim to say are the best. These are 2 products that I have used and am very happy with how they perform.
Final Thoughts – Tru Oil vs Danish Oil
Tru Oil and Danish Oil both contain Tung Oil which acts as a strengthening agent with waterproofing qualities. But the appearance of the finish is dictated by the varnishes and oils added to Danish Oil and Tru Oil.
If you want a gunstock finish with a glossy and polished appearance, you should use Tru Oil. But if you want to finish a surface without a lot of effort, then you should use Danish Oil.