Whenever people ask me specific questions about veneer, I give them the same answer as I would for wood. My answer is no different when the question is about using the oil for finishing an Oak veneer door. Can you use Danish Oil on Oak veneer doors?
You can use Danish Oil on Oak Veneer Doors, but the doors' appearance will be affected. If you do not mind a slightly yellow tint, using a Danish Oil finish can protect your Oak veneer door from scratches and water damage. But it can also make the doors look cheap.
That doesn't mean you should dismiss Danish Oil. Did you know that Danish Oil made by two different producers is not the same product? In this article, you will learn more about this finish and its advantages as well as disadvantages.
Among other things, we will explore this Oil's alternatives and the best finish for oak veneers. But first, let's circle back to the main question and explore in detail whether Danish Oil is suitable for oak veneer products.
Can I use Danish Oil On Veneer?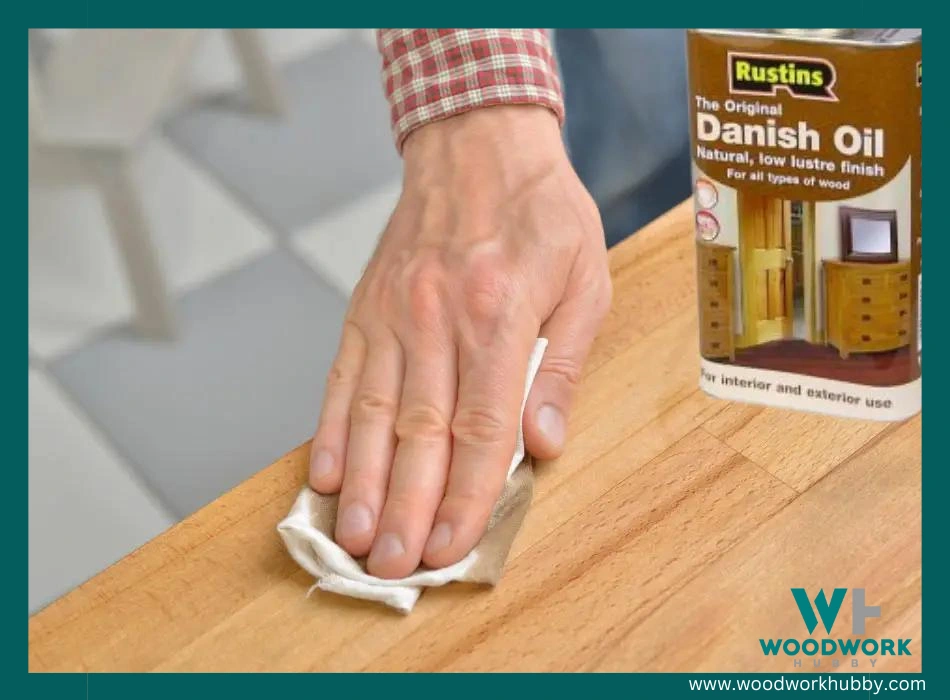 You can use Danish Oil on veneers as long as the veneers are not meant to come in contact with food. Even then, the finishing oil mix is not the perfect finish for regular wood sheets as well as veneer. It protects the veneer and can be waterproof, but it requires constant maintenance.
Is Danish Oil Suitable For Oak Veneer Doors?
Danish Oil is suitable for oak veneer doors but might not be optimal because it requires semi-regular refreshing/maintenance. Since the Oil's content vary depending on the manufacturer, one cannot be sure of the longevity of the finish.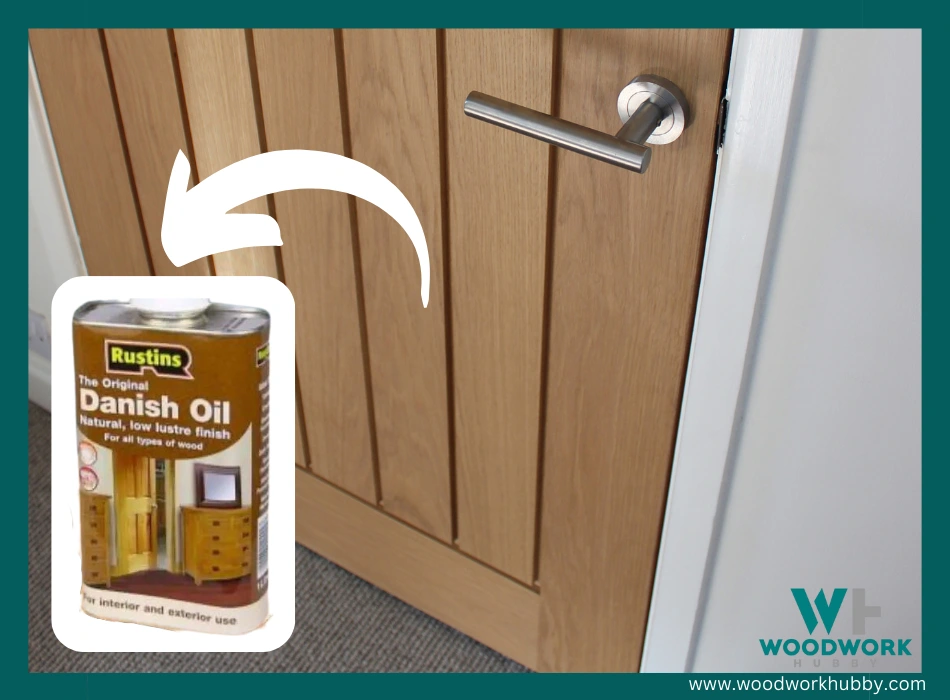 This article will explore the pros and cons of using Danish Oil on veneer. Among other things, you will learn about alternative finishes and even non-oil options to finish wood veneer. By the end, you will have a strong knowledge base to pick your veneer finish with confidence.
Danish Oil: The Good, The Bad, And The Beautiful
Danish Oil is a tung-oil-based finish featuring other polishing and protecting compounds. The term is semi-formal in that almost any mix of tung oil and varnish can be called Danish Oil. So, when you purchase a specific Danish Oil package, you must check whether it is toxic or food-safe. 
Tru oil vs danish oil. Have you seen the differences? Check out my article showing which you should use.
This is true when the veneers are supposed to be used to make cutting boards and serving trays. Most danish oils work for all exterior applications and many interior applications.
Let's explore the good and bad aspects of using this product as your veneer finish.
| Pros Of Danish Oil | Cons Of Danish Oil |
| --- | --- |
| Quicker to dry than a pure oil finish | There is a risk of spontaneous combustion until the Oil dries |
| Durable satin-like finish that complements veneer | Less durable than tung oil and alternative finished |
| Requires fewer coats for complete coverage | Requires recoating at times |
| Waterproof options available | Needs frequent maintenance |
| Penetrates deep, so it works on Oak and other hardwoods | It is inconsistent from manufacturer to manufacturer |
Table showing the pros and cons of Danish oil
The Verdict
In the short-term, Danish Oil protects and polishes the oak veneer doors. It is at risk of catching fire when drying, but it dries quick enough for the risk to be minute.
It is impossible to give a blanket verdict on a product that doesn't have a regulated standard. The average Danish Oil is a decent option for most hardwoods and veneers, but there are definitely better options for oak veneers.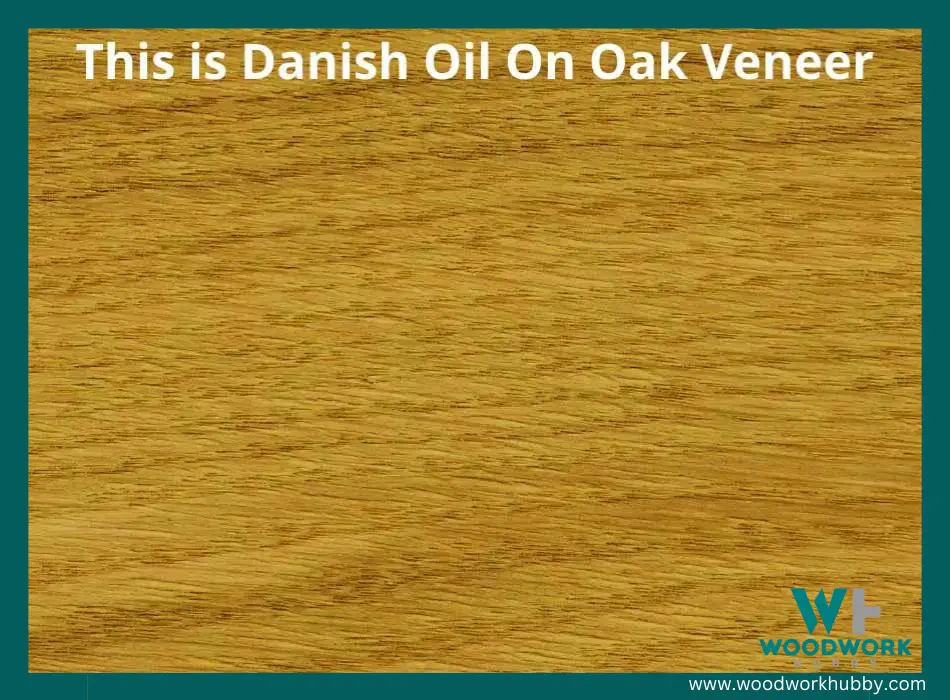 What Is the Best Finish For Oak Veneer Doors?
Water-based Polyurethane is the best finish for oak veneer doors because it doesn't interfere with the veneer's appearance and requires less maintenance. It dries quicker than an oil finish, making it more convenient to apply and less risky when curing.
Be sure to include Linseed oil as it's a great old-time favorite.
Having established the broader best finish type, let's look at the specific finishes within the category. Here are some of the best finishes for oak veneer:
This product comes in gloss and satin finishes with the latter complementing oak veneers. It protects the veneers from permanent stains and helps eliminate accidental scratches. 
Varathane Water-based Polyurethane
It lasts the longest in indoor applications and is ideal for doors inside the house. It might not have the same longevity when used to coat the front door of a house. It is best for apartments where the main door opens into an interior section as well.
With over 4,600 reviews and ratings, it stands at a global average of 4.6 out of 5 stars. 79% of the reviewers have given it 5 out of 5 stars, citing different reasons ranging from its ease of application to its value for money. I have found it good to use.
This finish is among the easiest ones to apply. As the name suggests, one has to literally wipe it on. It dries pretty quickly, with portions of the project curing to a dry touch before you're done applying the finish to the entire surface. 
Minwax Water-Base Wipe-On Polyurethane
Its odor is barely noticeable while applying and completely absent once applied. Do not purchase the one-pint container, though. The one-quart option is better as it ensures that you won't run out of Polyurethane halfway through the coating process. I have found, that you need to apply two to three coats before the door is adequately covered.
Not all polyurethane products are built alike. Where most water-based varnishes require two to three coats, Minwax's One-Coat formula covers a surface sufficiently in a single coat. The trade-off comes in the ease of application as this finish is slightly harder to apply. The finish options are gloss, semi-gloss, and satin. 
Minwax One Coat Polyurethane
Among these, the semi-gloss and satin options are better for oak veneers. With over 790 reviews and ratings, Minwax One Coat Polyurethane has 4.5 out of 5 stars on average. The features that drive this impressive rating are its smooth finish and clear look with no yellowing.
Can I Use Oil on Wood Veneer?
You can use Oil on wood veneer, but oil-based finishes can result in yellowing and may require constant maintenance. An oil finish must be avoided whenever you want to preserve the exact appearance of a surface. That said, an oil finish does not damage wood veneer.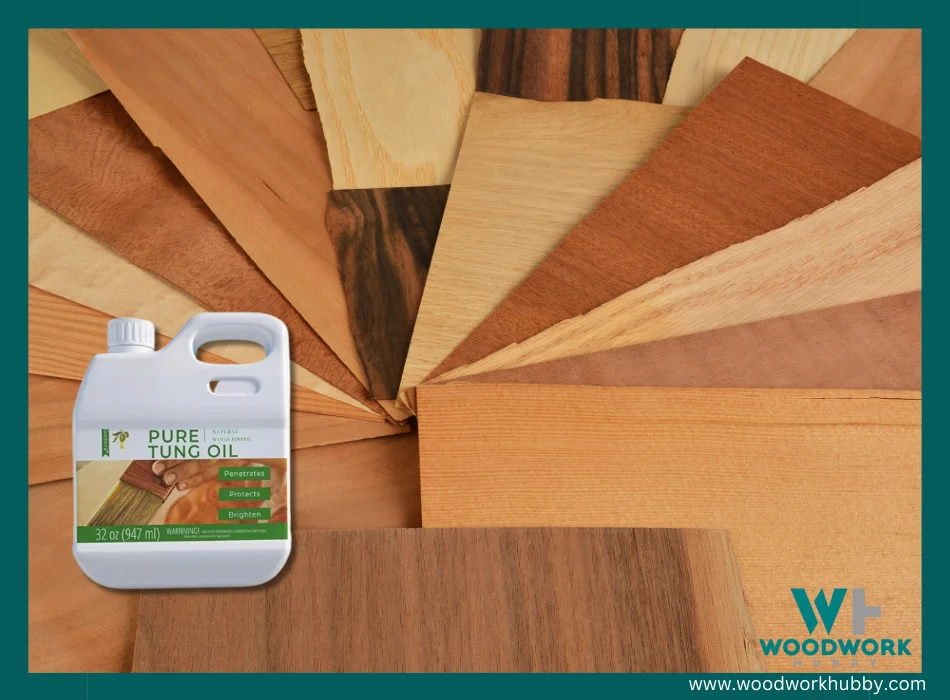 Among oil finishes, the product recommended most often for wood is tung oil, which is also a component of Danish Oil. Using tung oil is like removing the inconsistency from Danish Oil and getting relatively similar results.
The following table presents the advantages and drawbacks of using tung oil on wood veneer or thick hardwood.
| Pros Of Tung Oil | Cons Of Tung Oil |
| --- | --- |
| All Natural | Changes the color of the veneer |
| It can be used on cutting boards | It takes a long time to cure |
| Remains unaffected by the contraction and expansion of wood | Requires six layers  |
| Forms a durable, protective layer | It is combustible (difficult to store) |
| It is waterproof | It can be expensive and time-consuming to apply. |
Table showing pros and cons of Tung oil
Verdict
If you have tung oil and actually prefer having a golden hue finish, then you can use the Oil on wood veneer. Otherwise, you should get a water-based varnish that requires fewer coats and takes less time to apply.
In projects where the Oil serves a more protective function than an aesthetic one, a Tung Oil finish might be ideal. Almost every other context requires a water-based finish.
Do You Need To Finish Oak Veneer Doors?
Having established the pros and cons of Danish Oil as well as the all-natural Tung oil found in Danish Oil, the answer seems clear: water-based Polyurethane is a better option. But what if you don't need the finish in the first place?
You need to finish oak veneer doors to keep them from getting scratched and prevent water damage. Any oil-based and water-based varnish can accomplish this, but water-based varnishes are best at preserving the veneer's appearance.
Final Thoughts – Can You Use Danish Oil On Oak Veneer Doors?
You can use Danish Oil on Oak Veneer Doors, but it would give the veneers an unpleasant yellowish appearance. If that is the look you are after, then go with it.
Water-based Polyurethane is a better alternative that protects the door's original color.