Some of my favorite wood polishing finishes are quite expensive. The other day, I noticed that my coffee table was beginning to look dull. I was in half a mind to use the remainder of my Oldie's Oil but spotted lemon oil in my cabinet. For a long time, lemon oil used to be my wood polishing favorite, so I used it. And the results reminded me why it used to be my go-to application during dry summer.
Lemon oil is good for wood as it keeps wood from drying in extreme heat. It also makes the wood look good by emphasizing its individual grain patterns and reflecting light to give it a more polished appearance. Lemon oil can also kill mold and clean the dusty wood surface.
In this article, you will find out whether lemon oil can also be bad for wood, which benefit of lemon oil works for which type of wood, and how it compares to other citrus oils like orange oil. The information in this post comes from my 17 years of using lemon oil in my 20-plus years of woodworking.
Authoritative sources are also cited for further emphasis. Towards the end is my recommendation for the best lemon oil for wood, but first, let's take a deeper look at how lemon oil can be good for wood.
Is Lemon Oil Good For Wood?
Lemon oil is good for wood as it has a polishing effect and restores wood's beauty and texture contrast. It makes the individuality of grain patterns more visible. Above all, lemon oil can keep wood from drying out, so it is most effective for wood that is most vulnerable to dryness.
The following table shows how good lemon oil is for different types of wood.
| Wood Type | Effect of Lemon Oil | Rationale |
| --- | --- | --- |
| Laminated Wood | Temporary polish and fragrance. | It will not seep into the wood but will temporarily scent and brighten up the wood. |
| Painted Wood | Temporary shine | The paint coat will prevent lemon oil from making contact with the wood. |
| Wood Veneer | Polish | Wood veneer doesn't let lemon oil soak deep enough to have any other effect. It does work to polish the wood, though. |
| Wood board | Temporary polish | The wood adhesive used to make the board doesn't allow the oil to seep in. The wood board can still be polished with lemon oil. |
| Oiled Wood | Polish, nourish, and reinforce | Lemon oil acts as a refreshing finish for oiled wood. It works with cedar, teak, and other oiled woods. |
| Untreated Wood | Refine the grain | While untreated wood can be beautiful with lemon oil, this use case is not ideal. If wood is saturated with lemon oil, it might not be open to a more durable finish. |
| Project Wood | Polish, nourish, and refine the grain | You can use lemon oil on any wood project to beautify it and prevent it from becoming dry. |
| Construction Wood | Grain refinement | Construction wood doesn't get any noticeable benefit from lemon oil except that its grain can become more defined. |
| Softwood | Nourishment and polishing | Lemon oil is ideal for softwoods that are vulnerable to drying out in hot weather. |
| General Hardwood | Nourishment and polishing | Lemon oil can keep hardwood from becoming dry as it doesn't evaporate like the moisture content of the wood does. |
A table showing how good lemon oil is for different types of wood.
Lemon Oil: How It Keeps Wood From Drying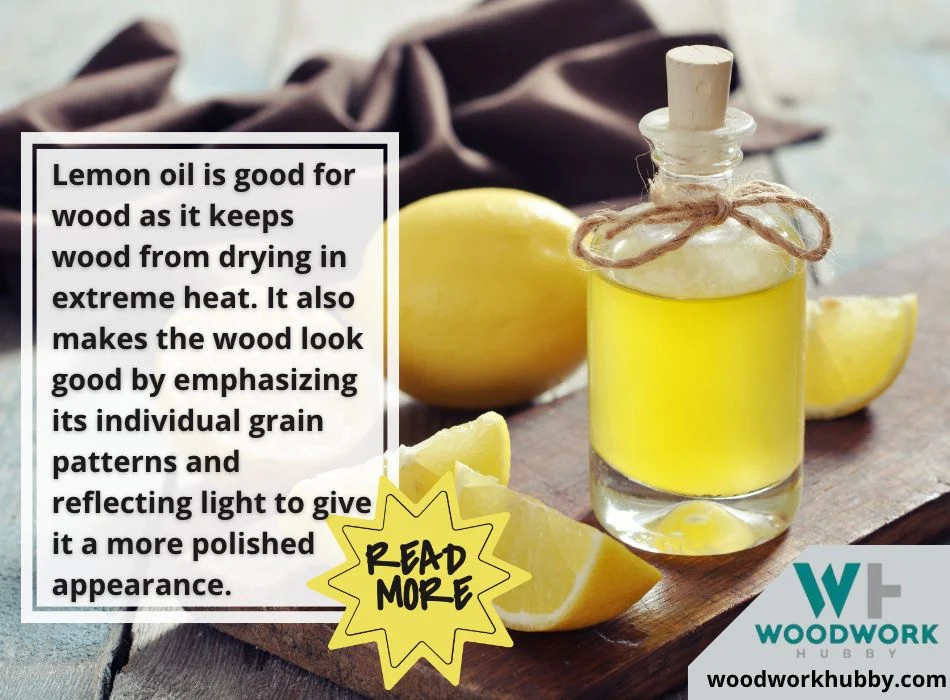 Now that you know which wood types get the most benefits and which ones get the fewest from a lemon oil treatment, let's look at how lemon oil works.
First of all, lemon oil reflects light, which means that any surface coated with it will appear more polished. Since this feature doesn't depend on the surface, it is pretty universal across solid surfaces. Lemon oil can polish leather as well as wood boards and not just wood.
The second thing about lemon oil is that it has a citrus aroma. This scent is pretty pleasant, given that lemons are used in appetizers and edible food. As long as the wood doesn't have a stronger scent, lemon oil can freshen up its aroma.
If you have used a strong varnish or a harsh-smelling paint over the wood, then lemon oil's scent might get masked.
The third aspect of lemon oil is common among all oil polishes. Lemon oil doesn't evaporate at the same temperature as water. Wood's moisture content can start dropping rapidly in a high-heat environment.
If wood moisture drops below 8%, it can start cracking. To prevent the wood from bowing or warping as it dries, you can use wood oil. Lemon oil can seep into the wood and increase its internal liquid content even when the weather is hot.
The three aspects of lemon oil covered above might make it seem like it is used exclusively for wood. Wood nourishing isn't even a common use of lemon oil, let alone its exclusive use.
What Is Lemon Oil Most Used For?
Lemon oil is most often used for self-care as a topical or an ingredient. In woodworking, it is mostly used for polishing furniture. It can be stored as a general-purpose surface cleaner as well because it doesn't create a rot risk like water.
If you buy a container of lemon oil, here are the top 5 ways in which you can use it.
Furniture Polish – Lemon oil's high-gloss reflection can improve the appearance of your furniture and make it look fresh.
 
Wooden Surface Cleaner – Lemon oil can replace other cleaners. Its pH level isn't harmful to wood, and unlike water, it doesn't create a rot risk. Water is a common surface cleaner but can weaken the wood.
 
Anti-Drying Agent – Lemon oil can nourish the wood and keep it from becoming dry by replacing the moisture lost to the heat.
 
Fragrance – Lemon's scent can mask any odor from spills or other sources.
 
Mold-killer – Lemon oil can kill mold though it is not the most efficient mold-killer for wood. Still, cleaning wood with lemon oil does ensure that the surface is less susceptible to mold.

Having covered the top five uses of lemon oil, we see reflectiveness, scent, and a higher boiling point than water to be the most valuable traits of lemon oil. These traits make it a viable polish, freshener, and nourisher, respectively.
Another citrus oil that has a high-gloss reflection, pleasant scent, and high boiling point is orange oil.
Is Lemon Oil Better Than Orange Oil For Wood?
Lemon oil is not better than orange oil for wood because orange oil can be used more regularly and doesn't have as much of a bite as lemon oil. Both oils have the same polishing effects, and both prevent the wood from drying out.
Orange oil is more popular mainly because of its scent and the fact that it is 100% organic. Lemon oil has mineral spirits while orange oil does not, making the latter more suitable for regular use.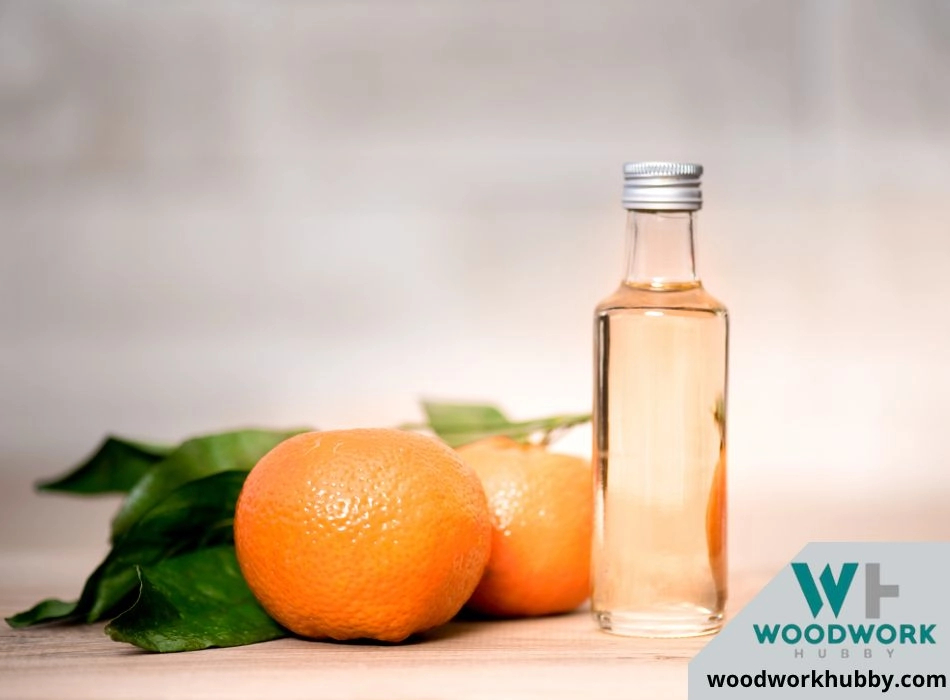 Still, Lemon oil isn't harmful to wood. Even concentrated lemon oil doesn't harm wood as water does. Ultimately, the choice between orange oil and lemon oil comes down to what you prefer or what you have.
There have been times when all I had was lemon oil, so I used it to polish my counter. Once I could not find lemon oil and bought orange oil instead. Personally, I prefer the scent of lemon oil though most people seem to prefer orange oil's scent. The effects of both oils are similar, though.
What Are The Effects Of Lemon Oil On Wood?
The effect of lemon oil (and any other citrus oil) are polishing and nourishing. These oils seep into the wood and replace lost moisture in a timely manner, preventing the wood from drying. Moreover, they emphasize the depth of the grain of the wood, which beautifies wood.
The table below covers the different effects of lemon oil and the types of wood products/applications that best benefit from it.
| Lemon Oil Effects | Wood application |
| --- | --- |
| Polishing | Best for furniture, decorative wood projects, countertops, and cabinet exteriors |
| Anti-Drying/Nourishment | Bathroom and kitchen cabinets, countertops, and projects that receive plenty of sunlight |
| Cleaning | Floors, tabletops, countertops |
| Fragrance | All interior wood applications |
| Anti-molding | All interior wood applications |
A table showing the different effects of lemon oil and the types of wood products/applications that best benefit from it.
As you can see, lemon oil's effects on the wood are generally positive. It helps decorative projects look better and smell better. But lemon oil is not like linseed oil. Some oil finishes go beyond making wood look good.
They actually help the wood last longer than it usually does. These are called fortifying oils, and lemon oil doesn't seem to be one of them.
Does Lemon Oil Help Wood?
Lemon oil helps wood look good and keeps it from drying, but it doesn't enrich wood with strength the way linseed and tung oil does. It should be treated as a nourishing wood polish with anti-molding properties.
Do not treat lemon oil as a wood finish. Wood finishing oils are supposed to strengthen wood which citrus oils don't usually do. Citrus oils are good for aesthetic changes and dryness prevention only. The difference between an oil finish and an oil polish is in application method, among other things.
How To Apply Lemon Oil?
To apply lemon oil, you must err on the side of less. Unlike a finishing oil, you should add a teaspoon of lemon oil to a soft cloth and wipe it over the wood surface. If the surface begins to shine with a soft cloth application, continue using the cloth over the wider surface.
Once the lemon oil on the cloth is exhausted, you can add more oil to the cloth and continue covering the rest of the wood. Whenever you notice that the cloth isn't polishing wood, you can add more lemon oil.
In some instances, you will find the wood too thirsty for oil. If you can't use the cloth to evenly distribute the oil across a wood surface, you should put it in a spray bottle and directly spray it on the wood. Then you should use a soft cloth to wipe the excess.
The spray method is quicker, but I would be cautious when using it with expensive wood. Excess of nothing is good, and spraying encourages excess and decreases the control you have over the liquid.
I use spray bottles mostly when I'm working with cheap wood or wood boards. And I have never used a spray bottle of lemon juice for antique furniture.
Is Lemon Oil Safe For Antique Furniture?
Lemon oil formulated for all-purpose wood polishing and cleaning is safe for antique furniture. Not all lemon oil is made alike, and some varieties of lemon oil might not be fit for furniture with a lot of wear and tear.
As you might recall, I mentioned that orange oil is organic, while lemon oil contains mineral spirits. The proportion of these spirits can sometimes make the overall lemon oil blend harsh for antique furniture. So when you choose lemon oil for wood, you need to make sure that its formula is wood-friendly.
What Is The Best Lemon Oil For Wood?
Howard Lemon Oil Wood Polish is best for most wood surfaces, including old wood. It has a high-luster polishing effect, which is why it is positioned as a polish. This oil comes in a spray bottle, indicating that excess application isn't dangerous.
Howard Lemon Oil Wood Polish
That said, do I use Howard's Lemon Oil Polish myself? Not anymore. It is generally best for expensive woods, and as I mentioned earlier, I use lemon oil for inexpensive wood, wood boards, and counter cleaning. The lemon oil I prefer is the cheaper one.
Final Thoughts – Is Lemon Oil Good For Wood?
Lemon oil is good for wood that is at risk of getting damaged from dryness. It nourishes the wood and replaces lost moisture so the wood can maintain its visual appearance. It also makes the wood look good by emphasizing its grain depth and reflecting more light to give the surface a polished appearance.
If you want to know if Linseed Oil Darken Wood Or Your Furniture?, please refer to the link provided to learn more.