If you know how to use a glue gun, it can seem like hot glue can fix everything. So the skepticism surrounding hot glue and wood isn't as "out there" as it might seem. As I unraveled a new woodworking project, I found out for myself: Does hot glue work on wood? I will definitely share with you my ultimate guide to hot glue.
Hot glue works on wood, but hot melt resin works better. The type of hot glue that is applied with a glue gun contains polyesters, polyethylene, ethylene-vinyl acetate (EVA), and ethylene-methyl acrylate (EMA). The hot melt that holds together wood almost permanently is made of urea formaldehyde.
In this article, you will learn all you need to know about wood and adhesives, including hot glue applications on wood and contexts where you need hot melt instead. By the end of this post, you will know all you need about hot glue and how to use it. But to avoid confusion, let's separate it from Hot Melt (which sounds similar).
Is Hot Glue The Same As Hot Melt?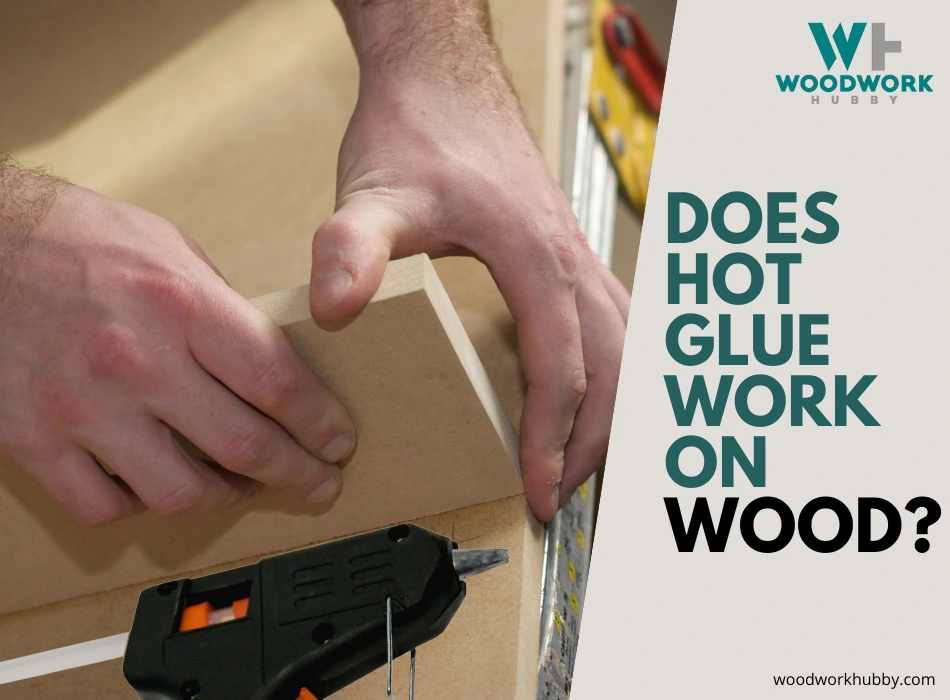 Hot glue is not the same as hot melt. The following table shows how the two differ:
| Hot Glue | Hot Melt Resin |
| --- | --- |
| Applied with a glue gun | Poured Like an epoxy resin |
| Made from polyesters, ethylene-vinyl acetate (EVA), polyethylene, and ethylene-methyl acrylate (EMA), | Made from Urea Formaldehyde |
| It is used to attach non-wood appendages to wood | Used to attach two pieces of wood together permanently. Also used to create wood boards from wood fibers. |
| Can remelt at the same temperature as a glue gun | It is almost impossible to remelt |
| Requires minimal preparation | Has to be melted in a pot |
A table showing a comparison between hot glue and hot melt resin
Uses of Hot Glue in Woodworking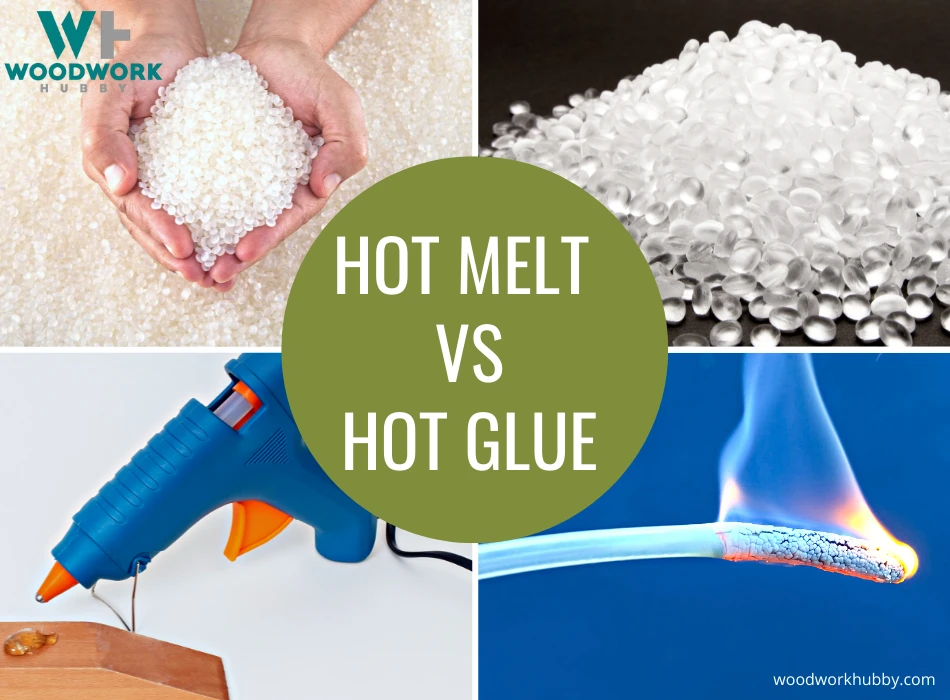 Whenever something is not too heavy, it can be attached to the wood with a wood-compatible adhesive. The rule of thumb is that the holding force of the adhesive shouldn't be weaker than the weight of the object attached to the wood. 
Let's suppose you want to pepper a wood panel with decorative LED lights. Since these lights don't weigh too much, hot glue can be used to fix them to the frame as long as the heat of the glue doesn't damage the lights.
But if you want to attach a dumbbell to a wood frame, you should not use hot glue as it will not be strong enough to hold the wood and the metal together.
My Tests With Hot Glue And Pine Wood
I don't often use hot glue, but on my most recent project, the use of glue that dried quickly appealed to me. I gave hot glue a try on some scraps first and the results were surprising.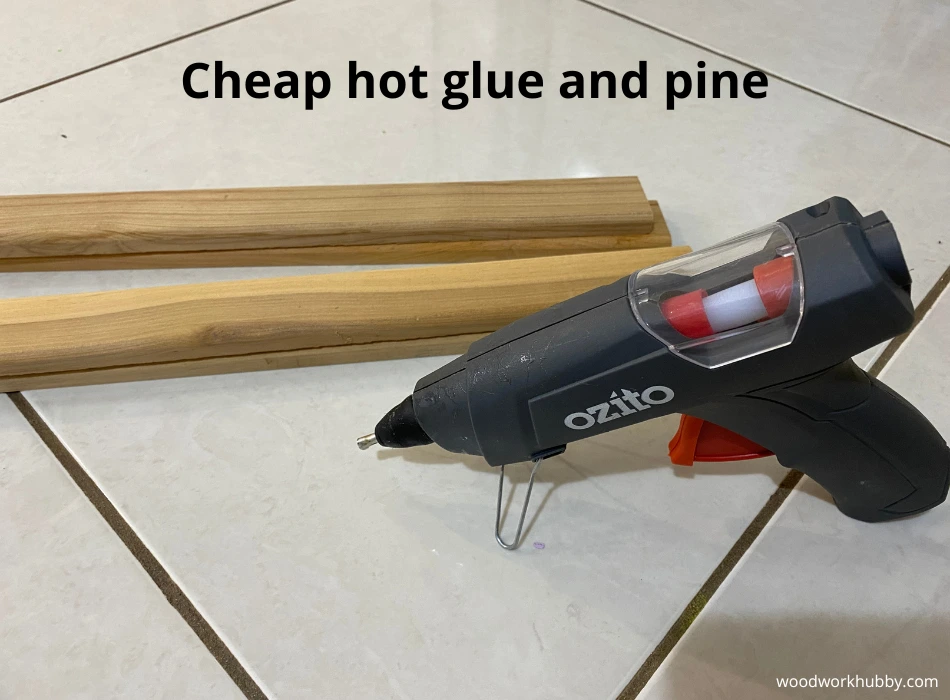 I added a general amount of hot glue to the wood and stuck them together as per the images below. I tried both a flat joint and an edge joint to see if the amount applied correlated with joint strength.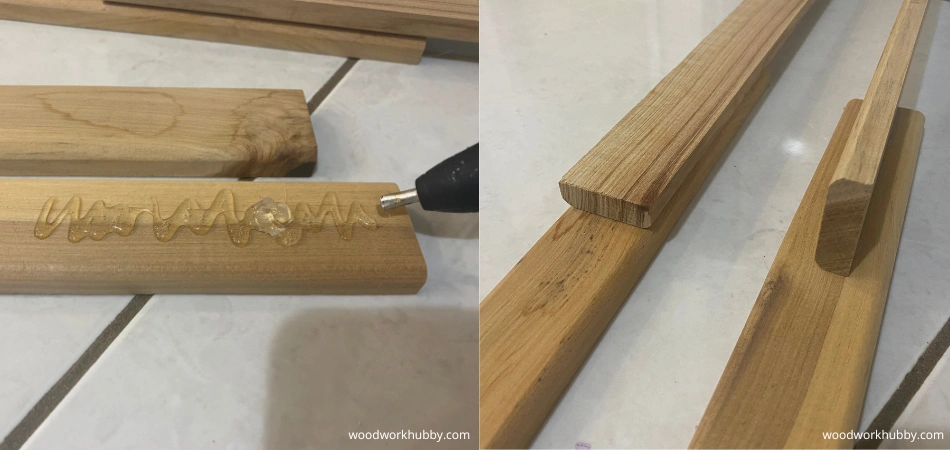 I left the pieces to dry for 6 hours (to be sure) and then tried to pull them apart by hand. I couldn't prise them apart.
I had to use a hammer and chisel to get them apart.

The Verdict – Would I Use Hot Glue On Wood?
In general, the use of hot glue on small parts where a lot of weight won't be applied is more than strong enough to hold. I would most definitely use hot glue again.
I know these tests are only isolated to pine, but I would strongly argue, that it will be quite strong on most woods apart from those that are oily.
When in doubt, always use good wood glue like Titebond. I explain the difference between Titebond 2 and Titebond 3 here.
Hot glue can be used to attach decorative items to wood. It can be used for layering and minor repairs as well. But anything that you don't want to come off wood again should not be glued to it with hot glue as this adhesive can melt quite easily.
Here is a video showing how hot glue can be remelted.
Does Hot Glue Peel Off Wood?
Hot glue doesn't peel off the wood on its own unless the wood is really smooth and the glue isn't melted well upon application. It can be peeled off with effort as long as the wood is not textured and you use appropriate removal tools.
Knowing the difference between peeling off and being able to be peeled off is important because you want an adhesive that doesn't peel off unless you intend to remove it. And that's exactly what hot glue is on wood. It can be peeled off or removed using other methods if you want to get rid of it. But if you don't, it is unlikely to come off on its own.
How Strong is Hot Glue on Wood?
Hot glue is strong enough to strengthen wood joints and fill gaps in connected wood. It has a high but achievable melting point and can be removed. For high-demand joints, heavy items, and wood surfaces that experience exterior pressure, you should use hot melt epoxy instead of a glue gun.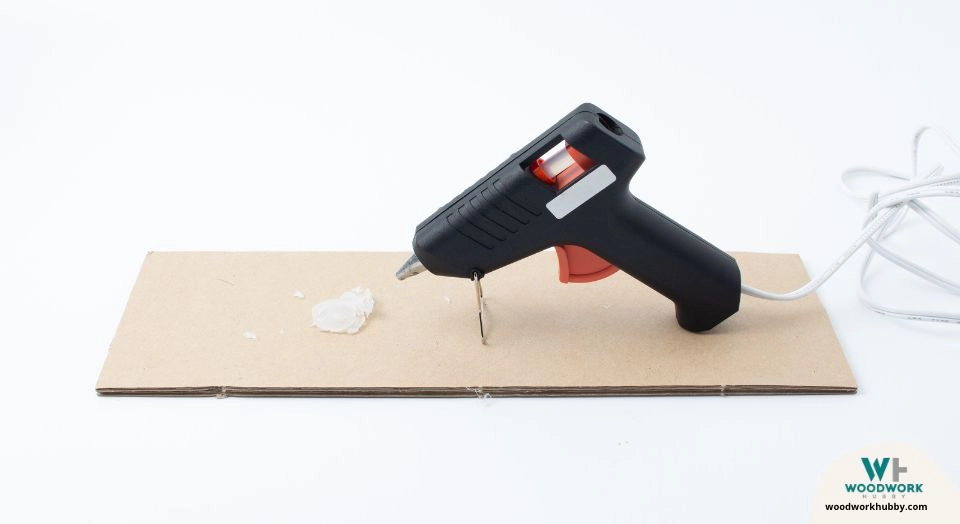 Hot melt resin can solidify far more permanently because its melting point is quite high. But that also means that a connection made with it is harder to undo.
What does hot glue not stick to?
Hot glue will not stick to wood veneers and smooth-finished wood. It also doesn't stick to other super smooth surfaces, including wax, vinyl, and sleek metal. Even surfaces conducive to hot glue need to be dry, not wet or greasy.
Even hot glue manufacturers (some of them listed in the best hot glue section below) assert that hot glue can stick to wood and metal. Of course, because they are the ones selling the product, they have an incentive to exaggerate its utility. But if you use hot glue with wood and light objects, it usually works. More importantly, when it doesn't, it can be reversed quite easily.
Is a Glue Gun Good for Wood?
A glue gun is good for wood joinery, especially when it is used to make low-pressure connections. That said, it cannot be used to join heavy items or two pieces of wood that are being pulled apart constantly.
Using a glue gun to attach a step to a ladder is obviously a mistake because of the pressure on the step. But using it in the joint between the step and the columns of the ladder is a reasonable choice as it reduces the gap in the joint and further strengthens the step's position.
Can a Hot Glue Gun Fix Wood?
Glue can be used to fill gaps in wood as long as the gaps are porous. To fix damaged wood, you need to melt the glue well and lodge it deep into the gaps. It doesn't work as well as a wood-filler when the gaps are small, but it works even better than that if the gaps are large enough.
People often assume hot glue wouldn't work to fix damaged wood because they think of hot glue as a regular glue stick but molten. Of course, regular glue remains sludgy after melting and cooling, but hot glue solidifies indistinguishably from its unmelted hardness.
Best Hot Glue for Wood
The best hot glue for wood should have a high melting point that isn't too high for a glue gun. It should also be able to seep into the smallest pores and dry quickly to avoid adhesion to dust. Here are some hot glue options for a woodworker:
Gorilla Glue has built a reputation for being an intense adhesive manufacturer. Its glue sticks are weather-resistant and can be used in both interior and exterior conditions. These sticks are best for filling gaps and supporting wood joinery. 
With over 21,150 reviews and ratings, this product has 4.7 out of 5 stars on average, which is quite impressive. It also has 4.4 stars for its ease of use and maneuverability. 
Gorilla 30 Mini Glue Sticks 
Best hot glue for wood.
It includes dual temperatures, a precise nozzle, an easy trigger, improved safety features, a built-in stand, and a broad base.
Gorilla hot glue sticks are impact-resistant also. They have a 45-second working period.
Uses tiny glue sticks (. 27″ in diameter or 6.86mm)
4.7 ⭐⭐⭐⭐⭐
This hot glue is specifically positioned by the manufacturer as compatible with wood and metal. It doesn't dry and detach, leading to almost zero waste and is perfect for medium-strength crafting use. 
With over 11,000 reviews, its global average rating can be trusted. And it stands at 4.8 out of 5 stars. In specific ratings, its ease of use is the highest rated feature, with 4.6 stars. More importantly, its durability is given 4.5 stars, which is very promising for woodworkers. 
AdTech 10-inch Hot Sticks 
Hot glue compatible with wood and metal.
It strongly bonds to every medium, including paper, metal, plastic, wood, fabric, pottery, flowers, glass, foam, synthetic fabric, and more.
Bond most materials quickly, in as fast as 30 seconds.
It works with hot glue guns with high, low, dual, and multiple temperatures.
4.8 ⭐⭐⭐⭐⭐
This is a good option to use as a wood filler because it melts really well. But that applies to this glue gun and stick combo because the glue gun plays an important role. You can also use these glue sticks to attach something light to the top of a wood surface and use it to strengthen joints like dovetails. It cannot be for heavy-duty adhesion, though. 
Gluerious Sticks For Crafts 
Recommended option as a wood filler.
Glue offers a strong grip that can endure resistance and dries out rapidly.
The output does not stop working when a fresh glue stick is inserted because of the insulated design.
The Gluerious glue gun set includes 30 pieces of strong, sticky hot glue sticks, so you may immediately start pursuing your love of crafts and DIY projects.
4.5 ⭐⭐⭐⭐⭐
As the name suggests, these glue sticks are formulated specifically for woodworkers. The most obvious difference between this product and other glue sticks is that the Fixsy woodworking sticks have a wood-adjacent tint. In other words, if you use this glue to strengthen joints with gaps or repair damaged wood, its presence will not be as obvious or jarring as white glue. 
It has 657 reviews and ratings, but its collective average sits at a healthy 4.7 out of 5 stars. The most promising thing about its specific feature ratings is that its adhesion is rated the highest (4.7 stars). It is also good news that the product scored 4.6 out of 5 stars in its value-for-money proposition.
FIXSY Wood-Working Glue Sticks 
Recommended option as a wood filler.
Fits most FULL size 7/16 x 11mm glue guns; 10 inch (254mm) length; 0.44 inch (11.18mm) diameter.
Use it for huge projects, home décor, repairs, sealing, and all forms of handicraft. works on a variety of materials, including ceramic, glass, paper, foam, wood, metal, leather, and more! 
For longer-lasting and superior results, use FIXSY hot glue. No more irritation with a subpar adhesive that doesn't last very long.
4.7 ⭐⭐⭐⭐⭐
This product is backed by a money-back guarantee from the manufacturer. It is the glue best used for wood repairs, as its low viscosity in melting helps it seep deep into gaps and pores. It isn't as good at strengthening wood joint gaps as it is at helping when wood joints barely have any gaps. While the manufacturer stands by its "all-purpose" use and doesn't mention wood specifically, a few reviews assert that these glue sticks work well with wood. 
One of the verified customers writes, "I've used it mostly for wood projects so far, and the adhesion is great."
The review count of this hot glue exceeds 5,000, making the collective average fairly reliable. Out of 5 stars, this product has 4.8 stars overall.
It also has 4.8 stars for its ease of use, the same for its adhesion, and 4.8 stars for its value for money proposition as well.
Artellius Mini Glue Sticks 
Recommended for wood repairs.
Safe for both high-and low-temperature glue guns, measuring 4 inches (101.6mm) and 0.27 in (6.86mm) in diameter.
It easily melts and has excellent flexibility when attached to most surfaces.
It's amazingly robust and long-lasting.
Ideal for arts and crafts, simple repairs, DIY jewelry, fabric, foam, and so much more!
4.8 ⭐⭐⭐⭐⭐
Does Hot Glue Work on Painted Wood?
Hot glue works on painted wood as long as the paint is not applied too thick. As long as the glue can penetrate the paint and stick to the underlying wood, it can have decent adhesion. But if it sticks to the paint instead, it will peel off.
I have personally used hot glue on painted wood, and it has held up pretty well. But I also have experience with the paint and glue peeling off. The key is to know your paint and your glue. In my estimation, paint that can resist hot glue's temperature is incompatible with glue gun use.
Does Hot Glue Work on Damaged Wood?
Hot glue works on damaged wood even better than it does on perfectly finished wood. Hot glue can be used as a wood filler in this context because damaged wood has more pores and gaps for it to hold onto. The smoother a wood surface is the worse hot glue works.
Even if you use hot glue to fix damaged wood but it doesn't gain traction, you don't really have much to worry about. This mistake is reversible. You just need to remelt the glue and fill the areas with a standard wood filler.
Does Hot Glue Work on Metal to Wood?
Hot glue works on metal in the wood under the following conditions: the wood is not too smooth, the metal is light, and the metal isn't polished or sleek. In other words, you can't attach metal and wood of equal weight using hot glue alone.
If one thinks about hot glue and its compatibility with rough surfaces (or aversion to super smooth ones), it is clear that the adhesive can work on almost any material as long as it isn't too heavy or too polished.
Does Hot Glue work on Balsa Wood?
Hot glue can work on light balsa wood but can't hold very heavy balsa wood together. The smoothness of wood has to be countered by its lightness, or the hot glue adhesion proves too weak to hold balsa (or any) wood.
If you're concerned about the arbitrariness of hot glue, then you will be interested in alternative adhesives and joining methods.
Here are a few alternatives to hot glue:
Epoxy Resin 
This is one of the toughest connective substances. It cures at a high temperature, and once it solidifies, it is almost impossible to undo it. Epoxy resin is used to fill hollowed-out tables for artistic purposes. But it can also be used to attach anything to wood. 
Construction Glue 
Construction glue is designed to have a superior hold on projects compared to regular glue. The only difference between construction glue and PVA, in terms of effectiveness, is in their response to temperature. Construction glue isn't as dependent on temperature and can maintain a strong hold even in the sun. Check out this video:
Hot Melt 
This is the standard wood glue that is used by woodworkers primarily due to its compatibility with wood and furniture. It dries to a tough solid that matches the load-bearing strength of wood. If something isn't too heavy for wood, it isn't too heavy for hot melt either.
Final Thoughts- Does Hot Glue Work on Wood?
Hot glue definitely works on wood, but not to the extent that other adhesives do. It is slightly thicker than construction glue and hot melt but is sufficient for decorative additions and small projects despite its lower melting point.
Still, if you need a higher quality of adhesion, you should choose urea-formaldehyde as it is the gold standard for wood adhesion.