I started as an unsure hobbyist woodworker, but then I completed my first project. The thrill of creating something entirely on my own got me hooked on woodworking. The following woodworkers and artists who work with wood continue to inspire me, even 20 years into being an elite woodworker.
The most famous woodworkers in the world are Youtubers like Brandon Walker, Matthias Wandel, and John Heisz, with over a million subscribers each. Famous wood sculptors known in the art world include Ben Butler, Mario Dilitz, and Jimmy DiResta.
In this article, we will go over the 15 most famous woodworkers in the world. You will discover who you can follow on Instagram and who has a Youtube channel you can subscribe to. Once you are motivated with possibilities and excited about your woodworking future, we will also cover things you probably didn't know about being a professional woodworker.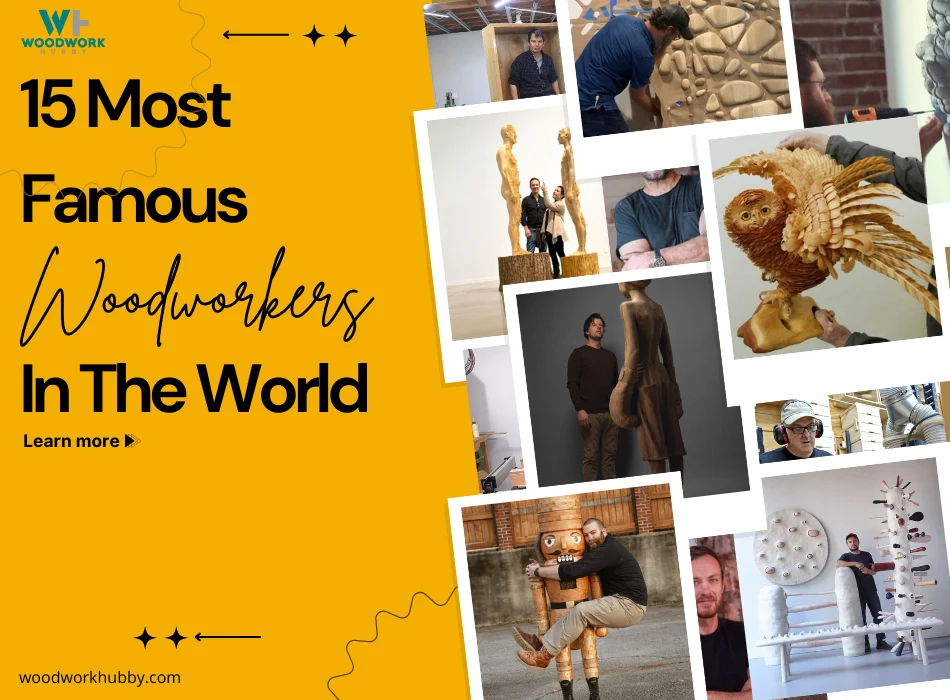 1. Brandon Walker
Brandon Walker has branded his self-driven content and wood-product company Walker's Woodworks. He has a youtube channel of the same name. He doesn't focus as much on how-to content as on process videos and shop updates.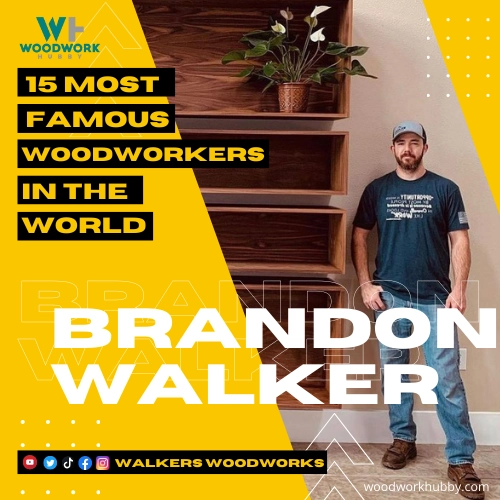 📍 Woodworking / DIY / Home Improvement.
📍Custom Handmade Furniture.
📍 Content Creator.
📍 Oroville, Ca.

Still, he has a handy tips and tricks section you can check out. The best place to follow Brandon is his Instagram, Walker's Woodworks because it opens up your mind to the commercial possibilities of woodworking. Seeing someone monetize woodworking and not just woodworking content is refreshing.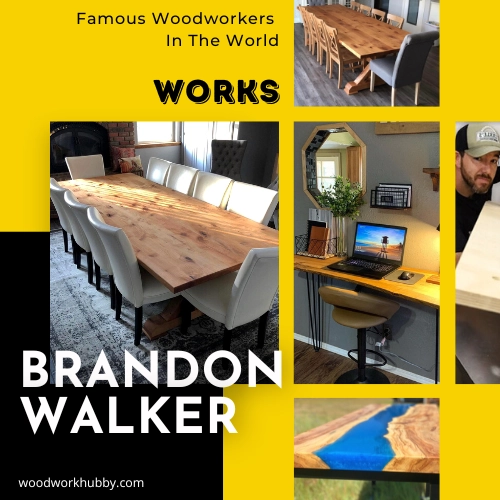 2. Ben Butler
Ben Butler is a woodworking artist, famous in the art world for making unique art objects out of wood. He works with geometric shapes and creates compelling designs. If traditional woodworking projects bore you, or you feel limited by the saturation of the carpentry-driven market, it is refreshing to venture into the art world for inspiration.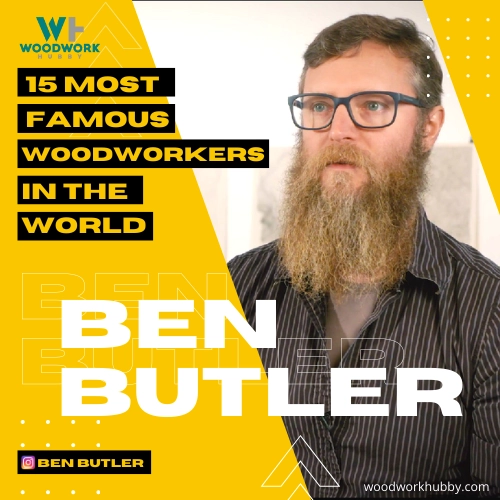 📍 A sculptor and public artist working in Memphis, Tennessee, and Quoque, New York.
📍Showed his work extensively in gallery and museum exhibitions.
📍Obtained his MFA from the School of the Art Institute of Chicago and his BA from Bowdoin College.
The best place to follow Butler is his Instagram, which is full of refreshing art. It can also broaden your horizons regarding what's possible if you level up your woodworking skills.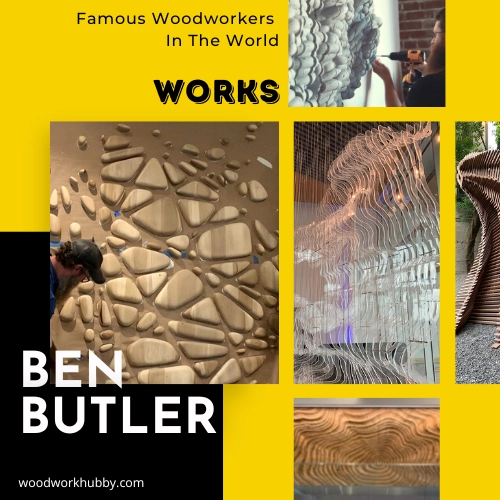 3. Matthias Wandel
Matthias Wandel is among the top woodworking YouTubers, even though calling him a YouTuber would be unfair. He is, after all, a master of his craft, which marries woodworking with engineering. His youtube channel has over 1.7 million followers.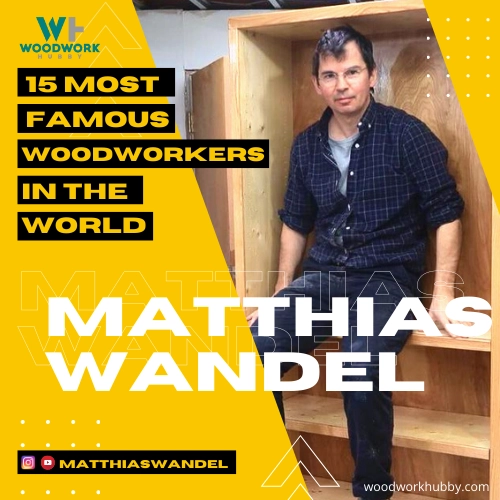 📍YouTuber, engineer, and woodworker.
📍He is the owner of the website Woodgears.
📍With over 500 million video views since 2007, Matthias Wandel runs the most popular woodworking channel on YouTube.
 📍Owned 2 other YouTube channels called 'Matthias Random Stuff" and "Matthias Talks YouTube".
He showcases woodworking through a very fascinating mathematical lens. Definitely worth following. His work shows that you don't need to be born with a knack for woodworking. We tend to forget that, at the end of the day, wood is a material. And as long as you apply physics to matter, you get predictable and repeatable results.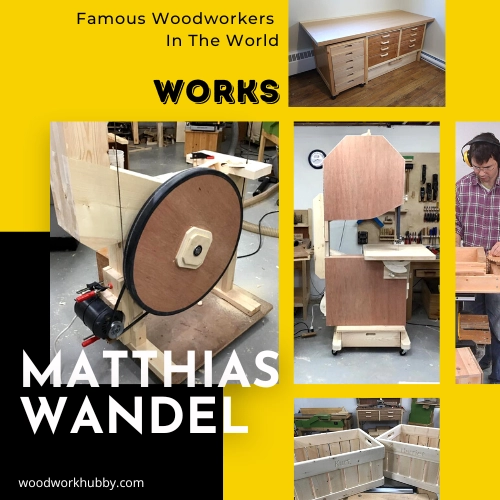 4. Julian Watts
Julian is an artist and woodworker based in Oregon. His work inspires feelings of awe and disbelief as he pushes the limits of what is possible with wood. You can follow him on his Instagram page, where he has over 24,000 followers.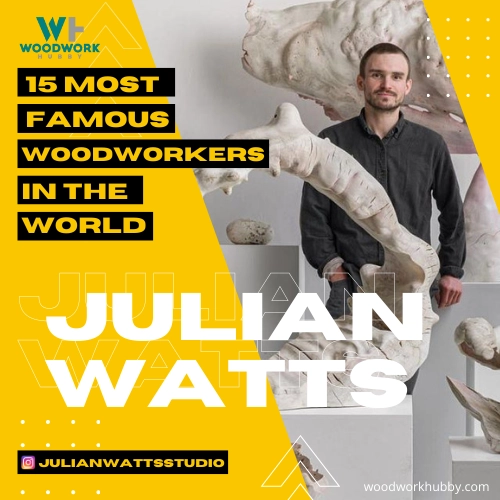 📍Artist and woodworker based in Alpine, Oregon.
📍Has solo exhibitions at Patrick Parrish Gallery in New York, Curators Cube in Tokyo, and Jack Fischer Gallery in San Francisco.
📍His work has appeared in publications such as The Wall Street Journal, The Financial Times, Architectural Digest, The New Yorker, and American Craft Magazine.
Unlike artists who work with wood but shun the label of "woodworker," Watts proudly wears his woodworker label as a badge of honor. The art that he makes embodies complex concepts and shows what you can do once you're familiar with the medium you work with.
It is humbling to check out his art when you start feeling like there are only a set number of things you can do with wood.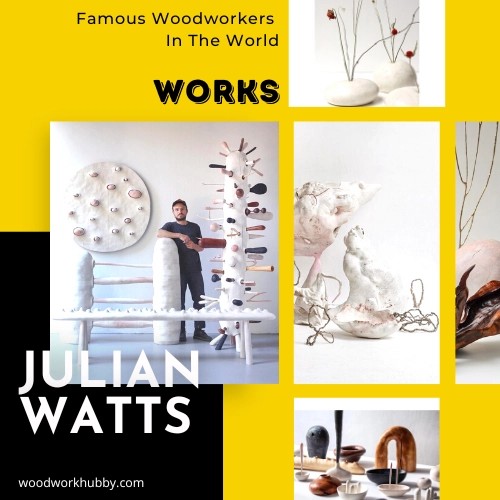 5. Aron Demetz
Aron is at the peak of wood sculpting excellence. If you ever feel even slightly arrogant about your skill level, checking out Demetz's work will teach you that there is always more to learn.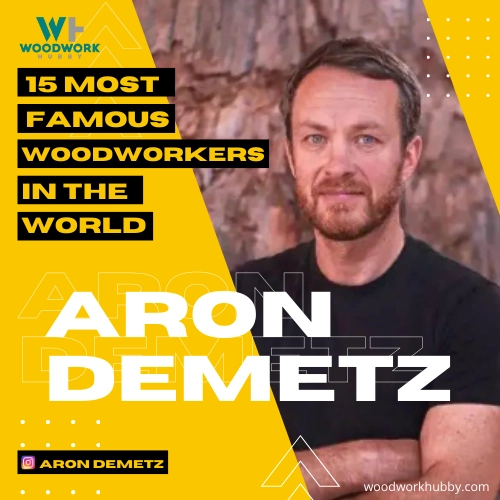 📍An Italian artist, whose most developed medium is sculpture.
📍Important worldwide collections house Demetz's art, such as the Museo Daetz-Centrum in Lichtenstein, Germany, the Museo Trauttmansdorff in Merano, Italy, and the Museo Omero in Ancona, Italy; Museo Ladin San Martin De Tor, Bolzano, Italy; Palazzo Madama, Rome, Italy; Fondazione Michetti and Beelden and Zee Museum.
To follow Aron Demetz, you can check out his Instagram. He shapes figures and faces in wood. His work has been showcased in international galleries and at exhibitions.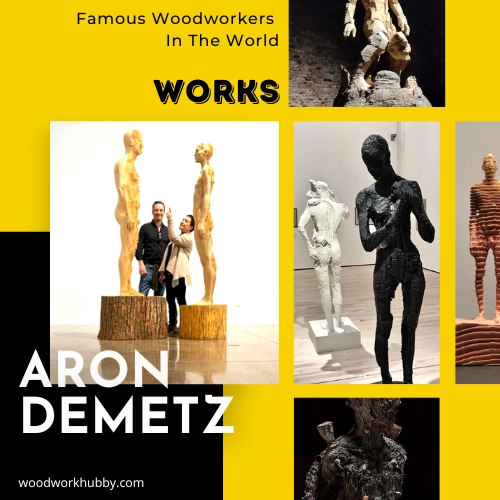 6. Frank Howarth
If stills don't impress you, then you can venture away from Instagram and check out video content from the likes of Frank Howarth. He is a master woodworker, famous for pushing the boundaries of creative content production in the woodworking space.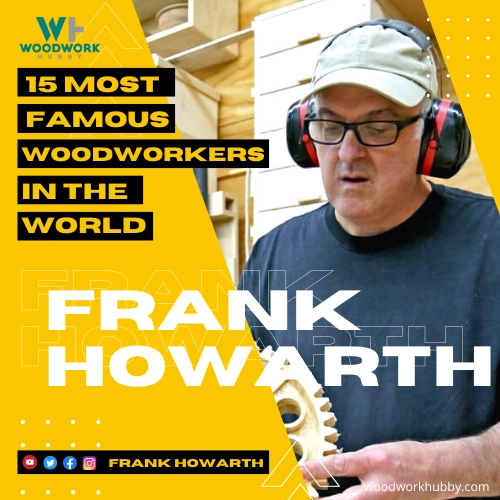 📍An architect and woodworker based in Portland, Oregon.
📍He is well-renowned for his stop-motion films on his YouTube account that show how he designs and builds things.
📍Creating YouTube videos on woodworking since 2012.
📍Graduated from Cornell University with a bachelor's in architecture in 1992 and Harvard University with a master's in architecture in 1997.
I can personally eat a whole meal while watching his videos for entertainment. And I have two decades of woodworking experience. This is a testament to how good Frank is at producing videos.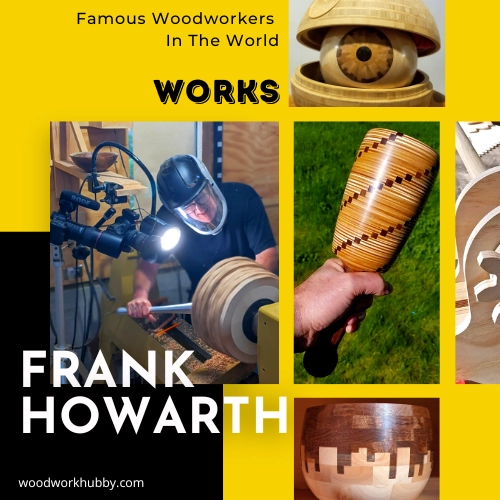 7. Jimmy DiResta
DiResta is a popular stuffed maker with excellent woodworking skills. He has nearly 2 million subscribers on Youtube, and for a good reason.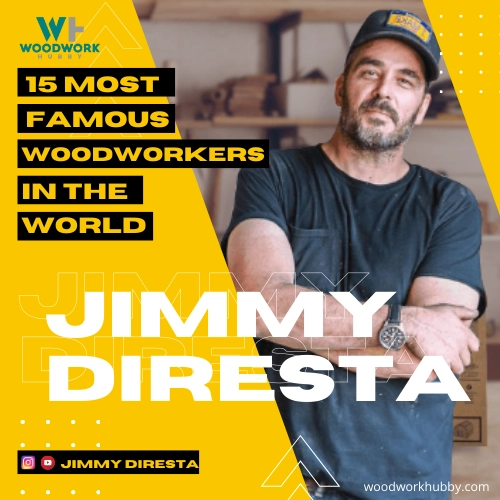 📍A New York-based designer, artist, and video producer.
📍DiResta is returning in a new Netflix series called "Making Fun," where he and his friends Jackman, Derek, Graz, and Canadian Pat create stuff that kids come up with.
The man makes tools, signage, and almost every possible project. He doesn't limit his craft to woodworking. If you want his woodworking content, binge on his Youtube Playlist that covers his woodcraft.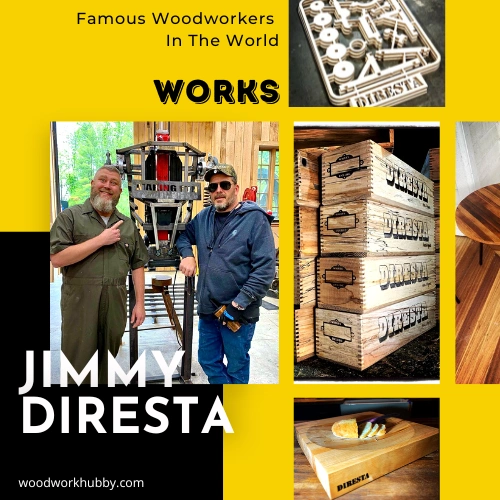 8. Mario Dilitz
Mario creates thoughtful wood sculptures that evoke primal emotions. He uses old-school sculpting methods and applies his craft to modern themes.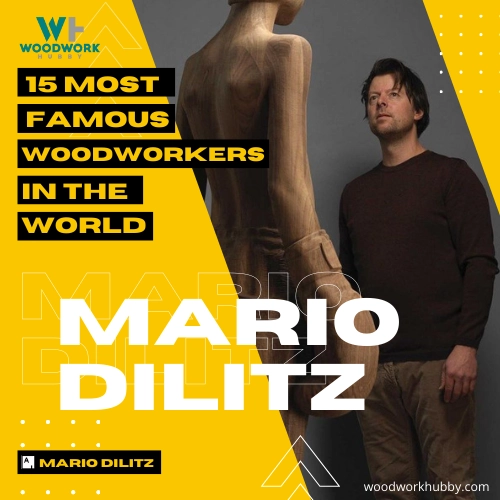 📍This Austrian artist is known for his intricate wooden sculptures.
📍Has appeared in so many solo exhibitions, group exhibits, and fair booths.
📍His sculptures are made of premium laminated wood and are frequently life-size.
His work is worth checking out because it shows that wood can go far beyond the ordinary and create an impression that sticks.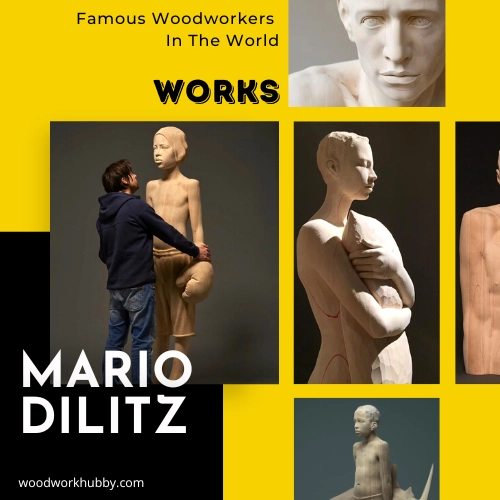 9. Sergei Bobkov
If conventional woodworking techniques make you feel trapped, try checking out the work of Sergei Bobkov. The artist cannot be labeled a traditional woodworker, but he creates beautiful sculptures out of wood chips.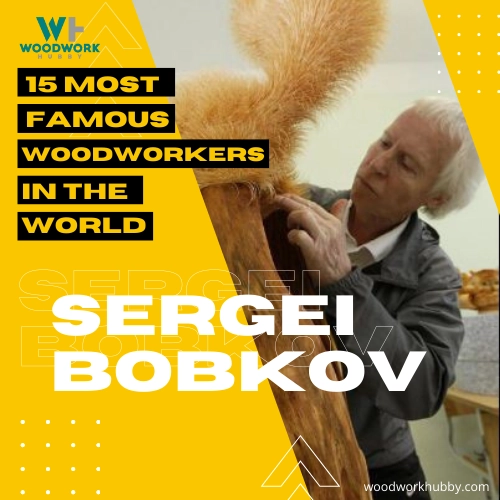 📍He has a patented method for molding Siberian cedar wood chips into beautiful sculptures.
📍He has designed and created 11 wood-chip sculptures.
He is worth following because he reminds you that the rules of woodworking are all negotiable. And that, as long as you get the results, your technique doesn't matter.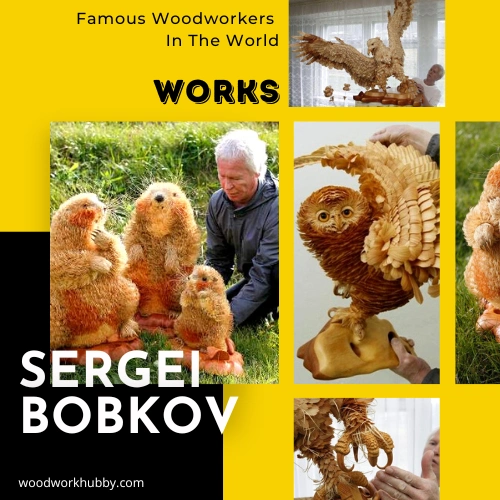 10. Christopher Kurtz
Kurtz is a wood artist based in New York. He designs contemporary, futuristic wood sculptures and furniture.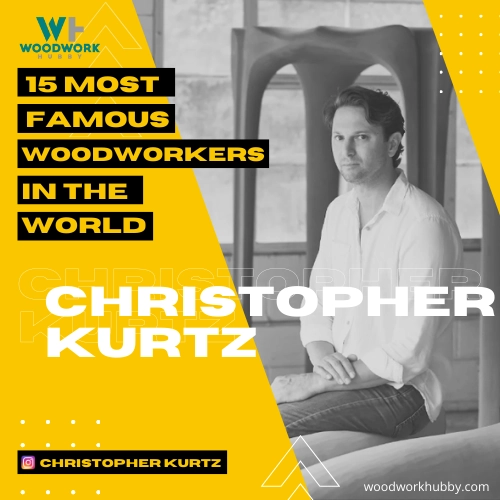 📍Got a BFA in sculpture from The New York State College of Ceramics at Alfred University in Alfred, New York, and studied landscape architecture at The GSD at Harvard University as part of the Career Discovery Program.
📍A magnificent solo exhibition of Kurtz's art took place in the UK in 2019 at Messums Wiltshire.
For ideas or inspiration, you can follow Kurtz on his Instagram page. You'll be reminded that there is no difference between furniture and art.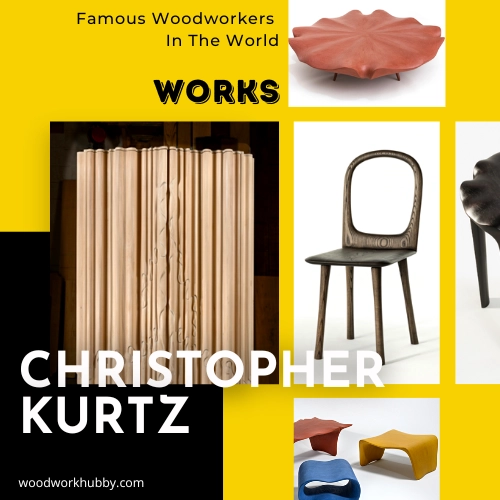 11. Paul Jackman
Jackman Works, or Paul Jackman, produces "cool" stuff from wood. His artworks are far from repetitive and are pleasantly refreshing.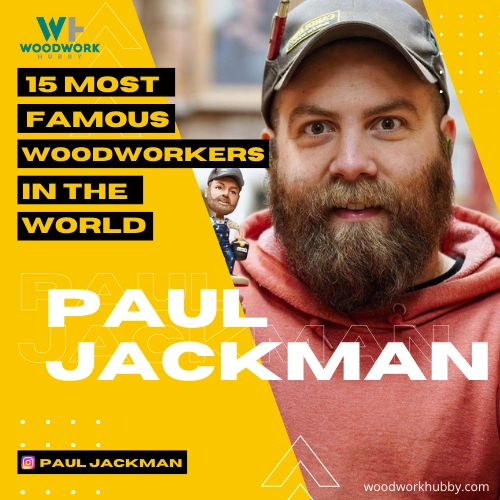 📍"The Engineer" on @makingfunshow streaming now!
📍A coastal Massachusetts-based artist, woodworker, and filmmaker best known for his social media posts and almost 400,000 subscribers to his YouTube channel Jackman Works.
You can check out Jackman's work on his website. But it is far better to check out his social media. When it comes to personality, his Instagram bio says it all. "Aspiring Instagram Model | Current Military Wife."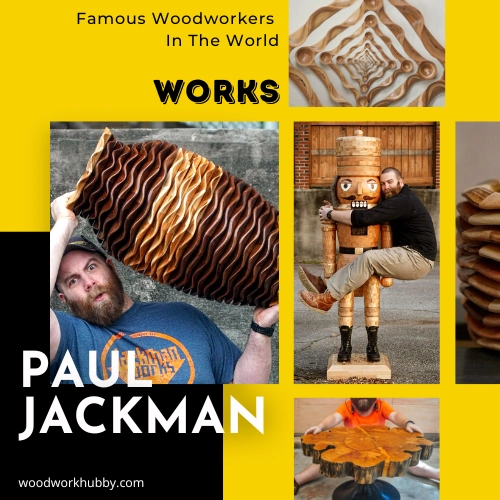 12. Bhuvanesh Gowda
Gowda is a well-traveled artist whose work is inspired by cultural influences from all over the world. He creates wood sculptures that are quite unique.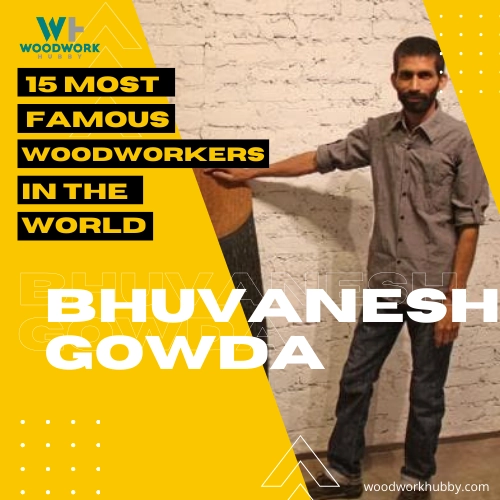 📍Bhuvanesh Gowda a Mumbai-based artist designs and creates sculptures that study the unknown, the unexplained, and the mystical.
📍Gowda has participated in many Indian art galleries, including Project 88 in Mumbai, The Guild Art Gallery in Mumbai, The Birla Gallery in Mumbai, and Chemould Prescott Road in Mumbai.
What sets him apart from the average sculptor is that he attaches a story to each piece. You can check out Gowda's work on his website. His Instagram covers more of his personal life and is very rarely updated.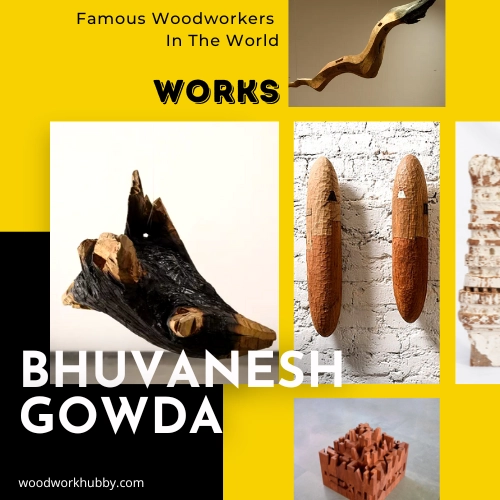 13. Mark Spagnuolo
Wood Whisperer on Youtube, Spagnuolo takes woodworking content to a cinematic level. He covers tips, tricks, and woodworking ideas alongside techniques and tutorials.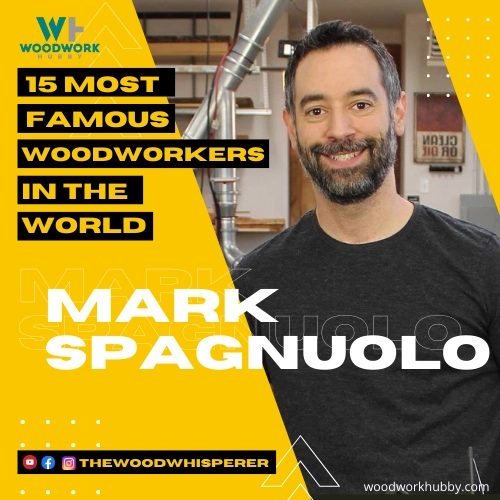 Author of Essential Joinery & Hybrid Woodworking.
Creator of The Wood Whisperer.
Host of @woodtalkshow podcast.
You also get to learn about him, which can make the content even more engaging. He's worth following if you live and breathe woodworking.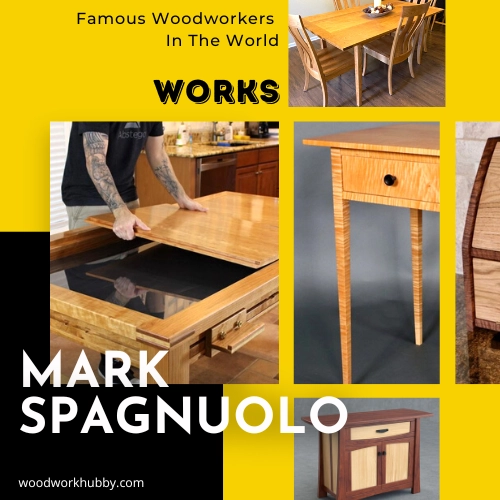 14. John Heisz
With over 1 million subscribers, John Heisz's "I Build It" brand is a strong dent-maker in the woodworking YouTube space. Heisz posts videos two to three times every month and ensures that each piece of content is entertaining and educational.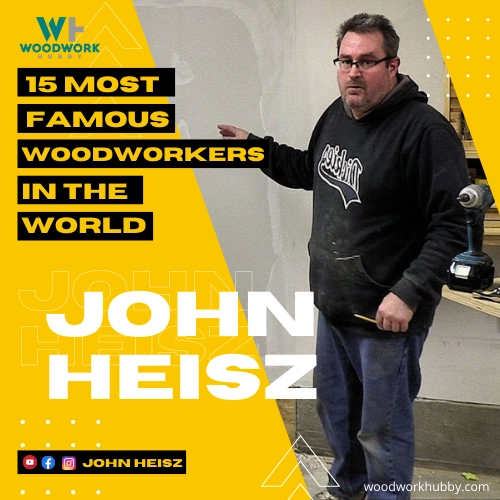 A woodworker from Ontario, Canada.
He was in construction from 1984 until he decided to do YouTube full-time in 2013.
He shares most of his work on a website and a YouTube channel.
Check out his youtube channel for tips, tricks, and woodworking tactics.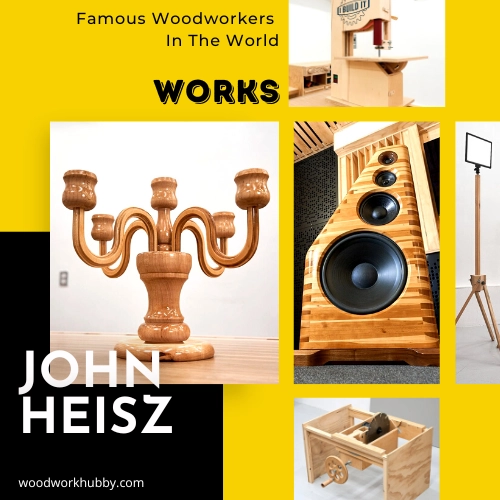 15. Carl Jacobson
With just over 200,000 subscribers, Jacobson might not be the most famous woodworker in the world. But he is surely one of the most valuable content creators in the woodworking space.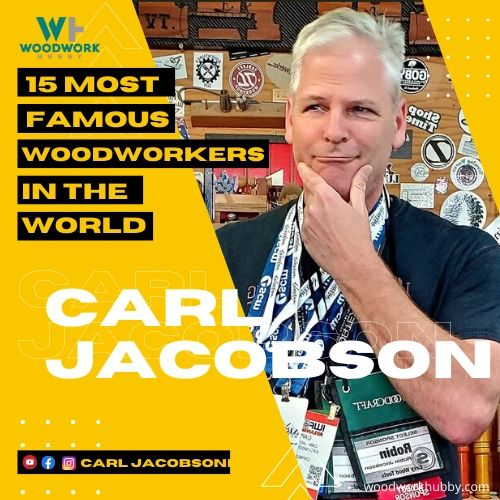 Carl Jacobson, a woodturner and the host of TheWoodshop.TV on YouTube is also a partner and influencer with Woodcraft.
His Youtube Channel is a treasure trove of the arts of woodturning. He turns wood into practical objects by concaving it.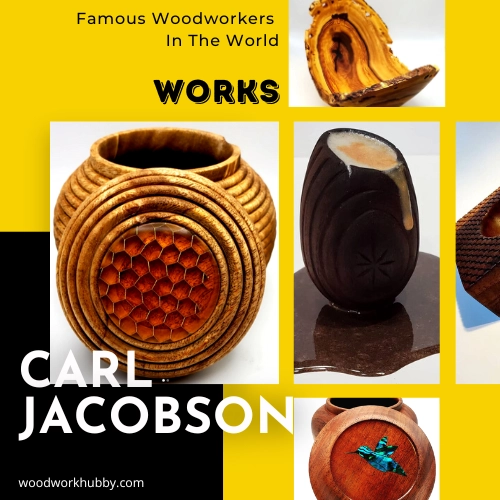 What Is a Professional Woodworker Called?
A professional woodworker is called a carpenter, sculptor, or visual artist, depending on the practice he chooses. Woodworkers earn across all tax brackets, with some of them building entire corporations out of their craft.
The woodworker CEO or woodworker celebrity might seem like a far-fetched idea, but it is a reality. Multiple craftsmen build YouTube channels and pack them with valuable content. The boundaries that previously confined woodworkers to a very specific lane no longer exist.
How Do Woodworkers Get Rich?
Woodworkers get rich by scaling their operations, increasing their online reach, or exporting to countries where the average cost of goods is higher. Ultimately, they need to raise their output or their prices to get more money.
To raise your price, you need to be recognized and celebrated. A YouTube channel or an Instagram account with a massive following can build the social proof you need to command a higher price. Otherwise, you might raise your prices, but the customers might not be willing to pay.
The other option is to increase your output. For that, you might have to hire people. If you don't like delegating duties or managing people, this route isn't great for you.
However, the key perk of this income-scaling method is that you don't need to be a celebrity or have a huge following. It is a straightforward business. 
I personally wouldn't be able to do it because the craft of woodworking is too much fun for me. But there are plenty of famous woodworkers that have assistants doing 80% of their work. The third way for woodworkers to make some serious money is to brand themselves as artists.
This also severely limits them in many ways because the rules of the art world apply to them.
Firstly, they cannot ever decrease their prices as that would ruin their market value. 
Secondly, they cannot make an unlimited number of a single item. They can make a series of limited items or a single design per product. This can be sold for an enviable amount and bring them fame and accolades. But that's never guaranteed for any artist.
Famous Female Woodworkers?
There are many female woodworkers that are famous on Youtube. These include Brittany Bailey, Ashley Nielsen, and Molly from WoodBrew. Famous female artists also choose wood as their medium of expression.
The following table shows some female woodworkers you should follow on Youtube.
The table shows female woodworkers and their youtube channels
What Country Is Famous for Woodworking?
Japan is famous for its precise woodworking, while Norway is famous for having the strongest wooden structures that have survived multiple centuries without falling apart. The best country to live in as a woodworker is the United States.
The United States is the largest exporter of wood. If you're in the States, you can get the same wood relatively cheaper. Moreover, you can sell products at the highest price due to the generally higher price of goods in America. The latter is somewhat applicable to the Japanese economy as well.
Japan is famous for its wood construction and precise wood-related engineering. Rural Japan happens to have some of the best woodworkers. Southern Germany also has a woodworking culture. Given the fame of German precision, one can infer that southern German woodcraft is worth checking out.
Can Girls Do Woodworking?
Girls can definitely get into woodworking and even do it better than men. Of course, the lumber one can lug depends on one's natural frame and carrying ability. But woodworking requires more than carrying heavy weights. And girls can be very attentive and precise.
Three arguments can be made in favor of women getting into woodworking.
Firstly, this is a passion-driven field now that machines can do all the soulless woodworking. Women can definitely be passionate about woodworking.
Secondly, there are hundreds of Youtube channels of female woodworkers that prove that women can get into woodworking.
Finally, there is a simple fact that not all woodworking requires lugging heavy wood.
If you're a female woodworker in the making, you should adhere to the following best practices:
Follow female woodworkers – Knowing that it is possible is half the battle. 
You've got no one to prove your worth to – Some people will dismiss you as a woodworker. You need to avoid trying to win their approval.
Make projects that interest you – Don't try to build things you think you should be building. There are plenty of 'projects for women' pages. Avoid confining yourself to them.
Get help if and when you need it – Male woodworkers use tools wherever their physical strength or size happens to limit their work. You can get help from assistants if you're unable to do the heavy lifting. 
Final Thoughts – 15 Most Famous Woodworkers In The World
There are many famous woodworkers who push the boundaries of the craft and what it means to be a woodworker. Some of them are celebrities in their respective circles. Others are flown to different countries to install wood sculptures.
If you're just getting started in woodworking, don't worry. This craft can take you places.