We've all seen woodworking videos that inspire us for our next arts and crafts DIY project. But, in these videos, you might have noticed a pattern: The woodworkers are always wearing aprons. It's not like they are going to cook something, so you might be wondering why they wear them in the first place—but the answer is very simple. Why do woodworkers always wear aprons?
Woodworkers wear aprons primarily to protect their clothes from the sawdust produced from cutting wood. Also, woodworking aprons have pockets on them to place useful small tools, giving the woodworkers easy access and maneuverability.
It might seem inefficient to wear such a long piece of clothing to protect yourself from something as inoffensive as sawdust. It's not like wearing an apron is a requirement to become a woodworker. However, there are many reasons why wearing a woodworking apron can improve your woodworking experience.
Why Wear An Apron?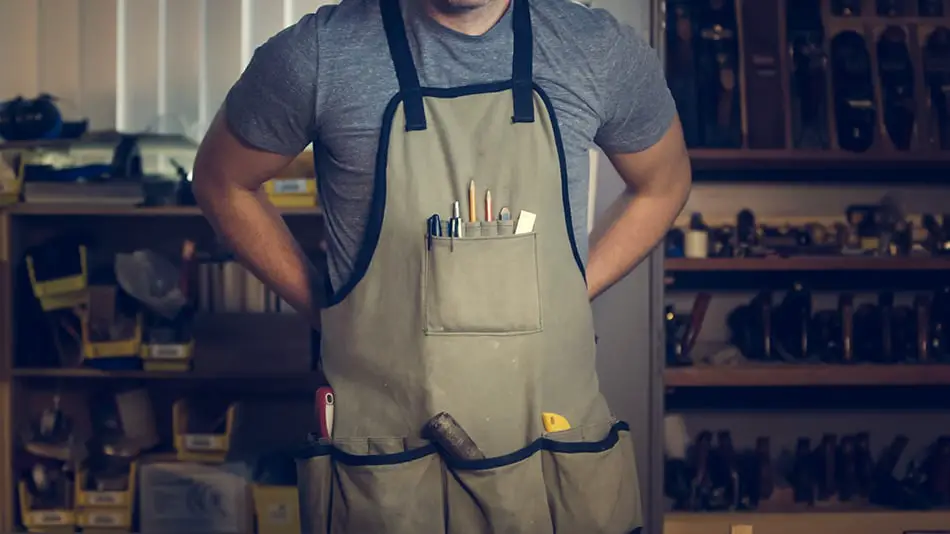 Wearing an apron isn't mandatory for woodworkers—not today, and not in the past either; the craft has been around practically since the dawn of humanity, and people were not even wearing woodworking aprons then. In other words, an apron isn't to a woodworker like a lab coat is to a scientist. So why wear them at all?
This is the apron I use and find it very comfortable. You can check its price on Amazon here.
Protecting Clothes
The main reason is to protect clothes from sawdust. However, sawdust isn't a particularly dangerous material; in fact, you only need to protect your nose from constant exposure to it—something an apron doesn't necessarily help. Additionally, sawdust can be easily washed away from your clothes. But, if sawdust is that easy to remove, this again begs the question of why an apron is necessary.
Well, sure, you can get your clothes covered in sawdust and get rid of most of it with a few pats. However, your clothes will still have some sawdust on them until you wash them, and if you plan on using the same clothes right after you finish your woodworking project, it can become a real nuisance to walk and sit around with the particles all over your clothes.
There is also the risk of staining your clothes if you are using paint or glue on your woodworking project. Glue and paint can be difficult—and sometimes even impossible—to remove from your clothes, even if it is as much as a drop that lands on them. Therefore, you always want to have something between your clothes and any possible messes.
Efficiency
Besides protection for your clothes, what woodworking aprons really provide is efficiency. For one, woodworking aprons have extra pockets. When you are working on a wood project, you want to be able to have versatility, flexibility, and have a fast reaction. Having your tools on you, positioned in a very accessible arrangement, can be of a much higher advantage than having to reach for them somewhere else in the room.
Professionalism
Although a less significant reason than protection and efficiency, woodworking aprons also give you a feeling of professionalism. When you wear one, you know you mean business and that you are ready to do anything without having a fear of your clothes getting stained.
It also adds a neat look and will make your friends and family more interested in what you are doing.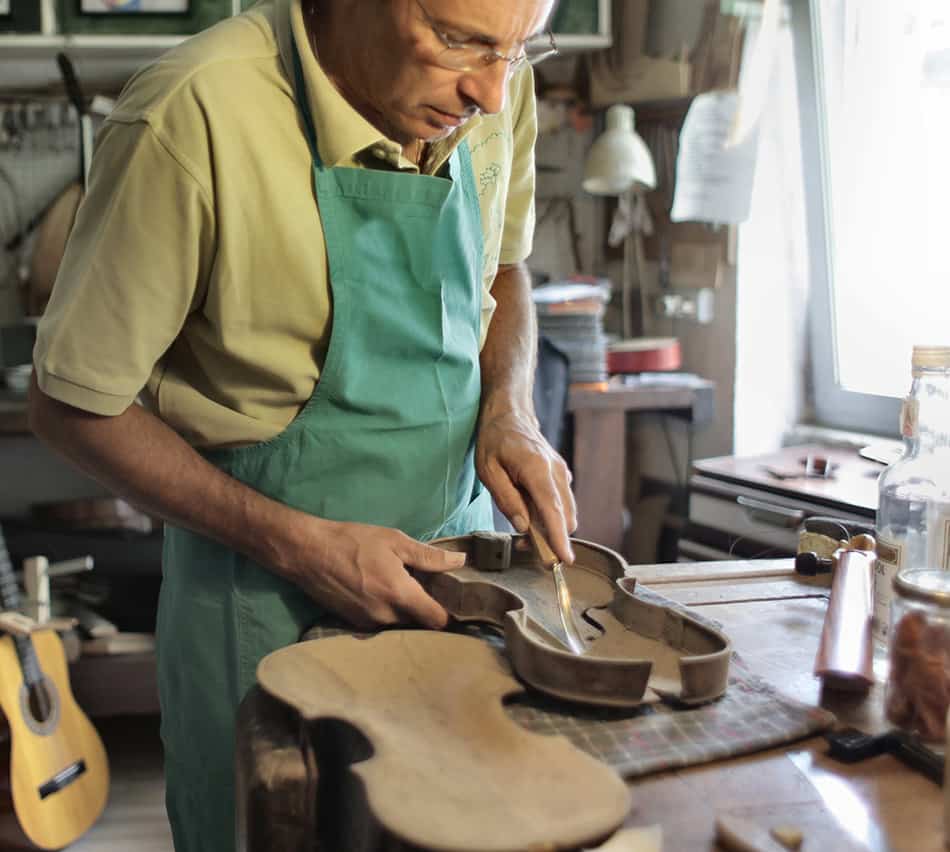 Pros and Cons of Wearing an Apron
Just like with any piece of equipment in any activity, a woodworking apron can have its advantages and disadvantages. You will not automatically become better (or worse) by wearing an apron, but the decision to wear one might make woodworking easier for some people while more complicated for others.
Advantages of Woodworking Aprons
The advantage of wearing a woodworking apron is that you have an extra layer of protection against any elements, be it wood, paint, or glue—you name it.
It will make you feel safer and not worry about staining your clothes, which by extension, allows you to transition from working on your wood project to your daily life without having to worry about sawdust and other materials getting on your outfit.
Woodworking aprons are also designed to be very comfortable for the user and to allow flexibility since you will need a full range of motion when working on a wood project. The apron's material is also very soft and folds easily whenever you move your body, so you definitely won't find wearing an apron that much of a burden.
Another great advantage that woodworking aprons provide is the fact that you are basically wearing a tool rack on yourself, which makes the process of changing tools much easier and quicker.
You will no longer have to worry about misplacing your tools or realizing that you left them on the other side of the room when you need them most. An apron will also protect your tools against the elements.
Disadvantages of Woodworking Aprons
When it comes to cons, a woodworking apron only has one main problem, and it is very situational. The main disadvantage is that since wearing an apron on top of your regular clothing is the equivalent of wearing an extra layer of clothing; it can get pretty hot.
You might not want to wear an apron during the summer months if you don't have good air circulation in the area you're working in.
Are There Any Alternatives to Woodworking Aprons?
If you don't want to spend money on a woodworking apron (which isn't really that expensive), or you just don't find them that fashionable or think that it might be a little too much, there are some alternatives that you can find at home which can fulfill the same role and purpose.
The first option is to simply wear clothes that you don't care about getting stains on. These are clothes that you will not be using right after throughout your day, and that you don't mind getting semi-permanent paint and/or glue stains on them. Keep in mind, however, that the moment you decide to use them as your woodworking protection, they will likely take on that role forever, so choose wisely.
The second option is to use a kitchen apron or painting suit if you happen to have one handy. A cooking apron would possibly not be as good at repelling sawdust as a woodworking apron would be, but it will protect your clothes from stains. A painting suit would protect you against both sawdust and stains, but it might be a bit too much or too hot to wear.
You also have the option of a tool belt. A tool belt will allow you to hold some tools on your person, making them easily accessible.
Another alternative would be to have a tool rack set up nearby so that you know where your tools are. But, they won't be as accessible as a tool belt or apron.
As you can see, there are plenty of alternatives. However, when it comes to protecting your clothes and simultaneously having your tools handy, nothing really beats a woodworking apron.
Conclusion
There is no "huge" secret to why woodworkers wear aprons. Wearing one is more of a matter of efficiency, safety, comfort, and professionalism.
There are definitely more pros than cons when it comes to wearing an apron for woodworking: An apron provides an extra layer of clothing that will protect your regular clothes from stains such as paint and glue, and will also keep sawdust away. It also works as an easily accessible tool rack that you can always carry on your body. The only con is that it can get hot during the summer months.
There are alternatives to an apron that you can find at home. Still, nothing beats a wearable, resistant tool rack that allows for a full range of motion and can make your woodworking experience much more comfortable.