I have been exploring different uses for Cedar simply because I have a big pile of it. The wood looks beautiful, and I wanted to have a table with a similar grain. So, I went against the woodworker bro wisdom common on the internet forums and decided to build a Cedar table. Is cedar too soft for a table?
Cedar isn't too soft for a table as long as the table is not for everyday use. A cedar table can hold up a practical amount of dishes and volume of food without a problem. But if you drop cutlery on it, the tabletop might dent or scratch. A good finish is vital for a cedar table.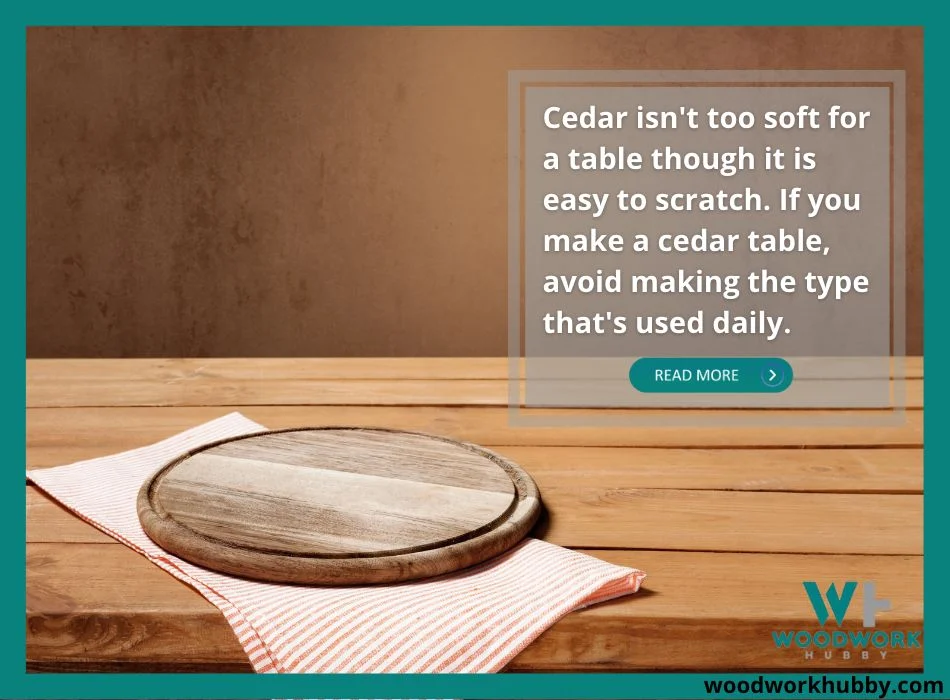 In this article, you will learn about a few types of tables you can make with Cedar. It incorporates my 20+ years of woodworking experience and covers the key drawbacks of using Cedar. By the end of this post, you will have all the information you need to decide if Cedar should be used in your next project.
Can Cedar Be Used As A Tabletop?
Cedar can be used as a tabletop but is not ideal as it can incur scratches very easily. Cedar can bear the load and is strong enough for occasional use, which means it can work for a few types of tables that don't bear weight consistently and are not used as often.
Coffee Table – Coffee tables are largely decorative and bear the weight of a few coffee table books and a cup full of liquid. Cedar can easily bear this load, though the scratch risk remains.
Vase Table (Decor) – A vase table is a pedestal meant for decor. Since it holds up a vase and isn't subject to frequent use, it can be made out of Cedar.
Pedestal Table – A pedestal table can hold up a laptop during a presentation or an Object d'Art for decor. It is usually not meant for frequent use and is at a lower scratch risk.
Nesting Table – These are tables of various sizes that stack perfectly on top of each other. They are also not used as often and are very rarely under a lot of weight.
| My Recommended Furniture Made From Cedar Wood | Where To Buy? |
| --- | --- |
| End Table for Living Room, Red Cedar Side Table, Rustic Coffee Table | AMAZON |
| WELLAND Cedar Live Edge Small Coffee Table | AMAZON |
A table showing some of my recommended types of furniture made from cedar wood and where to buy them.
While Cedar is perfect for the above table types, it is one of the worst materials for a dining table. Cedar can hold up the weight of plates and food, but it can easily get scratched with daily use.
Note that in almost no context is the actual weight-bearing capacity of the Cedar in question. That's because Cedar is pretty good at handling weight. You might wonder if that load-bearing capacity is good enough for furniture.
Now, if you are wondering if Wood Glue Strong Enough For A Tabletop, please refer to my article's link for more information.
Is Cedar Strong Enough For The Furniture?
Cedar is strong enough for furniture but is not resilient enough for daily use. It can start to wear out quickly with frequent use and can incur scratches if used in furniture that is subject to impact.
Cedar is a softwood, meaning any furniture made from it is not meant to last very long. But the fact that you can buy cedar chairs and outdoor tables shows that this use is practical, albeit for shorter periods.
What Are The Disadvantages Of Cedar Wood?
Cedar wood might be okay for furniture building as long as said furniture is not used very often. It is a wood that naturally repels insects and has a scent that many find appealing. But it does have drawbacks.
The main disadvantages of cedar wood include its need for maintenance, ease of scratching, and flammability. None of these drawbacks rule it out as potential fencing and decking material. However, the flammability aspect casts a shadow over the indoor use of Cedar.
Wood, in general, is flammable but has some aspects that are flame-retardant. It doesn't blow up in flames as quickly as oil. But since Cedar has moderately flammable oil and average flammable wood fibers, the combined effect is that Cedar has high flammability.
Even the slightest ember ignition can cause a fire. So when you use Cedar, you should ensure that it is not in any of the following scenarios:
Close to electronics – Any electric spark might produce a flame on the cedar surface.
 
Near a stove – Keeping Cedar away from open flames is a good idea.
 
Surrounded by other flammable materials – While Cedar doesn't ignite instantly, its relative ease of catching fire means it should be kept away from other flammable materials.
As you will notice that Cedar's drawbacks never really come down to its lack of weight-bearing capacity. They are more or less confined to the ease with which it incurs scratches.
The fact that Cedar can carry considerable weight but also get scratched from something as minor as a spoon drop can confuse people regarding the timber's classification.
Is Cedar Considered Soft Or Hardwood?
Cedar is considered a softwood because of its Janka hardness, which is 900, around the same as a few other durable softwoods. It isn't as scratch resistant as other woods but is immune to insect attacks and weather changes.
Cedar can stand up to moisture and resist rot while being capable of carrying considerable weight. These factors make cedar ideal for short to medium-lifespan furniture.
Common Cedar applications are exterior ones with fewer weight expectations. For instance, a fence or the exterior siding of a wall. Other applications include roofing shingles and signposts. These use cases have a longer lifespan since Cedar's limited weight-carrying capacity isn't a factor in their performance.
Knowing Cedar's grade and type is also crucial for a woodworker. If you don't know how to tell the cedar grade, you might end up with weaker less-resilient Cedar, which isn't good for any non-disposable application.
Final Thoughts – Is Cedar Too Soft For A Table?
Cedar is a relatively strong softwood that is used for garden furniture as well as medium-life interior furniture. It can get scratched easily, so it should not be used to make anything you plan to use daily. But aside from that, it is perfectly fine for making benches, folding chairs, and coffee tables, among other things.