Roofing has been one of the toughest things I have done as a woodworker. It was especially tough early on when I used to manually hammer nails into shingles. Eventually, I started using a nail gun and learned that different roofing materials are receptive to it to different extents.
You can use a nail gun on Cedar shingles whether it's an air-powered one or battery-operated one. Your choices include specialized roofing guns as well as general nailers with the capability of driving 1.75-inch (44.45 mm) nails.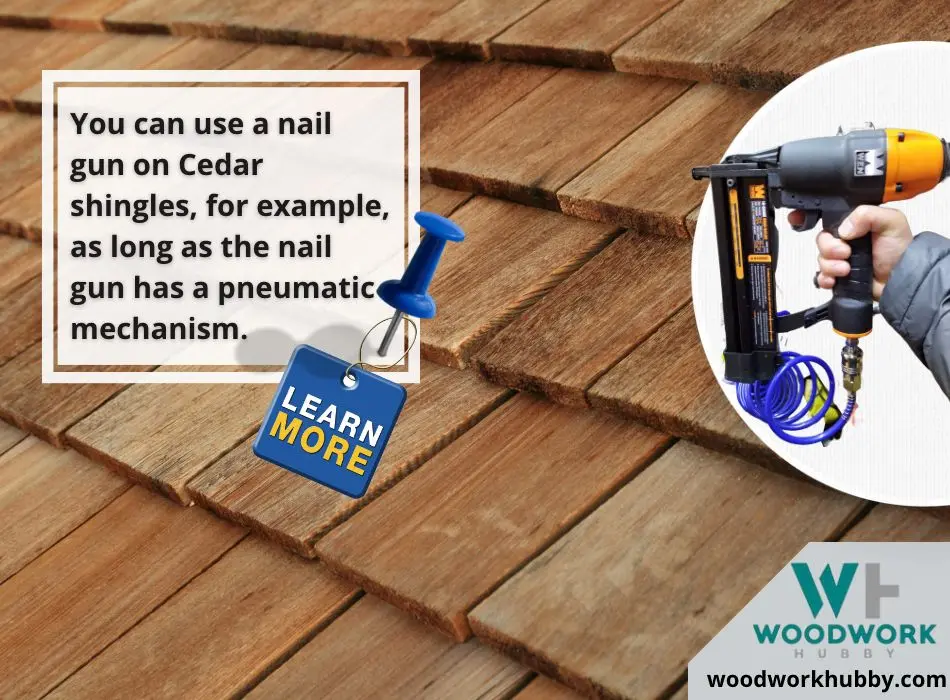 In this article, you will learn from my decades of experience working with cedar shingles using different types of nailers, including electric and framing nailers. By the end of this post, you will know how to judge whether a specific nailer will work for cedar shingles or siding.
But before we get into that, let's go over the order of preference of the nailers:
Pneumatic Roofing Nailer
Pneumatic Nail Gun
Cordless Electric Nailer
Framing Nailer
The best nail gun I have used for shingles is the Metabo Coil nailer. I highly recommend it and you can get it here on Amazon.
Ever been on your Cedar roof and love the aroma of the wood? I wrote a full explanation on does all cedar wood smell.
Can You Use A Nail Gun On Cedar Shingles
The advantages of using a nail gun for cedar shingles:
You get the job done faster – This is the chief benefit of using a nail gun as opposed to a hammer. You have to nail a large number of nails per square, which makes the work duration at least five times longer with a hammer.
 
You get higher nailing precision – The best part about using a nail gun is that you can position it perfectly where you plan for it to penetrate. With a nail and a hammer, you might be slightly off, and the hammer might even drive the nail at an angle (or bend it).
 
You can position the shingles better – If you use a hammer, you have to hold the nail and the hammer while applying pressure on the shingle. With a nail gun, you can hold the shingle down with one hand and drive the nail with just one hand.

The disadvantages of using a nail gun:
Potential for unintended nail discharge – Since nail guns drive nails faster in one go, they can be very effective. But at the same time, accidental triggering can cause serious injury. Even in project work, the nail can get driven at an angle by accident and may even split the shingle.
 
The nail gun might not have enough power – Depending on the type of nail gun you use, you might find your tool short of power. Choosing the right nail gun is crucial to nailing cedar shingles without a hitch.

What Kind Of Nail Gun Do You Use For Cedar Shingles?
You use a pneumatic nail gun for cedar shingles since it has more driving power than an electric one. Moreover, you need nails that can penetrate past the shingle depth by at least 50%. Other nail guns can work as well, but pneumatic ones usually have the broadest compatibility with shingles.
Cordless electric nailers are a hit or miss depending on the shingle breadth. The thicker the shingles, the longer the nails need to be. If the nails are the right size and can be driven deep enough with any nailing mechanism, you can use them. I have seen many woodworkers buy nail guns they don't need because they underestimate the ones they have. I recommend taking a single shingle and attempting to drive a nail through it without fixing it to the roof.
That said, you cannot use nailers reserved for very specific uses like siding and framing in a shingle-nailing context. Some nail guns are designed to hold nails up to a certain size limit. Often used for siding and framing, these nails fall short, and the nail guns that are compatible with them are particularly useless.
Is Cedar too soft for a table? I wrote this article as I had some leftover cedar after my roof. It might surprise you!
A framing nailer can be very inefficient for cedar shingles, but not because it doesn't have enough driving power to penetrate cedar. A framing nailer can easily penetrate cedar, but its nail thickness cannot hold down a shingle.
On average, a nail must be at least twice as long as the shingle is deep. If a cedar shingle is 1 inch (25.4 mm), the nail should be at least 2 inches (50.8 mm) long. Given that framing nails are easily three times as long as the shingle depth, they should be able to hold a shingle, right? No. Framing nails aren't thick enough to hold a cedar shingle in place.
Can I Use A Framing Nailer For Cedar Siding?
You can use a framing nailer for cedar siding even if you cannot use it for cedar shingles. It can be used for the siding because cedar siding is comparatively lighter. Even a slim nail can pin it, provided that the wall material is conducive to the nail.
If a framing nailer is used for roof shingles, it can shoot through the material without really fixing it in position. The same nail can be used for siding, but not if the siding material is too heavy.
Here are the conditions under which you can use a framing nailer for cedar siding:
The siding is no thicker than 3/4th of an inch – While thicker siding might be available, nails start to buckle under it.
 
The wall is conducive to aluminum or stainless steel nails – Since these nails work best for cedar, the material into which the nails drive should also be conducive to them.

Now, you don't have to worry about your nailer's compatibility with the siding project. Simply ask yourself how thick the shingles are and if you can nail the framing nails directly into your wall. If the nails can go into the walls and the siding isn't thicker than 3/4ths of an inch, you can go ahead with the project. In case you want a similar decision-making tree for roof shingles, you should check out the section below.
Can You Use A Nail Gun For Roof Shingles?
You can use a nail gun for roof shingles, provided it can drive thick enough and long-enough nails through the shingle material. Typically pneumatic nail guns work for this purpose, but some powerful cordless electric nailers can do the job.
But as promised earlier, I will simplify this with a decision tree. You can follow the steps below to decide if a specific nailer is good for your shingles.
Is the nail gun pneumatic? If the nail gun is pneumatic, then you can most likely use it for roof shingles.
 
Does it drive 1-3/4 inch nails? If the nail gun can drive 3/4-to-1-3/4-inch nails, it can support roof shingles.
 
Does the nail gun have a cord? Ideally, any nail gun being used on a roof for any type of work should not have a cord. Cords can cause tripping hazards.

If you already have a nail gun, you can cross-reference it with the above criteria. In case you don't and are in the market for one, here are some of my recommendations.
This nailer is specifically designed for driving shorter, thick-headed nails through shingles and other roofing materials. It accepts coil roofing nails, so you can use it for cedar as well as other roof shingles. This nailed has over 1200 reviews and ratings that average 4.6 stars on a 5-star scale, which is impressive for any power tool.
More importantly, eight reviewers have reviewed it positively for being compatible with shingles. The manufacturer also asserts that the ideal applications for this nail gun are shingle installation and insulation boards. Its ease of use is rated 4.6 stars, while its value-for-money proposition has 4.2 stars.
Metabo Roofing Nailer
I must admit that this Metabo Nailer is among the higher-priced options. But in its defense, it is a roofing device and not a "regular" nail gun.
Can You Use A Regular Nail Gun On A Roof?
You can use a regular nail on a roof if the nails it drives are appropriate for the roofing material. Since most nail guns accommodate long nails that can overshoot past the shingle material, they are not fit for use on a roof.
A regular gun that is cordless and shoots nails within the 1-inch and 1.75-inch range is compatible with insulation and shingle installation on a roof. You can also use a hammer on a roof if you don't want to purchase the nail gain and don't mind spending extra time.
The best way to determine whether a regular gun is good for use on a roof is to test it on the material being nailed to the roof. If the nail pokes past the material by over an inch, the nail gun is not appropriate for that specific project. Try this with the smaller nail your regular nail gun can hold.
Meanwhile, if you want to know if OSB or Plywood is Best for Shed Roof, you may want to click the link to learn more.
Nails: Far More Important Than The Nailer
Sometimes, people make the mistake of assuming that the nailer is the most important tool when it comes to roofing. Actually, it is the nail that dictates the stability of the project. As mentioned earlier, the nailer's compatibility depends on whether the kind of nails it drives into the shingles are the kind that should be used for shingles.
A framing nailer is capable of driving nails into cedar wood. It is pretty decent at nailing cedar siding. But the same nailer cannot be used for cedar roofing. Why? Because the nails that it pushes are too long for shingles. If you have the right nail, you can use a hammer or a nailer to drive it. It will work.
Which Nails Should I Use For Cedar Shingles?
Nails with heads thicker than 7/32 inches are ideal for cedar shingles. They should be long enough to penetrate past the shingle and into stiff sheathing by half an inch. You can use 7/32-inch head thickness and 1/2-inch past the shingle thickness as the minimum metrics to figure out the best nail to use.
| Shingle Thickness | Nail Head Thickness (minimum) | Nail Length (minimum) |
| --- | --- | --- |
| 3/8-inch (9.5 mm) | 7/32-inches (5.6 mm) | 0.88 inches (22.4 mm) |
| 1/2-inch (12.7 mm) | 7/32-inches (5.6 mm) | 1 inch (25.4 mm) |
| 3/4-inch (19.05 mm) | 7/32-inches (5.6 mm) | 2/3-inch (16.9 mm) |
| 1-inch (25.4 mm) | 7/32-inches (5.6 mm) | 1.5 inches (38.1 mm) |
A table showing shingle thickness with their corresponding nail head thickness and nail length.
In all of the aforementioned cases, the nail's maximum length is determined by the sheathing's thickness. The nail cannot be long enough to blow out the sheathing.
Cedar Shingle Installation Tips
At this point, you know which nail gun to use and how to size the nails. In this section, I will go over the tips and tricks that help me execute cedar shingle projects with relative ease.
Take a different approach to shingle siding than to roofing Cedar shingles can be installed on wall sides as well as on the roof. Both projects might seem similar but have different specs. Get thicker shingles for the roof and leaner ones for the siding.
Use Spaced Sheathing For Appropriate Ventilation
Cedar shingles can tend to restrict ventilation if they are too tightly nailed to a unified single-structure sheathing. Spaced sheathing offers gaps that can allow ventilation. Moreover, they can improve the natural grip of the sheathing, which makes your job easier.
Coat The Shingles With A Roof-Coating Spray
Cedar shingles are wood shingles, which means rainfall can affect them. It is always better to err on the side of more when it comes to coating the shingles in waterproof material. If you find it hard to apply varnish to the shingles, you can use a roof coating spray to extend the shingles' lifespan.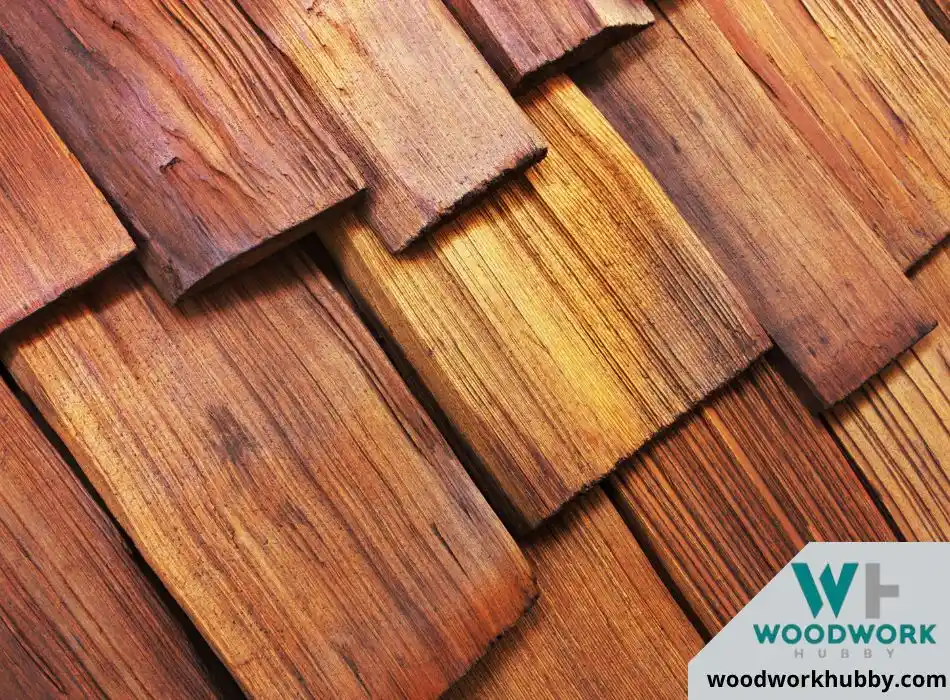 Roof Maxx is one of the shingle sprays you can use, though it is more specialized in asphalt shingles. Liquid Rubber and Flex Seal also have waterproofing options. Since shingles can come pre-finished, the type of varnish or sealant you use isn't as important as the fact that you add yet another finishing layer
Final Thoughts – Can You Use a Nail Gun On Cedar Shingles
If you have a pneumatic nailer, congratulations. You can use your nail gun on cedar shingles. But if your nailer has a cord, keep it away from your roof. You'll probably be able to use it for cedar siding, though.
Remember that the nails you use are far more important. If the nails don't match the project, the shingles will split, or the roof itself will crack. Look for nails that are twice as long as the thickness of whatever is being nailed but not long enough to blow past the surface to which the material is being fixed.
When you find the right nails, any nailer capable of driving them is okay to use.