While making your next woodworking project, you may be tempted to tighten up your joints by inserting a wood screw and use it like a bolt. Many people have asked me, can you put a nut on a wood screw?
Wood screws will not accept a nut as their thread type does not allow it. Nuts commonly used on bolts will not work on wood screws as wood screws are designed to thread into the wood. A T-nut or threaded insert is required where a threaded bolt needs to be inserted into the wood.
Below I am going to break down the benefits of each and when you should use them.
Why Nuts Should Not Be Used With Wood Screws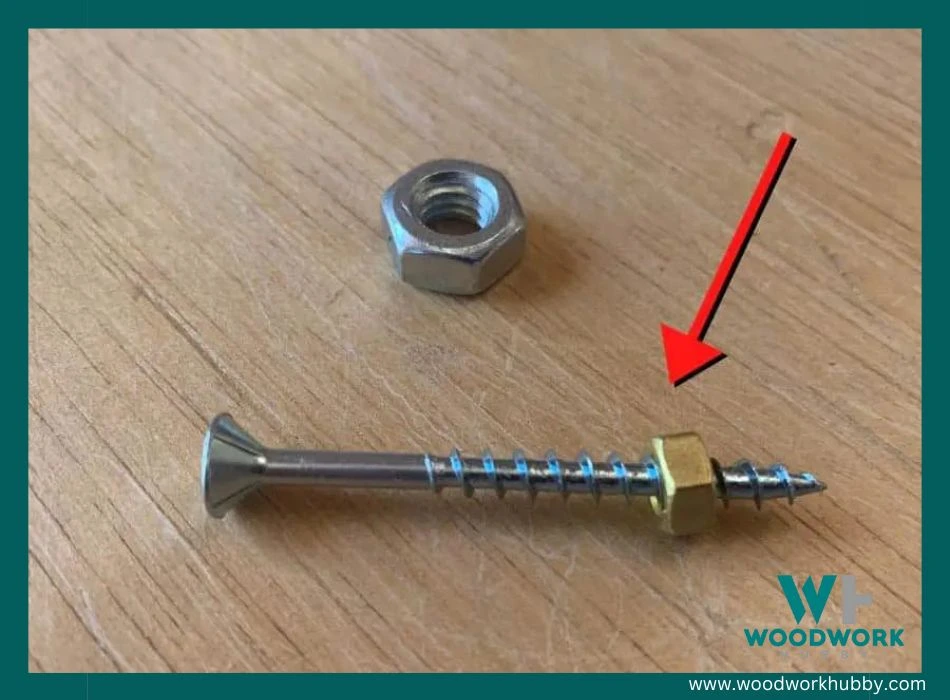 I mentioned previously that you do not need to use a nut to tighten a wood screw because they are designed to tighten and loosen using internal threads. With a nut, you would tighten or release a bolt by torquing the nut, but with a wood screw, you can do the same by using a screwdriver to turn the screw itself.
If you are building your own furniture and you want to strengthen the joints, then you can choose to skip the wood screw altogether and start with an alternative that will leave the hole stronger and less likely to grow loose or fail with use.
However, if you repair or maintain a current piece of furniture and have noticed the wood screws are growing loose or have failed, you can either fix the problem using a number of methods for securing wood screws or replace your screw with something else.
Two Quick Methods For Fixing a Loose Wood Screw
There are a number of ways you can repair a loose wood screw, and we will not go over all of them here because we are primarily focusing on alternative methods but here are two easy fixes. These require only standard tools and materials that most people have around their house.
If the threads are beginning to loosen, get a slightly bigger wood screw and place it into the same hole without re-drilling. Use this method only if the larger size is not going to risk splitting or cracking the wood. For particleboard or other more easily damaged woods, you can drill a new pilot hole for the larger wood screw.
Insert liquid adhesive and several pieces of wooden toothpicks or the body of matchsticks into the loose hole. When it is dry, sand the wood pieces flush with the hole and then reinsert the wood screw.
Sometimes fixing a loose or stripped hole is the faster or more affordable option if you already have the tools available. That being said, the hole will not be as stable as it would be if you employed T-nuts or threaded inserts, and it will be prone to loosening again.
You can keep your joint tight and strong by putting a product with a metal thread into the hole so that the wood fibers do not get stressed or broken down over time.
Alternatives For Fixing Failed or Loose Wood Screws
We already know that the answer to 'can you put a nut on a wood screw?' is no, but you have options. When you are unable to fix a failed wood screw or stripped screw hole, you can strengthen that weakened area using a T-nut or threaded insert.
There are many types of both, and you will want to do research to make sure you are using the right size and material for your intended project.
T-Nuts
T-nuts also referred to as "tee" nuts, are usually made from metal with a smooth external wall and an internal thread. There are many sizes and designs available, but they all have a similar 'T' shape with a flat flange that lies flush with the wood and the extending tube that goes into the hole.
The flanged end usually has prongs of some kind, sometimes serrated for a better grip, that dig into the wood to keep the piece firmly in place. They work very well with softwoods and are easy to install.
When you notice your wood screw is loose, you can drill a new pilot hole or place a T-nut directly into the loose screw hole. When using a T-nut, you can screw your bolt from the far end of the hole so that the T-nut is pulled tight into the fibers as you tighten the bolt, or you can hammer the flange into the wood.
The side of your object that bears weight should be pulling the T-nut flange for greater stability.
Below are the primary advantages of using a T-nut over other alternatives.
Less likely to damage the wood
Easy to tighten whenever they start to get loose
They resist movement due to vibration, making them more secure
The prongs provide a better grip in softwoods
They make disassembly and reassembly much easier and eliminate the possibility of stripping the screw hole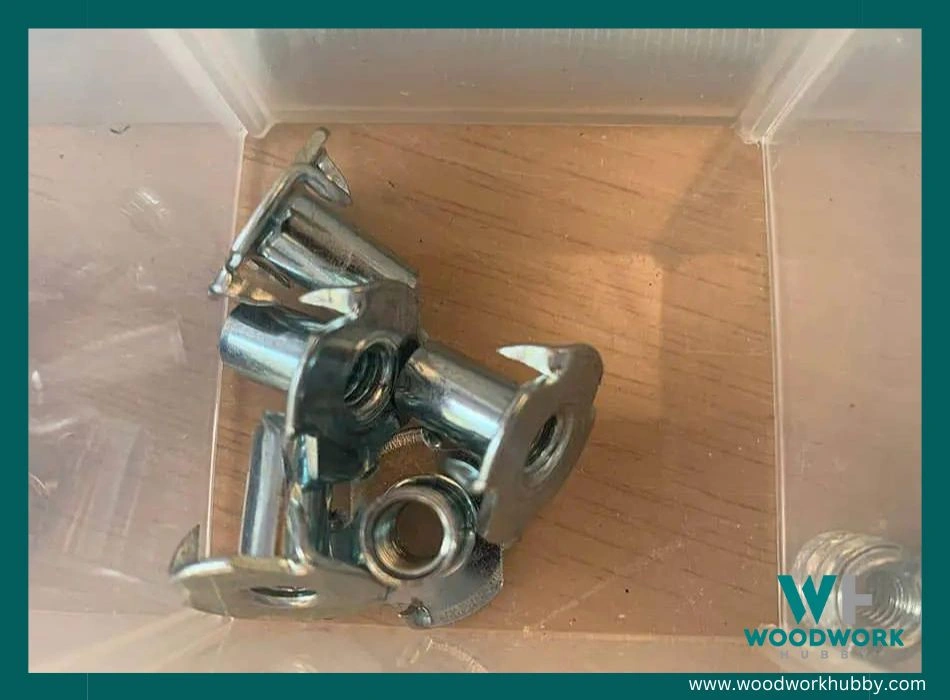 Step-by-Step Instructions For Installing a T-Nut
If you are more of a visual learner, there are plenty of video tutorials and walkthroughs with online images. However, the process is straightforward and only has a few easy steps. All you need is a hammer and a tool for driving in a bolt.
Re-drill the hole in both pieces of wood if you are fixing a joint, and make sure that the hole is perpendicular to the wood. Any angle has the potential to cause the T-nut to fail.
Place the pronged end of the T-nut into the hole and apply pressure until the prongs' tips are pushed into the wood. Make sure the T-nut is seated straight and secure.
Tap the T-nut until it is flush with the wood.
Match up the holes and thread in a long bolt from the far side, tightening it with a wrench or other tool until it is secure.
Threaded Inserts
You can also use a threaded insert to replace a failed wood screw. These tubes have threads on the inner and outer walls and prevent loosening. There are many different thread inserts to choose from, but we are only going to go over several of the most popular.
Hex Drive Inserts
The E-Z Lok hex drive inserts are some of the simplest threaded inserts to install using only standard tools that most woodworkers will have on hand. There are two main types of hex drive inserts.
Type D: flanged generic thread inserts
Type E: flush generic thread inserts
These are both used for screw holes in softwood when there is a high likelihood that any disassembly may cause the threading in the wood fiber to erode. They work well in composite woods and plywood by having a much thicker outer thread that holds firm.
Brass and Stainless Steel Threaded Inserts
Hardwoods work better with either brass or stainless steel thread inserts. These have sharper outer threads that can cut deep and hold fast in hardwoods like oak and maple. They are excellent for use in hardwood furniture and can ensure that the bolts or screws you use remain secure long-term.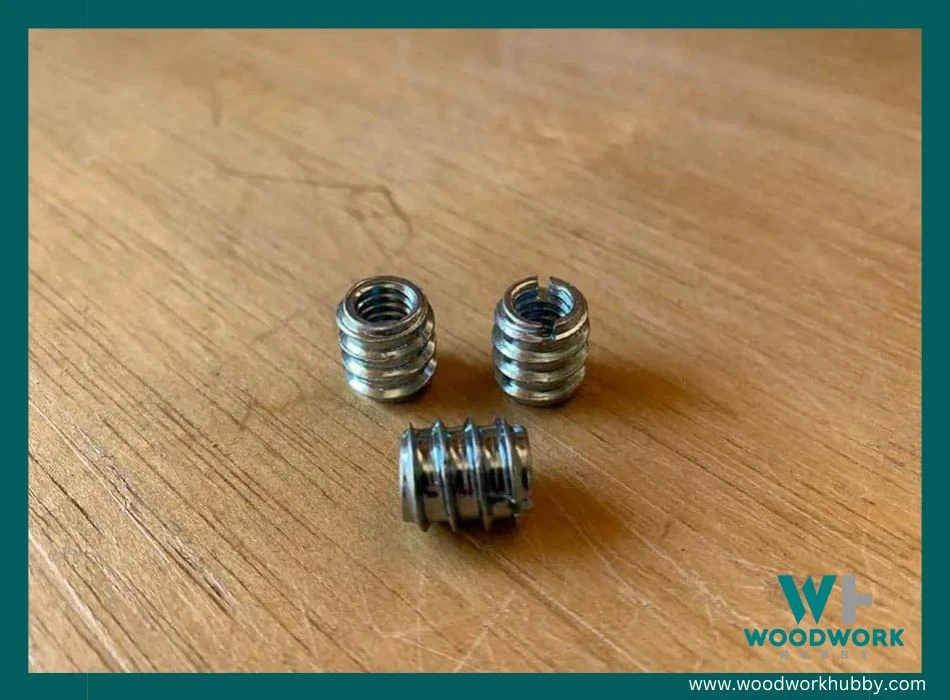 How to Install a Threaded Insert
There are a wide variety of threaded insert styles and materials. We have listed some of the ones that work best with wood projects, but you can find all kinds online or at your local hardware store. Always follow the instructions and ensure that the threaded insert you get is right for your materials and needs.
Many threaded inserts require a special tool to make them work, but some brands are designed to be placed with only tools you have on hand. We are going to focus on how to install an E-Z Lok threaded insert without an insert tool. You can find specific manufacturer instructions on their website. All you need is a standard drive tool or screwdriver, a tap, and a drill. It takes only three quick steps.
Re-drill a hole for the insert.
Use a standard tap to tap the hole.
Use a screwdriver or drive tool to get the E-Z Lock threaded insert into place.
When You Might Need to Use a T-Nut or Threaded Insert
You will want to use a threaded insert or T-nut when you have loose screws or soft material that may not be able to hold the thread. A common type of material that requires this kind of support is particle board which cannot maintain a tight thread over the lifetime of the piece, especially if it is assembled and disassembled multiple times.
Even small amounts of pressure on the screw can completely dissolve the grip and cause the wood fibers holding the screw to break apart. An insert, or T-nut, completely overrides that weakness by providing a stable anchor for a bolt or screw.
Common Threaded Inserts and T-Nuts
Below are some popular threaded insert and T-nut products.
How to Avoid Needing T-Nuts or Threaded Inserts
Avoid the question 'can you put a nut on a wood screw?' by ensuring your joints remain secure. Whenever possible, you want to practice preventative measures so that you are not faced with a loose wood screw or stripped hole.
You will want to try to avoid these circumstances by making sure the wood is protected, set in a secure place, and not placed under too much strain. A few things that can cause these issues are listed below. You can take steps to prevent them.
Constant vibration
Degeneration of the wood where the screw was placed
Constant or acute stress to the screw or joint
Too much weight placed on the joint