Basements are ideal starting points for any hobby. But when it comes to woodworking, the amount of sawdust generated by power tools can make a basement unbreathable. As an experienced woodworker, I can tell that dust collectors for larger shed and garage shops are different from the ones that are ideal for basement shops.
The best dust collectors that work for basement shops have 2 HP or higher motors, over 600 to 1000 CFM, and a 1-micron filter. JET JCDC-3 and JET JCDC-2 fit these criteria. Shop Fox W1666 and RIKON 60-200 can also work for basement shops but may require upgrades.
In this article, you will discover the top dust collectors that work for basement workshops alongside their respective strong and weak points. By the end, you will know how you can get dust under control in your shop and what you can do to level up your current dust collector.
Before I get into the criteria for basement workshop dust collectors, here are my top picks:
JET JCDC-3 Cyclone Dust Collector (My Top Pick) Found at Amazon
 
JET JCDC-2 Cyclone Dust Collector
 
Shop Fox W1666 Dust Collector (with central air filter)
 
RIKON 60-200 Dust Collector (with central air filter)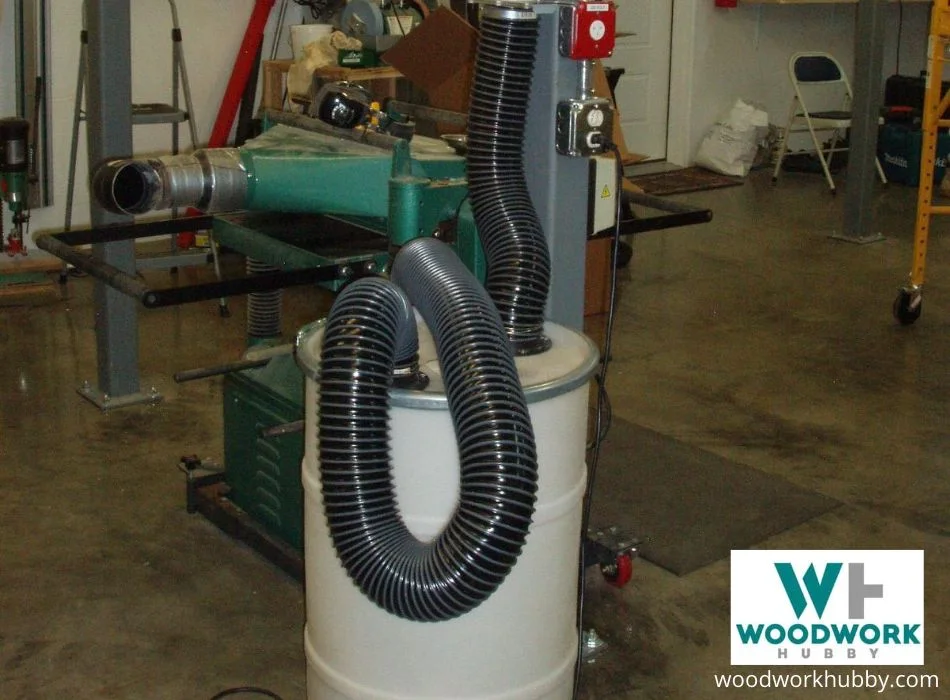 Criteria For Basement Shop Dust Collectors
Basement shops are generally limited because venting outside is not as easy. Moreover, there isn't as much space and natural ventilation on the basement level. This means that cyclone-style dust collectors are more likely to work for such shops.
Since the dust collector also serves an air filtering function in a basement, it should have a higher CFM and a better filter. Here are the specs that I have compiled so that you can get a decent dust collector even if you don't choose the ones I recommend in this post.
Dust Collector with a large collection bag – Basement shop dust collectors cannot be vented outside easily.
 
600+ CFM, preferably over 1000 – The speedier the airflow, the less likely the dust is to settle in the collection hose.
 
1-micron dust filter, 2 microns at a maximum – A 1-micron filter keeps the dust from getting back into the air.
 
2+ HP motor, preferably 3 HP – stronger motors can be more impactful in dust suction, minimizing the sawdust that escapes and becomes airborne.

What Is The Best Workshop Dust Collector?
Going by the criteria of dust control in basement shops, the JET JCDC-3 Cyclone Dust Collector is the best dust collector on the market. It has a 3 HP motor, 1240 CFM, and a 1-micron filter with 86% efficiency.
But if you don't want to shop online and your local store doesn't have a JET cyclone, you can always refer to the specs mentioned earlier and get the cyclone collector that fits the criteria.
Best Dust Collectors that work for basement shops
In this section, I will look at each dust collector in detail and deconstruct what makes a unit perfect for your basement workshop.
This dust collector exceeds the criteria that I have established for basement shop dust clearance. It has a 3 HP motor which means it can circulate air at a faster rate. This is also reflected in its 1240 CFM rating. Since basement shops can get plenty of airborne dust, a CFM rating over 600 is a must for most dust collectors.
This cycle has twice the CFM required to keep a majority of the dust at bay. Its strong pull means that, in addition to catching dust, it can pull wood chops as well. On the product page, there is an option to order JET JCDC-3 with a chip separator.
Venting a dust collector outside isn't an option most basement shops have. And dust collector bags can be annoying, especially when you have to clear them out constantly. This dust collector has a 66-gallon dust collection drum, which can be detached with an easily accessible quick-release mechanism. As mentioned in our criteria, a 1-micron dust collection system is required to avoid the powdery dust distribution that is typical of basements.
Jet JCDC-3 Cyclone Dust Collector
JET JCDC-3 collects 86% of the 1-micron particles and 99% of the 2-micron (visible dust) particles. The assembled height of this unit is 7 feet, which means you won't have a problem fitting it in the basement. Its suction power is rated at 4.5 out of 5 stars, and its ease of assembly is rated at 4.6.
If you don't want to overpay for a dust collector that exceeds the required specs, then JET JCDC-2 is perfect for your basement. It is pretty much on point when it comes to basement dust collector criteria, with its 2HP motor and 1-micron filter. When you use a 2HP motor instead of a 3HP one, you use less electric power. That's great for your energy bill.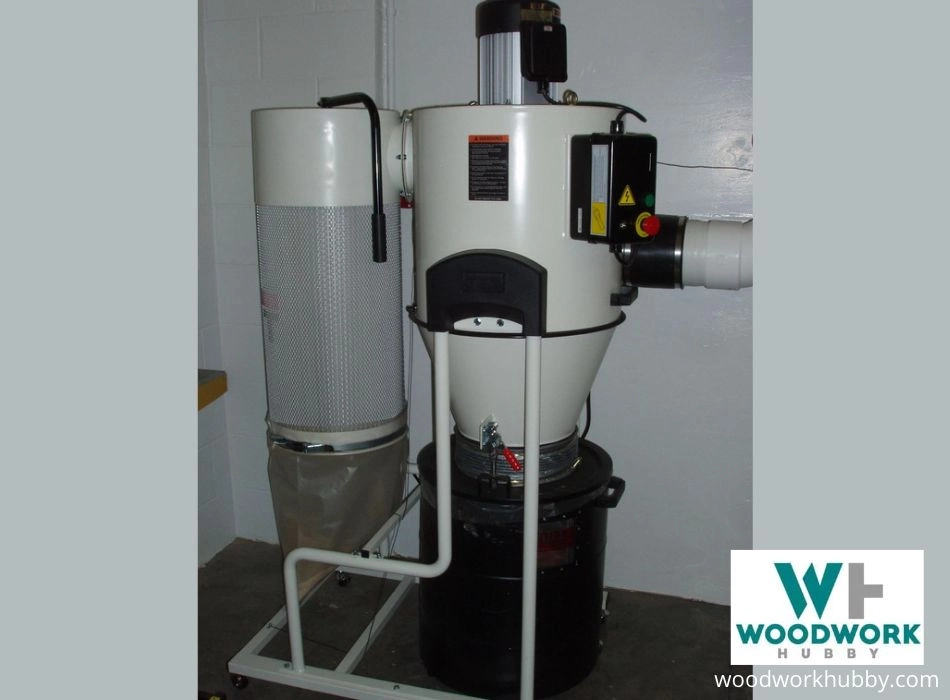 This dust collector's CFM is understandably lower than the JCDC-3, but at 938 CFM, it still has enough constant suction to capture the majority of the dust in your basement workshop. Since the suction power can carry not just dust but also wood chips, you can purchase this product with a chip separator.
Just like the earlier model, you don't need to vent it outside. The dust gets collected in a drum, but instead of a 66-gallon like JCDC-3, it has a 30-gallon capacity. That's still pretty spacious.
It comes with a remote control that you can use from 50 feet away, which can make dust control more convenient. The last thing you want is to walk back and forth between your workbench and the dust collector. Switching the collector hose from one tool to another can become quite time-consuming if you don't have a remote control.
Finally, it comes with a 5-year warranty that covers manufacturing defects, so the overall risk of purchase is further reduced. This product has a 4.2-star rating on a 5-star scale. But given that there are only 51 total reviews, only a handful of 2 or 3-star reviews can affect the average.
Over 72% of the customers have given it 5-stars, though. Just make sure you use it for a small shop, so you are among the majority that are satisfied with its performance.
If you have an air-cleaning system in your basement, you don't need to use a very high CFM dust collector. Only if you can afford to let some of the finer dust escape for a central air-filtering unit to deal with should you use the JCDC-1.5 cycle in your basement.
It has a 1-micron filter, but its HP rating isn't high enough to solo-clean your basement sawdust. It generates a decent airflow of 763 CFM, but that isn't even strong enough to capture heavier woodchips. Perhaps that's the reason it isn't bundled with a chip separator.
​Jet JCDC-1.5 Cyclone Dust Collector
Its suction power is rated 4.7 stars on a 5-star scale, higher than the higher CFM units covered earlier. And the reason why most customers are satisfied with this cyclone is that they're aware of its limitations when buying it. It's good for small basement shops and shops with central air filtering systems.
Shop Fox's 2 HP Dust collector is another unit you can get if you already have decent air filtration. Its suction exceeds the 600 CFM mark with a 1,550 CFM airflow. It collects chips and a majority of the visible dust. Finer dust, however, might slip through its filters since it has a 2.5-micron bag filtration.
Unlike the JET units covered earlier, this one has plenty of reviews and ratings, which leads to a more reliable average rating. With over 700 reviews and ratings, this product has a global collective average of 4.4 stars on a 5-star scale. 85% of the customers have given it 4 or 5 stars.
Its suction power and value-for-money propositions are both rated 4.5 out of 5 stars. All in all, it is a good unit for shops that don't generate a lot of fine dust or ones that have a HEPA air filtering system.
Slightly better at filtering than the Shop Fox unit, Rikon 60-200 can work for basement shops with a high-efficiency 2-micron filter. This dust collector has two 4-inch inlets, making it compatible with most dust collector hoses and allowing it to service multiple tools. It claims to keep the basement air breathable, which is pretty much all it does.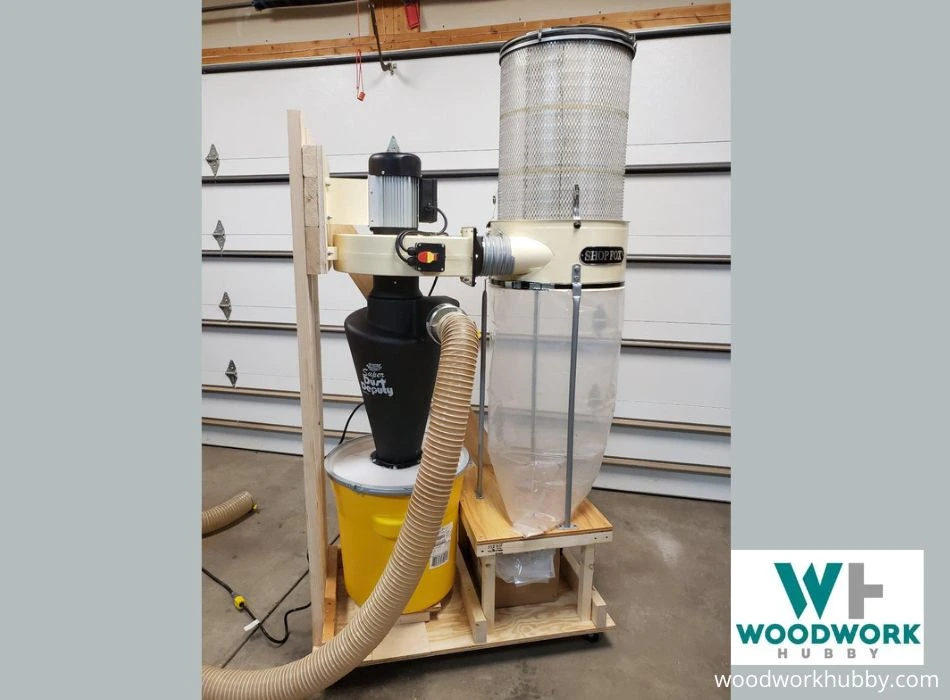 There will still be airborne dust that is best cleaned with an air filter or aired out with an exhaust system. The collector, however, doesn't require an outdoor venting mechanism. It has a dust collector bag.
Rikon 60-200 2 Hp Dust Collector
How Do You Control Dust In The Basement Workshop?
To control dust in the basement workshop, you need to use a cyclone dust collector, caulk and seal exits through which the dust might spread outside, and look for a 1-micron dust filtering solution, so the dust escape is minimal.
Here are the key aspects of dust control in a basement workshop:
Seal cracks and leaks – To keep the dust in your basement from leaking to the rest of your house, you need to use caulking and other sealing solutions to get rid of cracks.
 
Wear a work apron and keep it in the basement – Fine dust can stick to your clothes and then shed as you walk back to your living area.
 
Get a dust collector with 600+ CFM for your tools – A dust collector with a collection bag is likely to be your primary dust-collecting tool. It should have a strong enough workflow to get 99% of the dust generated by your work tools.
 
Have a 1-micron filtering mechanism – This can be in a cyclone collector or central air filtering. If your dust collector has a 2-micron or higher filtering solution, you'll need an additional air filter that traps 1-micron particles.

How Can I Keep My Shop Dust Free?
You can keep your shop dust-free by using a high-CFM dust collector than can filter 1-micron particles. Generally, a 2 HP or 3 HP dust collector can help with that. Additionally, using a dust collection blade guard can minimize the dust that can escape and get airborne.
If you have the option to vent the dust collector outside, then the filtering capacity of your dust collector doesn't need to be as high. But if you're collecting the dust indoors, then the bag should not let particles larger than 1-micron to get through. Otherwise, you will just circulate fine dust into the air.
Fortunately, there is the option of having a central air filtering mechanism. However, that option is limited to larger shops. Basement shops can rarely vent outside or have a huge HEPA system. If you're relying on a single cyclone, then it helps to run your dust collector more often and have a 1-micron filter.
How Do You Control Dust In A Wood Shop?
You control dust in a wood shop by using a 2 HP+ dust collector with a 1-micron filtering capacity alongside a 600+ CFM airflow. Moreover, you need to wear a woodworking apron to keep the dust at bay.
If your current dust control mechanism isn't working, you might have one of the following problems:
The dust collector's suction isn't strong enough – When this happens, the dust starts to settle in the hose, which leads to clogging and further complications.
 
Your dust collector bag doesn't have a 1-micron rating – Many dust collectors are meant to be used alongside a central air filter. Their dust collector bags let 1-micron particles through.
 
You don't have an appropriate dust collection inlet – From inlet leaks to a lack of a dust collection guard, there are plenty of reasons behind dust escaping the collector. Making sure your inlet works well will help your overall dust control.

Check out my article on whether you can wash dust collector bags here.
Final Thoughts – Best Dust Collector For Basement Shops
A 2-HP dust collector with a 1-micron filter will keep your basement clean, especially if you use the right dust collection blade guard to minimize initial dust escape. Make sure to empty the dust bag and wear a woodworking apron.
If dust still escapes to the rest of the house, you need to check for cracks and use caulking to seal any openings. This will keep your workshop dust under control