If you've been researching food-safe finishes, you've probably seen Tung oil mentioned a few times. After all, it seeps deep into the wood and doesn't sit on the surface. I needed a good food-safe finish for a salad bowl I'm making so I have put together this article that answers is Tung Oil food safe?
Tung oil is food safe only if it is free of drying agents and gloss-enhancing chemicals. Moreover, it takes 45 days to cure, during which the oil can seep into your food and modify its flavor and aroma. If you use Tung oil on a serving tray, you should wait over a month before putting food on it.
In this article, you will discover everything you need to know about Tung oil and food safety, including the specific brands that have Tung oil finishes you must stay away from. I will also get into Tung oil's compatibility with child safety. But first, let's explore the ten things that you need to consider before you apply a Tung oil finish on a food-adjacent surface. Something not right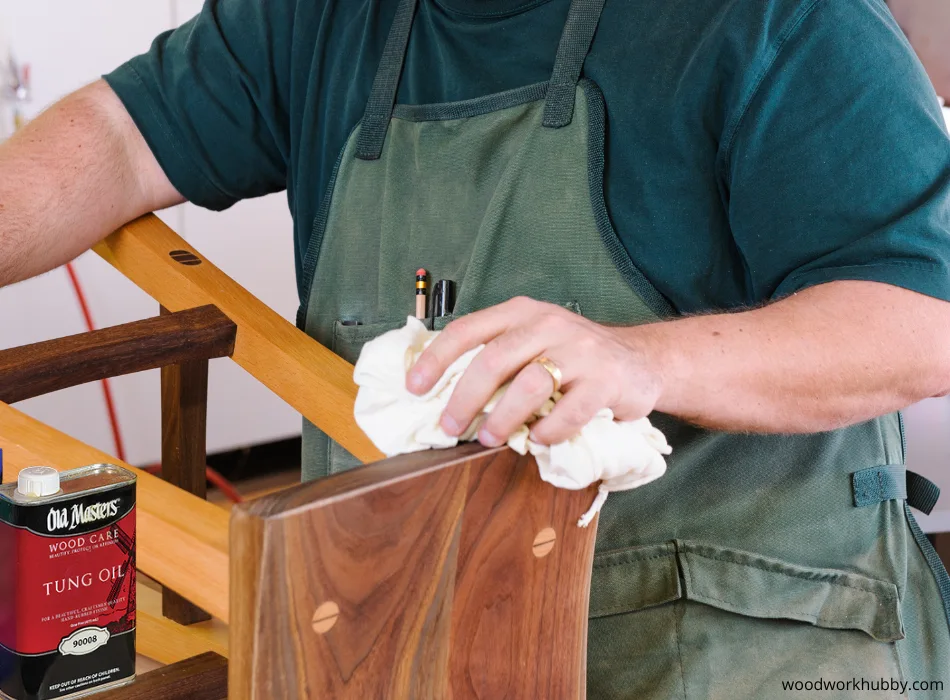 10 Things To Consider Before Using Tung Oil as a Food-safe Finish
Whether you plan to use Tung oil on something that will be in direct contact with food (cheese tray, chopping board) or on a surface where food might drop (kitchen counter, dining table), you need to ponder the following 10 questions:
What brands are in the Tung oil? – Some brands mix their Tung oil with chemicals that aren't safe for food adjacent surfaces. 
How quickly do you need the surface to dry? – If you need it within a few days, use an alternative food-safe finish.
How big is the surface? – Tung oil can be expensive or cheap depending on the area it must cover. Since it seeps into the wood, a lot of it is required to improve the surface appearance.
What else is in the Tung oil? – Be careful and have zero tolerance for any additives in your Tung oil finish, especially when you use it for food-contacting surfaces.
Is Tung oil waterproof? – Knowing that Tung oil is waterproof to a great extent can help you decide to use it on surfaces that get wet during cooking.
Does Tung oil wear out? – If you know when Tung oil will wear out, you'll know how often you must refresh the finish. On average, the finish must be refreshed every six months.
How will you apply the finish? – Whether you'll rub the Tung oil or use a different application method will affect how long the oil will take to dry.
What are the alternatives? – Knowing other food-safe finishes like polyacrylic can help you avoid settling for Tung oil if it is not the best choice.
How often will the surface be used? – Depending on the extent of surface usage, the finish will wear out sooner or later.
Is Tung Oil safe for babies? – Whenever you get a specific Tung oil finish, you need to ensure that it is safe for babies and how long you need to keep a surface out of their reach after it has been coated in Tung oil.
Is Tung Oil a Food-safe Finish?
Tung oil is a food-safe finish as it is VOC-free and often organic. It needs to be cured before it is safe for food contact, though. Otherwise, its odor and flavor can make food inedible. Moreover, one needs to avoid Tung oil finished cutting boards and trays if one has a Tung oil allergy.
Knowing why Tung oil is food safe is crucial because not all Tung oil finishes are manufactured alike. Some finishes feature preservatives, drying agents, and gloss-enhancers that are toxic. If your Tung oil finish is not pure, it can contain harmful substances.
Understanding Tung oil allergies also helps avoid disappointment and complications. People who are allergic to Tung oil have an adverse reaction to making contact with it or smelling its odor. Dabbing a rag in Tung oil and letting family members smell and touch it is one way to test if anyone in your household has an allergic reaction.
The likelihood of a Tung oil allergy is low. In contrast, the chances of getting a mixed Tung oil finish with toxic substances are relatively higher. If you intend to use Tung oil on surfaces that come in contact with food, you should look for all-natural Tung oil.
Is Minwax Tung Oil Food Safe?
Minwax Tung oil is not food safe because it contains chemicals that are toxic if ingested. For a Tung oil finish to be perfectly food-safe, it must be pure, non-toxic, and fully cured. Tung oil finishes that contain varnish and drying agents can be dangerous if ingested.
There are two types of Tung oil finishes.
All Natural Tung Oil
The all-natural Tung oil takes longer to dry but is food safe from the get-go.
Boiled With Drying Agents
The second type is boiled with drying agents, gloss enhancers, and other chemicals. While quicker to dry, the modified finishes like Minwax Tung oil must be kept away from food.
Some might wonder if a Tung oil finish that is pumped with chemicals can ever be food safe. In theory, if the finish has dried enough to not mix with the food it touches, it is food safe. However, it is wiser not to risk it on surfaces that require prolonged food contact.
The following table covers which surfaces should and should not be covered in Minwax Tung Oil.
| Surface | Finish | Rationale |
| --- | --- | --- |
| Window sill and frames | Minwax Tung Oil | Is rarely in direct contact with food items. |
| Bed side table | Minwax Tung Oil | A food item might fall on it but does not remain on the surface for an extended period. |
| Reading table or desk | Minwax Tung Oil | The likelihood of prolonged food contact is relatively low. |
| Kitchen counter | All Natural Tung Oil | While food contact duration is low, its frequency is high enough to warrant caution. |
| Cutting board | All Natural Tung Oil | Prolonged food contact. |
| Cheese tray | All Natural Tung Oil | Cheese remains in direct contact with the finish |
| Stool | Minwax Tung Oil | No food contact |
| Chair arms | Minwax Tung Oil | Chair arms don't come in direct contact with food |
| Bed frame | Minwax Tung Oil | A bed frame does not touch food  |
Table showing suitable surfaces for Minwax Tung Oil
Which Tung Oil Is Food Safe?
All-natural Tung oil, which is also known as pure Tung oil, is food safe. If Tung oil is mixed with finish-improving agents or quick-drying chemicals, it can be toxic. The best way to check if a specific Tung oil finish is food safe is to look for "FDA food-safe" in its product information.
When you choose Tung oil for a food finish, you have two options. The first is to get a finish that takes longer to cure but is food safe. The other is to get a chemical-laced finish that dries much quicker but can be toxic.
Tung Oil's Which I Use That Are Food Safe
| Food Safe Tung Oils | Where to Buy? |
| --- | --- |
| Pure Tung Oil by Real Milk & Paint (1 Gallon, 3.7 Litres) | AMAZON |
| 100% Pure Tung Oil by Hope's (16 Fl Oz) | AMAZON |
Table showing which Tung Oil's I use & recommend
Generally, the chemical-laden finish is shinier and often lasts longer than all-natural Tung oil. Of course, it is not good for surfaces that are in prolonged contact with food items. On the other hand, pure Tung oil is much more food-friendly, but it doesn't last as long, look as good, or resist water nearly as much as a Tung oil finish with preservatives.
Neither type of Tung oil is inherently superior. Pure Tung oil should be for surfaces that are close to food or come in direct contact with it. And Tung oil with preservatives is better for almost every other surface.
The following video shows the result of Minwax Tung oil on Walnut wood alongside an interesting way to spell Tung oil.
Is Minwax Food Safe?
Minwax claims it has food-safe finishes and products, but most Minwax finishes are not food safe. For instance, Minwax Tung oil is toxic if ingested, even in small quantities. In fact, skin irritation from contact and even issues with inhaling its fumes have been reported.
According to an FAA document at the University of Illinois, Minwax Tung Oil carries risks that go beyond ingestion. Breathing in its fume can be dangerous, and in some instances, prolonged skin contact can cause an allergic reaction.
Given that the document is a learning material in higher education and is based on an objective analysis of Minwax Tung oil, the research in it is fairly reliable. It shows that, at a minimum, not all Minwax finishes are food safe. 
Does that mean Minwax, in general, is not food safe? No. Minwax Polyacrylic finishes are generally food-safe, with the Polycrylic Clear Satin Finish having the best food safety rating.
The Polyacrylic finish can be used for almost any wooden surface but has to fully dry before it is food safe. It is dry to touch in 2 hours, but you must wait 25 hours before you can start using the polyacrylic-coated surface normally.
Here is what the Minwax polyacrylic finish looks like:
Is Minwax Tung Oil Really Tung Oil?
Minwax Tung oil contains Tung oil but is not the same as the average Tung oil finish. It gives the appearance of a pure Tung oil finish but contains quick-drying agents and other chemicals that can be toxic, may irritate the skin, and tend to generate unpleasant fumes while curing.
Does that mean Minwax Tung oil is inferior to pure Tung oil? Not necessarily. Minwax Tung oil has better longevity and water resistance with a much smaller curing period. However, it is not food safe like all-natural Tung oil, which limits its compatibility with kitchen surfaces and utensils.
Is Tung Oil Food Safe for Cutting Boards?
Tung oil is food safe for cutting boards as long as the finish consists of pure Tung oil and is fully cured. Tung oil seeps deep into the wood and doesn't form a surface coat, which means the knife action doesn't slice into the cured Tung oil finish. So, pure Tung oil is perfect for cutting boards.
The biggest mistake people make with Tung oil is assuming that all Tung oil finishes are natural. When a Tung oil is labeled as "quicky-drying," you have to be extra-cautious about its contents. Generally, it is best not to use a Tung oil finish on food-adjacent surfaces unless the package or the product information declare the finish is FDA food safe or 100% Tung oil.
Avoiding mixed Tung oil finishes isn't as crucial for table tops and even kitchen counters, but it is very important for serving trays and cutting boards.
How Long Until Tung Oil Is Food Safe?
Pure Tung oil finish is food safe after 30 to 45 days. The all-natural oil finish features no curing agents and takes a few weeks to fully cure. People are unfamiliar with this because they assume that a finish being dry enough to touch is the same as "fully cured." 
Tung oil is dry to touch in a fraction of the time it takes to cure enough to be food safe. That said, Tung oil isn't toxic, and even if a surface is sticky with it, any food that touches it is still edible, at least technically. However, up until 45 days, you can expect the aroma of the Tung oil to seep into the food it comes in contact with.
Is Tung Oil Safe for Babies?
Tung oil is safe for babies, but some Tung oil finishes feature dangerous chemicals that should be nowhere near a baby or a toddler. Before you assume a specific Tung oil finish is safe for a baby, make sure it is labeled as "all-natural" or "pure."
Minwax's own claim that its Tung oil finish isn't food safe is a testament to how some Tung oil products aren't the same as pure Tung oil.
Of course, there is a reason for the addition of chemicals, and many people prefer the trade-off. But knowing whether you're using actual Tung oil or varnish that features Tung oil is crucial to making a surface shiny without risking the health of your kids.
Final Thoughts – Is Tung Oil Food Safe?
Tung oil has its advantages and disadvantages, just like any wood finish. One of its benefits is that it is 100% food safe. But when brands can add chemicals to their Tung oil products while maintaining that what they sell is a "Tung Oil Finish," many people can make the dangerous mistake of using toxic varnish on food trays. Remember to use pure Tung oil and not a Tung oil varnish on food adjacent surfaces.
Choosing the right wood for your outdoor furniture can be tricky. I've faced the same dilemma, and after digging deep into many options, I discovered that eucalyptus wood might just have what it takes. Eucalyptus is an excellent finish for outdoor furniture. It repels water and resists rot and can help wooden outdoor furniture last…

---

Is your front door looking a little dull and in need of a refresh? I can relate as my own front entrance was crying out for some TLC, so I researched all about staining front doors. Combined with my 30 years of woodworking and wood finishing experience I decided to guide you through the entire…

---

Are you struggling to paint over stained wood and having issues with optimal coverage? Believe me, I've been there too. After trying out various products and methods, I found the best primer for painting over stained wood! This blog post will walk you through selecting the best primer for painting over stained wood, taking into…

---