I have been trying to make an OSB tabletop for over a year, but I keep delaying it. And one of the reasons was the splintering that happens when you downsize OSB. I made the mistake of not getting it at the project size and now have to cut it.
Though I have blades that can cut it without splintering, it just seems daunting. I decided to write this post, so it motivates me to finish the project. I used 12 different blades from my current inventory and found the five that can be used to cut OSB.
The best blade to cut OSB is WEN BL1280 as it is made of solid carbide, features 80 teeth, and is backed by the reliable WEN brand, which is trusted for its quality and customer responsibility. This blade can be used to cut OSB without splintering.
In this article, you will learn more about how you can improve your cutting technique to reduce splintering and the hacks you can use to keep your OSB cuts straight.
Above all, you will find my top picks for the best blades to cut OSB, including:
WEN BL1280  
Dewalt DWA171460
Luxite Saw 14-Inch Blade
Diablo D0748CF
TOMAX 10-inch 80-teeth Blade
What Do You Cut OSB With?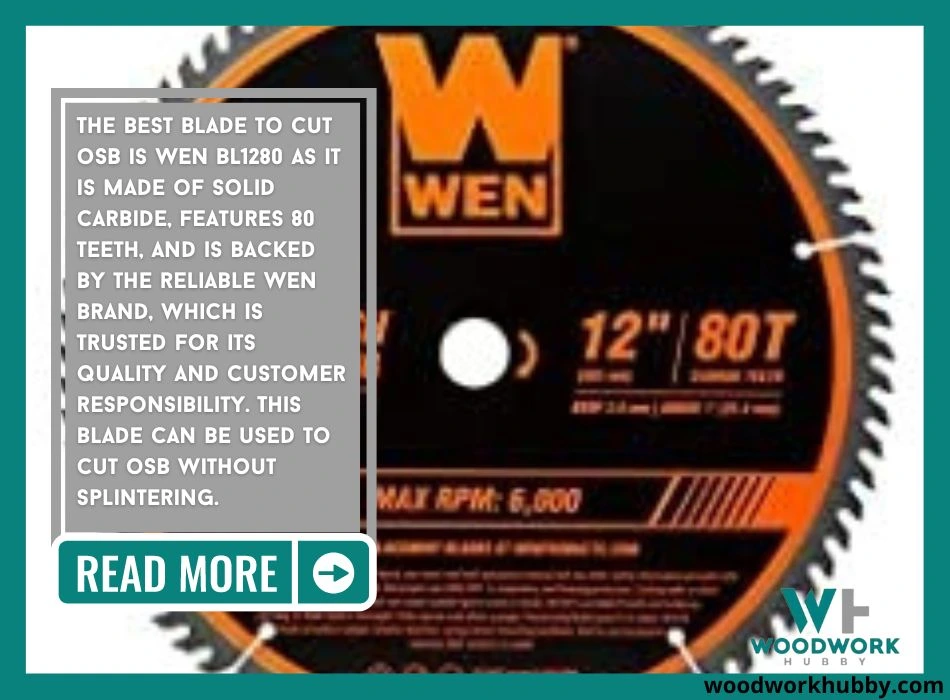 You cut OSB with carbide in terms of material and circular saw in terms of blade type. Small, sharp, metal teeth need to run through OSB at a faster rate than the individual strands can resist so that they get cut before they can detach from the rest of the board.
Here is how poor blade selection and cutting technique can mess up the final cut:
If the blade is weak – If the blade material is weak, the blade can shift while cutting. 
If the blade has fewer teeth – The strands in the OSB have more time to shift before they are hit by the next tooth. Splintering occurs.
If the OSB isn't secure – The board can rattle, leading to a crooked cut.
The blade is moved too fast – The strands aren't cut, but the force of the push separates them from the board, resulting in splinters.
How Do You Cut OSB Without Chipping?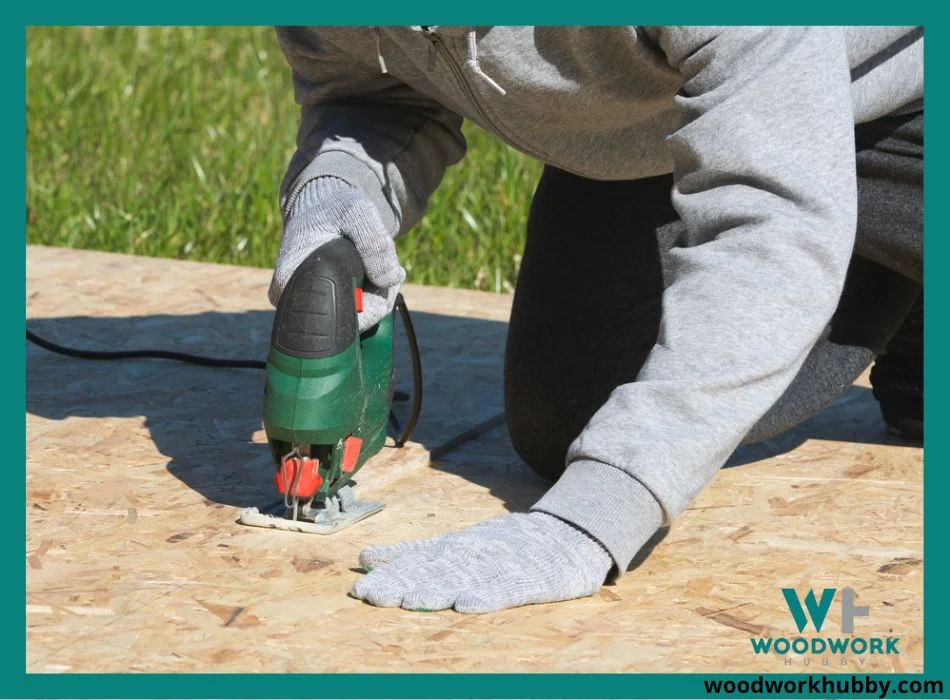 To cut OSB without chipping, you need to use a sharp blade with more teeth, and you must roll it at a steady speed. You should also support and secure the OSB while using a fence (in case of handheld) and zero clearance insert (in case of table saw) to keep the cut precise.
Using the right blade to cut OSB will be beneficial when you are using osb vs plywood trailer.
There are more than half a dozen things one can do to minimize OSB chipping. Almost all of them lean towards making cuts more precise. Before sitting and thinking about these individual ways to stop OSB from chipping when cutting, I used to simply do whatever I knew to make the cut more precise.
Don't roll the blade too quickly – When you move the blade faster than it wants to go, it can produce splinters, especially if the core of the material features different fibers.  
Use 80 teeth or higher saw blade to minimize splinters – The gap between blade teeth leaves room for OSB strands to splinter. The finer the blade teeth and the higher their quantity, the more precise the cut.
Use painter's tape to pad the cut – By covering the area you plan to saw through, you can execute the cut without the OSB strands getting the room to fly off. It is the equivalent of holding down an item when pushing a knife through it.
Make sure the piece has enough support – If the OSB can move around, then it will. This leads to different stands of OSB getting a different kind of blade impact. As a result, there are plenty of splinters.
Use a strong workbench base – If your workbench rattles when you attempt to saw OSB, there will be splinters. A strong pair of workhorses or a bench foundation can help hold up the OSB as a blade is driven through it.
Use clamps or weights to push down the stock – This is especially important when you use a table saw to make the cut. The downward force helps keep the OSB stable.
Use a zero-clearance insert (for a table saw) – Another way to increase the precision, especially when cutting OSB with a table saw, is to use a zero-clearance insert. It has an effect similar to using carpenter's tape to pad the cut.
Use a zero-clearance fence – If you use a circular saw, you can use a zero-clearance fence to maintain vertical pressure while cutting in a straight line.
Keep the best face facing the blade entry – If you use a handheld circular saw, make sure the best face is up, and your blade plunges into it. If you use a table saw, have the best face down, so it is the point of the blade's entry. This creates ensures that the exit-point splintering doesn't affect the face of the OSB.
As you can tell from the tips covered above, a bulk of what you should do to ensure the OSB doesn't splinter revolves around the precision of the cut. By adjusting your sawing technique, so it produces the most precise cut, you can keep OSB from splintering.
But if the OSB keeps splintering regardless of how well-supported it is and how firmly it is held in place, then the issue might be the dullness of your blade. In that case, you should swap out the blade with one that has a more durable material and a higher tooth count.
Which Blades Are Best For Cutting OSB?
Carbide-coated or solid carbide blades are hard enough to easily cut through OSB. Depending on your technique and free-hand stability, you should use a circular saw or a table saw to make the cut as stable as possible.
There are two aspects to this. The first is that the blade has to be hard enough to make the cut. And the second is that it should be easy enough to handle so that the OSB doesn't start splintering. Carbide coating or solid carbide checks off the first part.
You can choose a carbide blade and still mess up a cut if you don't guide the cut to have the level of stability required. The speed of the cut, as well as the number of teeth in the blade, remain the two other important factors.
Out of stability, speed, blade material, and teeth count, only two are inherent in the blade. So with the number of teeth and the material in mind, I would say that the WEN BL1280 is the best blade to cut OSB.
It is circular, tipped with carbide, and has 80 teeth per blade. Provided that the cutting technique is appropriate, it can cut through OSB without any problems. The product's description mentions OSB as one of the materials it can cut. With an average of 4.7 out of 5 stars, this blade has enough of a positive reception to make it a safe purchase.
Circular Saw Blade For OSB
Circular Saw blades for OSB must be carbide tipped at a minimum and should have 80 or more teeth. That said, not all blades are built alike, and I have discovered that with decades of experience.
In this section, I will cover the top 5 blades I use for OSB, alongside the reasons behind each selection.
I like DWA171460 for being an affordable carbide-tipped solution. It can cut through medium-thickness sheets with relative ease. The thicker the OSB, though, the sooner this blade begins to wear out. So to that extent, I would not buy it specifically for cutting OSB over and over. But since I have it around, I find it handy whenever an OSB project comes around as a one-off.
Dewalt DWA171460
This blade has 2,800+ reviews and ratings, which is a reliable sample size. Out of this review total, it has an average of 4.8 stars on a 5-star scale. In my experience, it is reliable for one-off cuts.
I mentioned this blade earlier as the best blade for cutting OSB because it is made of solid carbide. It is good for cutting OSB regularly. I bought it to cut hard materials because I don't have to cut OSB very frequently. But the fact remains that this blade doesn't wear out very easily, which makes it a great purchase for long-term use.
WEN BL1280
If you want to cut OSB boards and other hard materials, you can try using the Luxite Saw 12-Inch Blade, which is lighter than many alternatives. Its lightness makes it easier to handle though it increases the force burden required to cut the OSB. I consider it a good solution to minimize splintering when cutting OSB because it maintains its sharpness for a long time.
Luxite Saw 12-Inch Blade
It has a 4.4-star average, which is pretty good. Over 86% of this blade's customers have given it 4 or 5 stars. This disproportionate lean towards positive ratings by not just OSB-cutting users but customers in general shows that this is a great addition to any woodworker's toolbox.
This is a good blade to cut large OSB boards as it is pretty big. More importantly, it has a low tooth surface area, with 48 teeth per blade, but it still cuts OSB. Personally, I don't use this often, but it is a pretty decent blade for the downsizing of any lumber.
It has 590 reviews and ratings that come to an average of 4.7 stars. But since the customers haven't rated it specifically for its OSB compatibility, the average rating cannot speak for much else other than the quality of the blade for regular use. 
Diablo D0748CF
The few times I have used it, though, I've had great results. I am pleasantly surprised by how little pressure is needed to cut OSB with it. It is still far from cutting butter with a butcher's knife, but there aren't very many bumps in the process.
Finally, we have a Tomax blade, which is one of my favorite backup blades for any wood board project. From the resin adhesive in plywood to the random orientation of strands on OSB, wood boards can be very complicated to cut.
Generally, a durable blade that is sharp enough can do a good job. The higher the teeth of the blade, the less rugged the cut.
I like the Tomax 10-inch blade because it works for not just OSB but also other "complicated" materials. I never use it as my primary blade because I want to preserve its sharpness for when my main blades don't work. However, it isn't mandatory that you use it in a similar way.
TOMAX 10-inch 80-teeth Blade
The neighbor who introduced me to this blade used to have it as his primary cutting tool. It has 80 teeth and a 4.5-star average rating. With over 800 reviews, this collective rating can be considered excellent. Over 90% of the customers have given it 4 or 5 stars, which means the likelihood of getting disappointed with it is pretty low.
Final Thoughts
The best blade material for OSB cutting is carbide. And as long as a circular blade has 80 or more teeth per blade, it is fit for cutting OSB. Splintering shouldn't occur with such a blade if the OSB is secure and stable and the cutting speed is steady.